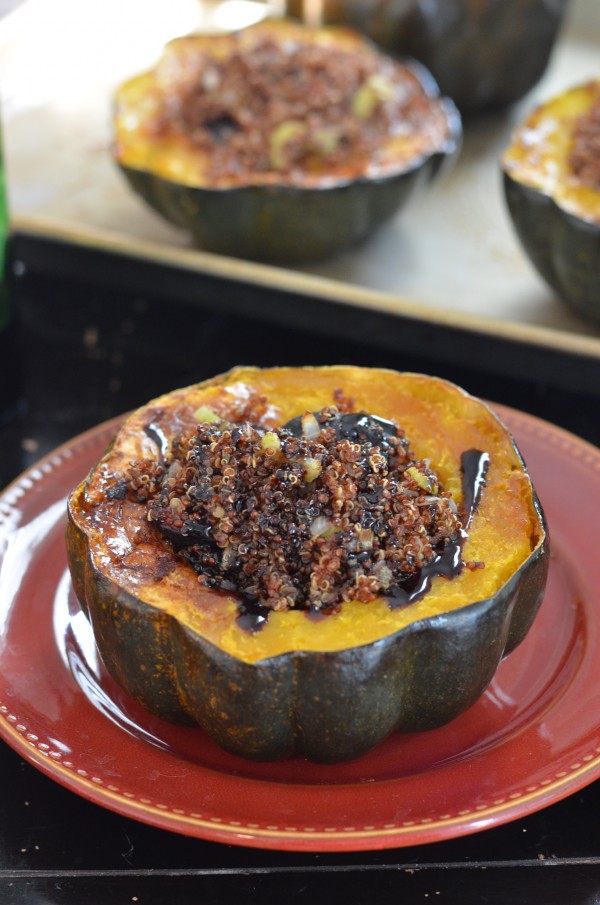 Don't you love the crossover seasons? When you can drive with your seat heater on and the windows down, wear boots with no jacket, and stuff winter squash with figs. It's the best of both worlds!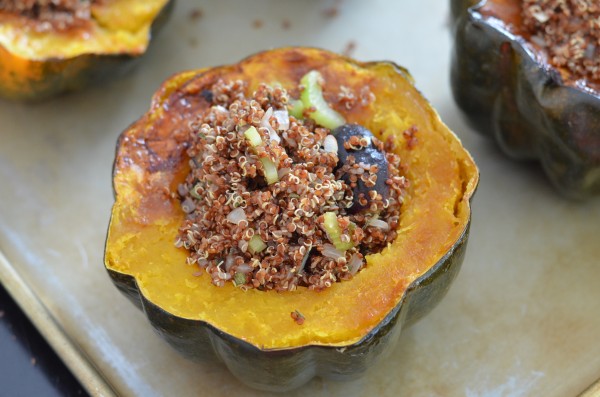 I didn't really discover figs until this year. Previously, despite my childhood love of Fig Newtons, I thought that fresh figs had 1) a scary texture and 2) a scary price. I liked them only when caramelized to a juicy perfection on top of a pizza at the aptly named Figs, my favorite pizza place in Boston. Then, naturally, I discovered that the blogosphere goes crazy over figs just at the same time that Whole Foods had a giant gorgeous display of them… on sale. Whole Foods 1, Erica 0. More like Whole Foods 20,000, Erica 0 when you calculate the amount I've probably spent there this year. In any case, I bought them, was introduced to the glory of fresh figs, and have never looked back.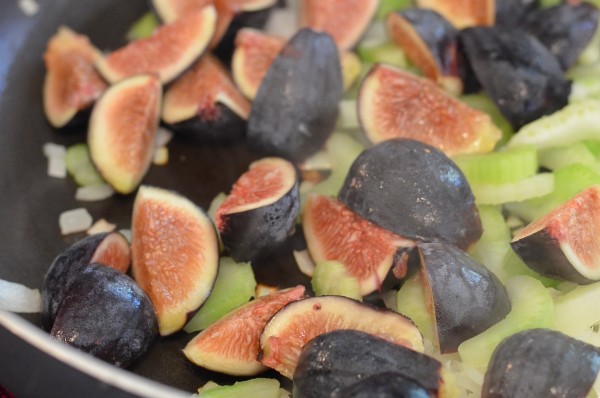 A few of the ways I've been loving figs are:
– Just taking bites out of them! Usually right when I get home from the grocery store :)
– On my oatmeal with cinnamon and honey
– On pizza (although mine will never be as good as Figs'…)
– And finally, sauteed with onions and celery, mixed with quinoa and fresh sage, and stuffed into these adorable little squash bowls.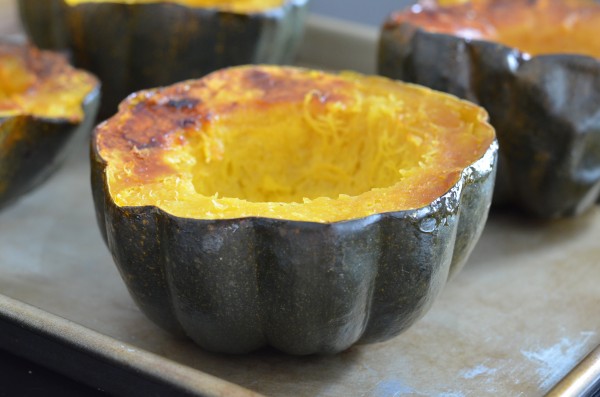 Acorn squash just makes the perfect bowl for everything. At Thanksgiving, my mom likes to serve them with butter and brown sugar (yum). Or we would fill them with cranberry sauce instead. Kind of like the squash + cranberry version of a mashed potato volcano? I still prefer my mashed potatoes plain, no lava thank you, but I will take cranberry sauce lava on my acorn squash any day.
Here, we are filling our squash bowls to the brim with this fig, sage and balsamic quinoa mixture to make more of a main dish than a side. Depending on the size of your acorn squash, a stuffed half a squash can be a very filling meal indeed!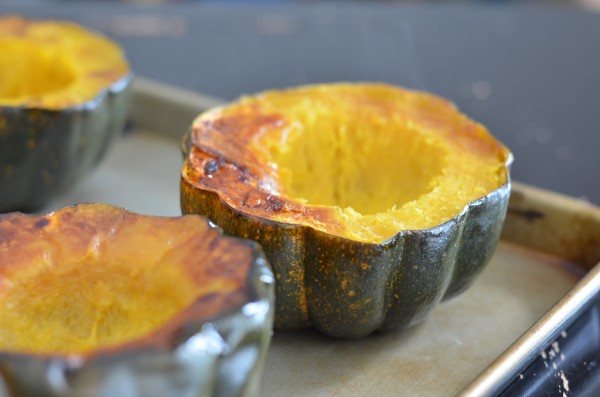 I don't know if you can tell from the pictures, but the two acorn squash I used for this recipe were pretty enormous. We have been slowly working our way through them this week – breakfast, lunch and dinner! OK, not breakfast, although I would not necessarily be opposed to that. Pumpkin is a squash and we eat it for breakfast (in various forms), right?
Eating squash for three meals a day is just part of my attempt to clean out the refrigerator this week, because I am going out of town yet again this weekend. That is 4 out of 5 weekends in September that I will be gone! What a crazy month. As a total homebody, I have to say I am looking forward to the cooler weather that brings less travel… at least in the lull before the holidays. But before I can settle onto the couch in my yoga pants and slippers for the two months to come, it's off to Vegas for a company trip. I wrote about last year's Vegas trip here – hard to believe I've been blogging that long! Vegas should be fun, but a whole lot less relaxing than staying at home eating squash bowls on the couch.
In any case, all the food must go before I depart, as I'm 99% sure that Nate doesn't even open the fridge while I am out of town. (I say that in the most loving way possible.) But does anyone else experience this? Even if I were to stock the fridge with leftovers, he would never know. It's exclusively Starbucks, hospital food, and the Whole Foods hot bar unless I am home, demanding that he help eat whatever new concoction I've made for this blog. Boys. Gotta love 'em, gotta complain about 'em on the internet. Sorry babe.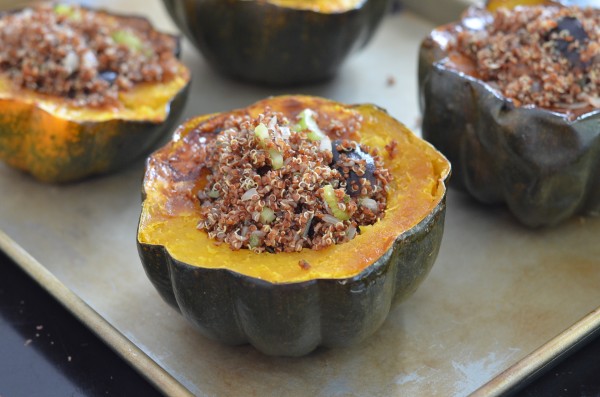 Anyway, back to these squash. I had so much fun stuffing these to the brim with quinoa that I have a feeling there are a lot more squash bowls and boats in store for you this winter. Just wait! I'm getting excited already.
The best part of these (in my opinion) is the balsamic glaze that gets drizzled on top. Balsamic and figs are a match made in heaven, and the squash only further complements them. My grocery store just recently started carrying balsamic glaze in the vinegar section, although I've seen it at Whole Foods and Trader Joe's before this. I snatched it up, and this squash was the perfect excuse to use it!
If you can't find balsamic glaze at the store, you can very easily make your own by simmering balsamic vinegar in a small pot, no lid, for 15-20 minutes or until it's reduced to about 1/3 of the original volume. Just don't stick your nose right over the pot and inhale… now that is a shock to the sinuses. Of course, I do that every single time I reduce balsamic vinegar, because I just can't help myself. Sometimes I just don't learn.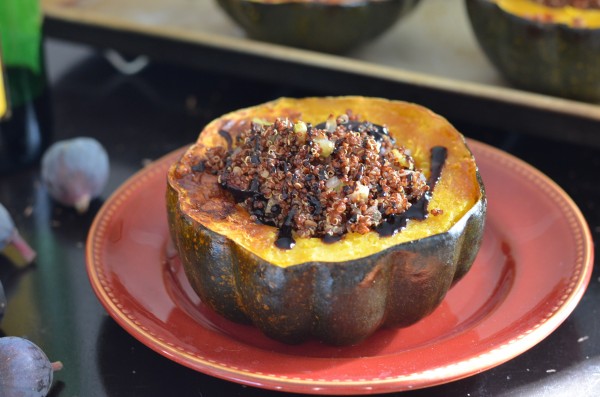 If there is any meal that embraces this first week of fall, it would be these guys. So turn on the oven, saute some onions and make the house smell fabulous, and drizzle it all with balsamic glaze. And then eat the leftovers all week! What could be better?
On a different topic, don't forget to enter my California Almonds giveaway! Entering couldn't be easier (just leave a comment on the giveaway post) and you could win a delivery of almonds and almond butter! Do it now.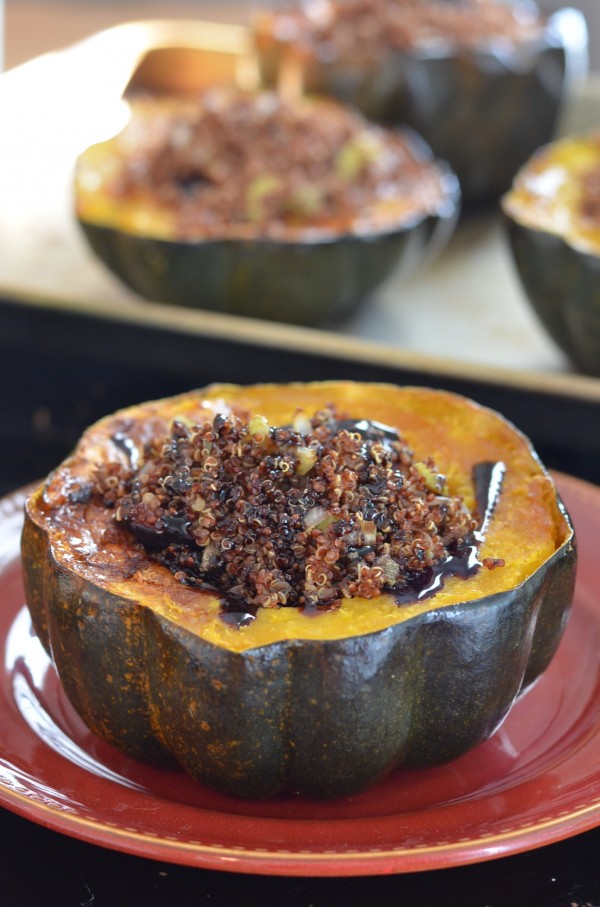 Quinoa-Stuffed Acorn Squash with Figs and Sage
Ingredients
2 medium-sized acorn squash
1 tsp olive oil + extra for roasting squash
3/4 cup uncooked quinoa
1 1/4 cup vegetable stock or broth
2/3 cup chopped yellow onion (I used 1 small onion from our CSA)
1 small stalk celery, thinly sliced (about 1/2 cup)
8 figs, stems trimmed off and quartered
heaping 1/2 Tbsp minced fresh sage leaves
1 1/2 Tbsp balsamic vinegar
balsamic reduction for drizzling (optional)
Instructions
Preheat oven to 375. Line a baking sheet with parchment paper or aluminum foil for easy clean-up.
Cut each squash in half width-wise. Scoop out the seeds (I like to use an ice cream scoop for this!) and save for later if you'd like to roast them, or discard. Scrape the flesh clean. Cut a tiny slice off the bottom of each squash half so that it can stand upright.
Drizzle a tiny bit of olive oil in each squash half and spread around. Invert the squash onto the lined baking sheet and roast until fork tender, about 45 minutes. If your squash are larger, you may have to return them (especially the bottom halves) to the oven for an additional 15 minutes.
In the meantime, rinse quinoa and add to a small pot with the vegetable stock. Simmer until tender, 12-15 minutes. Set aside.
Heat olive oil in a large pan over medium heat. Add onion and saute until beginning to soften, 2-3 minutes. Add celery and figs and saute an additional 5 minutes, stirring occasionally. Celery and onions should be softened and figs should be juicy. Remove from heat. Stir in quinoa, sage, and balsamic vinegar.
Pack quinoa into roasted squash halves and return to the oven for 10-15 minutes to bake everything together.
Drizzle finished squash with balsamic reduction. Serve hot. Enjoy!