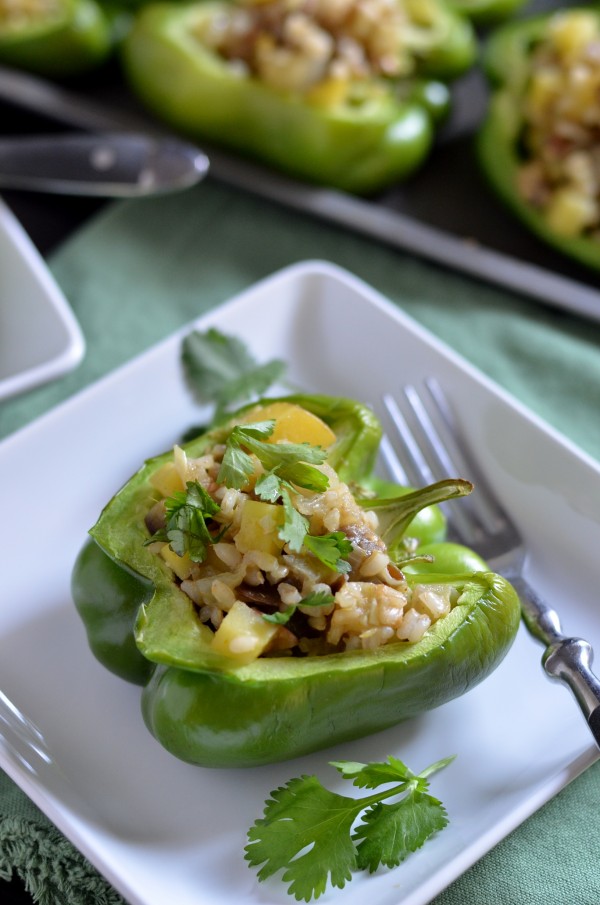 Hello, and happy Monday to you!
Some recipes I have a lot to say about; others, not so much. This is one of the latter. The big story about this recipe is that a version of it has been on my idea list for quite some time – about a year – and when I got a massive amount of green peppers in my CSA box, I decided to finally try it out. It would have been almost irresponsible not to, you know? So… I made it.
The end?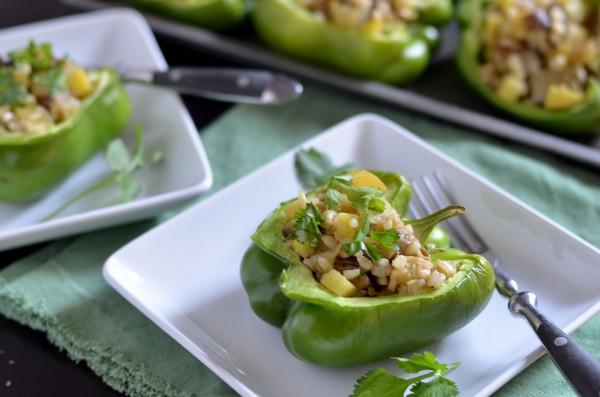 No, of course that's not the end. That would leave you with far too many pictures of peppers and far too little of my sass for one day.
Although maybe it's the peppers, not the sass, that you're after.
Lucky for you, I'm not sure I have anything too sassy to say today. More pictures of peppers it is!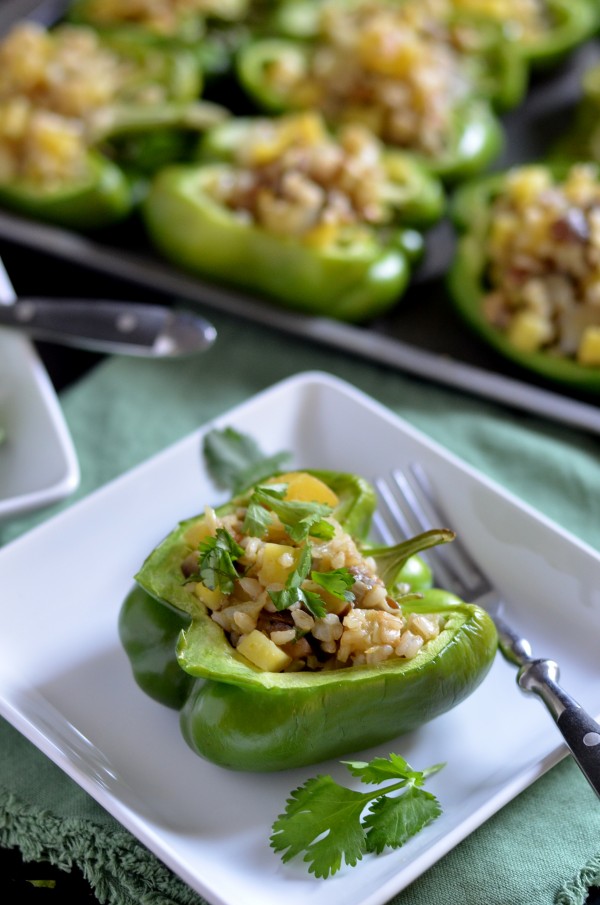 I'm a big fan of stuffed peppers because they're so cute and individually portioned. They make great leftovers to pack for lunches – and leftovers you will have, because this recipe makes 12 servings! I ate these all last week for lunch, and we still have a few in the freezer for lunches this week or next. The good news is that they freeze and reheat beautifully! Gotta love pre-portioned leftover lunches.
This is a pretty simple dish. Onions, potatoes and eggplant are sauteed in a green curry sauce, mixed with brown rice, and stuffed into green pepper halves. Everything goes into the oven to bake together for 10-15 minutes, then is sprinkled with cilantro and devoured! These are great for a cool fall evening when you're in the mood for a hot meal with a bit of spice. Remember that extra spicy green curry paste I bought this summer? I used that here, and it sure didn't disappoint on the spice front.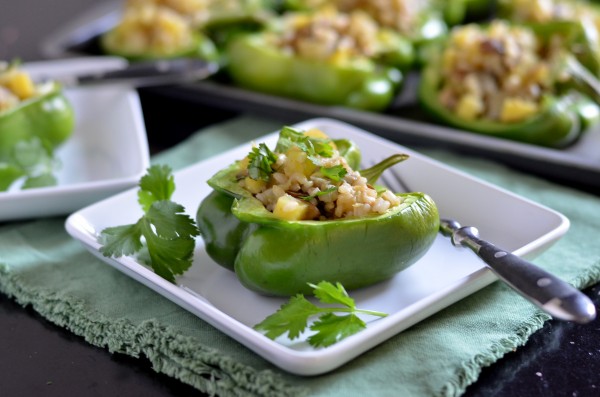 I still have a huge container of that curry paste. Hope I can get to it all before it expires!
I'm going to mix it up a bit this week on the blog post front. Tomorrow I have a non-recipe post for you (rare for me these days!), then more recipes to follow on Wednesday and Thursday. I may even sneak a fifth post in there on Friday! We'll see how it goes. In any case, I got busy in the kitchen this weekend, and have lots of yummy food coming up for you.
For today, enjoy these peppers and have a great start to your week!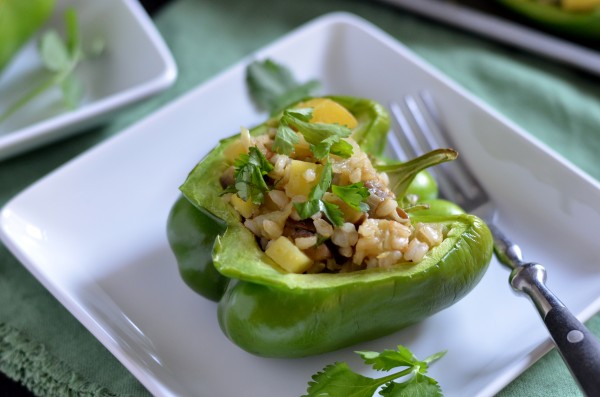 Green Curry Stuffed Peppers
Yields:
12 servings (1/2 pepper each)
Ingredients
3/4 cup uncooked brown rice
1 lb eggplant, sliced into 1/4-inch or 1/2-inch rounds
kosher salt
6 medium-sized green bell peppers
1 Tbsp coconut oil
2 Tbsp green curry paste (paste, not sauce!)
3/4 cup coconut milk (I used lite)
1 Tbsp minced fresh ginger
2 cloves garlic, minced
1 yellow onion, diced
1 lb potatoes, small diced
chopped cilantro for serving
Instructions
Bring rice and about 3 cups of water to a boil in a small pot. Simmer for 30 minutes, drain, return rice to pot, and let steam covered for 20 minutes.
In the meantime, sprinkle both sides of the eggplant slices with salt and lay them on paper towels. Let sit about 30 minutes, then wipe off both sides of each slice. (This will take out the bitterness.) Dice.
Preheat oven to 350. Cut bell peppers in half lengthwise and remove the seeds and membrane. Place cut side up on a baking sheet and bake for 15 minutes to soften them up.
Melt coconut oil in a large saute pan over medium-low heat Add curry paste and mash into oil with the back of a spoon or spatula. Stir in coconut milk and bring to a simmer. Add ginger and garlic and saute until fragrant, about 30 seconds. Stir in onion and continue sauteing until slightly softened, another 3 minutes. Stir in diced eggplant and potatoes, cover, and simmer until potatoes are tender, about 10 minutes.
Remove from heat and stir the cooked brown rice into the curry mixture. (It's not necessary to stir in all the rice if it looks like it will be too much.) Spoon into par-baked pepper halves. Return to oven for 10-15 minutes.
Garnish with chopped cilantro. Enjoy!