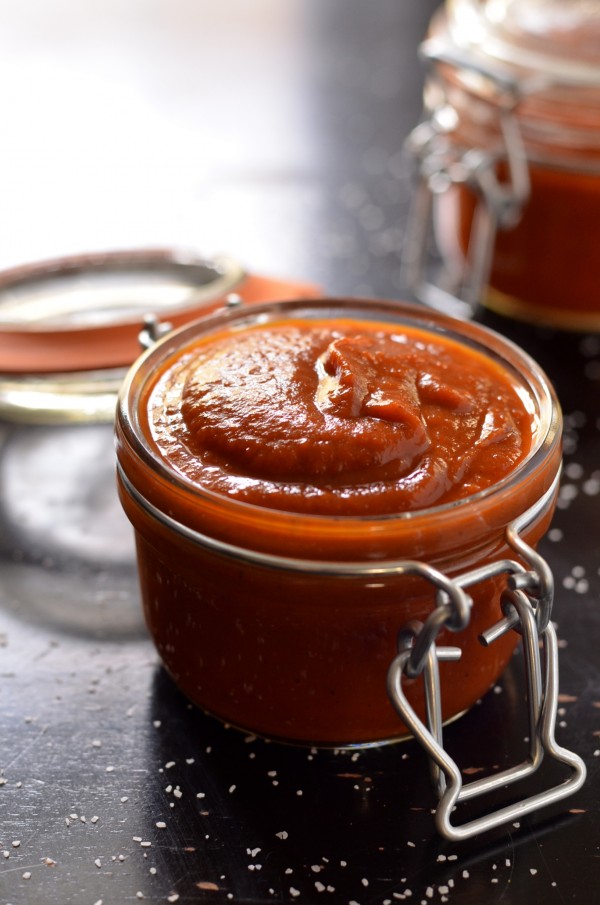 If you had told me last Monday that I would spend the weekend with a spoon in a jar of ketchup, I would have thought you were nuts. But if you had told me that come Saturday afternoon, I would have known you were telling the truth.
It's pretty embarrassing, really, especially because I don't consider myself a condiment person. I'm fine with ketchup and mustard, but I've never gotten too excited about them (before this)… and I've definitely never eaten them with a spoon (again, before this).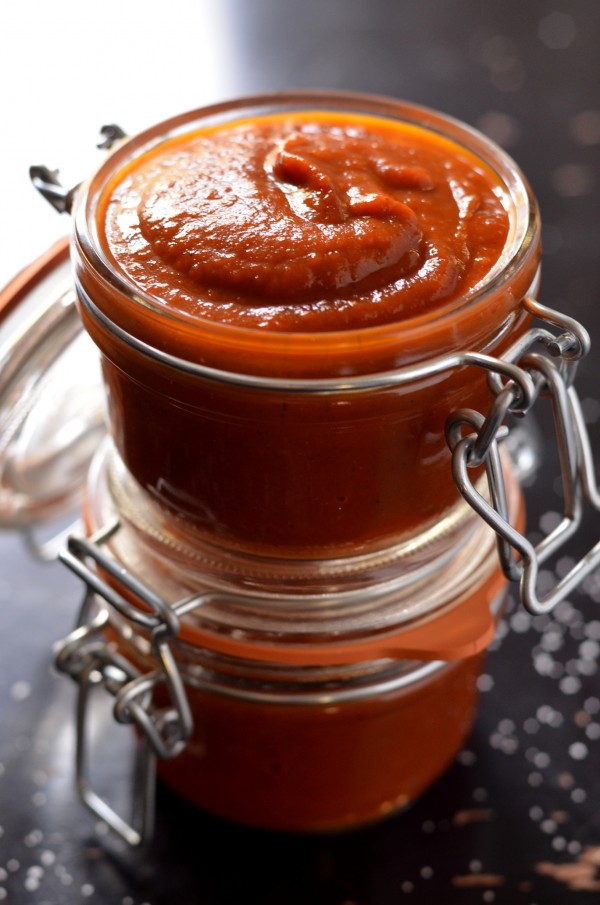 If you think it's gross to eat ketchup with a spoon, yes. I agree. When we're talking about ketchup with high-fructose corn syrup that comes out of a squeeze bottle. And for the record, never have I ever eaten that with a spoon. Gives me the chills just thinking about it.
This ketchup, though, is different. First of all, it's homemade. With onions, spices, vinegar, and canned tomatoes. Real food! Second of all, it's not just regular ketchup – it's curry ketchup.
What the heck is curry ketchup, you ask? Well, let me tell you. It's a delicious ketchup with curry spices (duh) that is popularly eaten in Germany in a dish called Currywurst. Currywurst is street food and it's basically this: A sausage (Wurst) smothered in curry ketchup. Sliced up and eaten with one of those mini two-pronged plastic forks that you may have speared pommes frites with somewhere in Europe.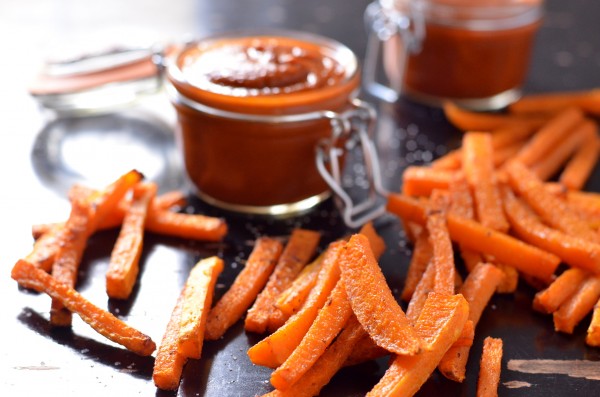 If you Google recipes for curry ketchup, I guarantee that every single one mentions Currywurst, as well as street food stands in Germany. And many will have a cute little story about eating Currywurst there. Well, this post is no different because I, too, discovered Currywurst and curry ketchup in Germany (before any ideas about eating mostly vegetables snuck into my brain). It was during the summer in college I spent in Berlin. Even then, I was not a huge sausage or condiment fan, so it was odd that I could become so enamored of a dish made up exclusively of these two ingredients. But somehow it was absolutely delicious, even to me. I specifically remember a little Currywurst stand near the place where I interned (hated that internship), and eating a Currywurst there one day after leaving work… probably to cheer myself up about working with crazy German "sound artists." Sound art? Don't ask.
When I got home from Berlin, I immediately tried to find some curry ketchup so I could replicate my new favorite dish. I've mentioned before my college job at Karl's Sausage Kitchen, and Karl's definitely had curry ketchup – a few different flavors. But somehow none of them could quite live up to the stuff I remembered. At this point, it's been too long to tell you if this homemade curry ketchup hits all the exact flavor notes of the ketchup I enjoyed in Berlin, either… but now that I know how to make it myself, I'll be able to adjust it to taste if I ever do make it back there to a Currywurst stand.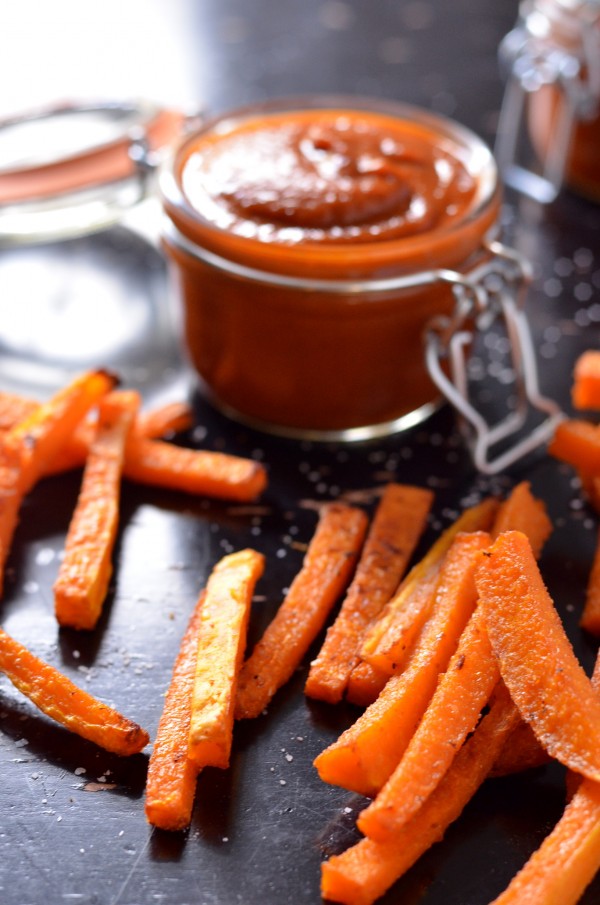 So I realize that all that doesn't really explain why I ended up eating this with a spoon.
Well, the answer is that as the ketchup simmers on the stove, it smells AMAZING. And tastes amazing (clearly). Simmering onions, spices, and canned tomatoes don't really register as ketchup on the taste buds until they are pureed, strained and cooled. While hot, this ketchup tastes like a delicious sweet and spicy sauce, which I guess is what it is. So if you can imagine eating a spoonful of homemade tomato sauce from the pot as it simmers, the leap to ketchup shouldn't be too big to make.
It is just plain delicious.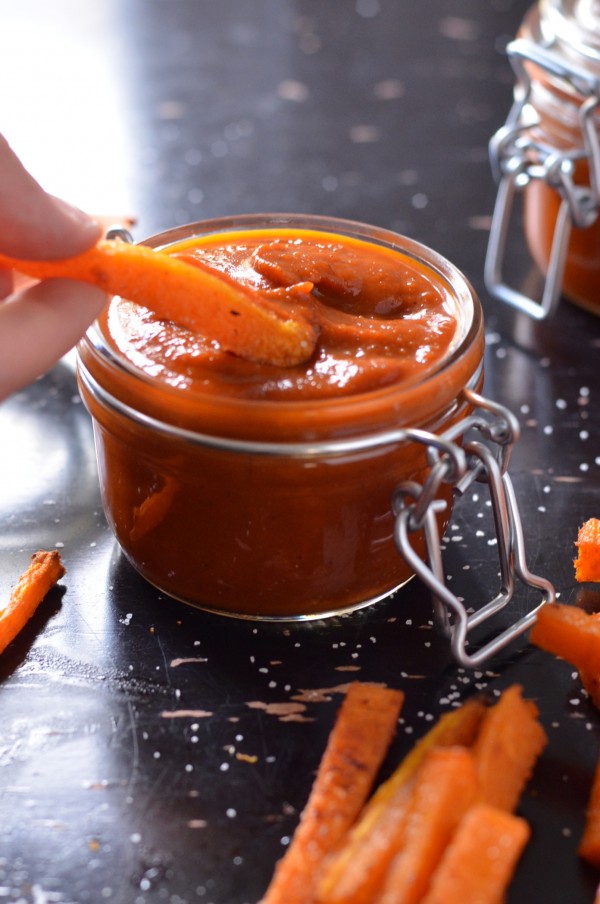 The orange guys you see in these pictures are butternut squash fries that I tried to serve with this. However, I didn't love the combo, because the squash had enough flavor on its own that it didn't really need a heavily spiced ketchup. I think it would be great with some baked potato fries or hash browns, though, and most certainly on a burger (or Wurst!), or as a huge upgrade from your regular storebought ketchup.
Ditch the squeeze bottle and add some spice to your life… via your ketchup!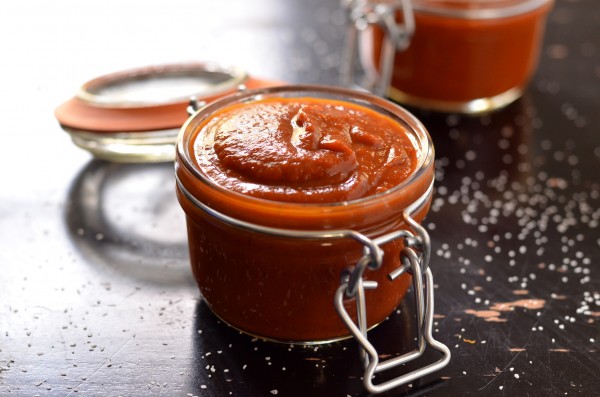 Homemade Curry Ketchup
Ingredients
2 Tbsp olive oil
1 medium yellow onion, chopped
4 cloves garlic, minced
1 Tbsp tomato paste
1 tsp kosher salt
1 Tbsp ground yellow curry
1 tsp ground mustard
1/2 tsp crushed red pepper flakes
1/2 tsp smoked paprika
1/4 tsp allspice
big pinch ground cloves
1 28-oz. can crushed tomatoes
1/2 cup brown sugar (use 1/3 cup for a less sweet ketchup)
1/4 cup apple cider vinegar
Instructions
Heat olive oil over medium heat in a small to medium pot. Once hot, add onions and saute until they are soft and begin to brown, about 6 to 8 minutes. Add the garlic and saute until fragrant, about a minute. Add the tomato paste, salt, and all the spices and stir until they coat everything evenly. Saute another minute.
Add crushed tomatoes, sugar and vinegar. Simmer, uncovered, over low heat for about 45 minutes, stirring occasionally.
Remove from heat and puree with an immersion blender until smooth. (Alternately, you can pour the ketchup into a regular blender to puree. Just make sure to leave room for the steam to escape, or the ketchup will explode all over your kitchen!)
Taste and adjust salt and spices as necessary.
Strain the pureed ketchup into a bowl to get it as smooth as possible. Store in jars in the fridge for up to one month. Enjoy!