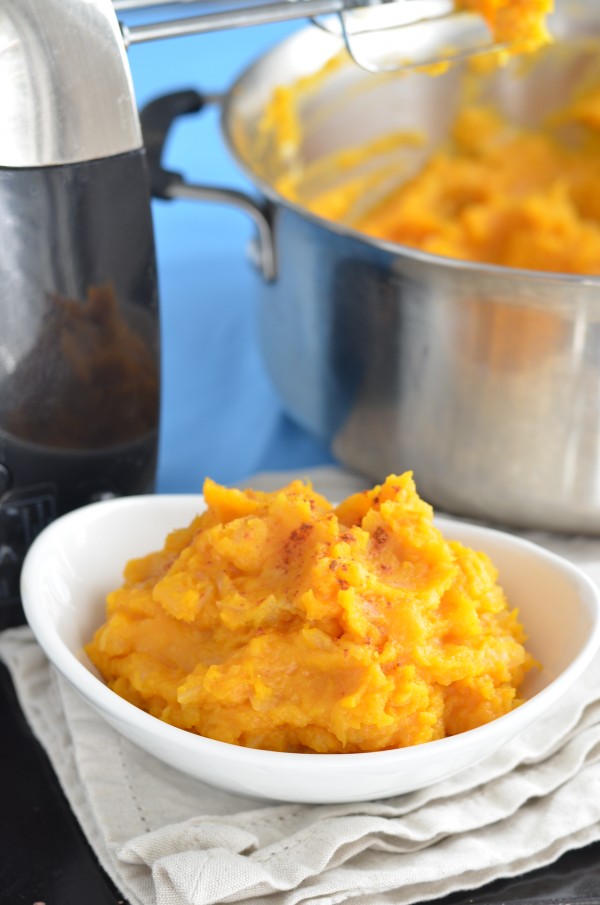 Mashed squash may not be the most romantic-sounding dish. This I know. But trust me, it is up there with the tastiest!
Each week for my CSA, I get an email containing a few recipes for this week's ingredients. This was one such recipe, and I knew immediately I had to try it. It sounded quite similar to the spiced butternut squash soup I made last winter – one of my favorites. Butternut squash, onions, apples and spices in yet another spoonable form? Yes please!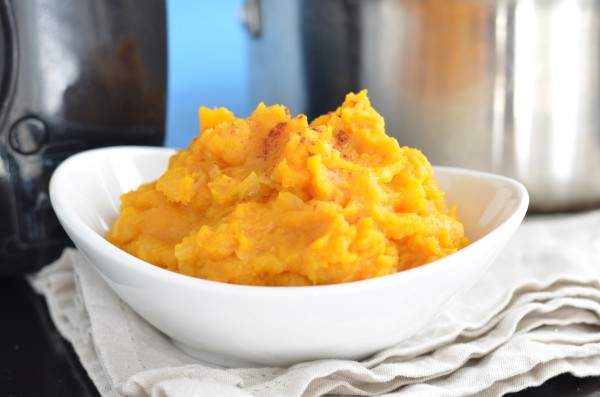 These are the squashy version of mashed potatoes. And if you like mashed potatoes, let me tell you how you will feel about mashed squash: you will FREAK OUT. Unlike potatoes, with butternut squash there's no need to add cream (just a little bit of butter!), because it already has plenty of moisture. Instead, the focus is on flavor. Apples and onions and maple syrup, oh my! Plus a hint of warm spices to round out the dish and make it absolutely heavenly. Seriously. I swoon every time I reheat a serving of these. They are just THAT good.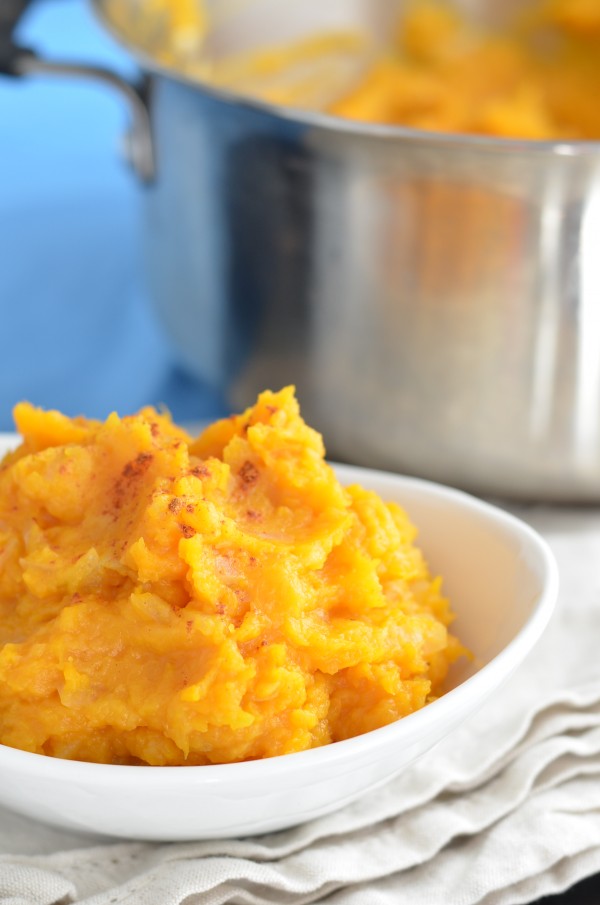 In fact, I have a slight problem when it comes to cooking dishes like this. Huge delicious amount of mashed butternut squash + me + spoon = disaster. Where disaster = no need to eat for the rest of the day. Yep, that was pretty much my weekend (exciting, I know) and this mashed butternut squash was the culprit. OK maybe I was still the culprit. But the point I'm trying to make is that this squash is so delicious, it will make you lose all self-restraint.
This squash would be perfect for Thanksgiving, if you can plan that far ahead, or as a side along with chicken and a salad. But just give me a spoon and that big ol' pot and I'll be happy!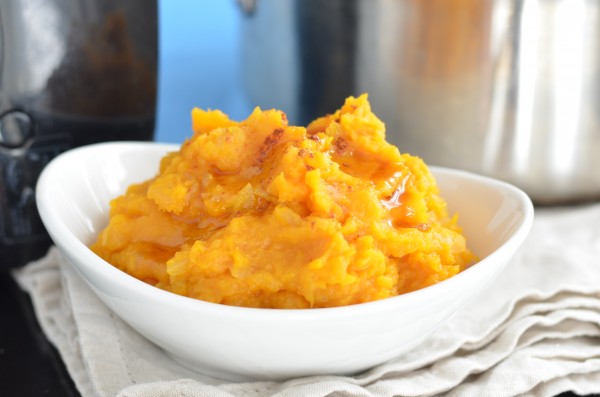 Mashed Butternut Squash
Ingredients
4 lbs butternut squash (about 2 medium-sized squash)
olive oil
2 Tbsp unsalted butter
2 apples, grated
1 yellow onion, diced small
1/4 tsp kosher salt
1 clove garlic, minced
1/2 tsp cinnamon
1/2 tsp coriander
1/2 tsp cumin
1/8 tsp cayenne pepper
2-3 Tbsp maple syrup
Instructions
Preheat oven to 375. Cut butternut squash in half lengthwise and scrape out seeds. Brush with olive oil and place cut side down on a foil-lined baking sheet. Bake until squash is tender all the way through, especially at the long end. This will vary depending on the size of your squash, about 35-45 minutes.
Melt butter over medium-low heat in a large pot or Dutch oven. Add apples, onion, and salt, cover, and cook until onions are soft, about 5 minutes. Remove cover and saute until golden brown, about 5-7 minutes longer. Add garlic and spices and saute until fragrant, about 30 seconds longer. Remove from heat and set aside until squash finishes roasting.
Once squash is roasted, scrape it out of the skin and add it, along with maple syrup, to the pot with the apples and onions. Whip with a hand mixer until smooth.
Serve hot! Enjoy.
Notes
This recipe can easily be halved to yield a smaller amount (or if you only have 2 lbs of squash!).