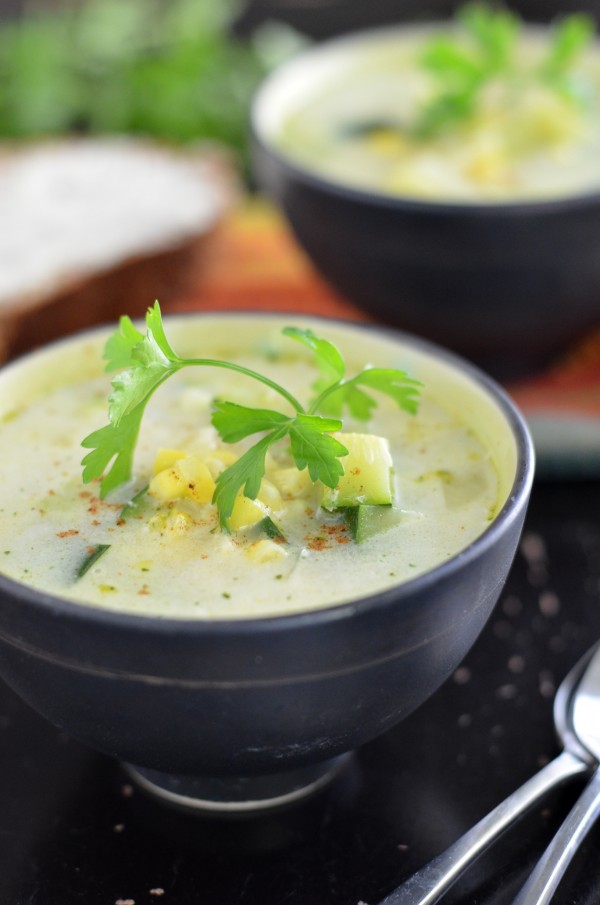 In her Good Food Book, Jane Brody files this soup under the section "Recipes I Have Known and Loved." If I had a section like that on this blog, this soup would most definitely live in it. But it would be something more like "Recipes I Love Because My Mom Cooked Them."
OK, false. That is a horrible name for a blog category. But you get the idea… this is a meal I love because my mom used to cook it for us.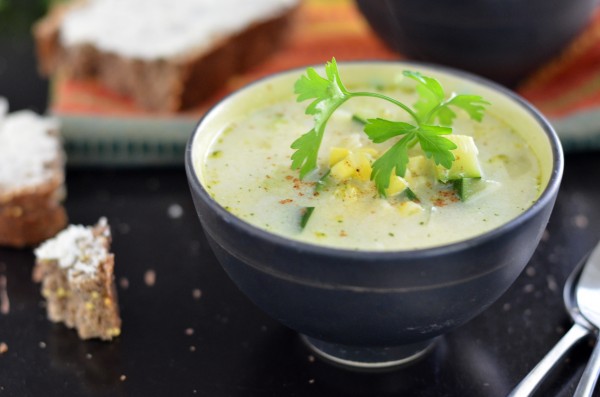 Growing up, I have memories of slurping this soup at our kitchen table. Actually, my memories of this soup are specifically related to the cheese in it. Cubes of Monterey Jack start to melt the instant they hit the hot soup, becoming gooey globs of cheesy goodness that stretch from the soup to your spoon. (Tried to get a visual for you but I'm too impatient and wanted to eat this soup. Can you blame me?)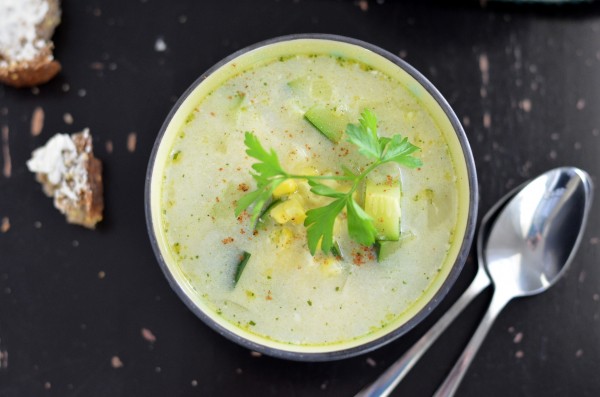 So yes, as a kid I remember digging around for more chunks of melted cheese in this soup. I wish I could say I don't do the same thing as an adult, but I found myself fishing a few cheesy spoonfuls out of the pot as I was packing up this batch for leftovers. Mmmm cheesy zucchini corny soupiness.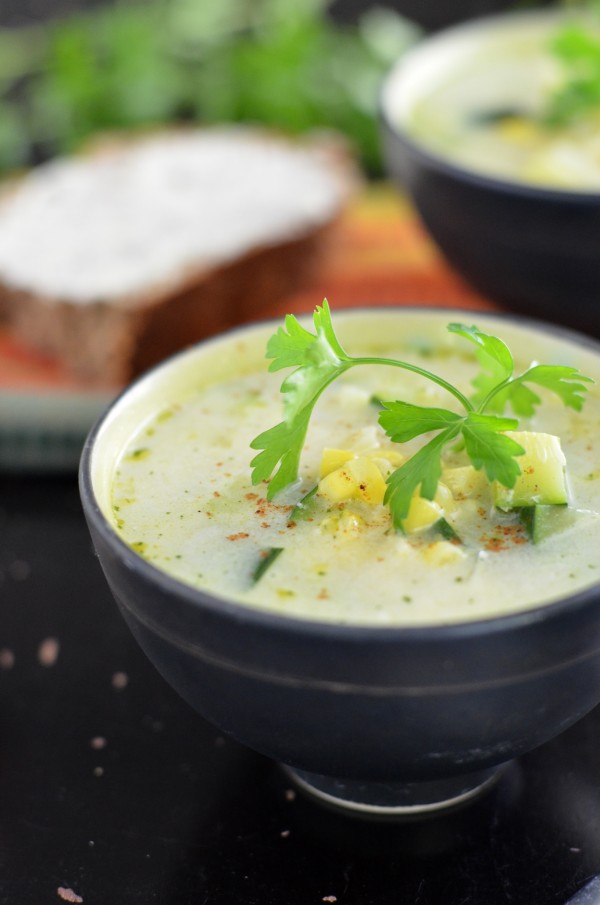 When I was home at my parents' house last month, I had a whole list of recipes to demand from my mom. Needless to say, this was one of them! Mexican zucchini soup – emphasis on the zucchini, not the Mexican. What exactly is Mexican about this soup – the milky broth? The fact that it has corn? It might require a slight leap of faith to call this a Mexican dish… but hey, I am willing to do that for Jane Brody and my childhood memories of this soup.
Not only is it just as good as I remembered, but I was pleasantly surprised by how easy and fast this soup is to prepare. The onion is sauteed in butter for a few minutes (does anything smell better?!), then the veggies and broth are added and simmer for just 5 minutes, and voila, the zucchini is cooked through. The milk and cheese are stirred in and it's done! An easy cheesy bowl of veggies and broth that's on your table in way less than half an hour, even if you are a sloooow and disorganized veggie chopper like me.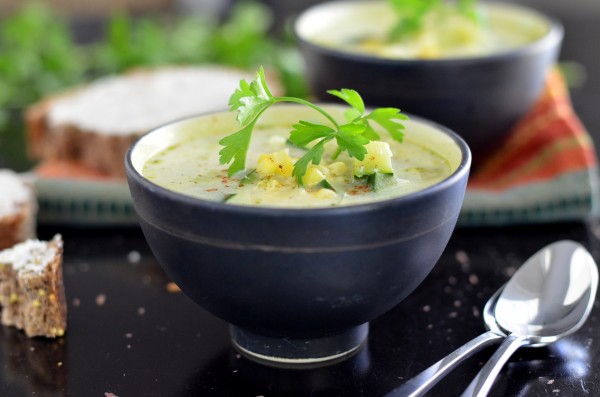 To me, this is a perfect early fall recipe because it uses summer veggies but, hello, it's a hot soup. So necessary for the cold snap we've been having. (It was 25 degrees when I started my run on Saturday morning! Can you say soup weather?) And although I made it with the last fresh ears of corn from our CSA, you could just as easily sub frozen corn. I will be making this soup all winter, whenever we need something simple and hot with the bonus of a melted cheese treasure hunt.
Grab your favorite loaf of chewy bread and enjoy!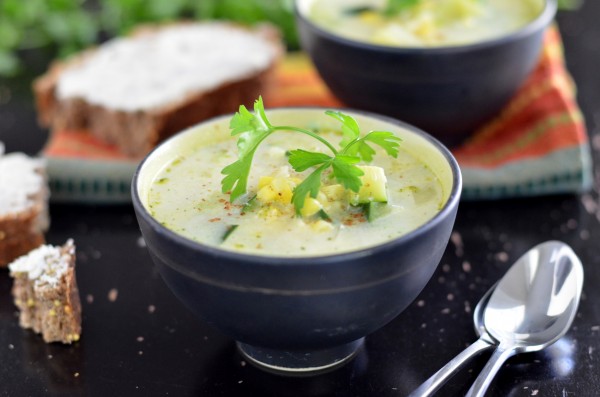 Mexican Zucchini Soup
Ingredients
1 1/2 tsp butter
1/3 cup chopped yellow onion (1 very small onion or 1/4 of a medium onion)
2 cups unpeeled, diced zucchini (2 very small zucchini or 1 smallish-medium one)
1 1/2 cups corn kernels (about 2 ears of corn, or use frozen)
2 Tbsp minced jalapeno or other green chilies (canned is fine)
2 cups vegetable broth
1/8 tsp ground black pepper
1 cup milk of your choice (I like using lite coconut milk)
2 oz. Monterey Jack cheese, diced
salt to taste, if necessary
minced fresh parsley
nutmeg
Instructions
In a pot, heat butter over medium heat. Add onion and saute until beginning to soften, about 3 minutes.
Add the zucchini, corn, jalapeno, broth, and pepper. Bring to a boil and simmer until zucchini is tender, about 5 minutes.
Stir in milk. Remove from heat and stir in cheese. Salt to taste if necessary.
Serve immediately, garnished with parsley and a pinch of nutmeg. Enjoy!