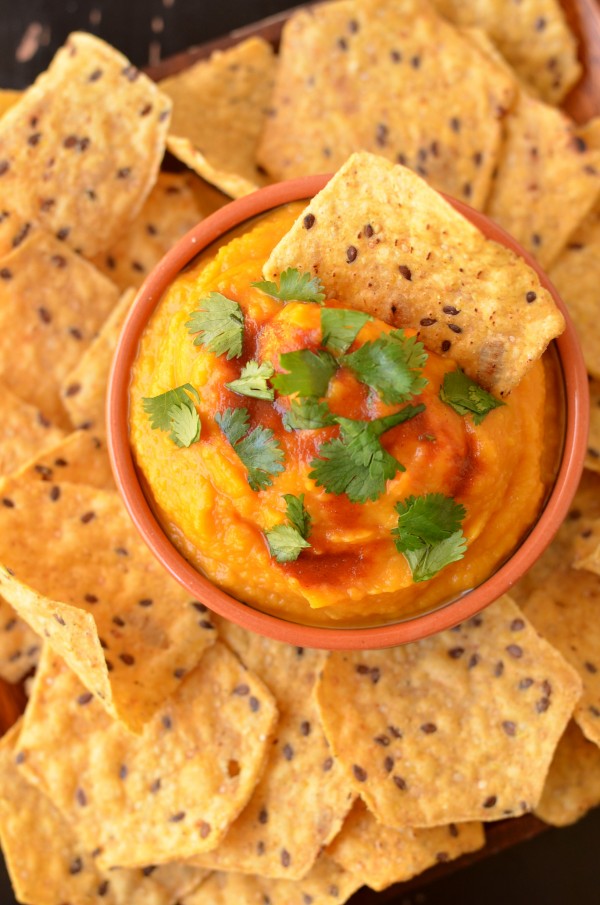 We got our first snow of the season yesterday. I woke up in the morning, changed into my running clothes, and looked out the window… uh ohhh. WHY is the ground covered in 4 inches of snow?! I am not much of an outdoor runner when it's slippery outside. I took about 10 steps before I went back in, changed into shorts, and went to the gym to run on the treadmill.
First treadmill run of the season in the books! It's gonna be a loooong winter.
As a side note, our neighbors still had their sprinklers on. What?!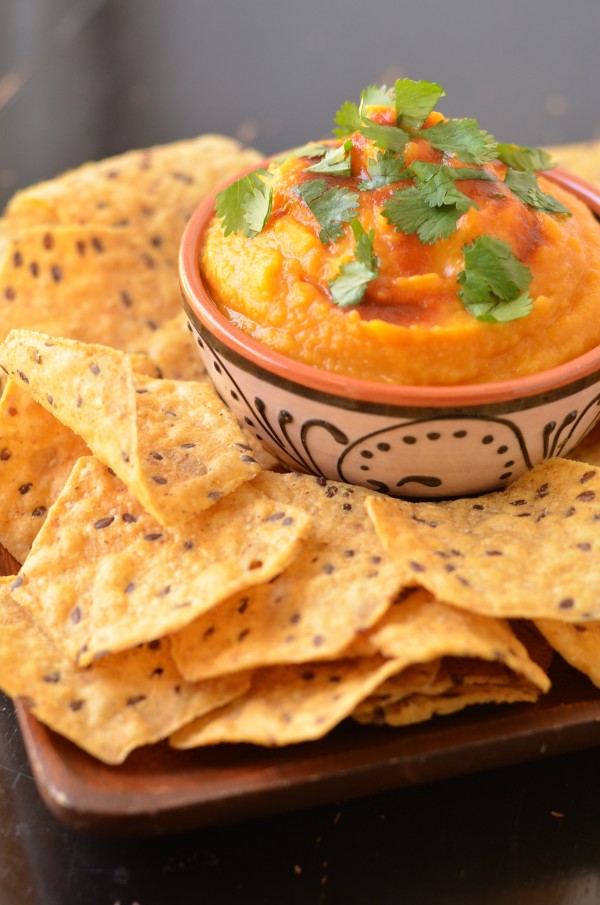 I'm clearly not thrilled about the quick transition to winter that we're having around here, but it does mean I get to roast butternut squash to my little heart's content. Our apartment is already freezing, so I'm a happy girl when the oven is on. I've already posted a few butternut recipes so far this fall, and I'm showing no signs of slowing down. This is just the most recent way I've been getting my fix.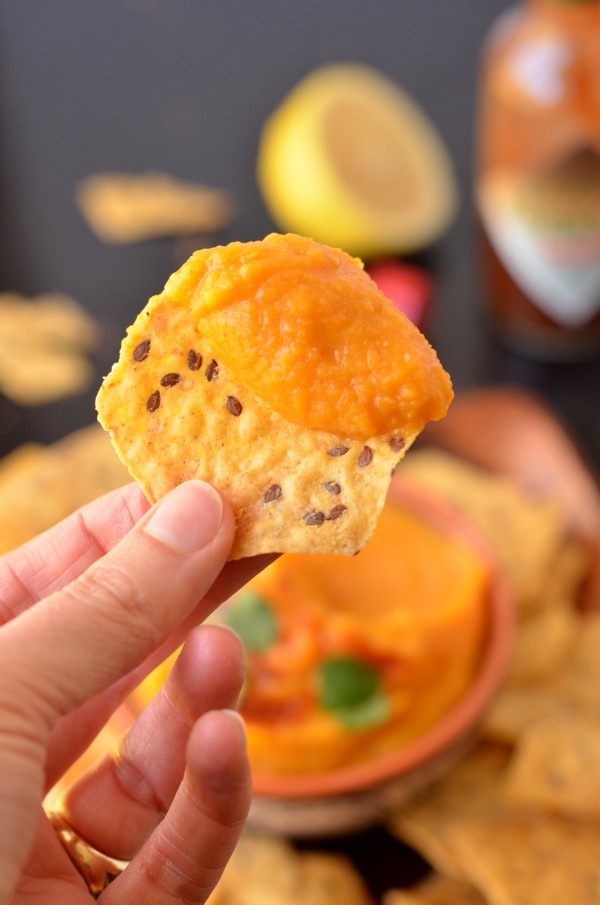 This dip is a flavorful combination of roasted butternut squash and white beans, blended up with garlic, onion powder, lemon juice, nutritional yeast (that part is optional for all you haters out there!), and chipotle hot sauce. Gotta have some spice! I tried chipotle Tabasco for the first time when I got my co-worker's Bloody Mary recipe, and I've been putting it in everything since. It really kicks this dip up a notch!
White bean dips are generally made with cannellini beans, but my grocery store has mysteriously been out of the brand I like for weeks. So I tossed some Great Northern beans in there instead, and it came out great. Feel free to experiment with whatever can of beans you have on hand if you're feeling frisky!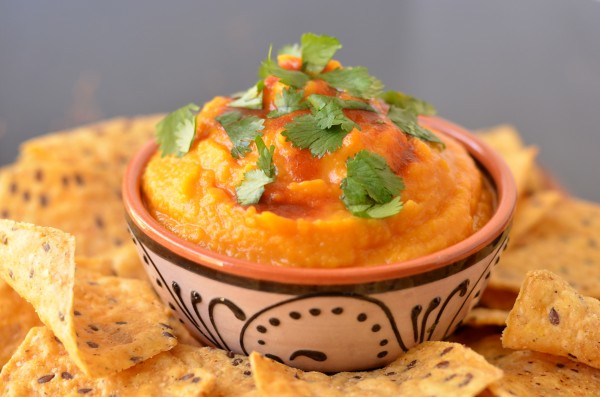 I've made this dip a few times now, and we've been eating it for snack with some tortilla chips or raw broccoli. It's great as an appetizer, whether you're serving a vegan crowd or not. And don't let the nutritional yeast scare you – I've made it both with and without, and can honestly say it's good but entirely optional.
Other than the flavor (of course), my favorite thing about this dip is that it's made up almost entirely of veggies and beans. It's much lighter than a hummus or other dip made with oil or tahini, but still has a ton of flavor. Butternut squash is so creamy and tasty, I'm almost having a hard time believing it's a vegetable. Can you say too good to be true?
Grab some chips and go crazy!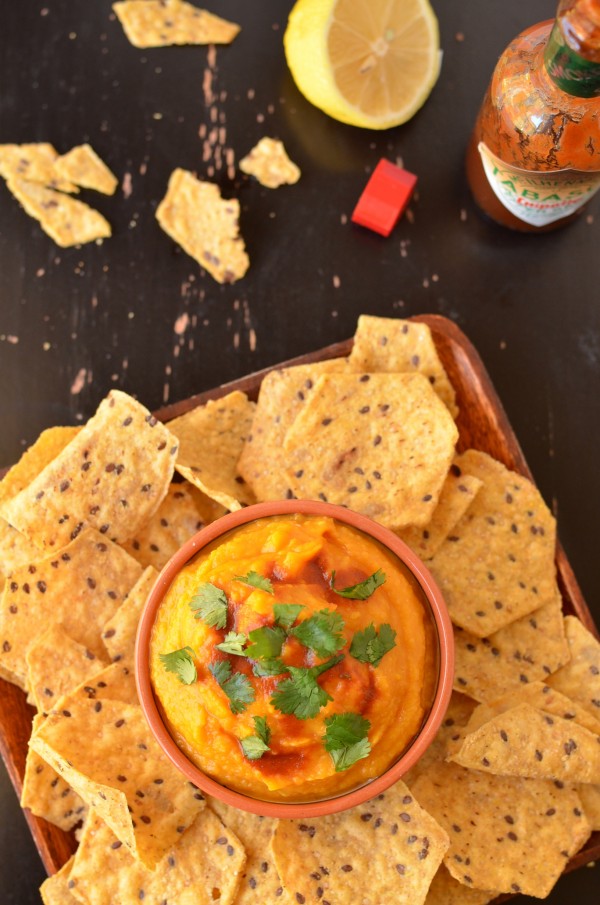 Chipotle Butternut Squash and White Bean Dip
Ingredients
For the dip:
3 cups packed roasted butternut squash* (or 2 cups if already pureed)
1 14-oz can white beans, drained and rinsed (cannellini or Great Northern both work)
2 cloves garlic, roughly chopped
6 Tbsp fresh lemon juice (from about 1 1/2 lemons)
2 Tbsp nutritional yeast (entirely optional)
1 Tbsp chipotle Tabasco sauce
1/2 tsp onion powder
For serving:
chopped cilantro
tortilla chips or veggies
Instructions
Add all dip ingredients to a blender or food processor. Puree until smooth, stopping to scrape down the sides as necessary.
Scoop dip into serving dish and top with chopped cilantro. Serve with tortilla chips or veggies. Enjoy!
Leftover dip can be kept covered in the fridge for 3-5 days. Refrigerated dip will be firmer, so add a tablespoon or two of water or lemon juice to get it back to your desired consistency, or bring up to room temperature before serving.
Notes
Inspired by
Oh She Glows
.
*To roast the squash: Preheat oven to 375. Halve the butternut squash lengthwise and scoop out seeds. Place face down in a baking dish and fill with 1/2 inch water. Roast until fork tender, about 45 minutes (depending on the size of the squash). Scoop out to measure packed cups.