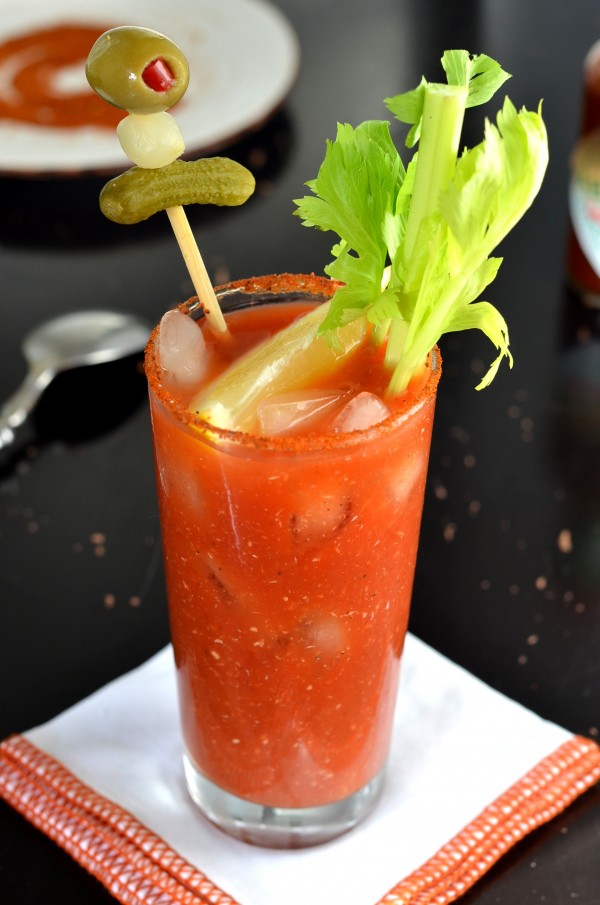 It seems like forever ago that I promised you my co-worker's Bloody Mary recipe.  I hope you'll forgive me for taking a while to get around to sharing, but I finally am! And I'm super excited about it, since I don't often post anything boozy here. It's always fun to shake things up a bit, right? And yes, having a brunch cocktail totally counts as shaking things up in my book. Number one partier right here!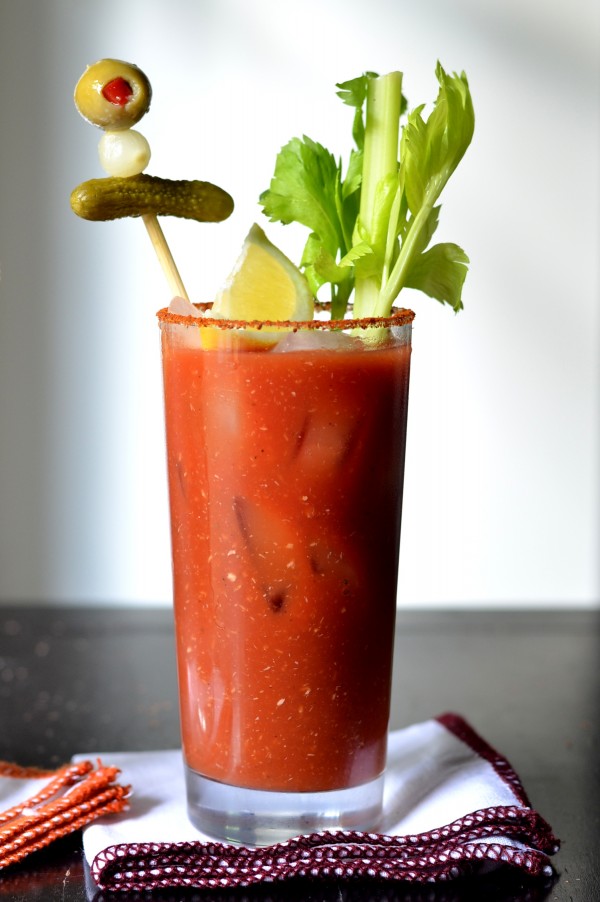 Not really.
If you know me, you know I'm not much of a hard alcohol lover. Though I mostly stick to beer and wine, I've broadened my horizons over the years, and the list of cocktails that I no longer find offensive is as follows: margaritas, mojitos, Bloody Marys. You can probably guess, given the fact that those three cocktails use three different liquors, that the alcohol is not what draws me in. Although I will say that a weak cocktail is pretty disappointing. Too bad I live in Utah, where there are laws that mixed drinks have no more than 1.5 oz of booze each. Don't get me started on Utah liquor laws… That's why we have to make our own Bloody Marys, people!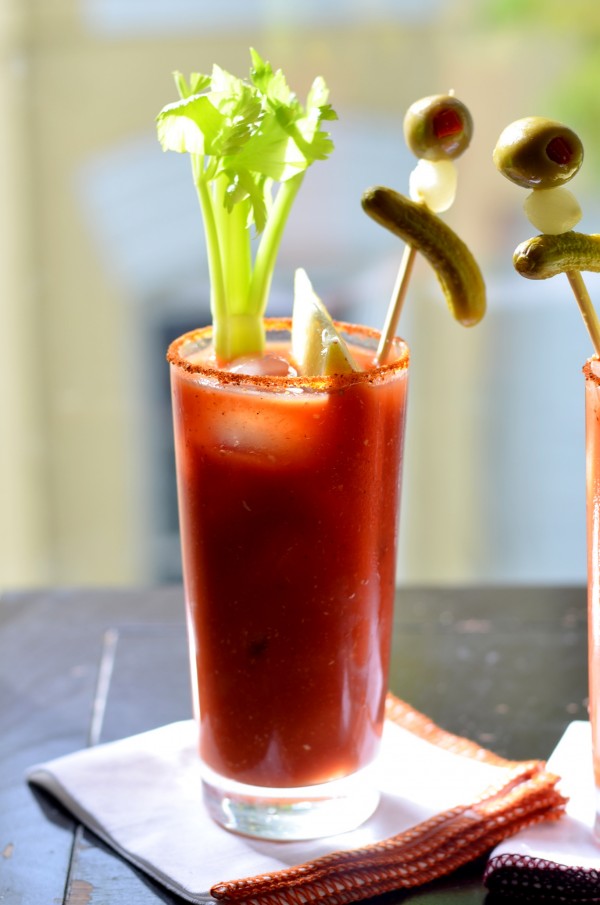 (Also, remember when I said that our neighbors' window is right next to our breakfast table? Here is proof. See it there?)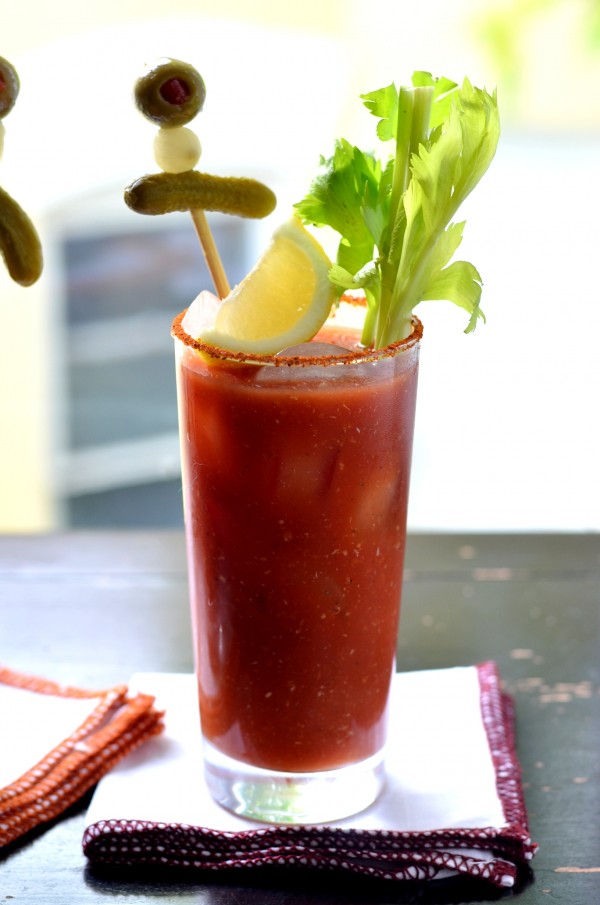 My love affair with this cocktail started quite unexpectedly a few years ago, on a ski trip with friends. (Coincidentally, my relationship with Nate started the same way, although he came a few years before the Bloody Marys!) This was in the days when I lived further than a half hour from the mountains, and had to actually make a weekend out of it in order to ski. How the times have changed! In any case, I asked for a sip of a friend's Bloody Mary at lunch one day, and was shocked when it really hit the spot. I started to love them and never looked back!
My co-worker Greg mixed up a batch of these for our bus ride down to Vegas at the end of September. Long and miserable though that bus ride is, I am always baffled when people commence drinking beer or wine at 6 or 7 am. Not into it. But a Bloody Mary, that I can get behind! Not at 6 am maybe… but come noon or so, I was definitely in the mood for one! And it was possibly the most delicious Bloody Mary I've ever had – spicy, well-seasoned, and just perfect all-around. I had another Bloody Mary at a restaurant later in the weekend, and it couldn't touch this one. THAT is when I had to get the recipe.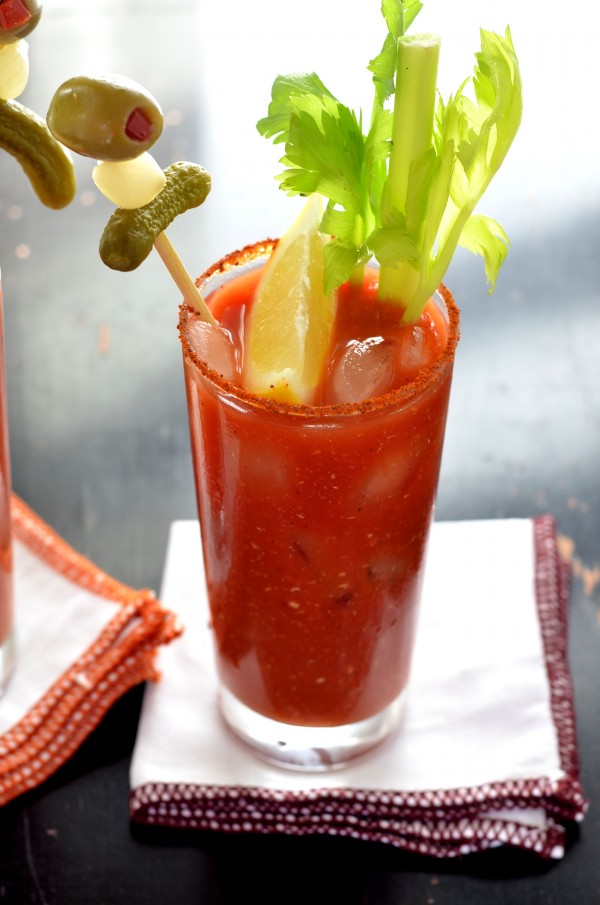 I am sort of hesitant to play mixologist, not having much experience. Let's just say there were some margaritas earlier this year that definitely did not end up on the blog. But I've determined that Bloody Marys are pretty foolproof. When in doubt, just add more of everything! I like mine spicy with a good kick of horseradish, which is exactly why these bad boys hit the spot.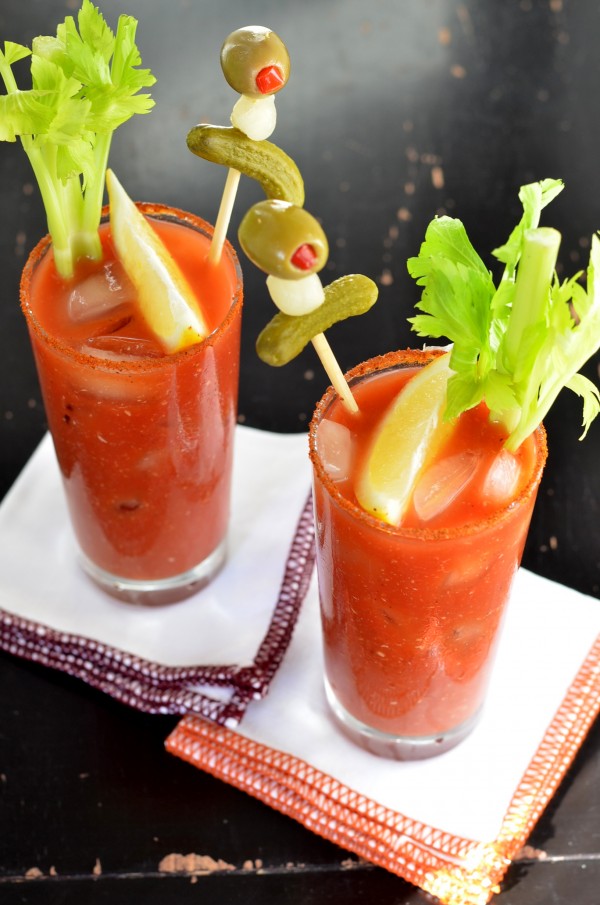 The secret ingredient in these is chipotle Tabasco sauce. I am a huge chipotle fan in general, and I thought it was brilliant to use it in this cocktail. You should be able to find chipotle Tabasco in your grocery store, no problem. I picked it up especially for these, but will definitely be trying it out in place of other hot sauces in recipes from now on. So good!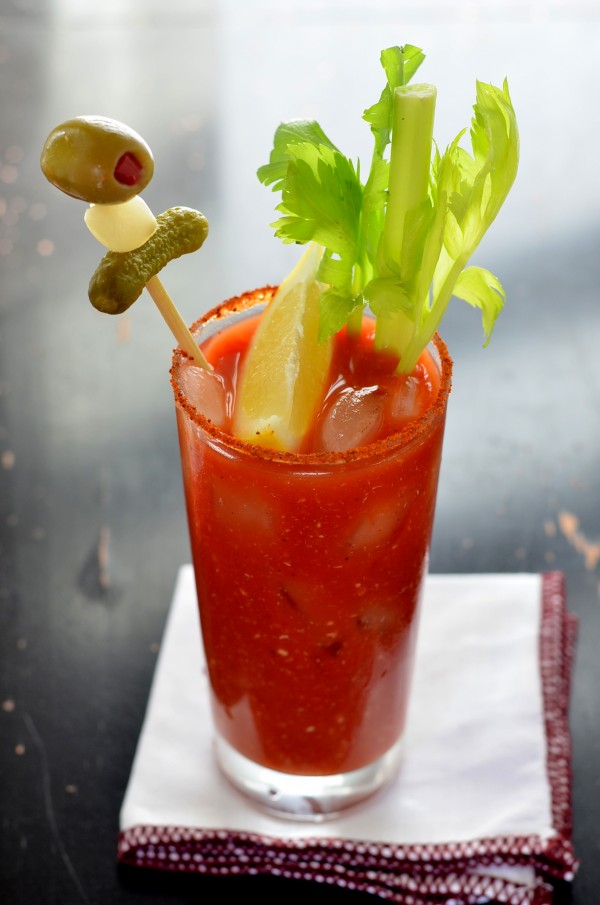 My favorite way to enjoy these is with a savory brunch dish like griddle cakes, baked eggs or breakfast burritos. Give me some pancakes and I will choose coffee every time, but with a savory dish, you can't go wrong with Bloody Marys. Plus coffee, naturally. Always coffee!
I hope you whip up a batch of these for your next brunch gathering! Or, you know, bus ride.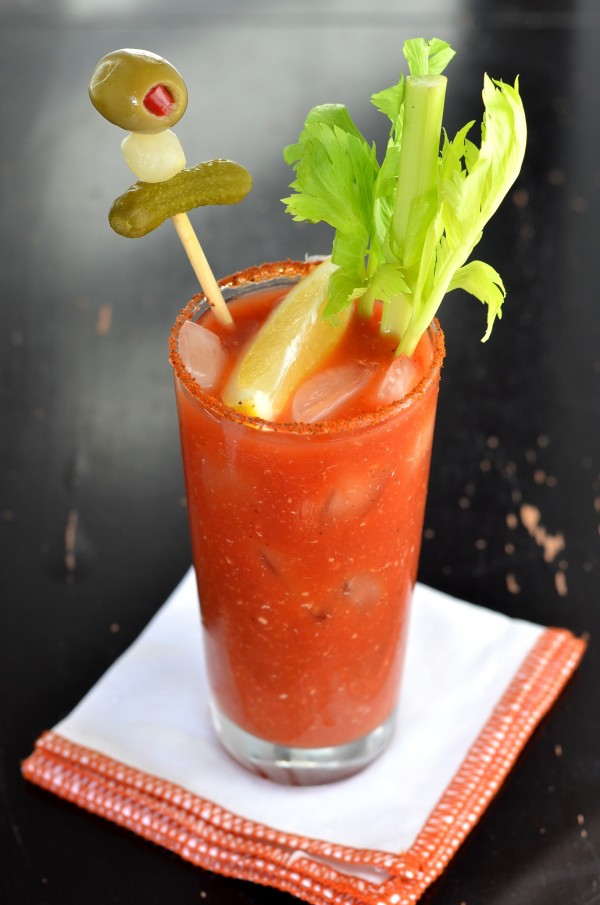 Chipotle Bloody Marys
Yields:
2 pint-sized cocktails (as shown) or 4 small cocktails
Ingredients
1/2 tsp celery salt
1/4 tsp ground black pepper
1 Tbsp horseradish
2 tsp Worcestershire sauce
1 Tbsp chipotle Tabasco sauce
3 cups low-sodium tomato juice
lemon wedges
Old Bay seasoning
ice
vodka
celery hearts, pickles, cocktail olives, etc. for garnish
Instructions
In a pitcher, mix together celery salt, pepper, horseradish, Worcestershire sauce, Tabasco, and tomato juice. Stir to combine. If you like, this can be done the night before and the pitcher kept in the fridge to allow the flavors to blend.
Spread Old Bay seasoning on a small plate. Run a lemon wedge around the edge of four glasses, and dip in Old Bay to rim.
Fill glasses with ice and add your desired amount of vodka. Pour in Bloody Mary mix and stir to combine. Garnish with a lemon wedge, celery stick and anything else you desire.
Serve and enjoy!