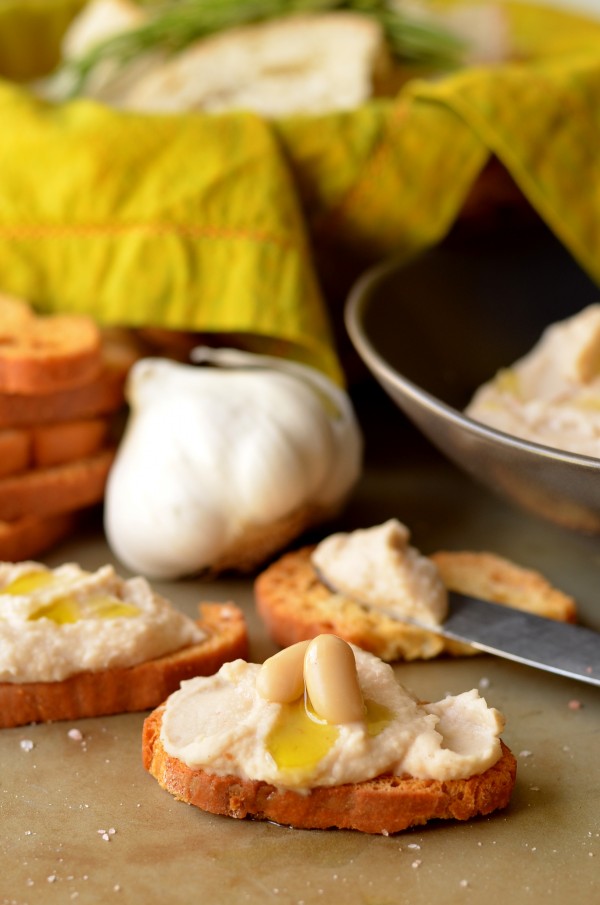 Can you handle some mushy talk today before we get to the food? I hope so… and if not, just skip down to the recipe!
Today I am feeling unbelievably lucky. Lucky to somehow have such an amazing man in my life, to have such wonderful, caring and generous parents, and just generally to have the deck stacked in my favor. I'm not sure how I ended up with so much, but I am so very thankful. It's easy to take all the wonderful people and things in my life for granted, and I do that too often, but today I am just feeling an overwhelming sense of gratitude. I am not sure how I'll ever live up to it all!
I guess in the meantime I will just make everyone lots of food. Sometimes even reeeally good food.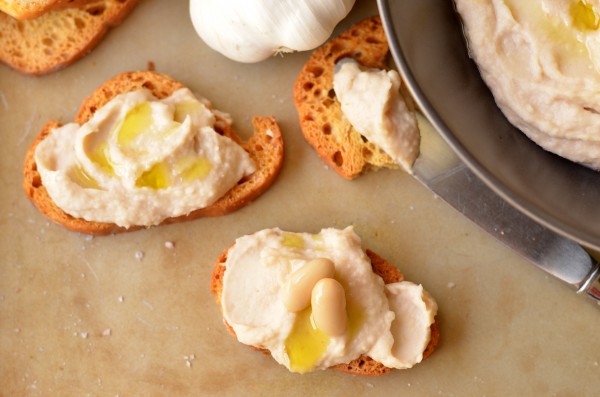 I copied the idea for this spread from a brunch spot where Nate and I ate recently. They serve a vegan plate that includes, among other things, a white bean spread with a hint of roasted garlic and truffles on warm toasts. I was pretty much in heaven eating these little toasts at brunch, and knew I head to recreate them at home.
Luckily, it couldn't be easier. Well… you do have to roast some garlic, as well as have some truffle oil on hand. But I highly recommend both of those things.
This spread has only a handful of ingredients, and only 2 Tbsp of oil, but it tastes unbelievably decadent. I mean, roasted garlic and truffle oil?! You will really feel like you're living the high life when you eat it! What I love about it is that despite what you might expect, it's a relatively mild dip. The roasted garlic and truffle flavors are pretty subtle, just lending a hint of deliciousness to a creamy white bean dip.
I loved this dip spread on some baguette slices and stuck in the toaster oven for a few minutes. It's also good cold as a dip or a spread. For dipping, I recommend small toasts or red pepper strips! Or a finger, in a pinch.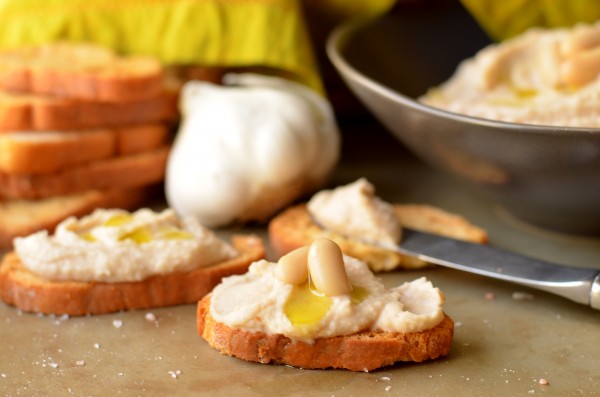 Roasted Garlic and Truffle White Bean Spread
Ingredients
2 heads of garlic
28 oz. can cannellini beans, drained and rinsed (3 and 1/2 cups cooked)
2 Tbsp white truffle oil
up to 1/2 cup water
kosher salt
white pepper (or substitute black pepper)
small toasts or veggies for serving
Instructions
To roast the garlic:
Preheat oven to 375. Peel the flaky outer peels off of the heads of garlic, leaving the cloves in their skins. Slice off the top of the heads of garlic so that the inside of each clove is exposed. Place on a baking sheet (or I like to use a muffin tin), drizzle with a bit of olive oil, and cover each with tin foil. Roast until golden-brown, about 35 minutes. Remove from the oven and let sit until cool enough to handle.
To make the spread:
Once the garlic is cool enough to handle, squeeze out the cloves into the bowl of a food processor. Careful not to get any skins in! Add cannellini beans, truffle oil, and a few tablespoons of water and puree, scraping down the sides as necessary. With the food processor running, add water 1-2 Tbsp at a time to keep things moving and reach a creamy consistency. Once desired consistency is achieved, let food processor run for several minutes to get the dip really creamy.
Season to taste with salt and pepper - I used about 3/4 tsp kosher salt and 1/2 tsp white pepper.
Serve with toasts, veggies, or dippers of your choice! Enjoy.
Notes
To warm the dip as you make it, use boiling water instead of cold.