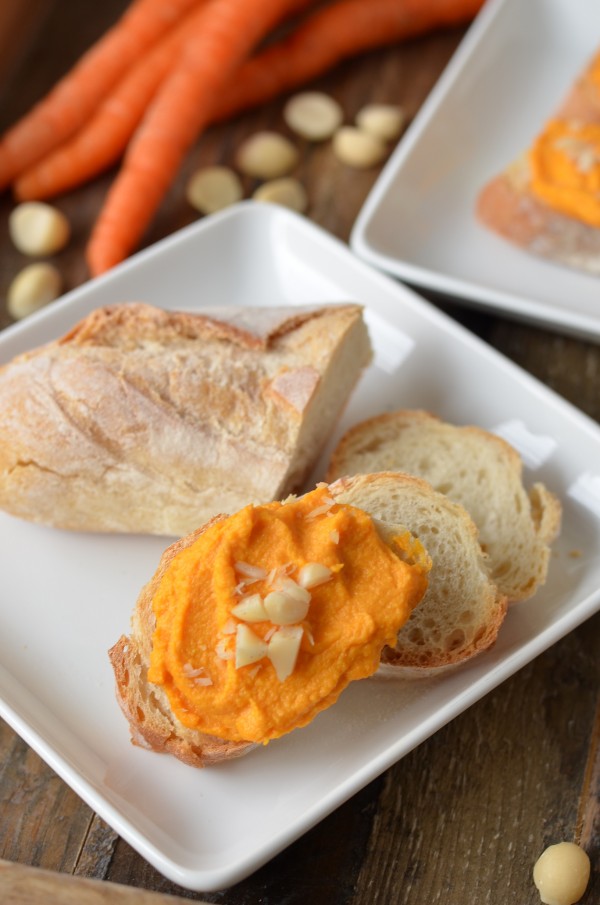 Allow me to introduce you to the thing you never knew your life was woefully incomplete without:
CARROT BUTTER.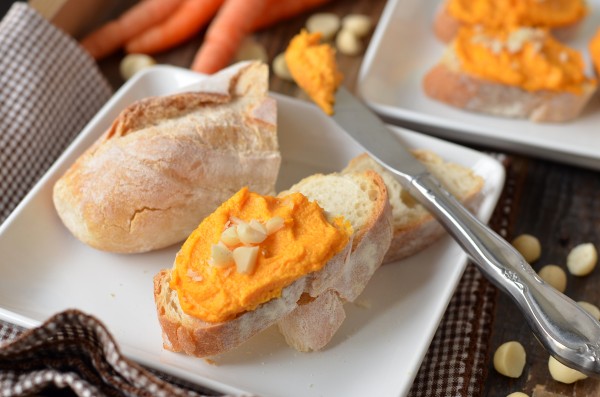 Carrot butter has been on my to-cook list since the inception of this blog, and I can't believe it's taken me so long to bring it to you.
So let me tell you about it: it's a rich puree of macademia nuts and cooked carrots, sweetened with maple syrup and flavored with vanilla.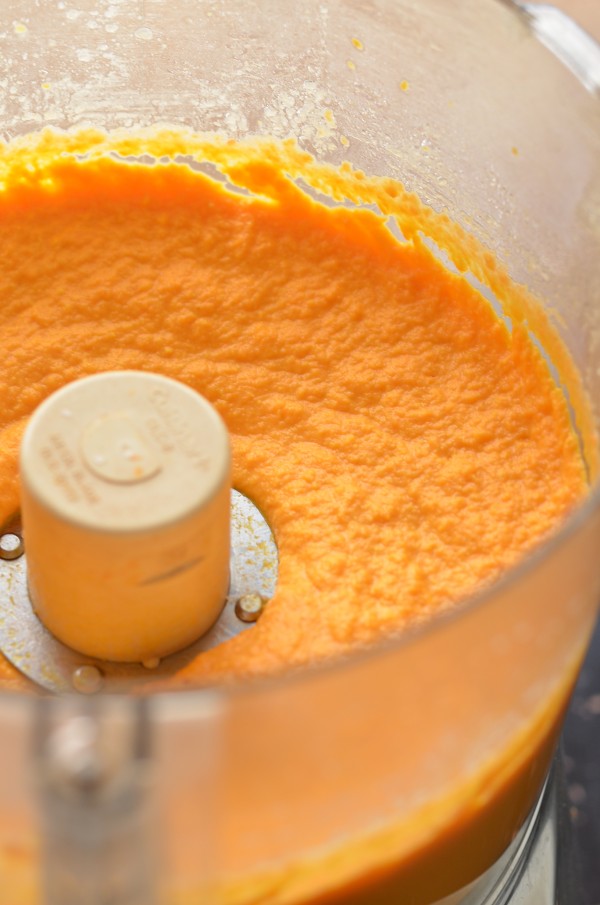 A sweet, nutty carrot puree? You're probably thinking I'm crazy right about now. And to that I would say: Yes… I mean no. No with a side of yes?
The reason I might be a little crazy is that this carrot puree is based on an appetizer from our favorite local vegan restaurant, Sage's Cafe. And anyone who has a favorite vegan restaurant with dishes on the menu like Magical Wok and Guac-and-Roll might be a little cuckoo. We've even been to their all-you-can eat vegan pizza night… and one of the pizzas has carrot butter on it! Mostly, we just go for the carrot butter.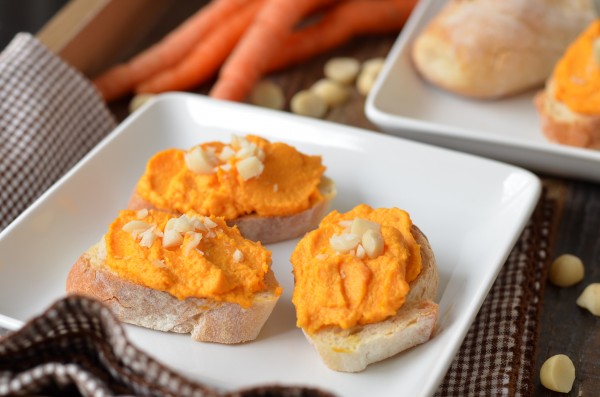 So that's the reason that a maple macademia carrot puree does not make me insane. It is so freaking delicious I can't even stand it, and it couldn't be easier to make at home. You just need to find some macademia nuts (I've bought them at both Trader Joe's and Whole Foods before), which I know can be on the pricey side. Could you use cashews instead? Sure, but you'd lose that out-of-this world buttery macademia flavor. I say go big or go home! Better yet, go buy yourself a big bag of macademia nuts, then go home and make this carrot butter.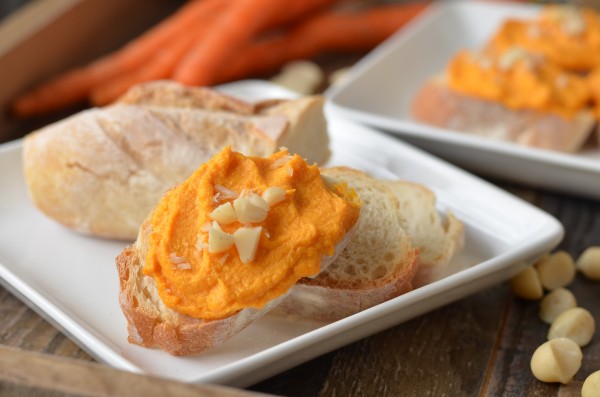 Sage's Cafe serves their carrot butter with a seeded baguette and cucumber slices. It's also delicious on any other type of bread… crackers… vegetables… eaten straight with a fork/spoon/knife/finger/spatula… I think you get the gist. To be honest, I would have photographed my batch of carrot butter with some veggies, too, but it was lunch time. And at some point I just had to throw the camera aside and dig in.
So. freaking. good.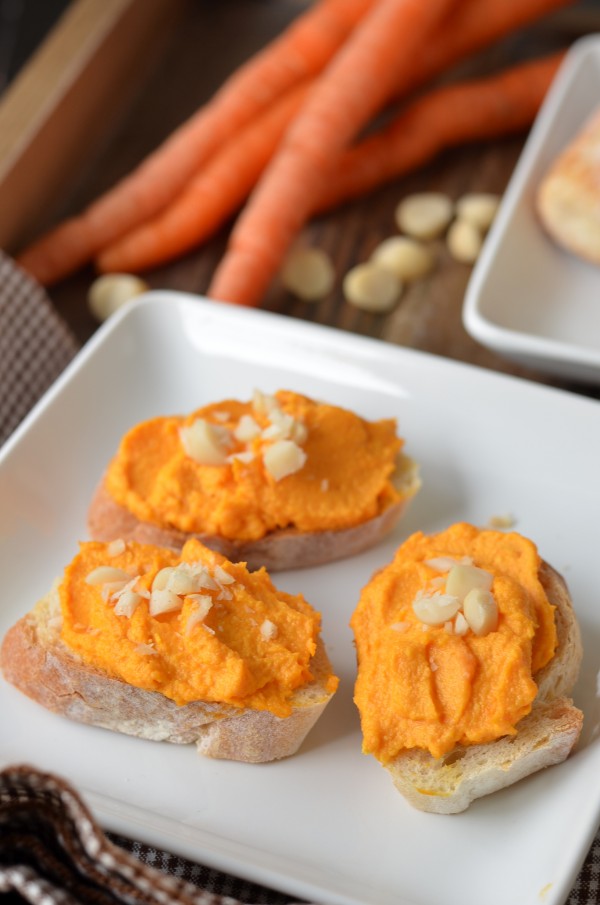 Just trust me.
You can send someone over to check my sanity after you've tried this stuff for yourself!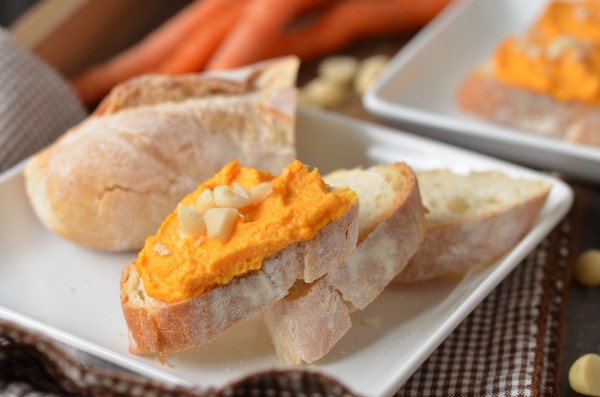 Carrot Butter
Ingredients
1 1/4 lb carrots, peeled and diced
3/4 cup macadamia nuts
2 Tbsp safflower or canola oil
2 Tbsp maple syrup
1/2 Tbsp vanilla extract
kosher salt to taste (I used almost 1 tsp)
Instructions
Bring a pot of water to a boil. Simmer chopped carrots until very tender, 15-20 minutes depending on the size of the chopped pieces.
While carrots simmer, puree macademia nuts and oil in a food processor until a butter is formed. (If you're using a high-speed blender, you can skip this step and puree all the ingredients together once the carrots are done.)
Once the carrots are cooked, drain and place in the food processor with the macademia nut butter. Add maple syrup and vanilla and puree until a smooth, whipped texture is achieved, stopping to scrape down the sides with a knife as necessary. Salt to taste.
Allow to cool before serving. Enjoy on bread, crackers, veggies, a sandwich, you name it!