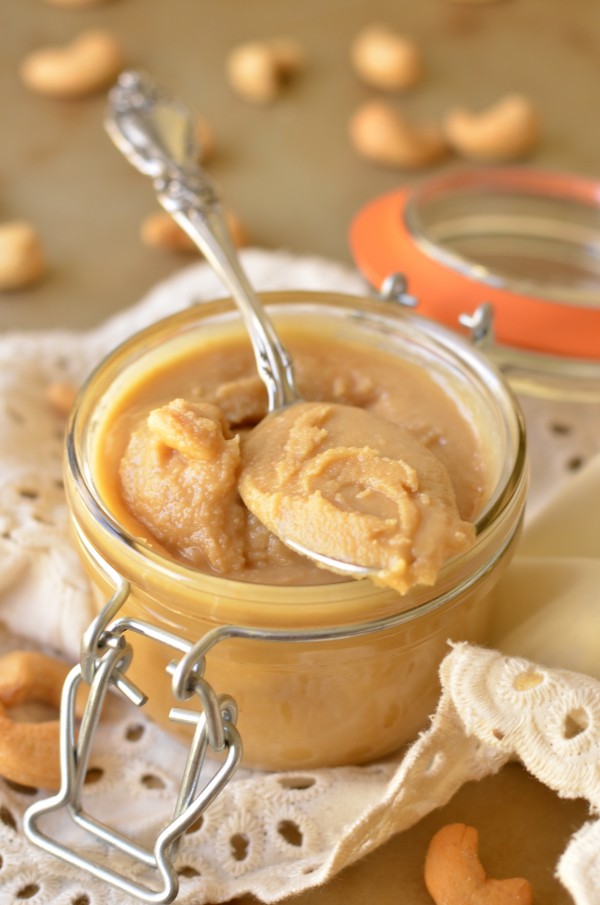 Welcome to this week's edition of Erica's Food Addictions. And the food I can't stop eating this week is… drum roll please…
Maple Vanilla Macadamia Nut Butter.
Succinct? No. Unbelievably cram-it-in-your-face, spoon-it-from-the-food-processor, lick-the-spoon, decadently deliciously amazing? Yes.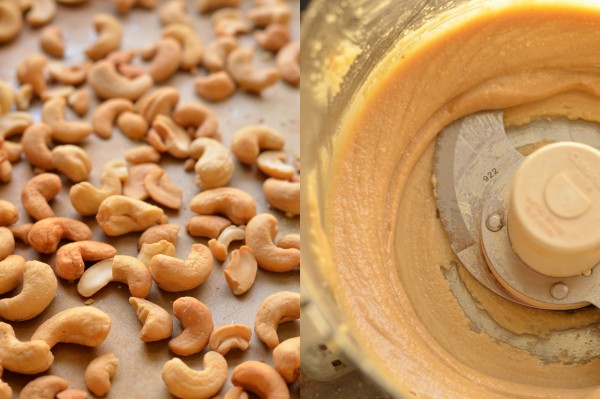 (Oh and P.S. it also has cashews. Hence the picture of cashews. But Maple Vanilla Cashew-Macadamia Nut Butter was a little too long of a title, even for me. And "Cashew" was the only part of it I could bear to part with? I don't know.)
This nut butter is the inevitable result of last week's carrot butter. While I had my carrots simmering on the stove, I was blending up the macadamia nuts, maple syrup, and vanilla, and sneaking a taste (of course) from the food processor, I thought, Holy crap, this is good. Maybe I should stop right here? But I really wanted to make carrot butter for you, so I forged on, and I wasn't disappointed with the result. I knew, though, that the macadamia nut butter was something I'd have to revisit. And by revisit, I mean have another excuse to spoon it out of my food processor straight into my mouth.
So, that happened.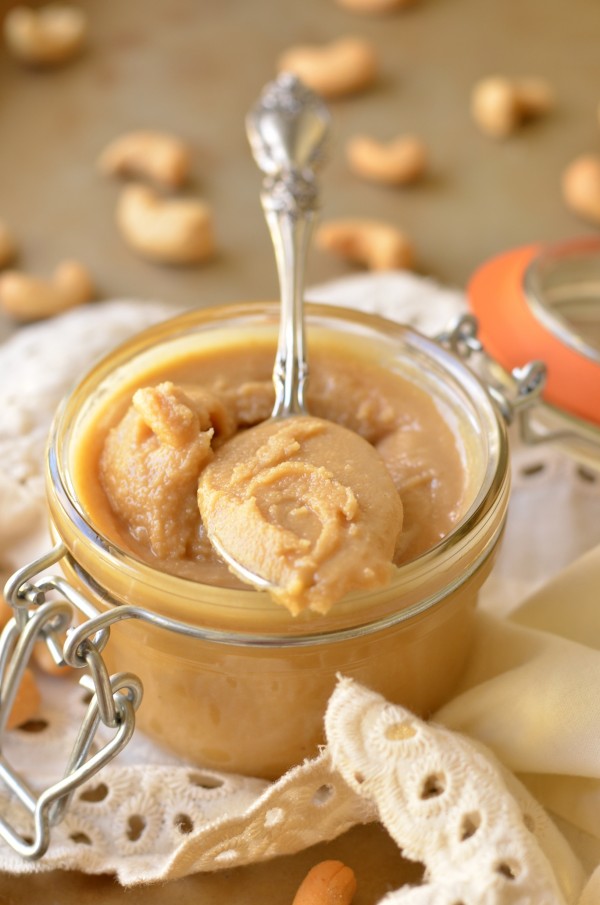 I haven't gotten on the cashew butter train before this, mostly because I've had mixed results blending up my own nut butters in the past. Pistachio butter? That one was a keeper. Some almond and pecan butters I've tried to do? Not so much. Frankly, I just never thought cashews would be worth the effort.
Until that carrot butter experience, when I was seized by the irresistible urge to bring a macadamia nut butter into the (blog)world. But then I thought: 1) Macadamias are expensive. 2) I only have a few handfuls left. 3) Here are some cashews. 4) Ding ding ding! Let's blend 'em both up. With maple syrup and vanilla, of course, because I still can't get over how much I love those flavors in the carrot butter.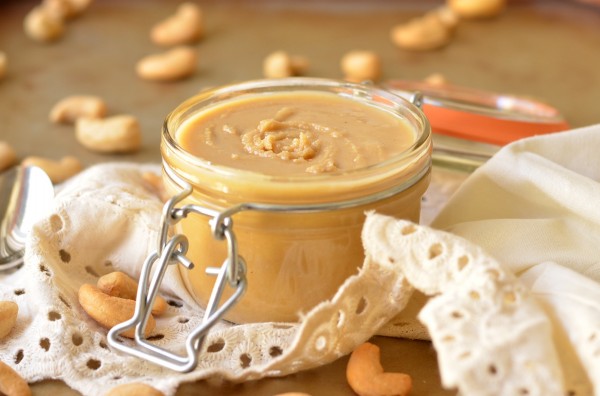 The result is as creamy and utterly decadent as you'd expect from macadamias, with that extra savory something from the cashews. Plus the maple and vanilla? It is just unbelievably good. Well actually, I don't think you have any trouble believing that this could be good. Right? So I guess it is just predictably mind-blowingly amazing? I'll settle for that.
Want to use all cashews? All macadamias? Be my guest. I don't think you can go wrong with this one.
I enjoyed this in my morning oatmeal all week with ground flax and raspberries. Mmm. But mostly I just ate it by the spoonful. Predictable.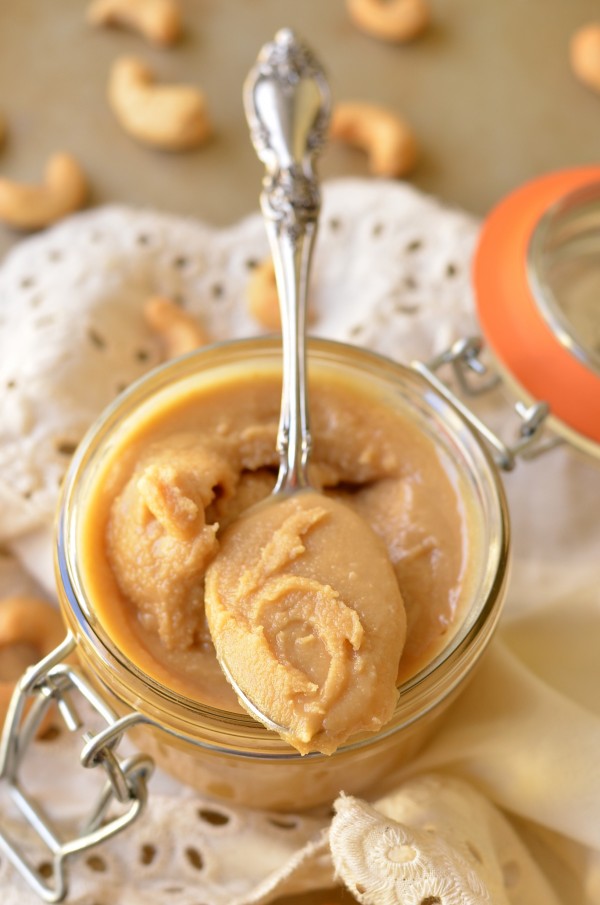 Oh hey, could someone bring me a spoon? I think all mine are in the dishwasher.

Maple Vanilla Macadamia Nut Butter
Ingredients
1 1/4 cups raw cashews
3/4 cup macadamia nuts
2 Tbsp maple syrup
1/2 tsp vanilla extract
kosher salt to taste (I used between 1/4 tsp and 1/2 tsp)
Instructions
Preheat oven to 350. Spread cashews on a baking sheet and toast until golden, about 6 minutes. This will vary a lot based on your oven, so check frequently! Remove and pour into a food processor or high-speed blender.
Add macadamia nuts to the food processor/blender (no need to toast these) and puree until smooth, scraping down the sides often. This took about 4 minutes in my Cuisinart.
Add maple syrup, vanilla extract, and a sprinkle of kosher salt. Puree again, adding salt as desired. The nut butter may clump up again once these ingredients are added; I had to process mine for another 5 minutes or so. The longer your puree, the smoother and drippier the end result would be, so I suggest going for another minute or two once you think it's done.
Enjoy on toast, fruit, oatmeal, or straight from the food processor!