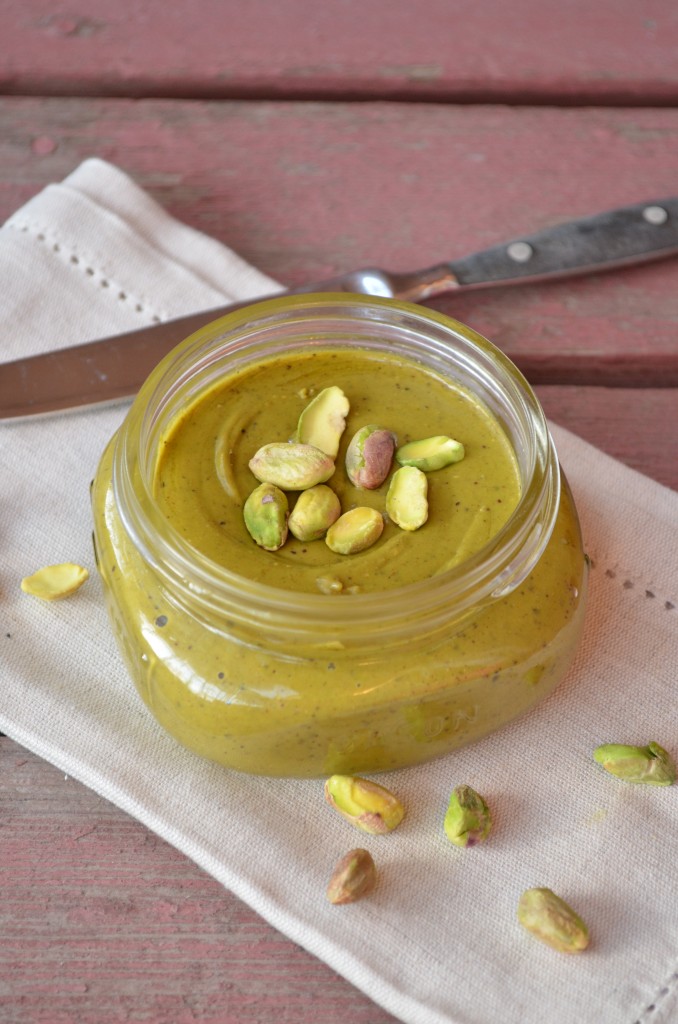 Is it just me, or are pistachios everywhere recently?
I'm not sure if it's a seasonal thing, or if the big pistachio TV ad campaign actually worked. I'm guessing the latter, because I just googled 'when are pistachios in season' and Google told me fall. So, way to go, pistachio marketers, getting PSY to dance with life-sized pistachios on national television somehow actually worked out for you.
Yikes.
Moving right along.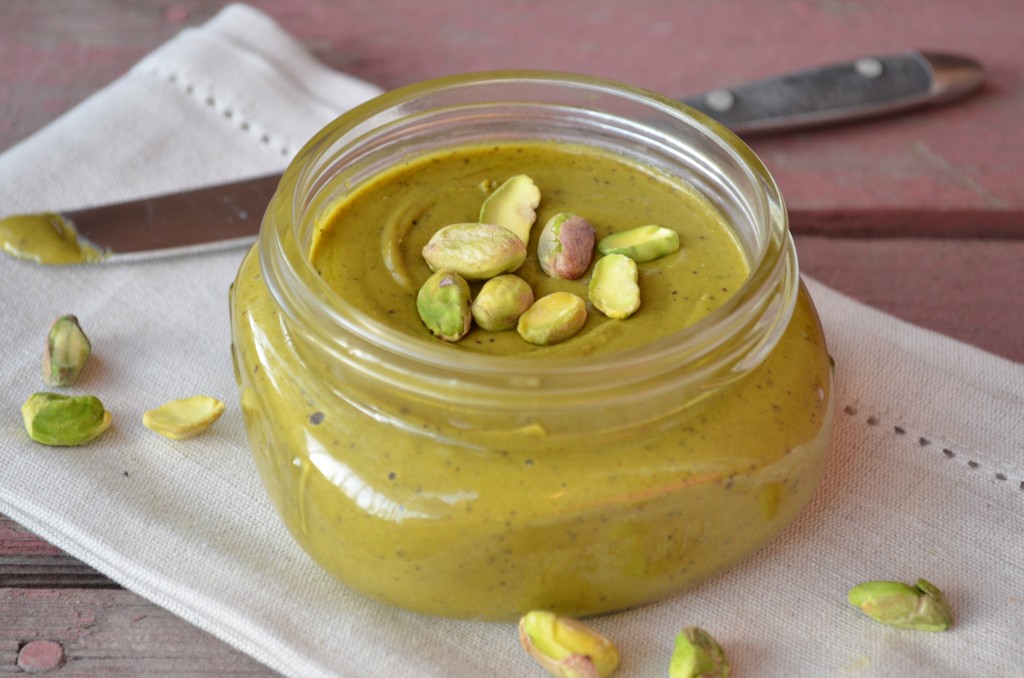 I've had pistachios on the brain recently because we had a huge bag of them at work that no one could stop eating. (They were the salt and pepper kind from Costco – so good.) Then I started noticing pistachios popping up in lots of recipes. And a few weeks ago, I was reading an article on The Kitchn – I honestly don't even remember which one – that mentioned making your own pistachio butter. It was just a casual aside and didn't go into detail, but it was one of those moments where everything stopped and I was like, whaaaaaat, homemade pistachio butter?! I had to know more.
I did a bit of googling and found a few recipes. Different bloggers seemed to get varying results with their pistachio butter in terms of texture. Some claimed it turned out smooth and creamy with pistachios as the only ingredient, while others noted that it needed additional oil to smooth it out. I haven't had great results with nut butters in the past, and I didn't like the idea of adding oil, but I resolved to be patient and let my food processor run as long as necessary, and see where that got me.
Well, it got me a pistachio butter I was very pleased with! I processed the pistachios immediately after toasting, which I think helped smooth them out. They did clump up after adding the honey, but smoothed out again after letting the food processor run for a few (like, 10) more minutes.
Life lesson: patience is necessary.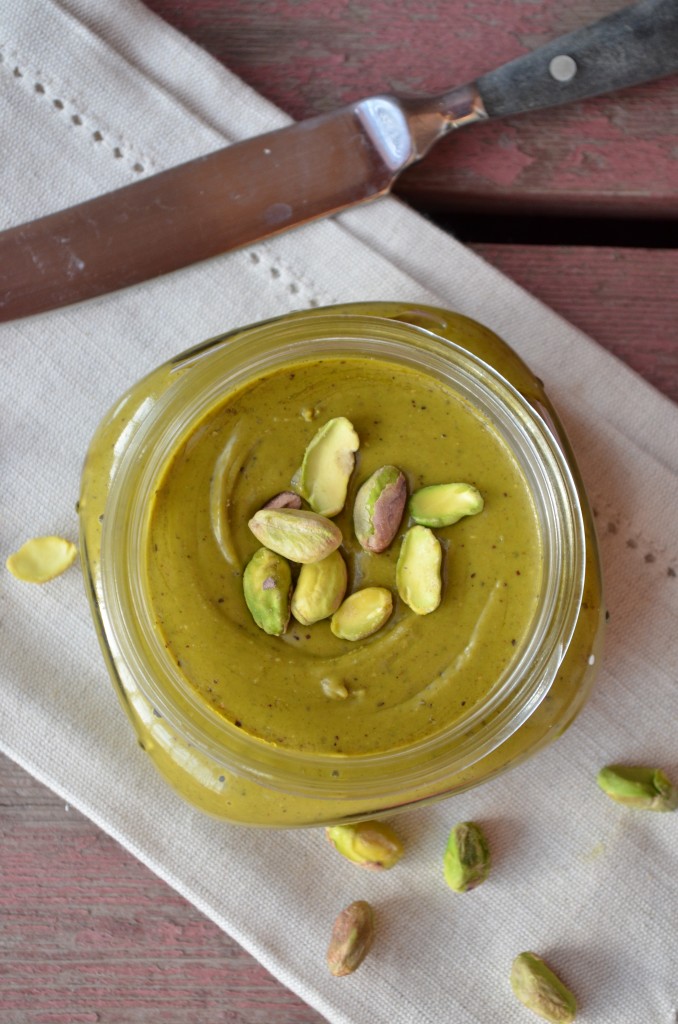 This is a delicate-tasting butter. I like it best spread on toast or an English muffin. Or straight out of the jar… shhh. I've tried adding it to my smoothies, but the flavor isn't really strong enough to stand up to all the other stuff going on in there. And no sense having your homemade pistachio butter disappear into a smoothie when you could be enjoying it by the spoonful on a piece of toast.
Oh and also, you should definitely buy shelled pistachios for this recipe. I take no responsibility for your blistered fingertips if you are foolish enough to embark on an hour-long pistachio-shelling journey. Whole Foods has them (Trader Joe's probably does, too), and you will save yourself a few layers of skin and a lot of cursing my name. It's worth it.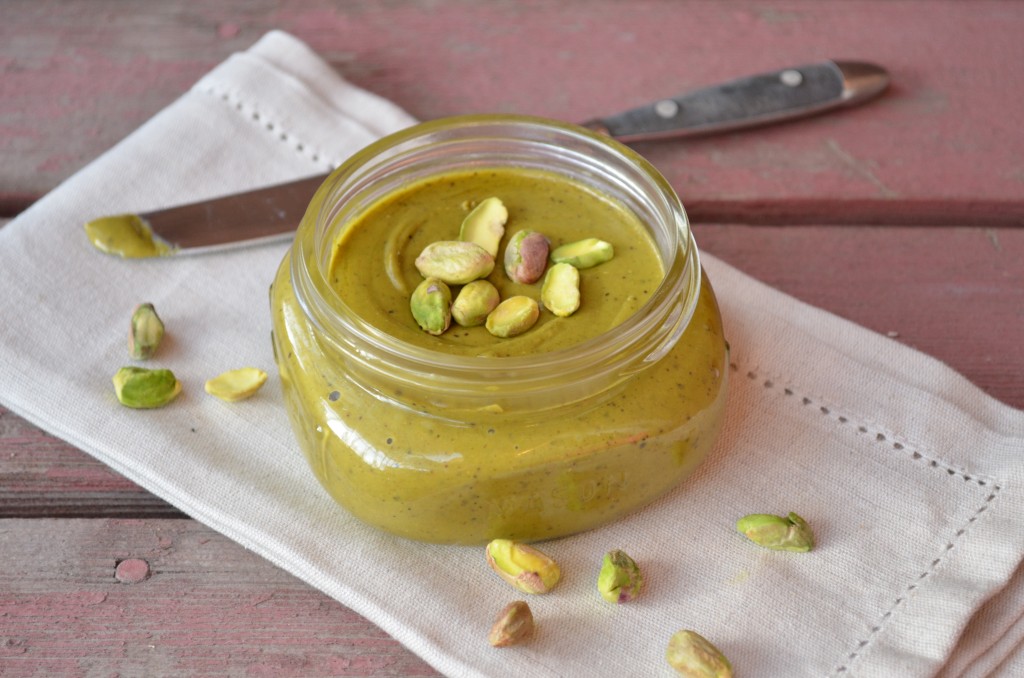 Homemade Pistachio Butter
This delicate-tasting pistachio butter is the perfect spread for toast or an English muffin. It's easy to make in a blender or food processor.
Ingredients
2 cups raw unsalted shelled pistachios
1/4 tsp kosher salt
1 Tbsp honey
1/8 tsp cinnamon
Instructions
Preheat oven to 350. Spread pistachios on a baking sheet and toast until just fragrant and starting to brown, around 6-8 minutes. This will depend a lot on your oven, so set a timer, keep a close eye on them, and stir after 4 or 5 minutes.
Pour hot pistachios in the bowl of a food processor and process until smooth and creamy, about 10 minutes. Add salt, honey, and cinnamon, and continue processing until smooth again, another 10 minutes. Taste and add more salt as necessary.
Store in an airtight container in the refrigerator.