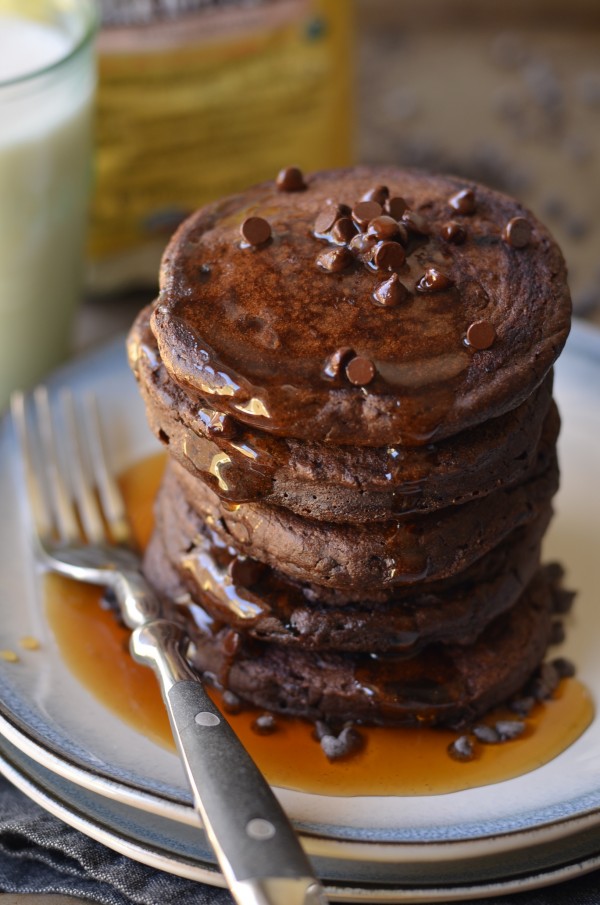 Whoa, where has this week gone?
I had the odd sensation of looking down at my watch yesterday at 3 pm and thinking, "why is this thing backwards?" Because it felt like 9 am. Aaaand it was 6 hours later than that. I guess I can't complain about the workday and workweek flying by, but man… I sure have a lot to do before Monday!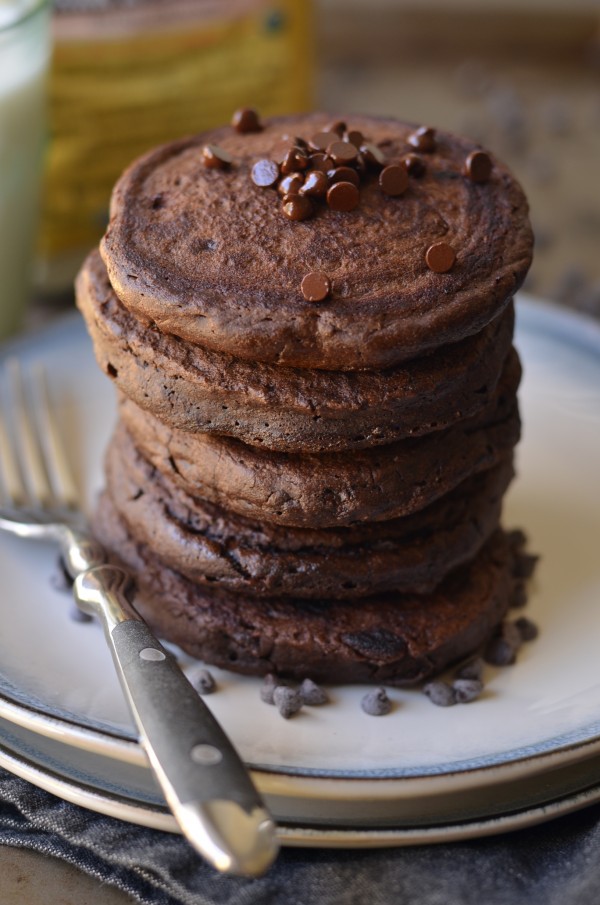 But let's take a step back, and take a deep breath, because it's Friday.
I can't even type "it's Friday" without singing that terrible Rebecca Black song in my head. It's Friday, Friday, gotta get down on Friday…
Anyway, it is Friday, and I think Friday is a great time to talk about weekend breakfast-y things like pancakes.
But not just any pancakes… chocolate pancakes. Chocolate rye pancakes, for that matter!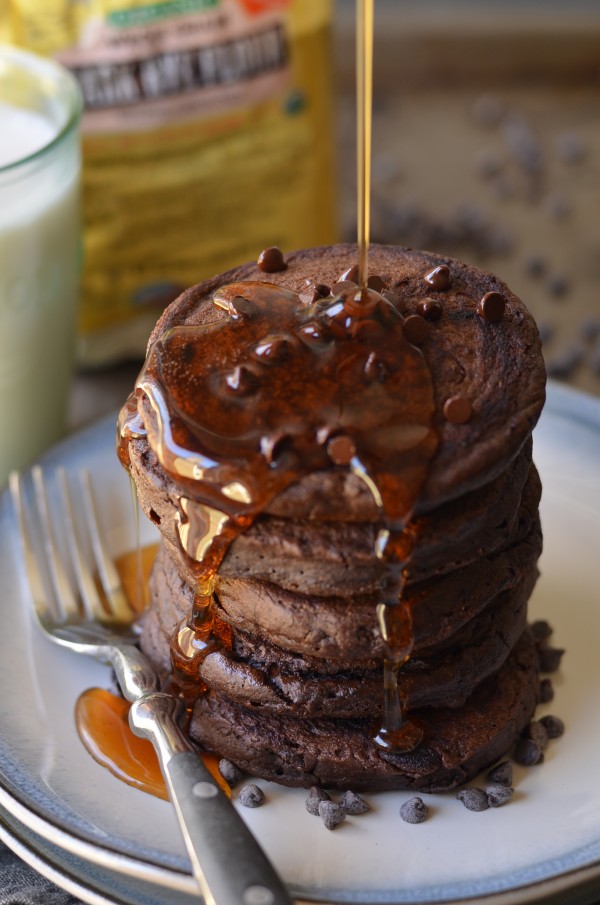 Now… chocolate rye pancakes. Does that sound weird? It is a little weird. We're taking two things that you would probably never imagine together – chocolate (typically sweet) and rye (typically savory) – and marrying them into fluffy little flapjacks. But don't knock it til you try it! It's the kind of combination that will have you taking bite after bite as you try to figure out where the chocolate stops and the rye begins.
The chocolate and rye combination was inspired by Green Kitchen Stories' recent double chocolate rye muffins. Talk about beautiful pictures! I could stare at those little muffins (and every other Green Kitchen Stories photo) for days.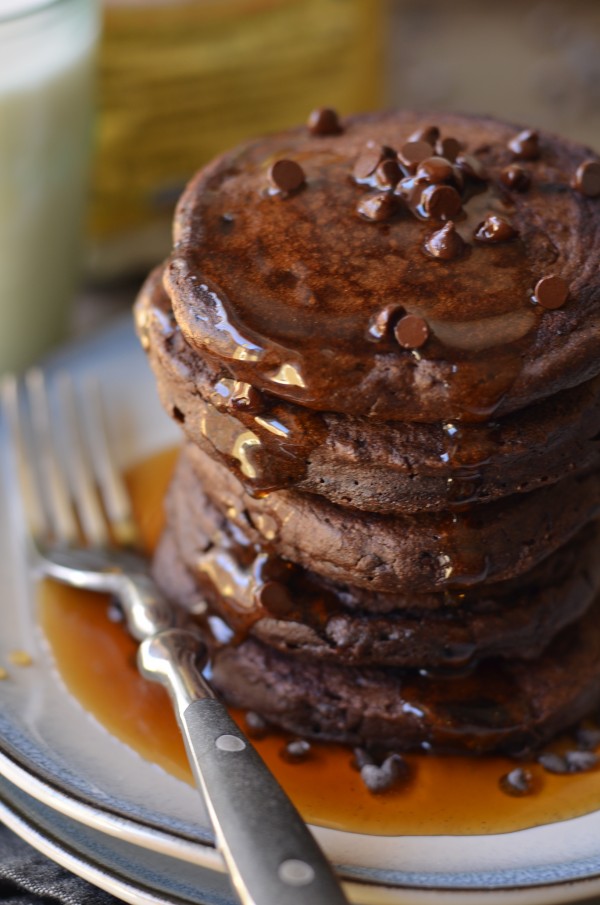 Chocolate is just kinda pretty no matter what you do to it.
These pancakes are made of pretty typical pancakes ingredients (eggs, milk, flour, etc.), but using half rye flour and half spelt flour in place of white or whole wheat. The result is delicious nuttiness. I've made pancakes with rye flour before, but this version is decidedly different. (Although I do recommend those pumpernickel pancakes if you're in the mood for savory!)
P.S. Apparently the end of February is the rye pancake time of year, because I just discovered that I posted that other recipe a year ago yesterday… so odd!
Unlike those pumpernickel pancakes, though, there is also a hefty amount of cocoa powder in these guys, plus some mini chocolate chips to boot.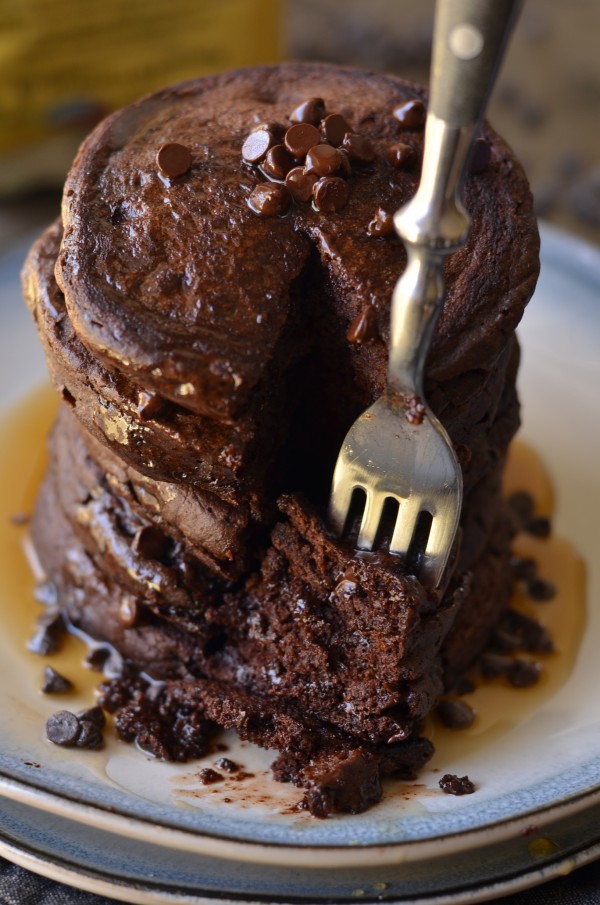 Oh, did I forget to mention that we're eating chocolate cake for breakfast? Because basically… yes.
It takes quite a bit of sweetness to balance out the nutty, almost bitter rye flavor. I liked to do this by adding mini chocolate chips right into the pancake batter. If that doesn't sound appealing to you, you can leave out the chocolate chips… but then you might want to just top your pancakes with them instead. I clearly did both!
And enjoyed every bite.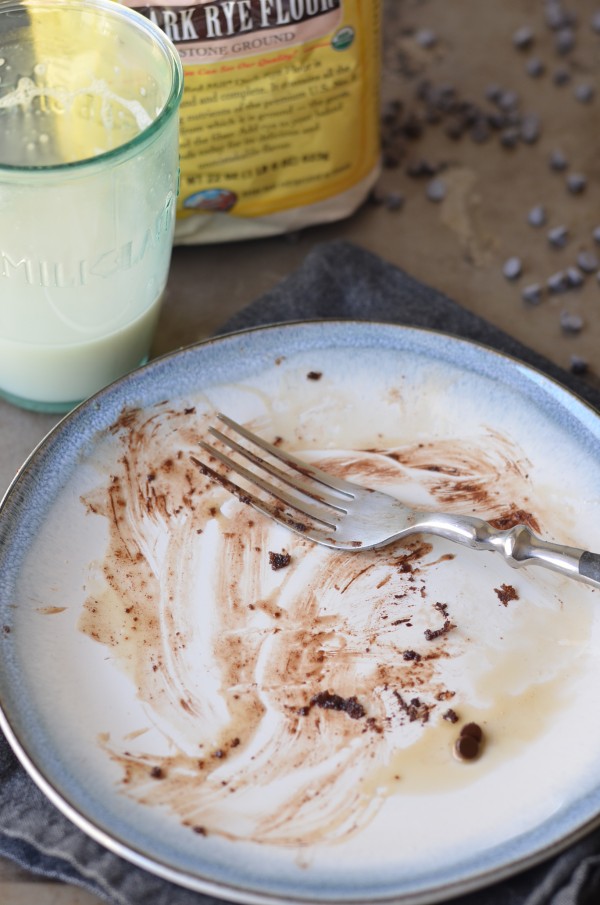 Whether your week dragged on or flew by, let's celebrate the weekend! And the beginning of March! Chocolate is the best way to celebrate any occasion (or lack thereof), I'm pretty sure.
Have a great weekend, friends!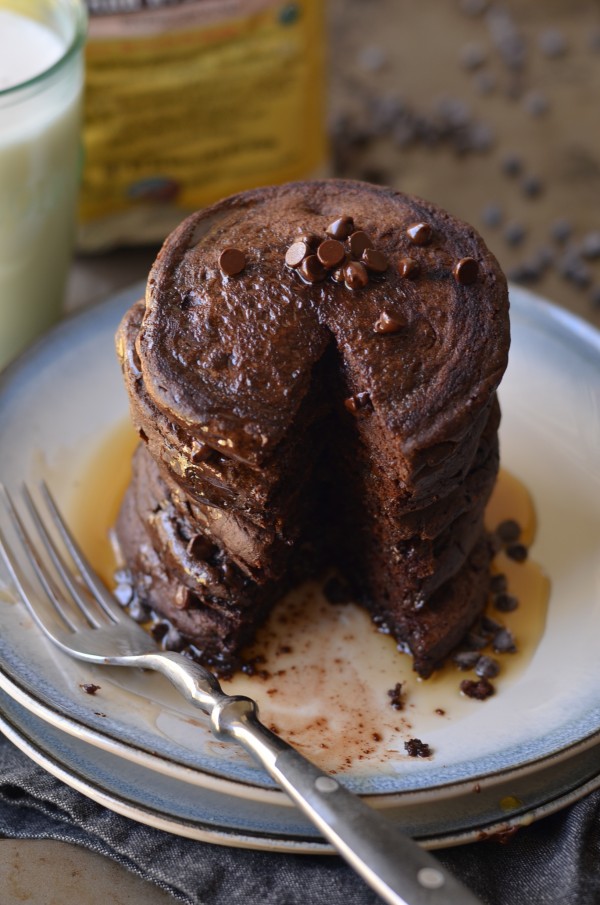 Chocolate Rye Pancakes
Yields:
6-8 small pancakes (for 2-3 people)
Ingredients
1/2 cup whole grain rye flour
1/2 cup spelt flour
3 Tbsp cocoa powder
1/2 tsp baking soda
1/4 tsp baking powder
pinch of kosher salt
1 egg
1 cup almond milk (or milk of choice)
2 Tbsp maple syrup
1/4 cup mini chocolate chips (optional)
butter for the skillet
maple syrup, etc. for serving
Instructions
Sift together dry ingredients (rye flour through kosher salt) in a medium-sized bowl. Stir to combine.
In a separate bowl, whisk together, egg, almond milk and maple syrup.
Pour dry mixture into wet mixture and whisk until just combined. Set aside for 10 minutes to thicken.
Preheat griddle or non-stick skillet over medium-low heat. Mix chocolate chips into pancake batter (optional). Melt a small pat of butter in the skillet and drop in the batter, 1/4 cup at a time. Cook for several minutes, until dark around the edges. Flip and cook several minutes more, until dark on both sides.
Serve and enjoy!