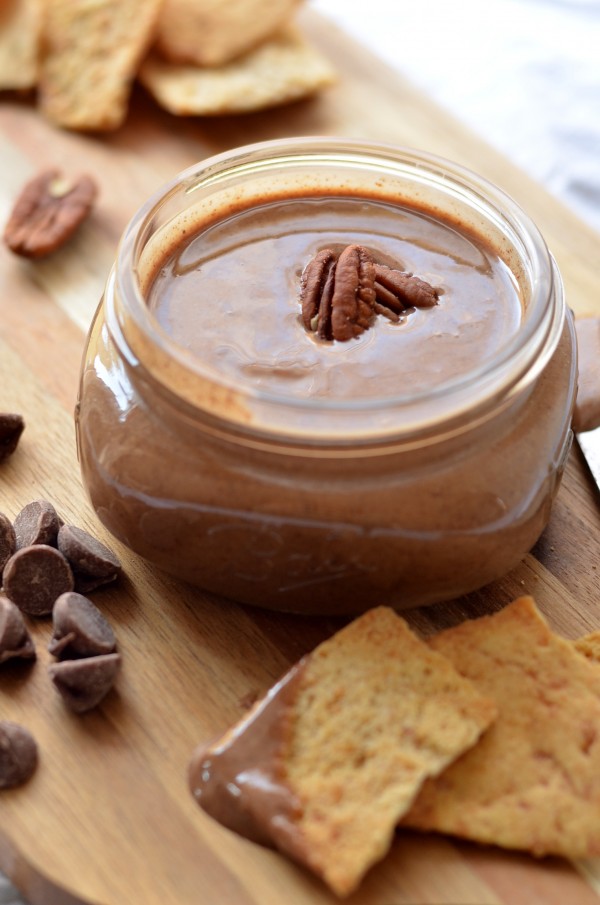 Happy Monday! I often post healthy recipes on Mondays, but I think today deserves some chocolate.
Not only chocolate… chocolate and pecans.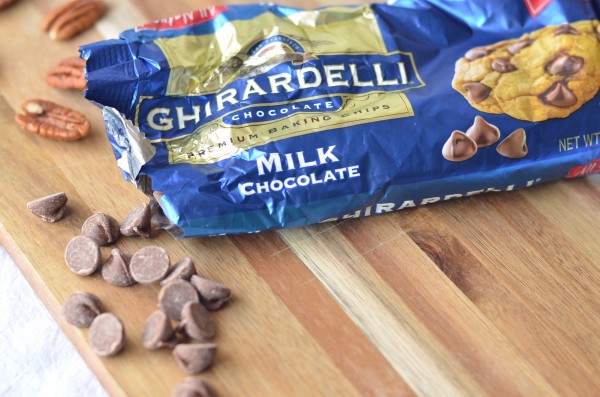 I have a slight pecan obsession. I'm actually surprised I don't have more pecan recipes on this site. But it's tiiiime to fix that! And it doesn't hurt to add to the chocolate archives, either.
Remember the cashew-macadamia nut butter I posted a few weeks ago? Well, it's probably one of my favorite recipes on this site. It's a pretty solid rule that anything I can't stop eating is blog-worthy! And in that post I wrote about the time or two that I've tried to make pecan butter… with horrible results. As I was writing that, I was thinking, hmmm, that doesn't make any sense. There must be a way to fix that. So naturally… this happened.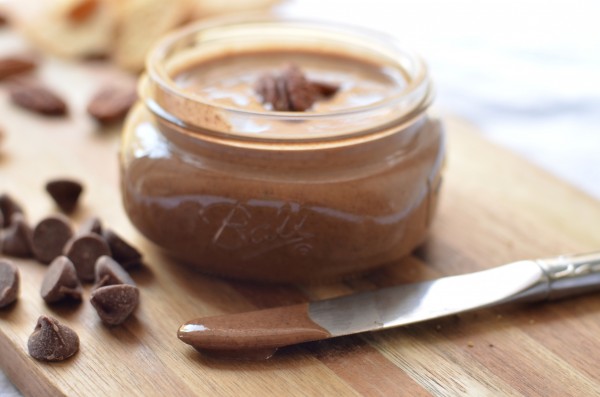 Well first, something so disgusting-looking happened that I'm saving it for the 2014 fail post. Suffice it to say that you should not use cocoa powder instead of chocolate chips in this recipe. Don't be one of those people that has to learn the hard way… just don't do it.
Apparently I have to learn the hard way times three, though. And do you know how many dollars of pecans that wasted? Ouch. I forgot about that until just now, and I wish I hadn't remembered. Don't wanna talk about it!
Good thing this milk chocolate salted pecan butter redeemed all the other failed batches.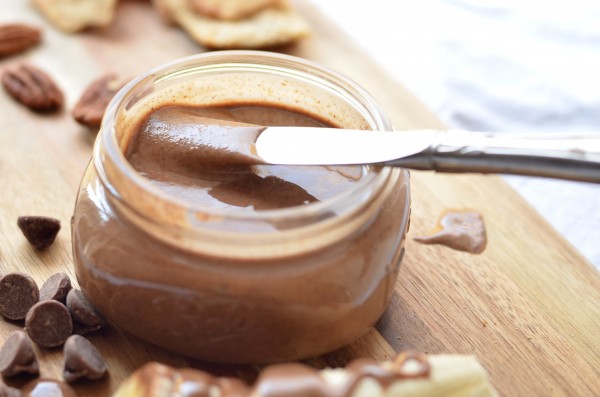 This pecan butter is inspired by the dessert I throw together to satisfy a chocolate craving when I have no chocolate bars in the house: a few handfuls of chocolate chips, toasted pecans, and dried cranberries. It's the perfect combination of flavors and textures, especially when I'm craving chocolate. Yum! And lately, though I'm usually a dark chocolate fan, I've been combining my pecans and cranberries with milk chocolate chips… probably because I'm not a huge fan of eating bittersweet chocolate chips straight. Anyway, I surprised myself by how much I liked the milk chocolate + pecans combo, and now it's time for you to be surprised by it, too!
If you own a food processor, you've already done the hard part of this recipe. The rest involves briefly toasting the pecans, melting the chocolate with a small amount of coconut oil, and throwing it all in the food processor with a few pinches of salt. Voila! It's like the homemade, salted pecan version of Nutella.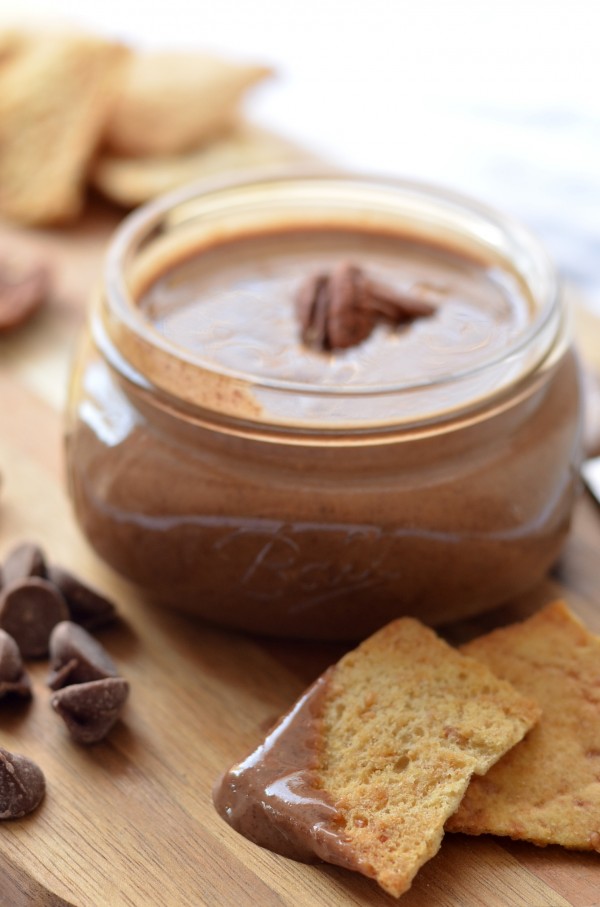 If you're a pecan lover like me, you will totally flip over this pecan butter! My favorite ways to eat it are decidedly 1) as pictured, on pita chips – AMAZING – and 2) on a banana. Let's just say this little jar didn't last long in my kitchen. But somehow I bet you could have guessed that.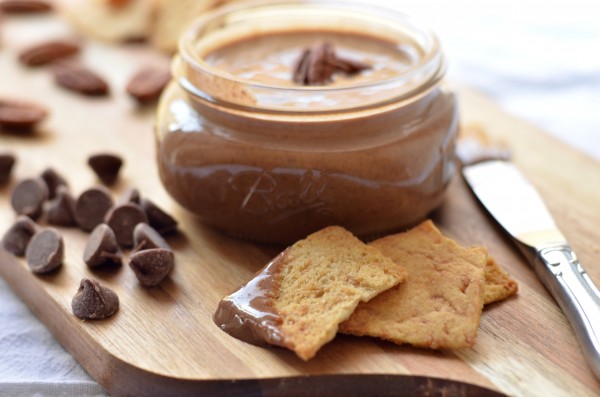 Milk Chocolate Salted Pecan Butter
Yields:
about 3/4 cup pecan butter
Ingredients
2 cups raw pecans
1/3 cup milk chocolate chips
1/2 Tbsp coconut oil
3/4 tsp to 1 tsp kosher salt
Instructions
Preheat oven to 325. Spread pecans on a baking sheet and bake until lightly toasted, about 6-8 minutes. Check often so that they don't burn! Remove from the oven and pour pecans into a food processor or high speed blender. Process until drippy, which should be just 2-3 minutes, scraping down the sides of the bowl as necessary.
In the meantime, melt chocolate chips and coconut oil together in the microwave in 30-second increments, stirring in between. Once melted, pour into the food processor with the pecan butter. Add 1/2 tsp of salt. Process until combined and drippy, adding more salt as necessary to suit your tastes.
I prefer this pecan butter the next day, once it is cool and the flavors have had time to combine. Spread on toast, a banana, or pita chips. Enjoy!