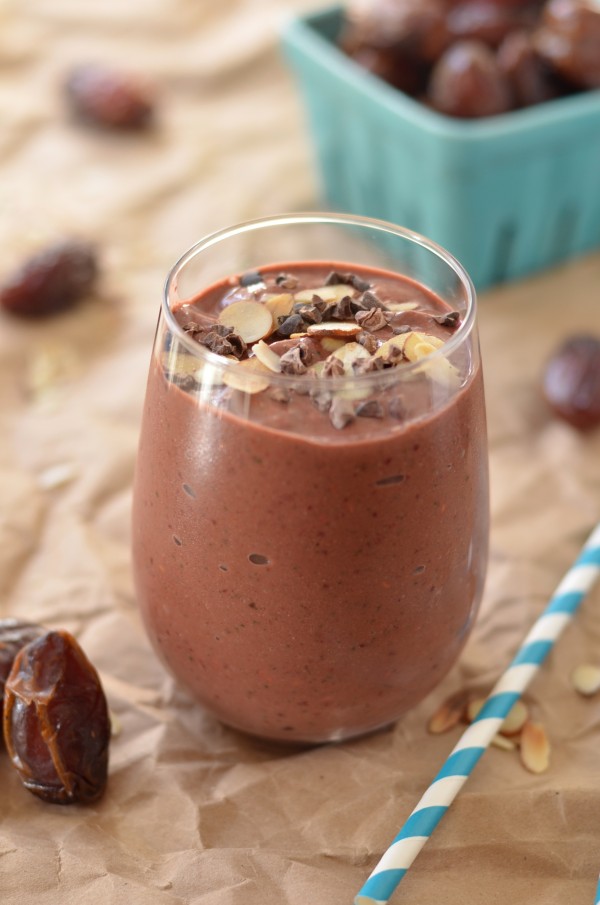 I play with food a lot. –> I go to the grocery store a lot. –> I have a lot of awkward encounters with grocery store cashiers.
Let's talk about the different forms that awkwardness can take at different stores.
Trader Joe's cashiers are aggressively jolly and overly excited about every item you're purchasing. They've tried it all and loved it! Sometimes I think they are commissioned.
Whole Foods cashiers are trained to engage you in conversation at the expense of your privacy. A simple "how are you?" won't suffice. "What are you doing after this?" is much more common. <– Clearly I am going home to cook dinner. It is 6 pm and I am at the grocery store. Let's put 2 and 2 together.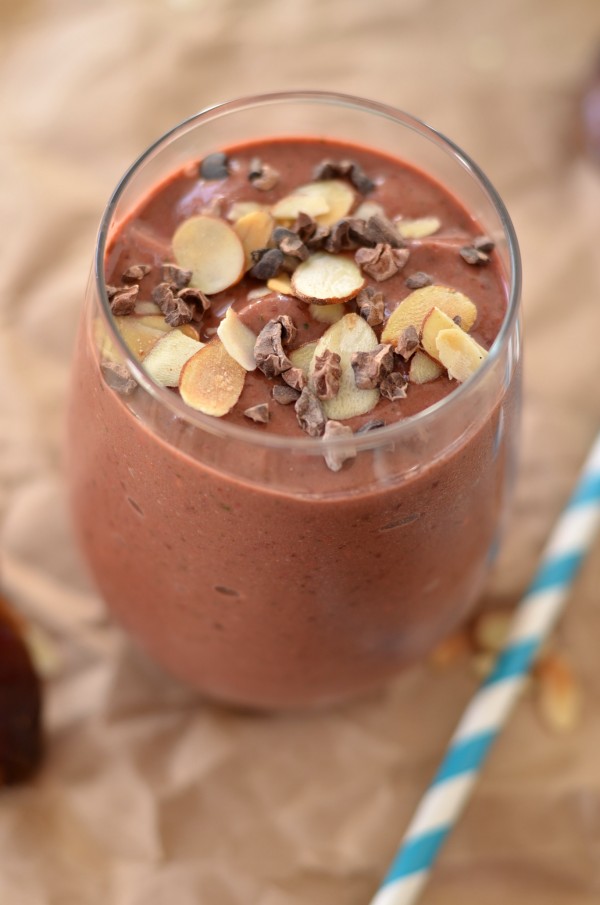 Cashiers at other grocery stores are not necessarily used to seeing a shopping cart full of the type of food I load mine up with.
"I put all your produce in one bag for you, ma'am." <– Ugh. Did you notice that that's 90% of what I bought? You literally put a box of tissues and 10 tortillas in the second bag. Why was that a good idea.
Also, the inevitable "what are these?" Recent case in point: dates.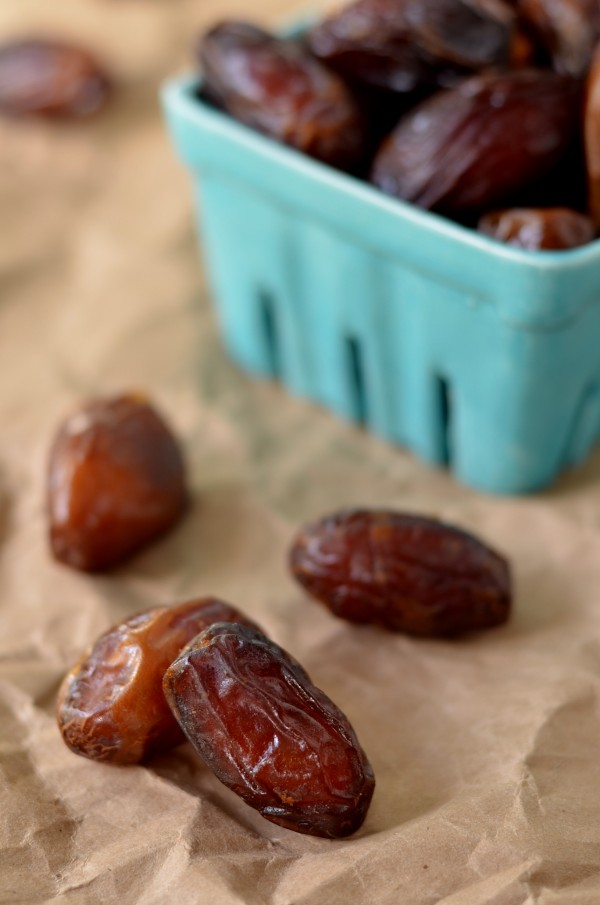 "What do you use them for?"
"Uh, smoothies and stuff."
"Oh, are they high in something?" <– What?
"Um… sugar?"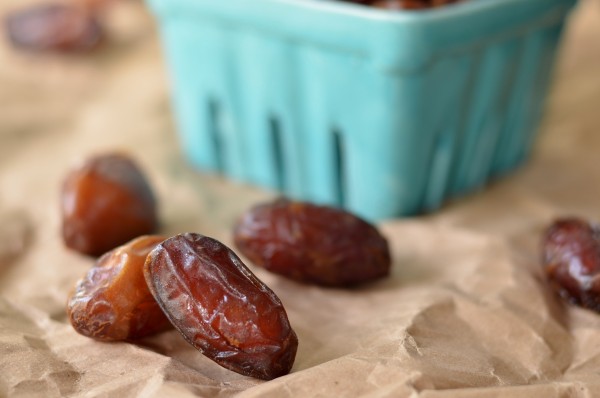 I guess dates are weird-looking wrinkly little brown lumps, so I shouldn't judge too harshly the 19-year-old who isn't familiar with them. Still, the "high in something" phrase left me pretty confused. Is that how we're referring to healthy food now?
Luckily, there's no cure for confusion like a chocolate smoothie.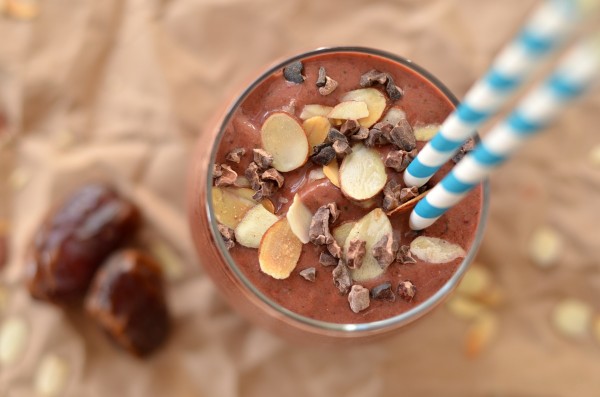 This chocolate smoothie is one of the most dessert-like I've ever made, yet it's got some sneaky greens hiding in between the berries and chocolate.
I resisted the urge to scoop some Greek yogurt in here, leaving this dessert-like smoothie completely vegan. Also, no bananas for you banana-haters! Instead it's packed with raspberries and cherries, spinach, almonds in different forms, and of course, a healthy scoop of cocoa powder.
This smoothie is high in all sorts of things… deliciousness being right up there at the top of the list. But I'm thinking you don't need to be convinced of the lusciousness of the chocolate/raspberry/cherry/almond combo. It is just plain one of the best there is.
Breakfast, snack, dessert… I'm not quite sure. Blend yourself up one of these to enjoy at some point this weekend!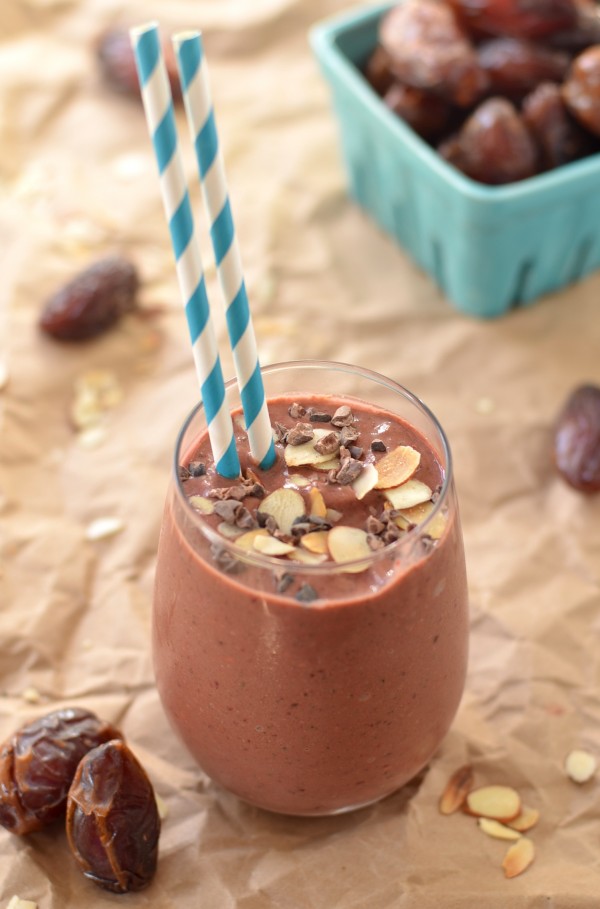 Chocolate Berry Almond Smoothie
Yields:
1 large or 2 small smoothies
Ingredients
2-3 dates, pitted and chopped (and soaked in water for 30 minutes if not using a high-speed blender)
2 cups frozen raspberries
1 cup frozen cherries
2 cups packed spinach
1 1/2 cups almond milk
2 Tbsp almond butter
2 Tbsp cocoa powder
1/4 tsp vanilla extract
cocoa nibs to top (optional)
toasted slivered almonds to top (optional)
Instructions
Blend all ingredients until smooth. Serve in bowls or glasses and top with cocoa nibs and slivered almonds. Enjoy!