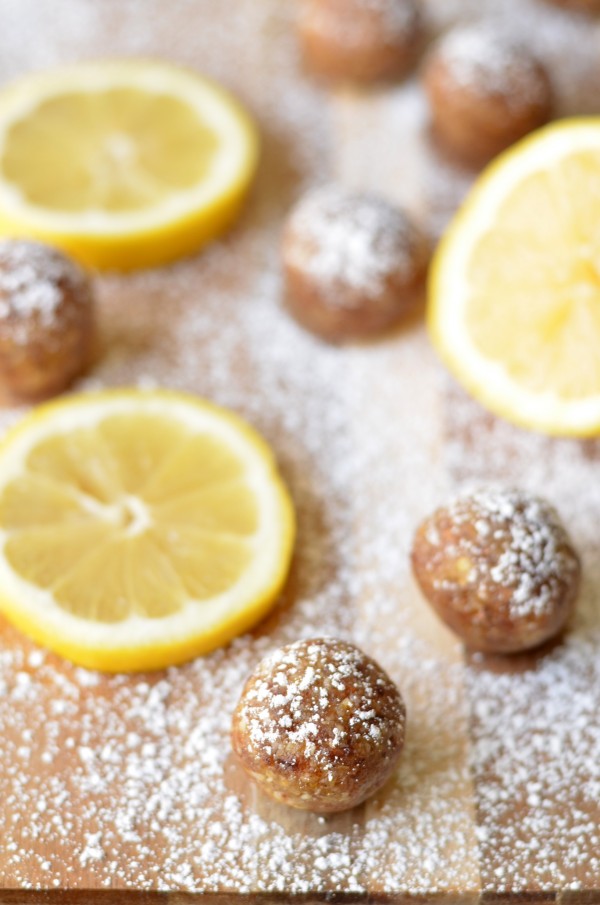 Just popping in with a quick post for you today! Mostly because bedtime snuck up very suddenly, and I need to prioritize sleeeep.
But also raw desserts. Those need to be prioritized as well.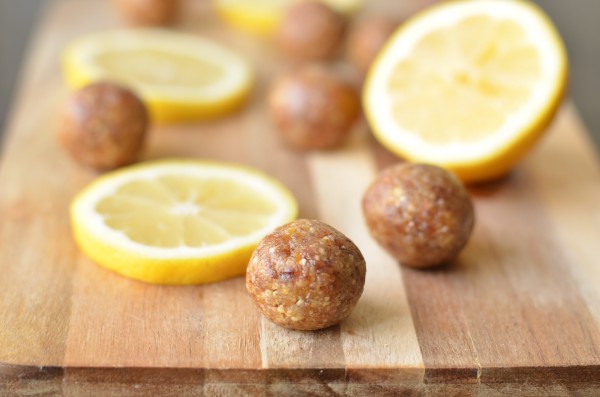 What we have here are some raw lemon bar bites that I whipped up with the leftover dates from last week's smoothie. I mean, I went through a fair bit of awkwardness to get those dates… don't want to let them go to waste! These raw lemon bars were the perfect way to put them to use.
Oddly enough, I'm not a huge lemon bar person. The egginess and tooth-aching sweetness? Not my drug of choice. (That would be chocolate.) However, blend up dates, nuts and coconut and you pretty much can't go wrong in my book. Even if there's no chocolate! Sacrilege.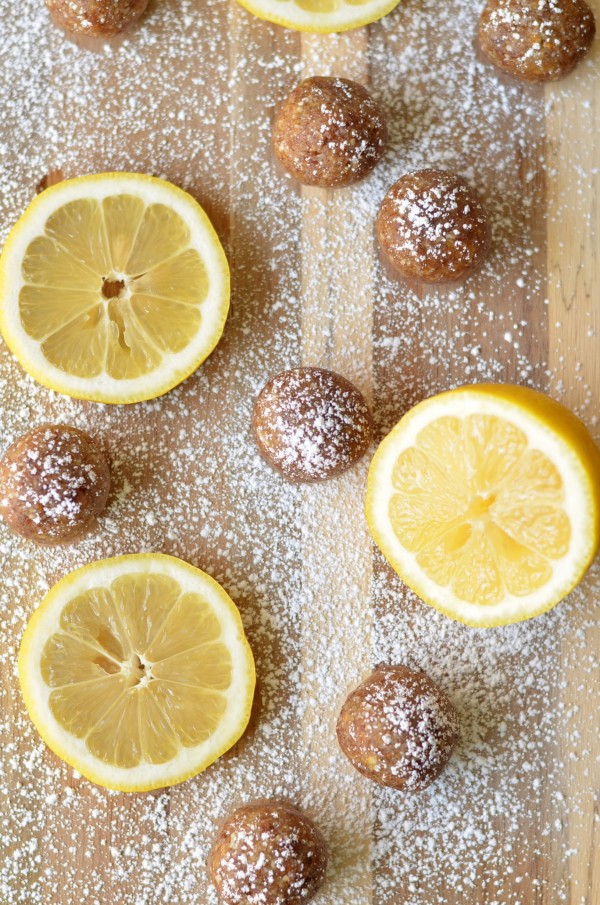 I've seen other lemon Larabar copycats that call for lemon extract, but I used lemon juice and zest here. Why not use the real thing, you know? Speaking of using the real thing, these little babies have no added sugar – they are naturally sweetened with just plain dates. I love that they are bursting with lemony flavor without the egginess or sickly sweetness of traditional lemon bars. In fact I loved them so much that I "tested" the recipe multiple times without really making any changes. I guess "testing" is a bit of a stretch, huh? Well, suffice it to say you pretty much can't go wrong with these.
These energy bites make a great snack on the go! I brought a few with me to eat after my long run on Saturday, and they were just the thing to keep me going through my leg workout afterwards. (Fun times, I tell ya.) They are quite "energy dense," a.k.a. high calorie, so I recommend rolling them into small one-biters. They are the perfect pick-me-up for an active day or healthy after-dinner sweet! Orrr maybe both. After-breakfast treat? Maybe that, too.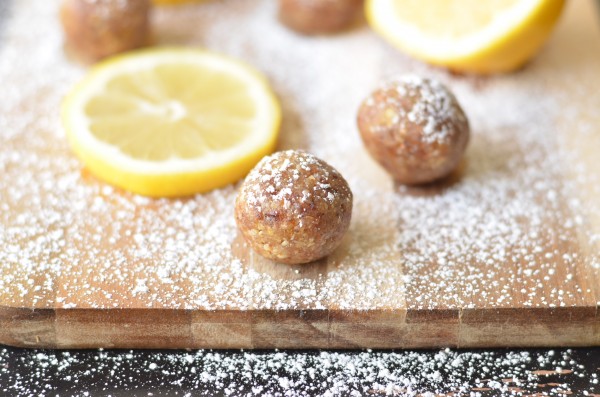 Raw Lemon Bar Bites
Yields:
1-2 dozen bites, depending how small you roll them
Ingredients
1 cup raw walnuts
1/2 cup raw almonds
3/4 cup unsweetened shredded coconut
a few pinches of kosher salt
1 cup medjool dates (about 10-12), pitted and cut into quarters
zest of 1 lemon
juice of 1/2 lemon, plus additional if necessary
Instructions
In a food processor, blend walnuts and almonds to a coarse meal.
Pulse in shredded coconut and salt.
Add pitted dates and blend until finely chopped.
Add lemon zest and blend, drizzling in lemon juice. The mixture should be sticky enough to hold together when pinched between your fingers. If it's not wet enough to hold together, drizzle in additional lemon juice, 1 tablespoon at a time.
Roll into balls. Store covered in the refrigerator. Enjoy!