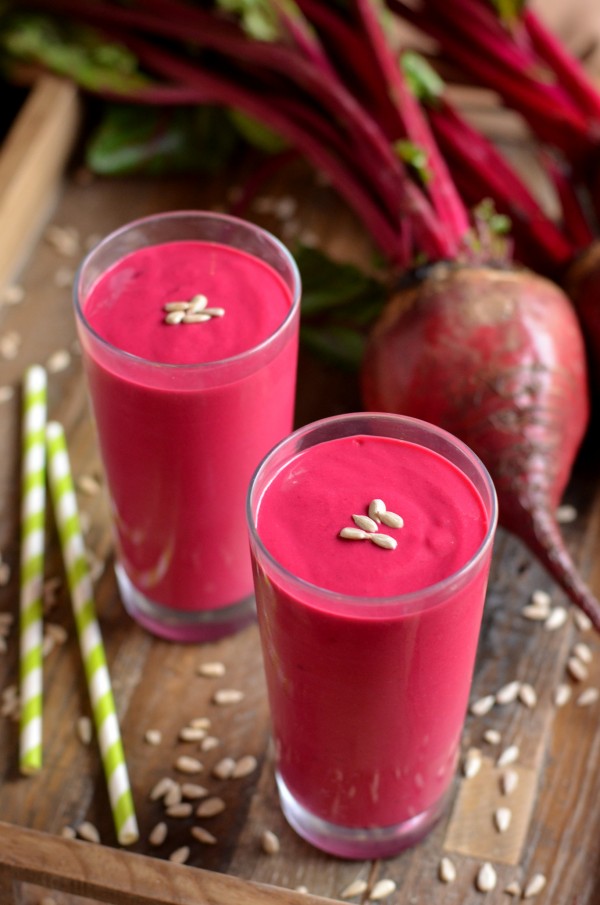 Need something to wake you up on a Monday? This oughtta do the trick.
Just looking at this smoothie is a jolt to the senses. I, for one, prefer dim lights in the morning until I'm fully awake. Where is the dimmer switch on this thing?! Please pass the sunglasses.
The electric color of this breakfast makes me giggle. It is just SO pink! And when you see that shade of pink, you know the culprit…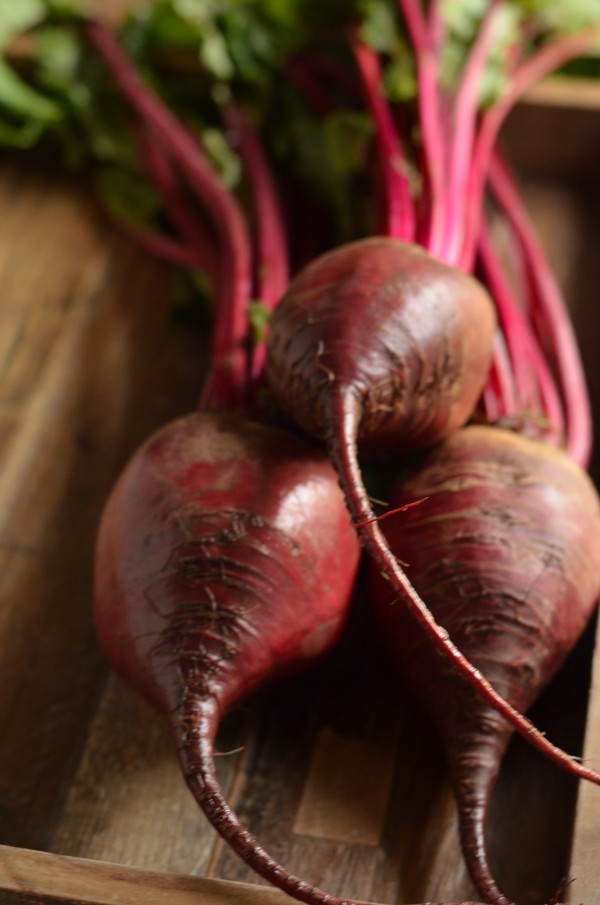 BEETS.
Beets in your breakfast. We're doin' it.
I was inspired to make this smoothie with the leftover pureed beets from last week's chocolate beet cake. Thanks to that cake, I have officially become the girl who keeps a jar of beet puree in the fridge. Odd? Possibly. But healthy and delicious? Definitely.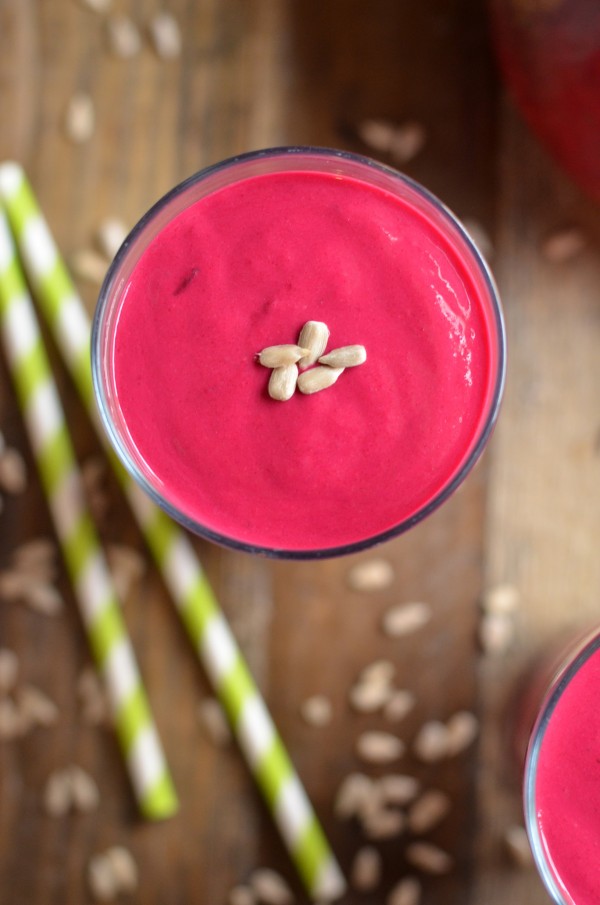 I know not everyone loves beets, and I certainly wouldn't say they're my favorite root vegetable, but I have to give them some love here. Beets fit amazingly well into sweet recipes and are so chock full of nutrients that I even skipped the spinach in this smoothie (usually a must for me!). The beet and raspberry combo is an especially good one, both in flavor and in color, obviously. So pretty and so tasty… I can't decide which part is my favorite.
I've been loving incorporating vegetables into our breakfasts – usually pumpkin, but now, BEETS. The other day I made Nate his pumpkin oatmeal and made myself some beet oatmeal. Our orange and pink breakfasts looked so funny next to each other! He was skeptical of the beet oatmeal thing, but slurped down this smoothie in no time. Cha-ching! My man is not a big breakfast fan, so any breakfast that passes his test is immediately deemed blog-worthy.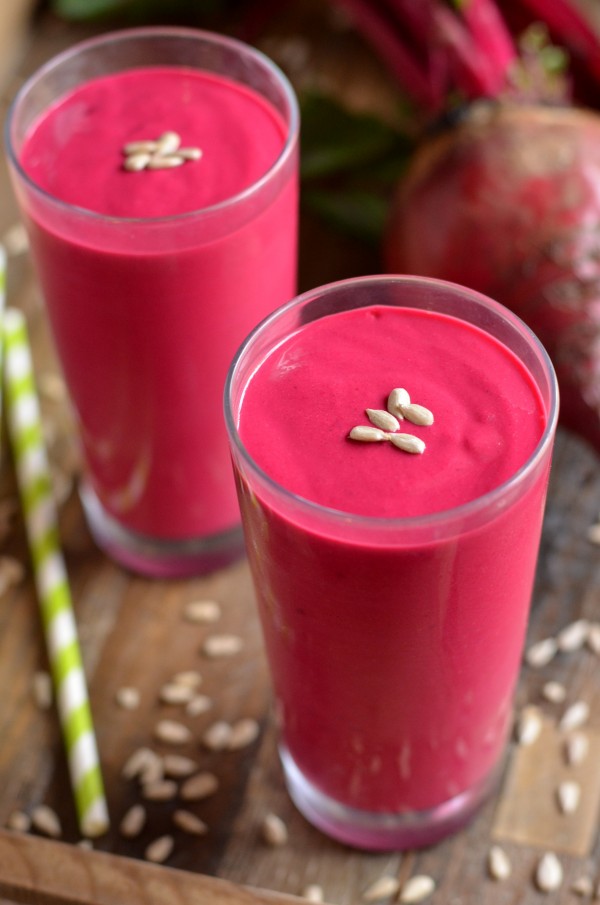 The sunflower seed better is a great combo with the beets and raspberries, too. I still haven't quite figured out why I love Sunbutter in smoothies so much, given my undying love of (and preference for) peanut butter and almond butter. The strong flavor of sunflower seed butter really of stands out in a smoothie, whereas almond butter just kind of fades into the background. It just works!
Let me also call your attention to the velvety texture we have going on here. I make smoothies in our food processor because it's more powerful than our cheap blender, so my smoothies usually have little flecks of berries and greens in them. Not this one! Those beets and raspberries blend up to a bright pink, velvety perfection. Perfect for sipping through a straw or eating with a spoon – my preferred smoothie-eating method, despite the pretty straws in these photos.
So the big question is, what else should I make with my beet puree?! I am open to all suggestions, because I blended up a LOT of beets this weekend.
I hope the color of these smoothies is the most shocking thing to happen to you on this Monday!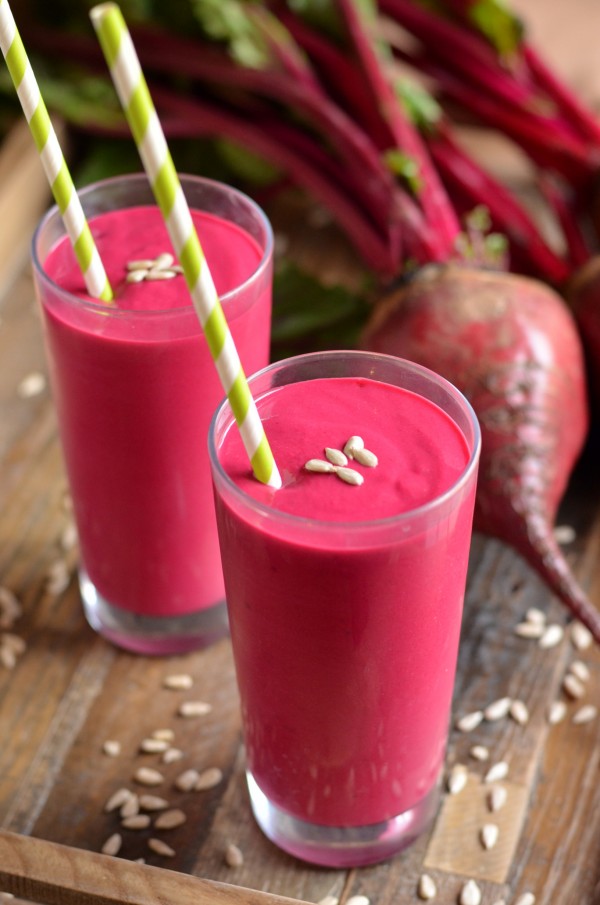 Shocking Pink SunButter Smoothie
Ingredients
2 cups frozen raspberries
1 cup cooked pureed beets (see here for instructions)
1 cup plain Greek yogurt
1 cup plain unsweetened almond milk (or milk of choice)
2 dates, pitted and chopped (and soaked in water for 30 minutes if you don't have a high-speed blender)
2 Tbsp sunflower seed butter
1 Tbsp ground flax seed
1/8 tsp vanilla extract
optional: 1 Tbsp maple syrup for added sweetness
Instructions
Blend all ingredients until smooth. Enjoy!