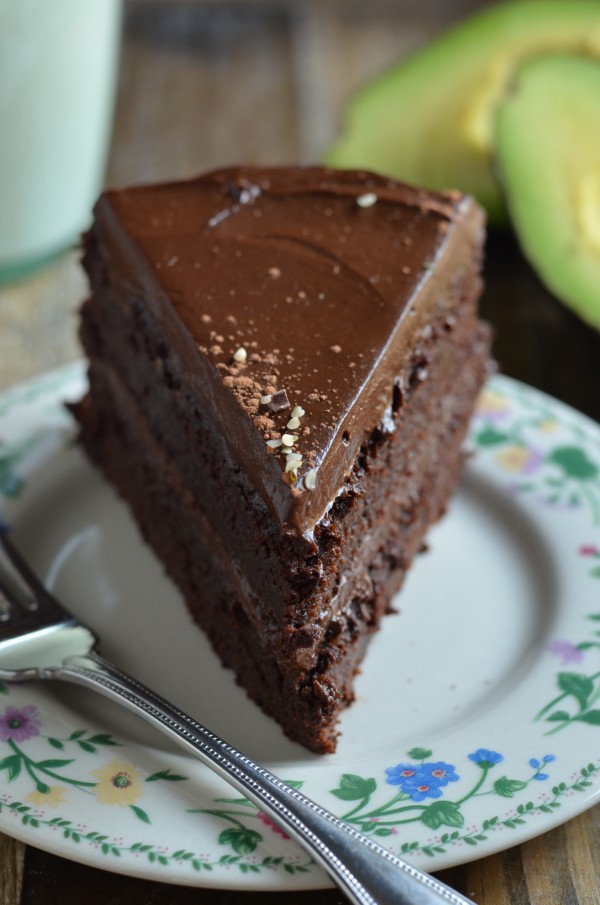 Where oh where do I even start this post when that big hunk of chocolate is staring me in the face?
Luckily I planned ahead enough to save myself some, so I can nibble while I think about that question.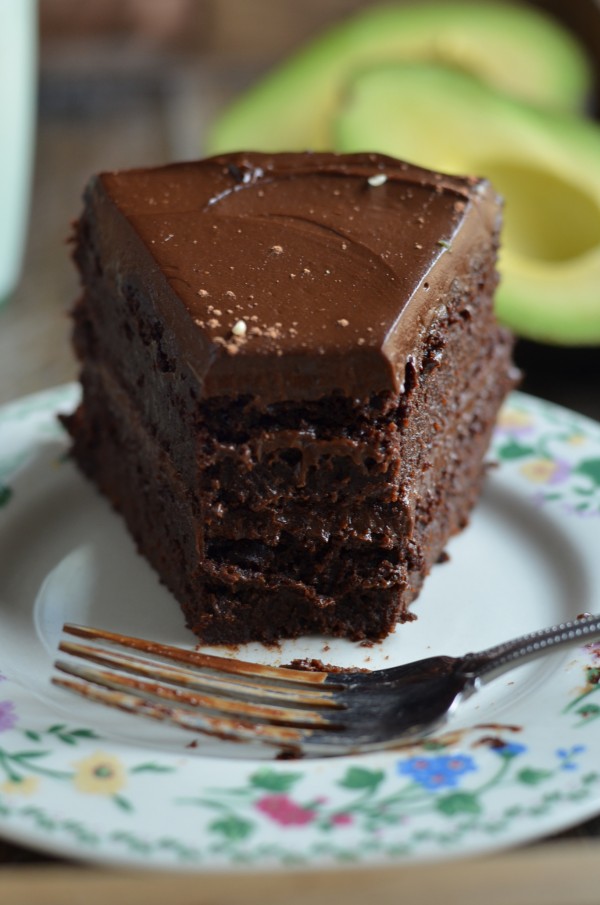 That's better. The worst kind of food blogging torture is trying to write a dessert post when you don't have any left to eat. Actually… the worst food blogging torture might be dish duty. But writing about chocolate without eating chocolate is clearly high up on the list.
How about reading about chocolate without eating chocolate? Sorry about that. Not to interfere with your evening plans, but I have to say that this cake is worth rushing home after work to make. Dare I say it's even worth skipping the gym to rush home and make? I have, on occasion, been known to cancel my evening exercise plans for a reeeeally good-looking chocolaty dessert recipe. Not that I think you would ever sink to that level… but if you would consider it, now should be the time.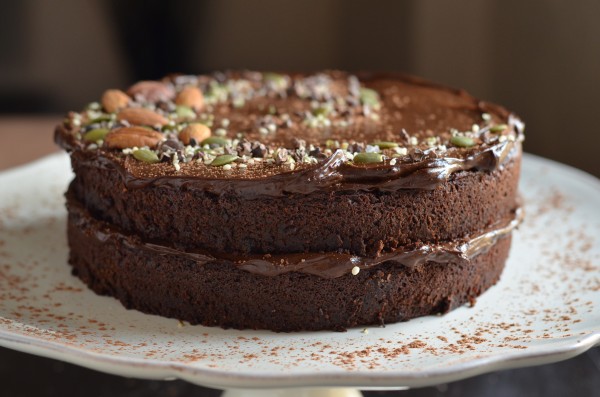 So, I have a lot to say about this cake. If there's one thing that can make me blabber, it's chocolate. Well, maybe my wedding. But yes, also chocolate.
Anyway, while this chocolate cake clearly didn't leave me speechless (plenty o' words, even if they're about nothing!), it did leave me questioning several basic assumptions I held before emarking on this veggie-filled cake-baking project.
Assumption #1: Cakes made with beets will taste like beets. (Exhibit A.)
Assumption #2: Frosting made with avocados is not frosting.
Assumption #3: Vegan cakes are not as good as non-vegan cakes.
Assumption #4: Gluten-free baking is scary.
I even mentioned some of these assumptions to you last Friday in my cupcake post, when I used my birthday as an excuse to bake cupcakes with white flour and goat cheese buttercream.
Not apologizing for it. That goat cheese frosting is PHEnomenal.
But how silly of me to think that my birthday couldn't also be an excuse for making THE most delicious, fudgiest, gooiest, most insanely chocolaty (yet also most veggie-filled) cake of all time.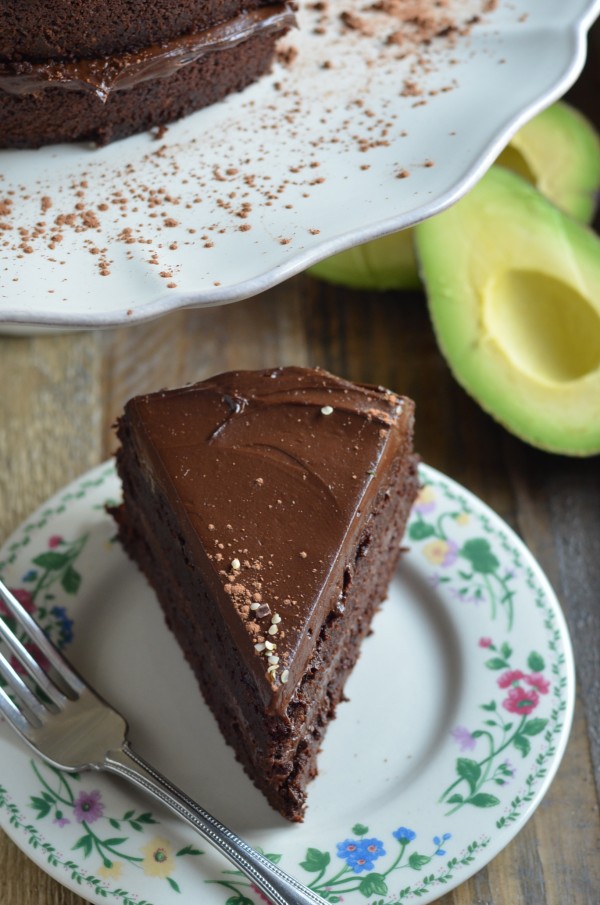 A cake that does not taste like beets. With an avocado frosting that does not taste like avocados… but quite like dark chocolate frosting. And that is vegan and gluten-free, yet you would never guess it.
I mean, two vegetables in a cake does not a health food make. The amount of vegetables in this recipe (or is avocado a fruit? you get what I'm saying anyway) is roughly equivalent to the amount of sugar, so let's not go skipping the green in favor of this cake. But what's amazing is that the beets and avocados give this cake a moistness and richness that I swear you could not get with butter and eggs. It pretty much blew my mind.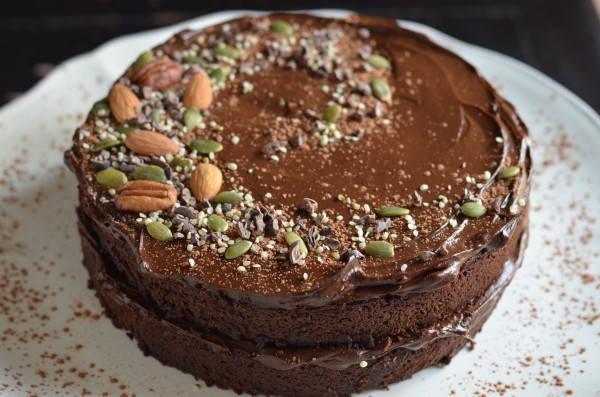 So now that I have gushed sufficiently, here is the deal with this cake: it is a fudgy vegan, gluten-free chocolate cake made with beet puree. And it's topped with an avocado-based chocolate frosting that is unbelievably silky. Mmmm.
Naked cakes are all the rage right now, and since I didn't want to use a million avocados in this frosting recipe, I decided we'd go naked with this cake! No frosting on the sides, just between the two layers and on top. Pretty cute, right?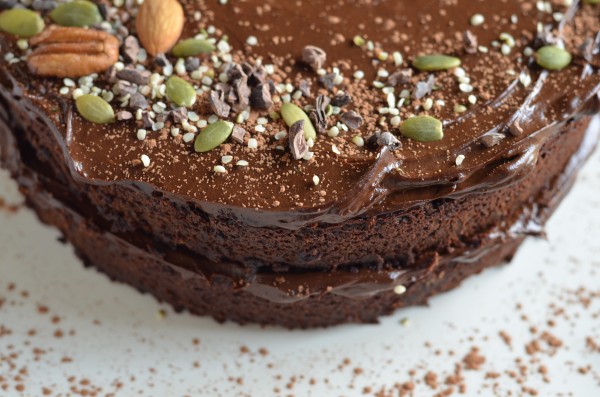 I'm not sure how I feel about the naked cake look for formal events like weddings (there are a lot of those being pinned!), but I think it's pretty attractive for a homemade ooey gooey chocolate cake. Over the years I have come to face the fact that my cakes will always look very homemade. And I'm embracing it, because how many cakes have you tasted that are dressed up to the nines but totally lacking in flavor? At least I have my priorities straight!
Lately I've been obsessed with decorating cakes with nuts and seeds. Used here: a dusting of coca powder, hemp seeds, pepitas, almonds, pecans, and cocoa nibs. It's kind of a forest floor look? I think it goes pretty well with chocolate.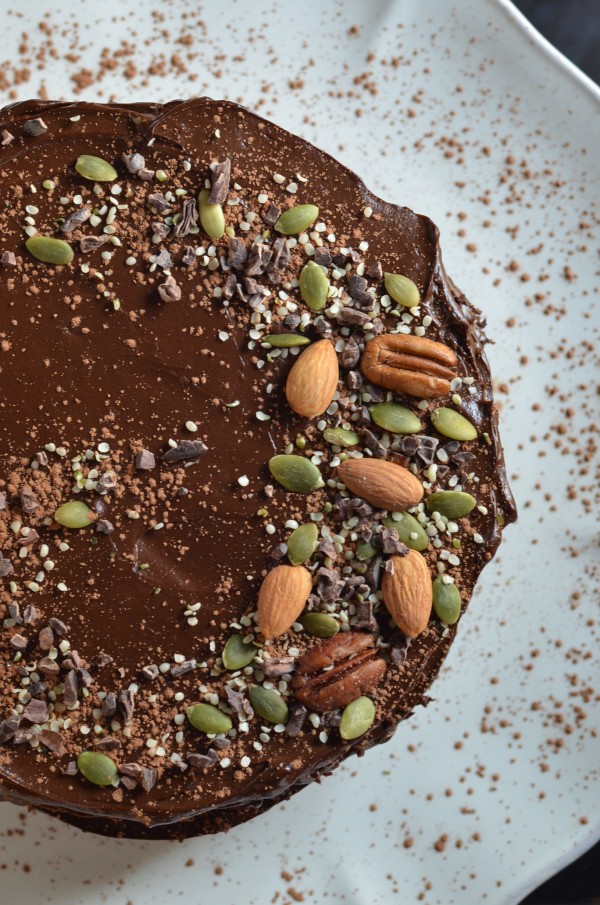 I want to talk a little more about the fact that this cake is gluten-free. Gluten-free! My first gluten-free cake. I meant to make it vegan all along, but just before I got started, I decided I wanted everyone to be able to enjoy it. And chocolate sometimes makes things kinda fool-proof… so I decided to experiment with gluten-free cake baking for the first time. Go big or go home, right?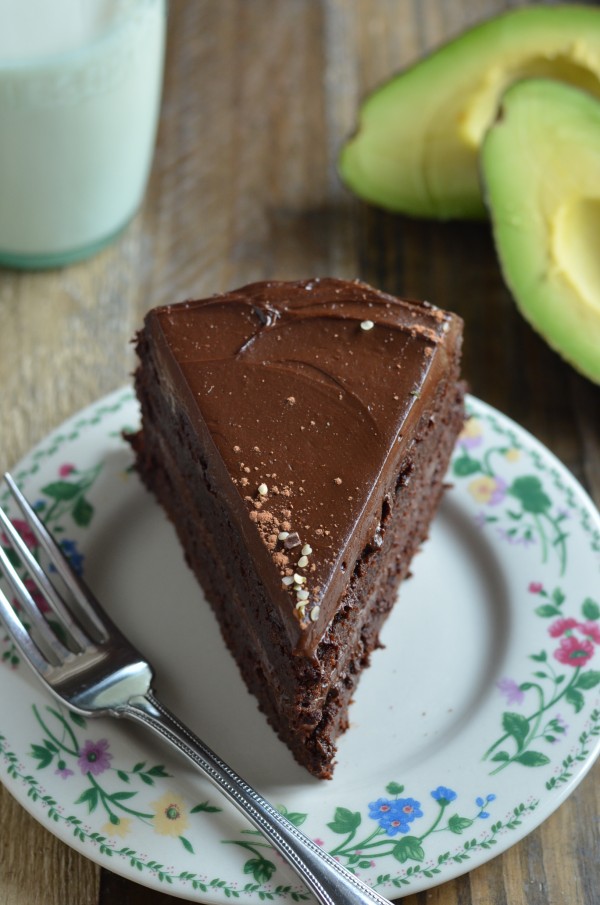 Actually, a friend recently told me that when it's go big or go home, I usually go home.
Fair enough.
Luckily, that was in reference to my inability to stay out past 10 pm – I usually literally go home – and not my baking skills. Because this cake is the stuff a chocoholic's dreams are made of, and you would just. never. know. that there's no gluten in it. I was so happy the whole gluten-free thing turned out! Maybe I'll have to start getting a little more adventurous on that front. Just maybe.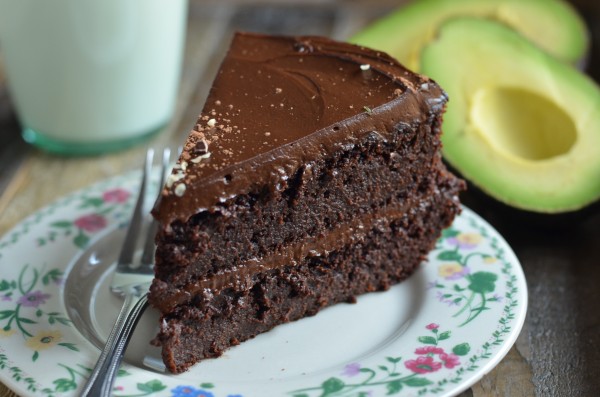 Assumption #5, which I forgot to mention above, is that I don't want to quit my job and run away to start a bakery. This cake also had me seriously questioning that one, too. Good thing I can share this cake with you here… and keep my day job :)
Guys, this one's a keeper. Hope you all love it as much as we did!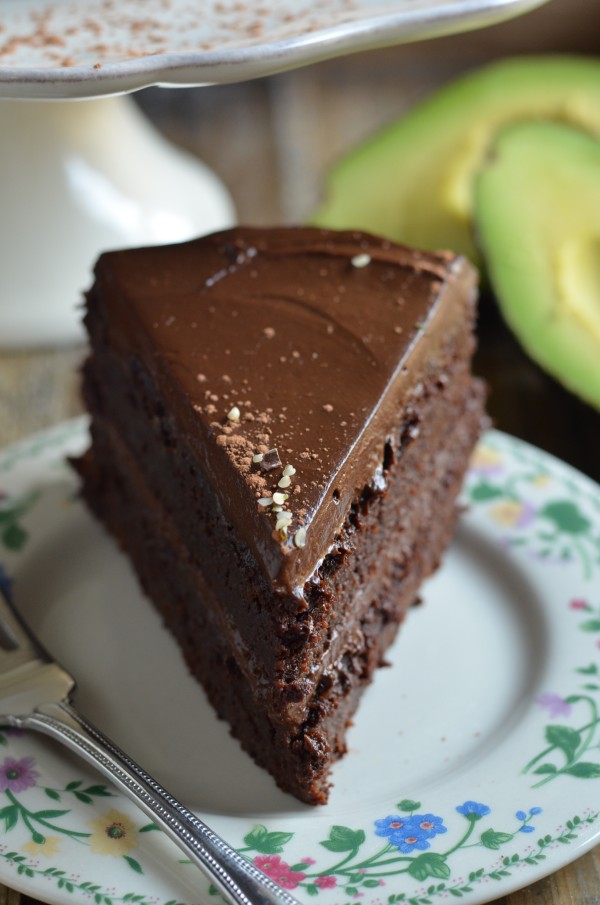 Fudgy Chocolate Beet Cake with Chocolate Avocado Frosting
Yields:
an 8-inch 2-layer cake with about 1.5 cups of frosting
Ingredients
For the cake:
2 medium beets
2 cups plain unsweetened almond milk
1 Tbsp cream of tartar
1.5 cups raw turbinado sugar (or substitute cane sugar)
1/2 cup melted coconut oil
1 Tbsp vanilla extract
1.5 cups oat flour
3/4 cup almond meal
1 cup unsweetened cocoa powder
2 tsp baking soda
1 tsp baking powder
pinch of kosher salt
For the frosting:
2 ripe avocados, halved and pitted
1/2 cup unsweetened cocoa powder
1/2 cup maple syrup
2 Tbsp melted coconut oil
1/2 tsp vanilla extract
few pinches kosher salt
2 Tbsp strong brewed coffee (optional)
Instructions
To roast the beets:
Preheat oven to 400. Chop the stems off your beets, as well as the tips if they are long. Scrub clean. Wrap in foil and roast until a fork slides easily to the center of the beet, 60-75 minutes. Remove, unwrap, and set aside until cool enough to handle.
Once cooled, peel the beets by pushing the skins off with the back of a knife. they should slide off easily. Cut the beets into chunks and place in the bowl of a food processor. Puree, scraping down the sides as necessary. You may have to add a bit of water to encourage the beets to puree. Scoop out 1 cup of puree for this recipe - the rest is leftover.
To make the cake:
Lower oven temp to 350. Coat two 8-inch cake pans with cooking spray. Line with parchment paper (trace the bottom of the tin onto parchment paper and cut out so it just fits in the bottom) and spray again. Set aside.
Whisk together almond milk and cream of tartar in a large bowl. Let sit about 5 minutes to curdle.
To the almond milk mixture, add 1 cup of beet puree, sugar, coconut oil, and vanilla extract. With a hand mixer (or in a stand mixer), beat until foamy, about 30 seconds. (This is important so that the coconut oil does not separate and solidify.)
Sift in remaining dry ingredients. Beat again to incorporate.
Divide between the cake pans. Bake at 350 until a toothpick inserted in the center comes out with fudgy crumbs, 30-35 minutes.
Remove and cool completely in the pans on wire racks. Then, if time allows, transfer pans to the fridge to cool further. Run a knife around the edge of the cake pan before inverting the cake and peeling off the parchment paper. (Be sure you allow the cakes to cool completely before removing, or they will not hold together!)
To make the frosting:
Scoop out the flesh of the avocados and place in the bowl of a food processor. Puree until smooth. Add remaining ingredients and puree again, scraping down the sides of the bowl.
To assemble the cake:
Place the first layer on your cake stand or serving plate. If the top is uneven, carefully even it off with a knife. Smooth on about half of the frosting, and top with the second cake layer. Smooth on remaining frosting and add any decorations you like! (If you made 1 9-inch layer, you will have enough frosting to coat the sides, if you want.)
Refrigerate before serving. The cake can be served immediately, but I like it best after being refrigerated overnight. Enjoy!