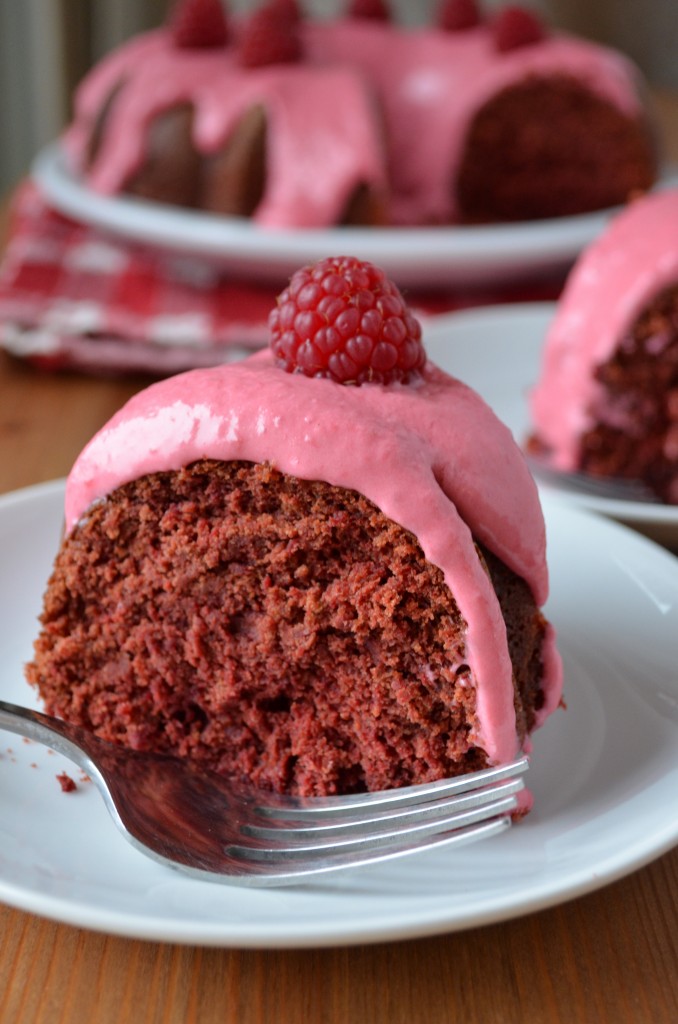 Yes, it tastes like beets.
Had to get that out of the way.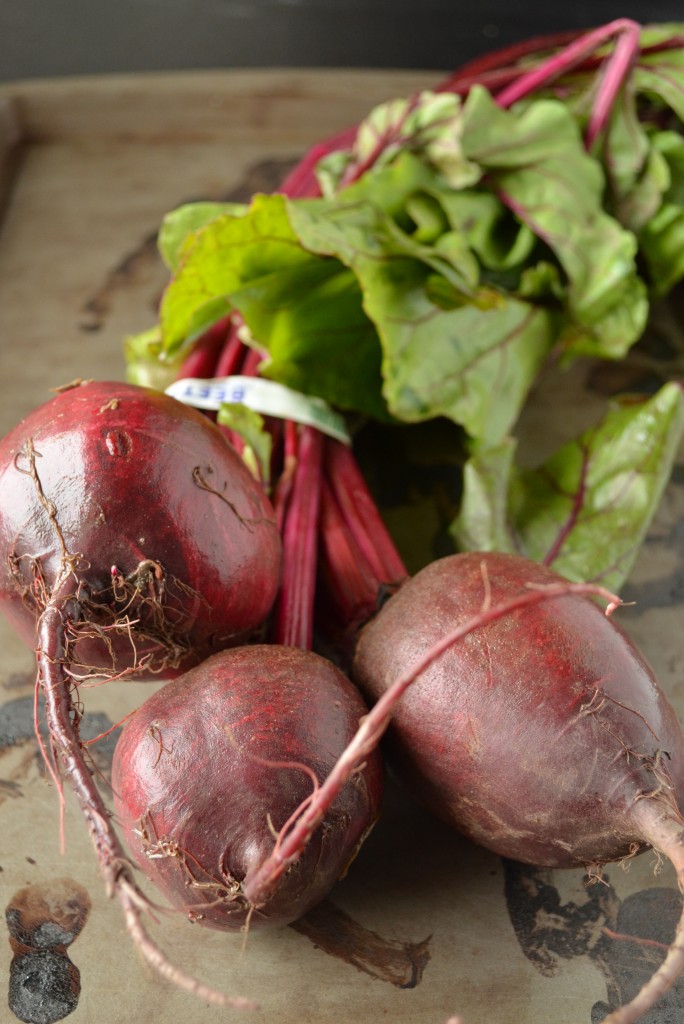 On Saturday I mentioned that I had pinned many beet cake recipes in preparation for a post this week. Well, here it is! A bright red cake filled with roasted and pureed beets. Yum?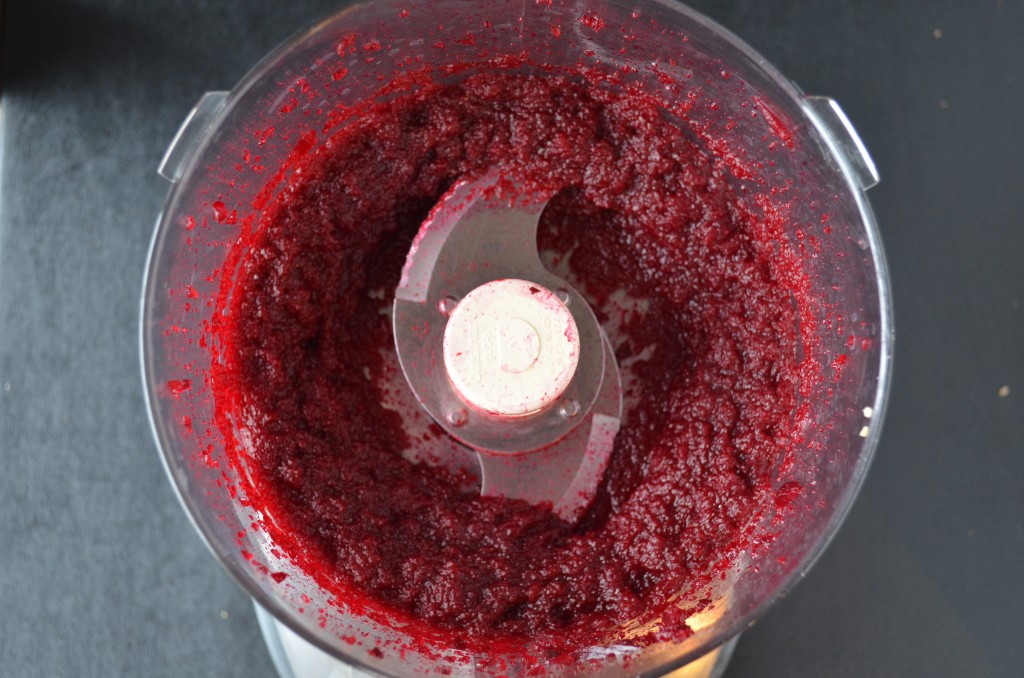 If you don't like beets, I'm not sure if you'll like this, to be honest. You can taste them, although if you didn't know they were there, you might not guess it. If you're OK with beets, though, you will absolutely love this cake, if for no other reason than the fun color.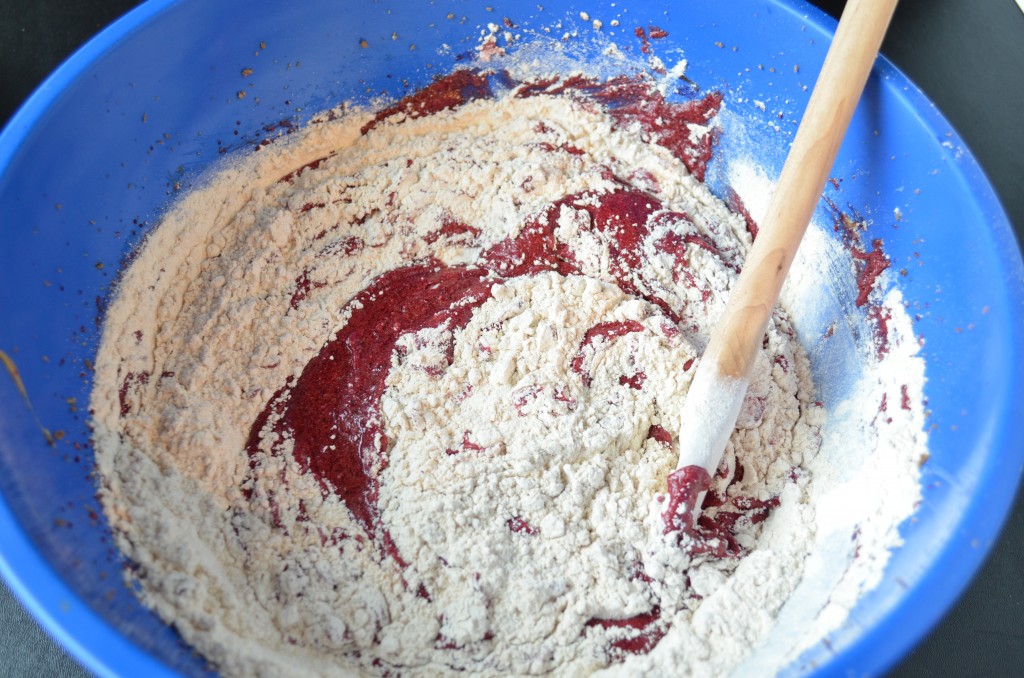 In general, I'm not a huge fan of "secret ingredients" (a.k.a. hiding vegetables in things), but the beets aren't hidden here. Boom, there they are! You can taste their earthy flavor and you can deeeefinitely see them right in front of your nose.
Can you believe there's not a drop of food coloring in this whole cake?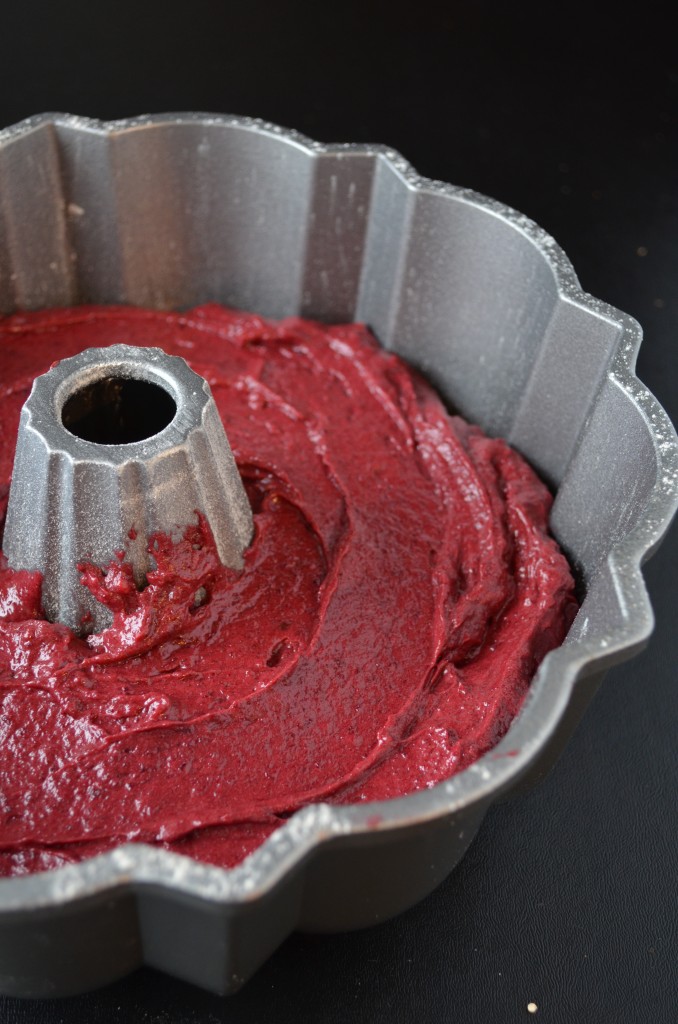 We all know I'm obsessed with colorful food, so I just can't get over this bright red batter. So beautiful! And perfect for a certain romantic holiday coming up.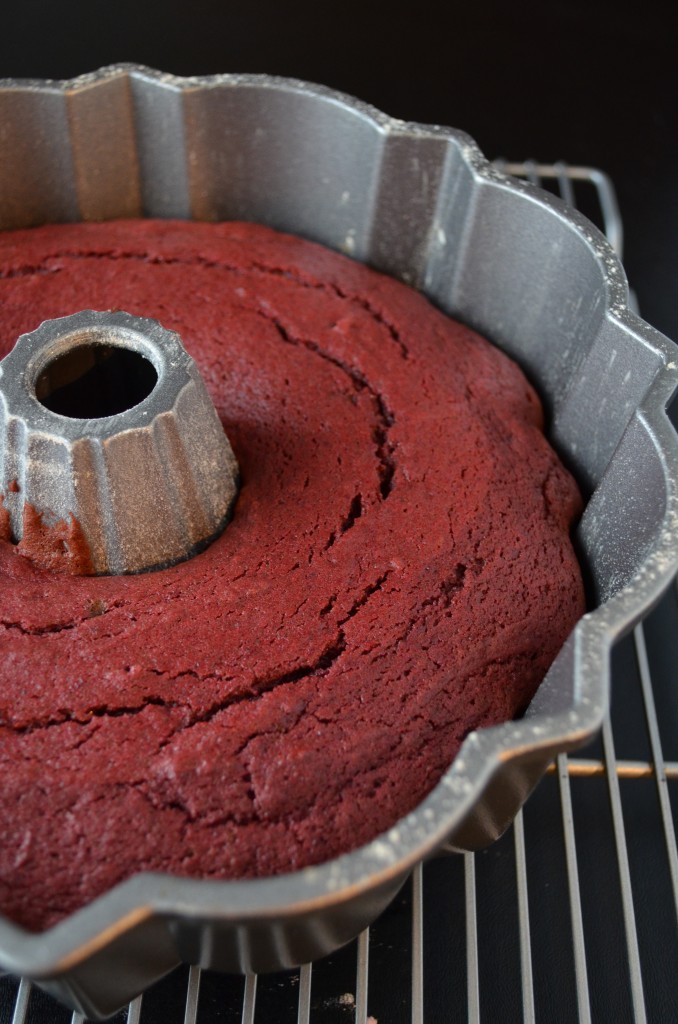 And then there are the raspberries that make the frosting such a nice girly pink. Actually, these photos don't even do the frosting justice. It was even pinker than this!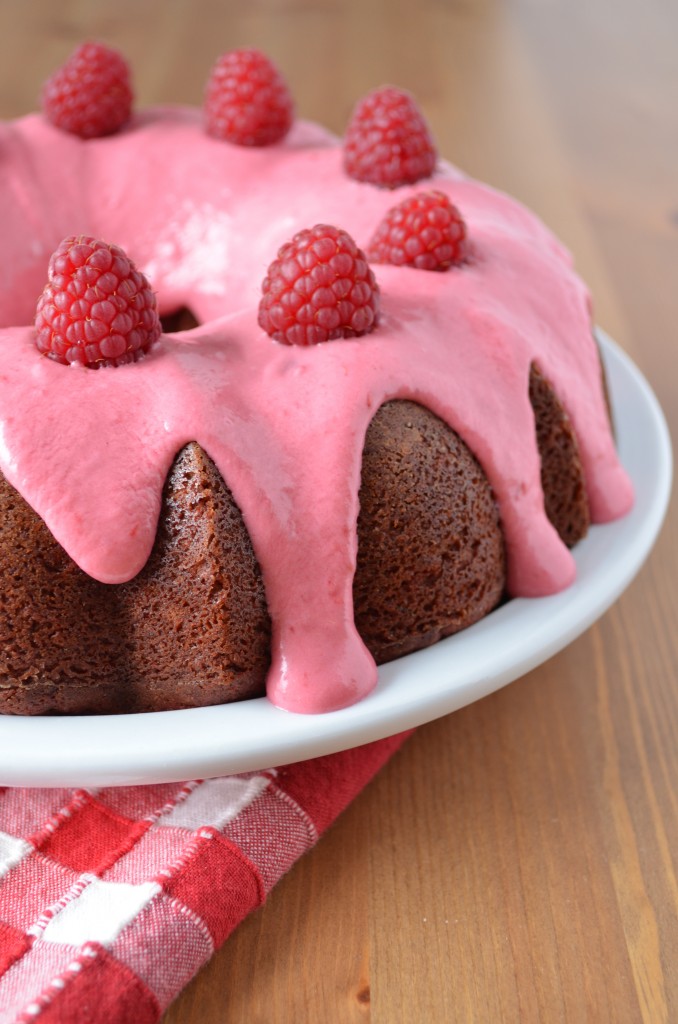 I made this cake on a snowy day, and learned the hard way that pink frosting is the most difficult thing EVER to photograph. Low blue light + reflective Barbie-pink surfaces = photography nightmare. Sigh. It tastes good, I promise.
Speaking of Barbie… I made this cake with Valentine's Day in mind, but I can't help but think that it would be adorable for a little girl's birthday party. Or a big girl's birthday party! As long as that girl loves pink.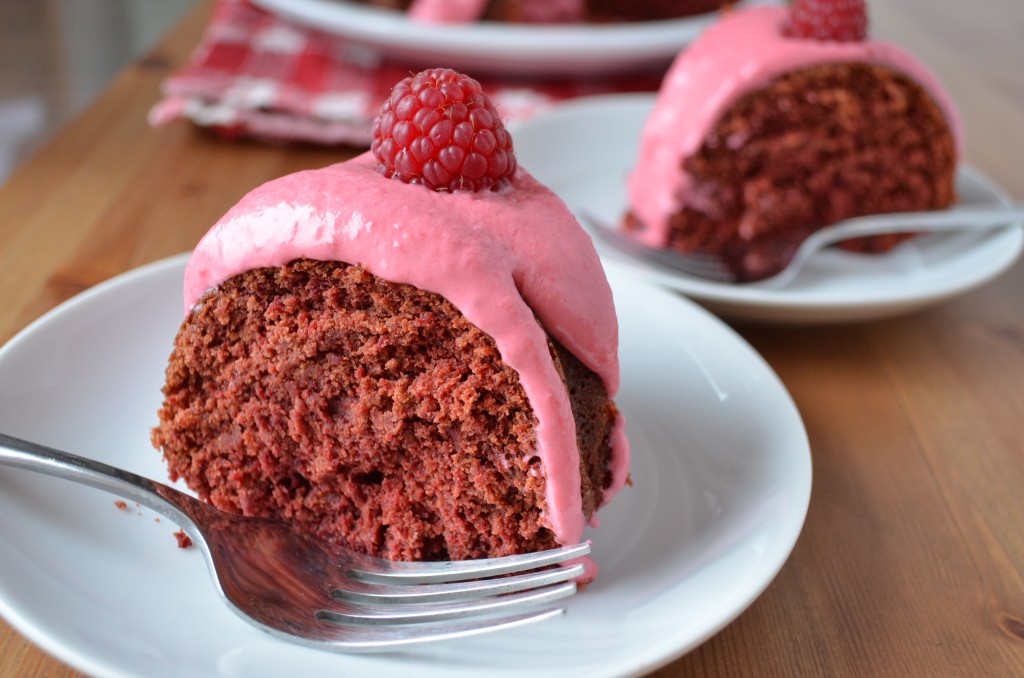 So what do you think… will you allow some vegetables in your cake? I think these beets are pretty enough that they can get away with practically anything.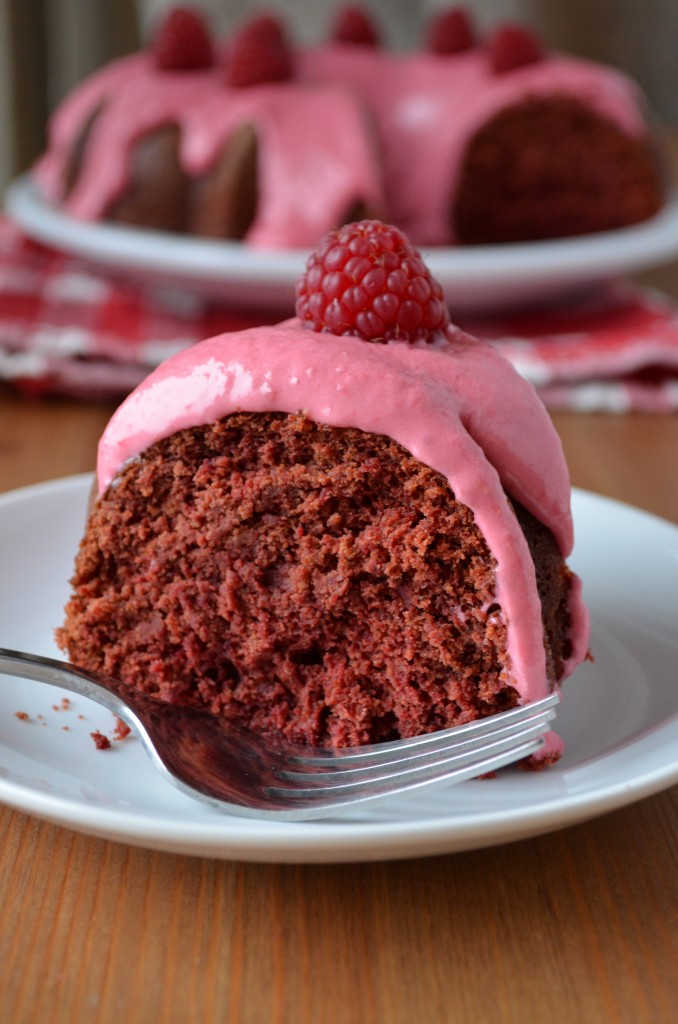 Red Velvet Beet Cake with Raspberry Cream Cheese Frosting
This red velvet cake has a secret ingredient: beets! Topped with raspberry cream cheese frosting, it is bright pink from tip to toe.
Yields:
1 cake, serves about 16
Ingredients
For the red velvet beet cake:
3 medium-sized beets
1 cup (2 sticks) butter, at room temperature, divided
1 cup packed dark brown sugar
3 eggs, at room temperature
3 oz. dark chocolate (I used Ghirardelli's 60%)
1 tsp vanilla extract
½ cup maple syrup
1 cup all-purpose flour
1 cup whole wheat flour
2 tsp baking soda
1/4 tsp kosher salt
½ tsp cinnamon
¼ tsp nutmeg
For the raspberry cream cheese frosting:
12 oz frozen raspberries
juice of ½ a lemon (about 2 Tbsp)
8 oz cream cheese, at room temperature
1/2 cup (1 stick) butter, at room temperature
2 cups powdered sugar
For garnish (optional):
Instructions
First, roast and peel the beets. This is my preferred method. Then roughly chop the beets and puree them in a food processor until smooth. You should have about 1 cup of beet puree. Set aside. (This can also be done ahead of time.)
Preheat oven to 375. Grease and flour a bundt pan (or any cake pan of your choice).
In a large bowl, beat together 3/4 cup of the butter with the brown sugar. Add eggs one at a time, beating well after each addition. Melt the chocolate with the remaining butter in the microwave in 30-second increments. Beat the melted chocolate mixture, vanilla extract, maple syrup, and beet puree into the butter/sugar/egg mixture, scraping down the sides of the bowl as necessary.
In a separate bowl, sift together the flours, baking soda, salt, and spices. Dump into the wet ingredients and mix until thoroughly combined. Pour into the prepared pan and bake until a toothpick inserted in the center comes out with moist crumbs. This took me about 40 minutes, but the original recipe says 60-70. The baking time will vary depending on which type of pan you use, so I would suggest starting to check at 40 minutes.
Cool completely in pan on a wire rack. After cooling, you can frost the cake immediately or wrap it in plastic and refrigerate it for up to 2 days before continuing.
While cake cools, make the raspberry cream cheese frosting. In a small saucepan over medium heat, combine the frozen raspberries and lemon juice. Bring to a boil and allow to simmer for 10-15 minutes, until the raspberries have broken down. Pour through a mesh strainer into a small bowl and cool completely. This should yield between 3/4 and 1 cup raspberry sauce.
Cream together the cream cheese and butter. Sift in the powdered sugar and beat until incorporated. Beat in the raspberry sauce. You can choose to use as much of the sauce as you want for a frosting anywhere from subtle to shocking pink!
Pour frosting over cooled cake and garnish with fresh raspberries.
The cake will keep covered for several days in the fridge. Bring to room temperature before serving.