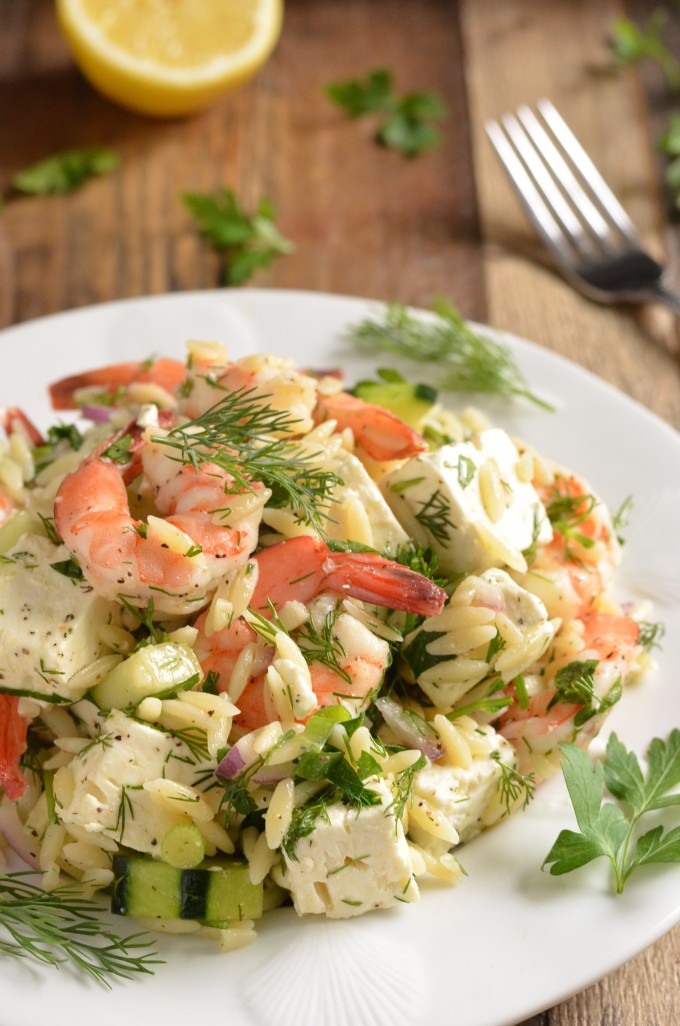 This shrimp and orzo salad was just catapulted to the top of my all-time favorites.
Why, you ask? Well, cause my mom made it for me, of course! And I guess the huge chunks of feta don't hurt, either.
This was lunch one day during my bridal shower a few weekends ago. My mom made a huge batch (like quadruple the recipe!) to feed 11 hungry women. Well, I don't know if everyone was hungry… but I sure was, and I think I ate 4 servings. Or maybe that was the souffle the next morning that I ate 4 servings of? Oh wait, that too. There was a loooot of good food. But I certainly wasn't the only one going back for "just one more bite" of this salad.
Now, I know I don't post a lot of seafood on this blog, but the truth is that I eat a fair amount of it. It's usually at restaurants, because let's face it, I love sushi! Also, fish is often the healthiest thing on a restaurant menu. But I forgot how absolutely WORTH IT it is to cook seafood at home from time to time. This pasta salad is a prime example.
The phrase that comes to mind when thinking how to describe this dish is "unfairly good." Like… wait, do I really have to stop eating this? type of good. Hence my 4 servings – I decided that the answer was no, I did not have to stop eating it! You only have one bridal shower, right? :)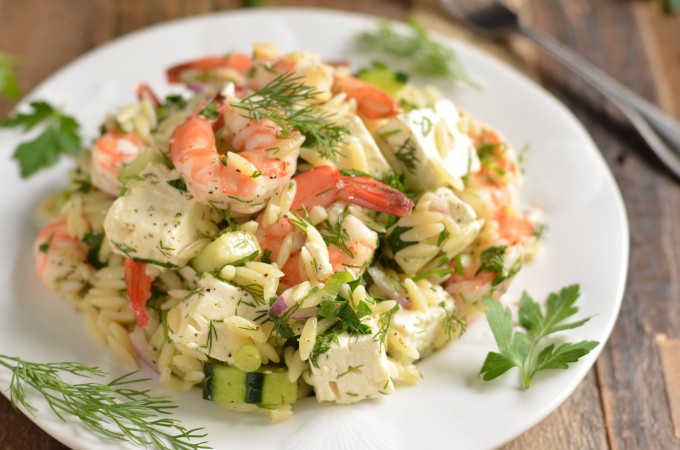 Any orzo salad is an automatic winner in my book, and the tasty shrimp and feta don't hurt, but what really makes this one special is the herbs. Dill, parsley and green onions are all coming to the party, and they keep the dish feeling light and perfect for the warm weather. The dill especially gives the perfect balance of rich yet light. Dill for the win! I apparently love dill.
This is originally an Ina Garten recipe. I didn't make too  many changes – just reducing the olive oil as well as the amount of shrimp. Ina's recipe calls for double of both. I don't think a 1/2 cup of olive oil is necessary, although you may want to drizzle a bit of additional oil on leftovers (if you have any). As for the shrimp, the more the merrier, I'm sure, but holy cow was the shrimp I bought expensive. One pound was all I could justify, and I think the salad still has a generous amount of shrimp.
Not only is this salad one of my new favorites, but it will probably forever remind me of my bridal shower. Good food memories – that's what I love sharing with you all!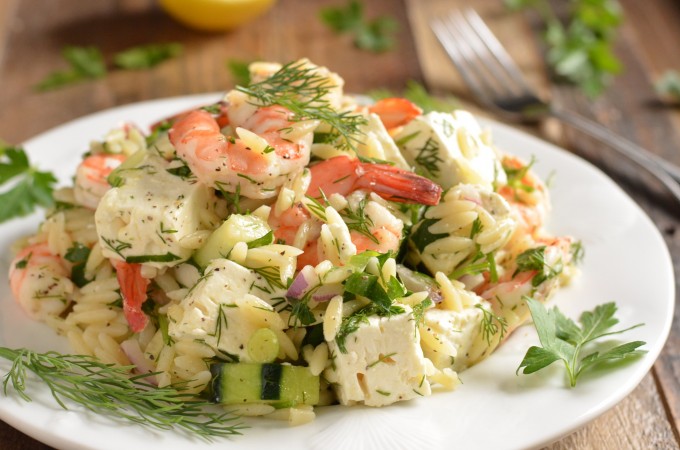 Roasted Shrimp Orzo Salad
Yields:
4-5 entree-sized or 6-8 side dish servings
Ingredients
12 oz orzo pasta
1/2 cup freshly squeezed lemon juice (about 3 lemons)
1/4 cup olive oil + extra for shrimp
1 tsp kosher salt + extra for shrimp
1 tsp ground black pepper + extra for shrimp
1 lb uncooked shrimp (I used 26-30 count), peeled and deveined
1 cup thinly sliced green onions (white and green parts )
1 cup chopped fresh dill
1 cup chopped fresh flat-leaf parsley
1 cucumber, unpeeled and diced
1/2 cup small-diced red onion
12 oz feta cheese, large-diced
Instructions
Preheat the oven to 400 degrees.
Bring a pot of water to a boil. Add orzo and simmer until tender, 9 to 11 minutes. Drain and pour into a large bowl.
In a small bowl, whisk together the lemon juice, 1/4 cup olive oil, salt and pepper. Pour over the hot pasta and stir well.
Meanwhile, place the shrimp on a sheet pan and drizzle with a bit of olive oil - I used about 1 Tbsp. Sprinkle with salt and pepper and toss to combine. Spread out in a single layer and roast for 5 to 6 minutes, until cooked through.
Add the shrimp to the bowl with the orzo and then add the herbs, cucumber and onion. Toss well. Add the feta and stir carefully.
Set aside at room temperature for 1 hour to allow the flavors to blend, or refrigerate overnight. If refrigerated, you may want to add another drizzle of olive oil before serving. This salad is best served at room temperature, but straight out of the fridge is good, too. Enjoy!