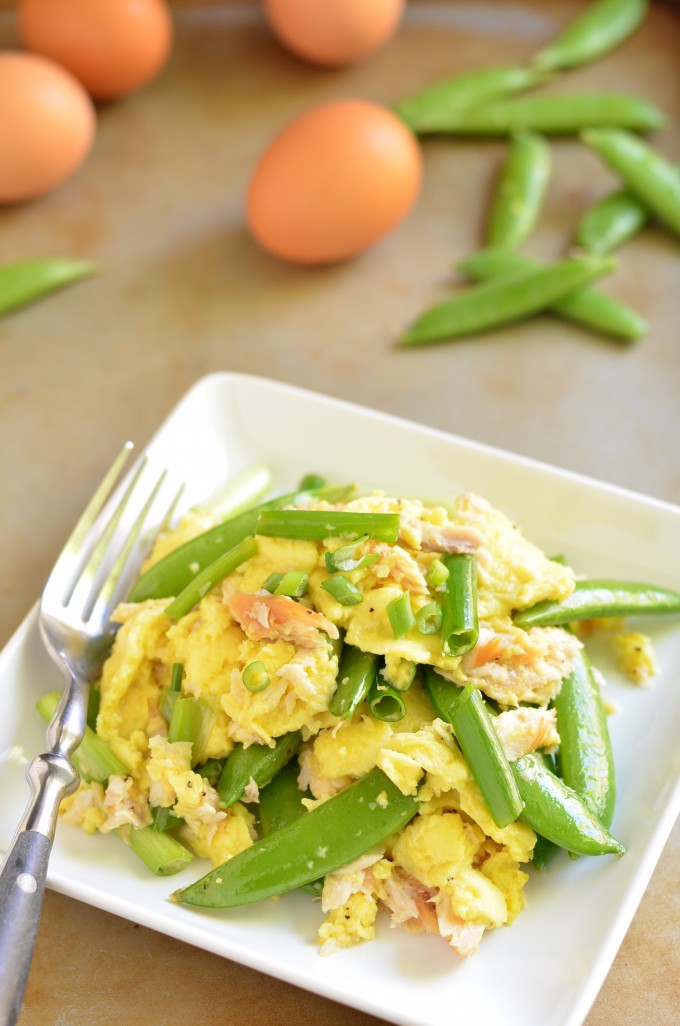 Is it just me, or has this blog gone crazy for seafood lately?
Shrimp last week, trout today, and I even snuck some fish sauce into Friday's mushroom lettuce wraps. There may or may not be a package of smoked salmon in my fridge, too, for another recipe I'm hoping to post next week. There's not necessarily a reason for it… I guess I just decided it was about time to work my way through all the fish recipes on the "to make" list I'm constantly adding to.
And this one… this one is a keeper!
Despite the fact that scrambled eggs must be the hardest food in the history of all foods to photograph. Sigh.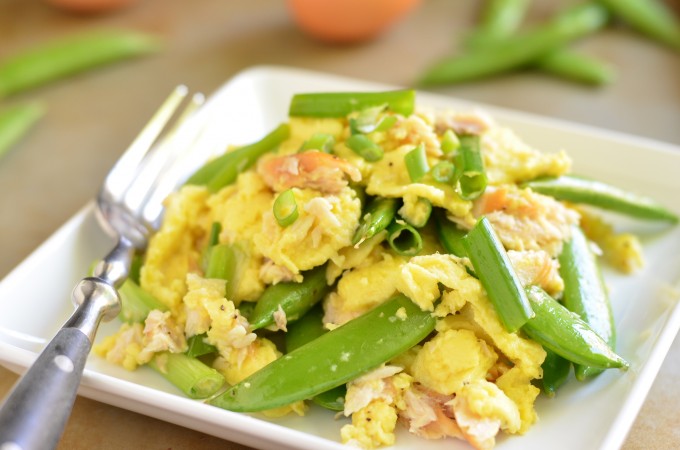 Can you see past it? Can you imagine the creamy, smoky decadence of trout in your scrambled eggs?
Have you ever even had trout?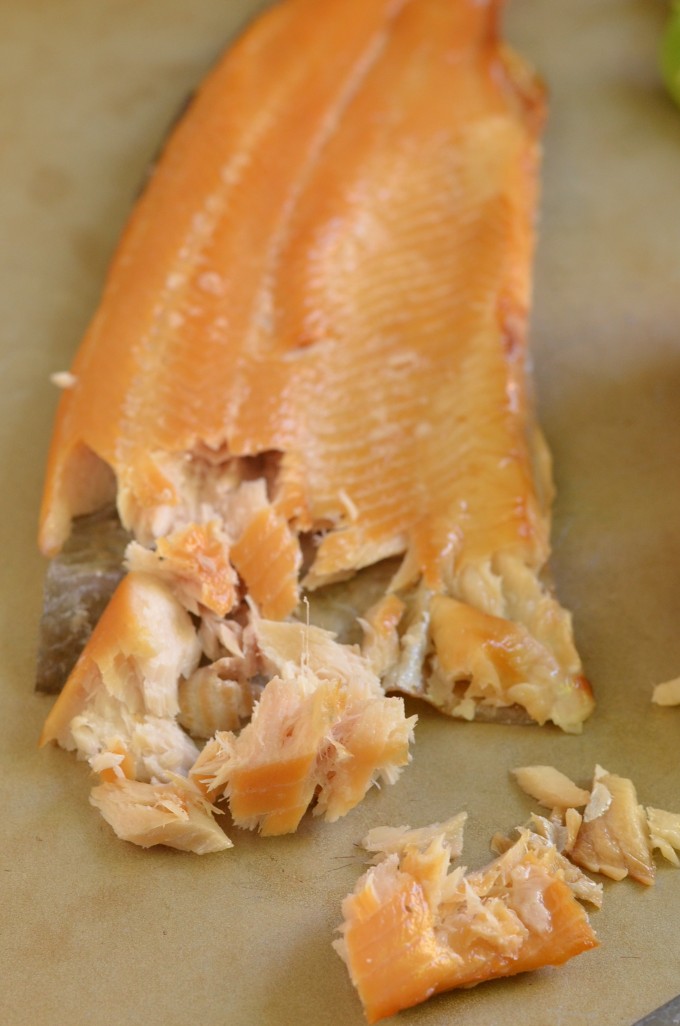 Let me just talk about trout for a minute, because it's a new thing for me.
Growing up in a family that doesn't fish, I was pretty unaware of trout as something edible until I moved to Utah. Not that there's no trout to be had where I grew up, but there's definitely much more of it on restaurant menus in a land-locked state. It's really the only fish that can be locally sourced! Of course, the trout I used here was smoked in Maine… go figure.
Anyway, for those of you still in the dark about trout, let me fill you in. It has the same pink-ish hue as salmon, and a similar, albeit fishier, flavor. It is absolutely AH-mazing smoked, and you can buy it in vacuum-sealed bags, just like smoked salmon. The texture is much different, though. You can see in these pictures that it's, I don't know, flakier? But a warning: cooking with it will leave your hands smelling very fishy indeed. Would I advise going shopping for wedding invitations afterwards, and putting your fishy little paws all over everything in the stationery store? No, no I wouldn't. Why would you even ask that question? Long story short, smoked trout is full of delectable fishy and smoky flavors, and it is to DIE for in these eggs.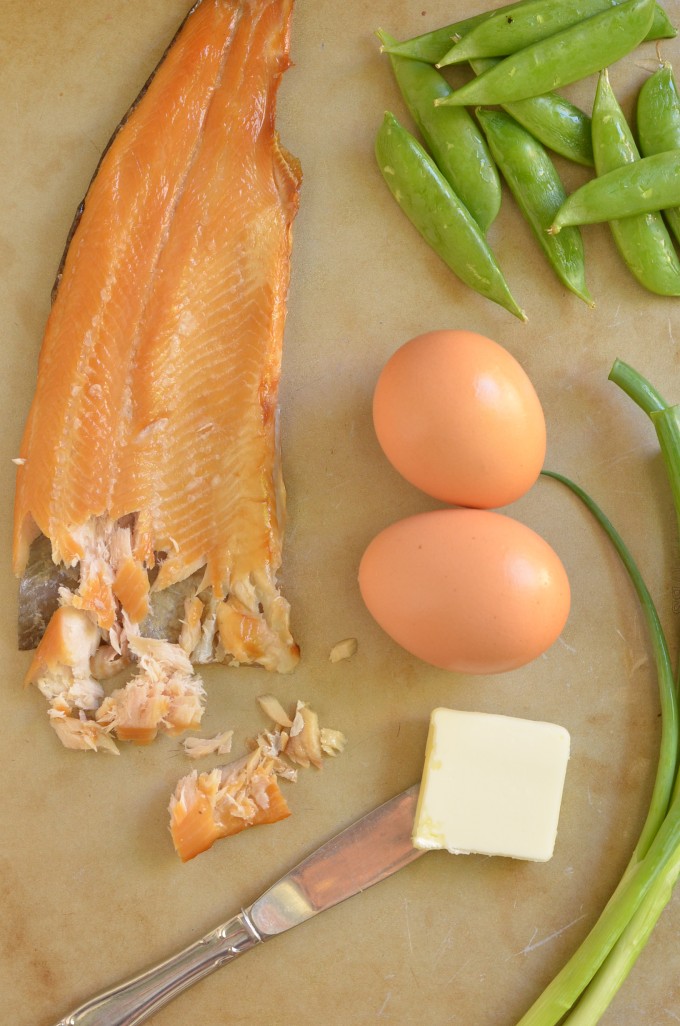 This meal is inspired by a recent restaurant brunch (after my half marathon, actually!). It was one of those meals I couldn't wait to get in the kitchen to recreate for you, because it was just that good! So good I pretty much licked my plate clean, despite the enormous restaurant portion size. I wasn't sure I would be able to do it justice, but what do you know… it was pretty darn easy after all.
I love recipes with just a handful of ingredients, and that's exactly what we have here. I left the milk out of the photo above, but you can see we're keeping things pretty simple. And the best part (in my opinion) is that there's very little chopping. Who has time to chop a mountain of veggies before breakfast? Not this hungry girl.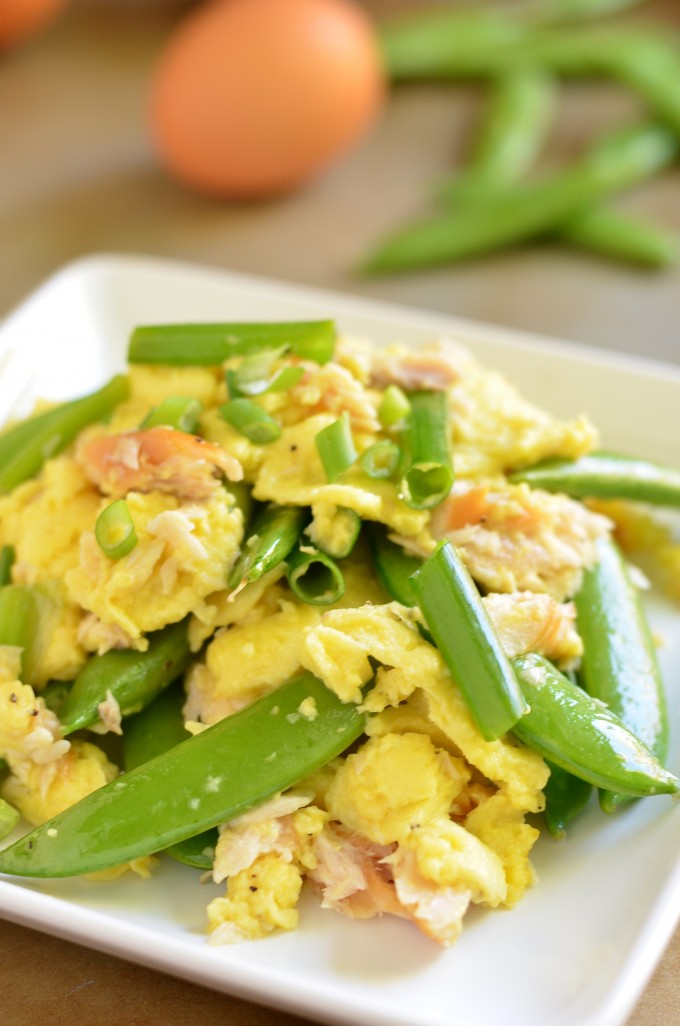 I did a fair amount of googling of "perfect scrambled eggs recipes" before making and photographing this scramble, because I wanted to be sure I was making you the best scrambled eggs possible. Well, it turns out there are wildly diverging theories on the best scrambling technique – from "whisking the eggs beforehand will ruin everything" to "the key is to beat the eggs really hard beforehand." Seriously. So let me share my favorite technique with you:
1) Beat the eggs first.
2) Don't stir too much.
3) Take them off the heat before they're done.
Doing these three things will give you creamy scrambled eggs and big fluffy pieces, which is always my goal. No shriveled brown bits… although Nate can vouch for the fact that I've made my fair share of scrambled eggs like that, too. Here, taking the eggs off the heat before they're done is especially key, because that's when we're stirring in everything else. Because the eggs aren't quite solid yet, they really let all that smoky trout flavor in, in a way they wouldn't if they were already thoroughly cooked.
I made this scramble for one because I was playing single lady for the weekend. (P.S. Not having to share my bed or my food is THE BEST. Sorry Nate.) You could easily double or even quadruple the recipe if you've got more people to feed. Orrr if you just want more for yourself! I definitely understand.
Have a good Tuesday and enjoy the short work week!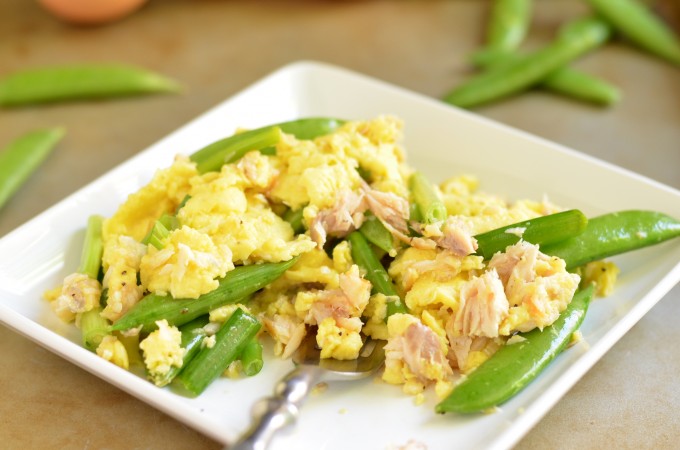 Smoked Trout Scramble For One
Ingredients
2 eggs
splash of milk (any kind will do)
1 Tbsp butter
2 oz smoked trout, skin removed and flaked with a fork
handful of sugar snap peas
1 green onion, sliced into 1-inch pieces
salt and pepper
Instructions
Crack the eggs into a medium-sized bowl and add a splash of milk. (I used almond milk.) Beat eggs with a hand mixer for 30 seconds to a minute, until foamy.
Melt butter in a small non-stick skillet over medium-low heat. Pour in the eggs. Cook for a minute or two until the bottom begins to set. Using a rubber spatula, lift up the edges to let the liquid pour into the bottom of the pan. Repeat until no liquid remains but the top of the eggs are still not cooked.
Remove from heat and stir in the smoked trout, sugar snaps, green onion, and a sprinkle of salt and pepper. The eggs will continue to cook for a minute or two after being removed from the heat. Serve and enjoy immediately!