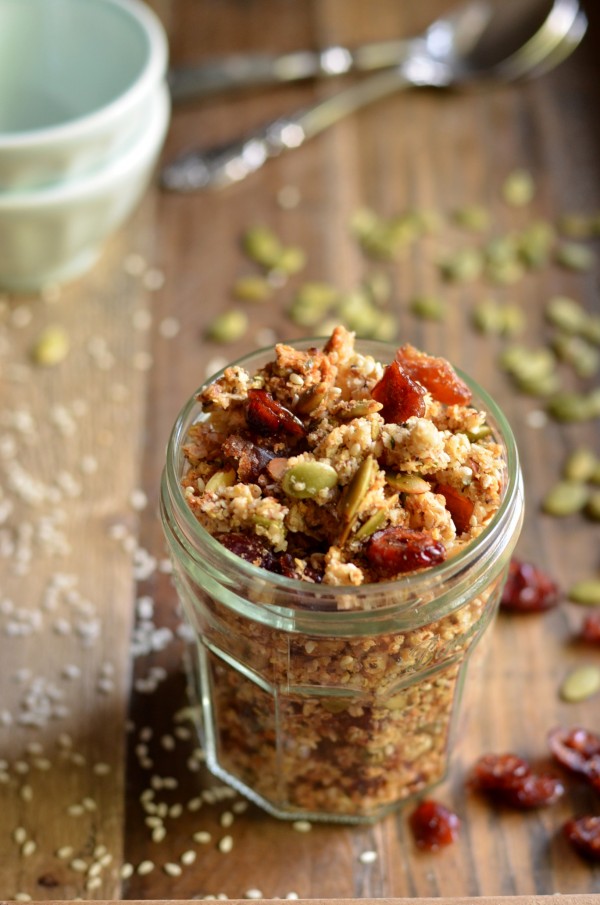 F-f-f-friday!
On the one hand, I couldn't be happier to see the end of the workweek. I'm currently traveling for work (always exhausting, no matter how quick the trip) and am pretty excited to collapse into my own bed. On the other hand, I am a liiiittle nervous that the week is over, because tomorrow morning I'm running a half marathon. Eek!
A 7 am race is not exactly a recipe for a relaxing start to the weekend… especially when it's an hour away and you have to catch a bus to the starting line before 5:30. AHH! However, I can't really complain, since I've been looking forward to this race for months.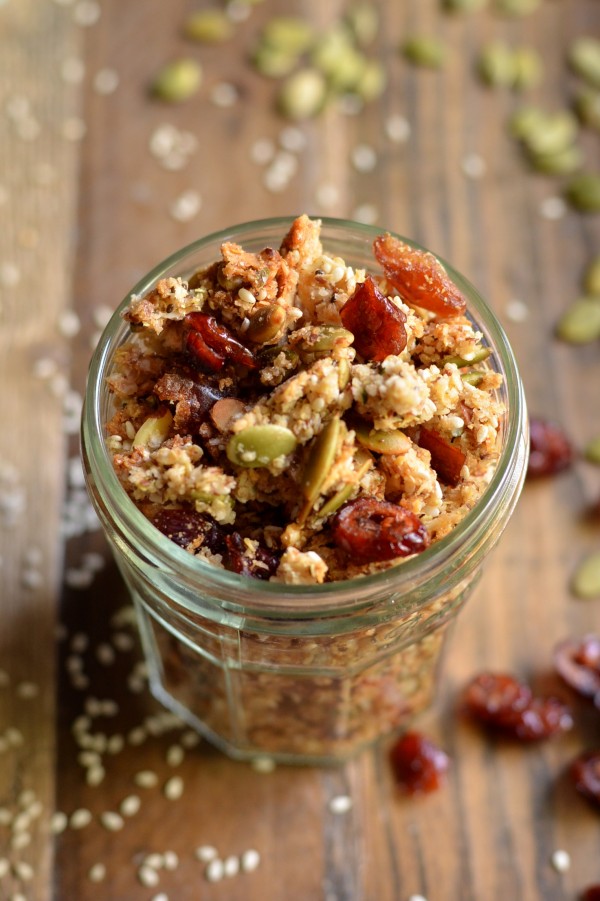 Can I really run 13.1 miles? I ask myself this question before the start of every long run. Can I really run 7 miles? 8? 9? 10? Week after week, the answer seems to be yes. So I guess I have to face the fact that I will be running 13 miles tomorrow.
This is my first downhill half marathon. Down-canyon races are big here in Utah, where there are lots of canyons… I assume they're popular in other mountainous places, too. I ran a downhill 8k last summer and was surprised how speedy it was! This race won't be anywhere near as steep – I think it drops 1,000 feet start to finish – but I am still hoping for a PR. We'll see!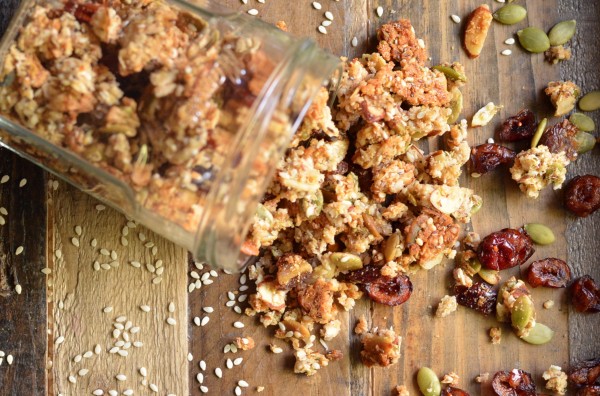 I'm running with Nate and my friend Kate, who's been one of my training partners for a few years. And when I say running "with," I mean I'll be running behind them. I should be around mile 8 when Nate finishes, and Kate is a super speed demon and will be miles ahead of me, too. That's OK! I'm hoping to enjoy every one of the 110 minutes it will (hopefully) take me to make my way down that canyon.
As a speedy good luck charm, I had to make this "seed demon" granola… get it?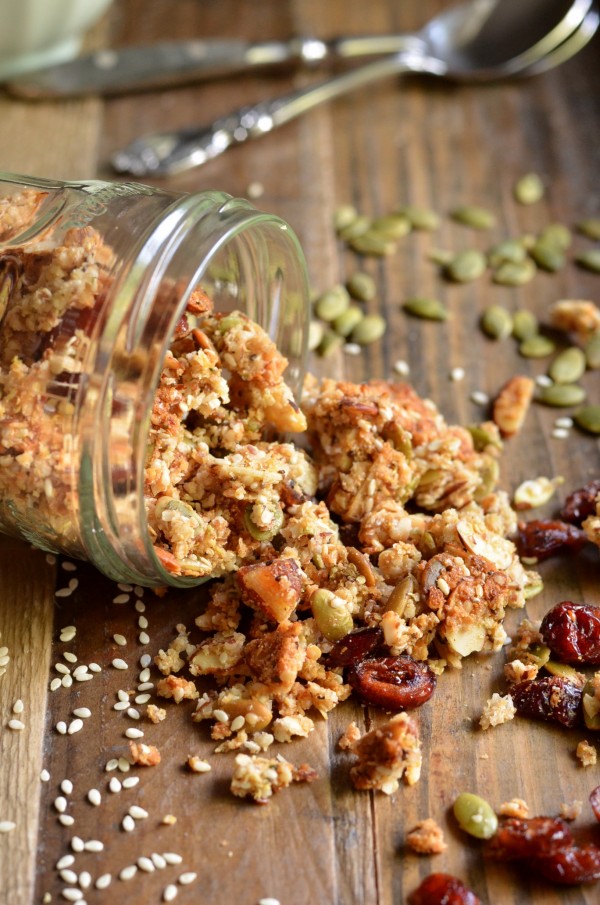 And quite the seed demon this granola is. It actually contains five seeds – or seven if you count the quinoa and safflower seed oil! It is practically all seeds. And now I know how squirrels feel when they stuff their cheeks full of nuts and seeds, because that's approximately how I ate this granola. Handful after greedy little handful!
After using quinoa flakes in cookies, it occurred to me that I might be able to substitute them for oats in granola, as well. That makes this a grain-free granola, since quinoa is technically a seed. And it turns out that quinoa flakes make a great granola! Great texture, great clumps, great flavor. It definitely tastes… seedier than oat granola, if you know what I mean. That might have something to do with the six other seeds I used, though – kind of hard to tell at that point.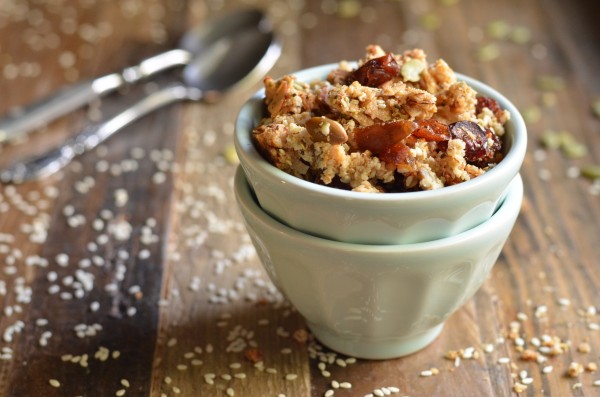 This was my first time using an egg white to create clumps in granola. And let me just say, just ignore any other method I've ever given for getting huge granola clusters! The egg white really does the trick for creating the awesome crunchy granola clumps we all love so much. I'm definitely tempted to remake a few other recipes using it. It turns out fine without, too – you can totally skip it if you don't eat eggs – but I'm a huge fan.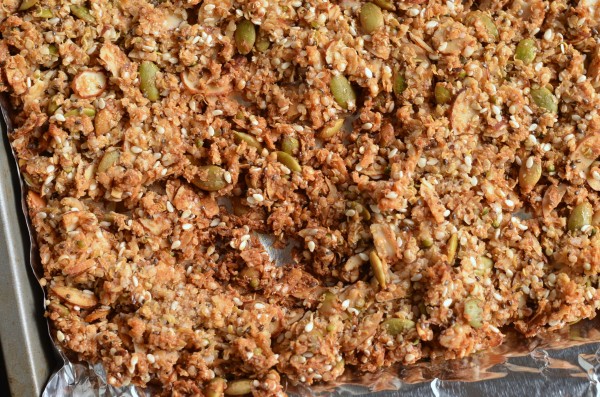 With all the seeds stuffed in here, this granola is not particularly sweet. I used honey for a subtly sweet flavor (feel free to substitute with maple syrup if you're vegan) and also sweetened it naturally with dried cranberries and dates. The dried fruit is the perfect balance for the seedy granola clusters – kind of a yin and yang thing going on. I think you'll love it!
As you might guess from the whole seven-seed deal, this is one dense granola. It's perfect for a snack on the go. Would I recommend stuffing it in your face squirrel-style while hanging out around the kitchen? Probably not. I've said it before, and I'll say it again: Do as I say, not as I do.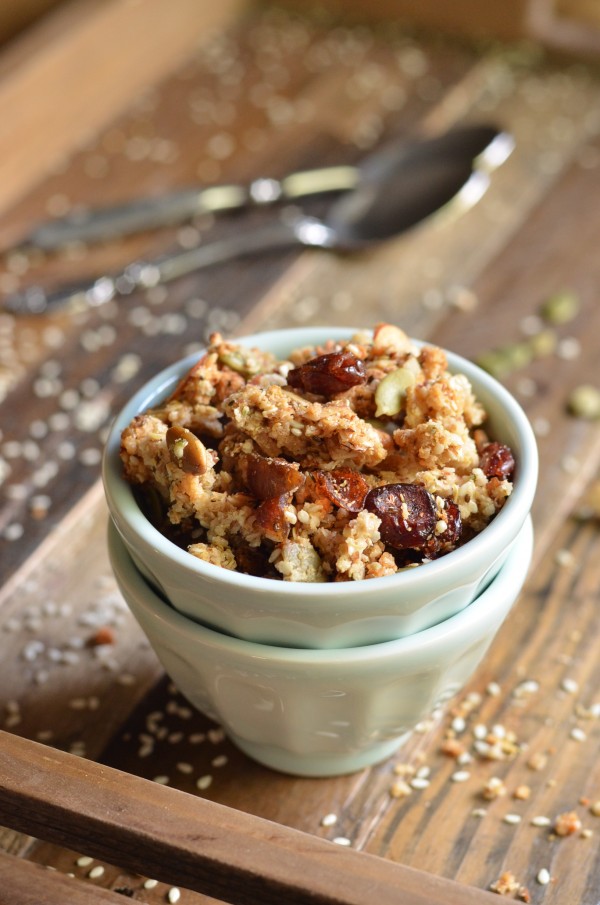 Will I be fueling up on this before tomorrow's race? Heck no, this stuff is long gone! But I'd like to think that the handfuls I've eaten over the past week or two will give me that little kick I need at mile 12 :)
Have a great weekend, friends!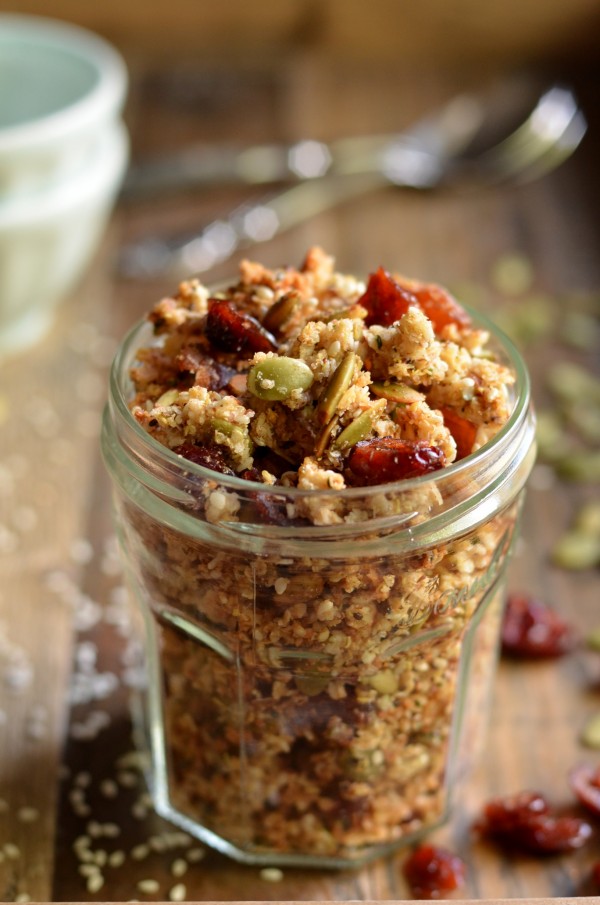 Ingredients
2 cups quinoa flakes (found by the oatmeal)
1 cup sliced almonds
1/2 cup unsweetened shredded coconut
1/2 cup sunflower seeds
1/4 cup ground flax seeds
1/4 cup hemp seeds
1/4 cup sesame seeds
2 Tbsp chia seeds
1 tsp cinnamon
1/2 tsp kosher salt
1/2 cup honey
1/3 cup safflower oil
1 egg white (optional)
1 Tbsp vanilla extract
1 cup dried cranberries
1 cup medjool dates (about 10), pitted ad chopped
Instructions
Preheat oven to 350. Line a baking sheet with parchment paper.
In a large bowl, mix together quinoa flakes, almonds, all seeds, cinnamon, and salt.
In a small bowl, whisk together honey, oil, and egg white. Pour over the dry mixture and stir to combine.
Spread on the prepared baking sheet. Bake for 18-25 minutes, until golden-brown. Remove and cool completely.
Break up chunks and mix in cranberries and chopped dates. Enjoy by the handful, over yogurt, or with milk.