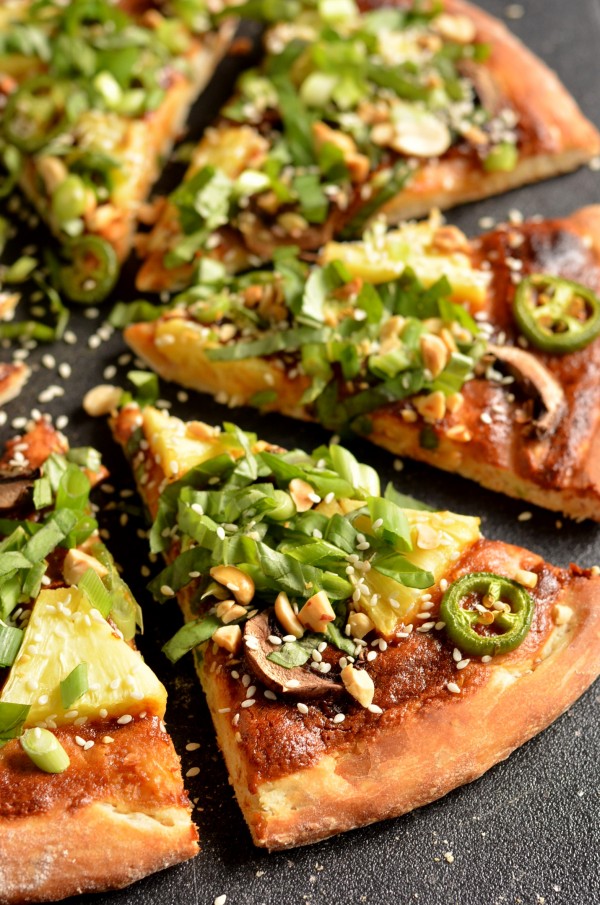 Hello hello, and happy Cinco de Mayo! We are celebrating with Thai food. Obviously.
I mean, I already did the tequila thing, because I figure everyone celebrated Cinco de Mayo this weekend. Right? Now it's Monday, and tequila on a Monday is probably a bad idea. Unless you're in college, in which case you might not care what's a good or bad idea when it comes to tequila. But if you're not in college, Monday is the time to get back to healthy eating and all that jazz after a weekend that maybe involved a bit of tequila, but probably involved a lot more adult stuff like waking up early and running errands. So, Cinco de Mayo, adult-Monday-Thai-style. That's what we're doing today.
Have I lost you yet? Just follow along… you won't be sorry.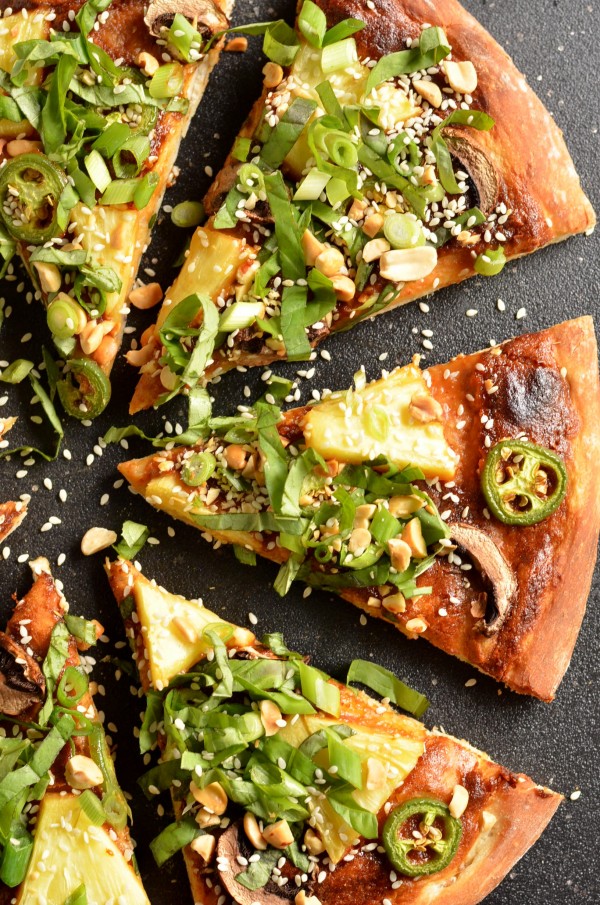 I've made Thai pizza before, but I always wanted to make a fruit version. I toyed with mango, but it turns out that mango just kind of disappears into a sweet mass of nothing on top of a pizza. You can't even taste it, and it's definitely not worth the peeling process. (Ugh to peeling mangoes.)
Pineapple, on the other hand, is tooootally worth the chopping trouble, which P.S. is not actually that much trouble. I always make it out in my head to be really annoying, but then I do it, and don't even get my hands dirty. No big deal.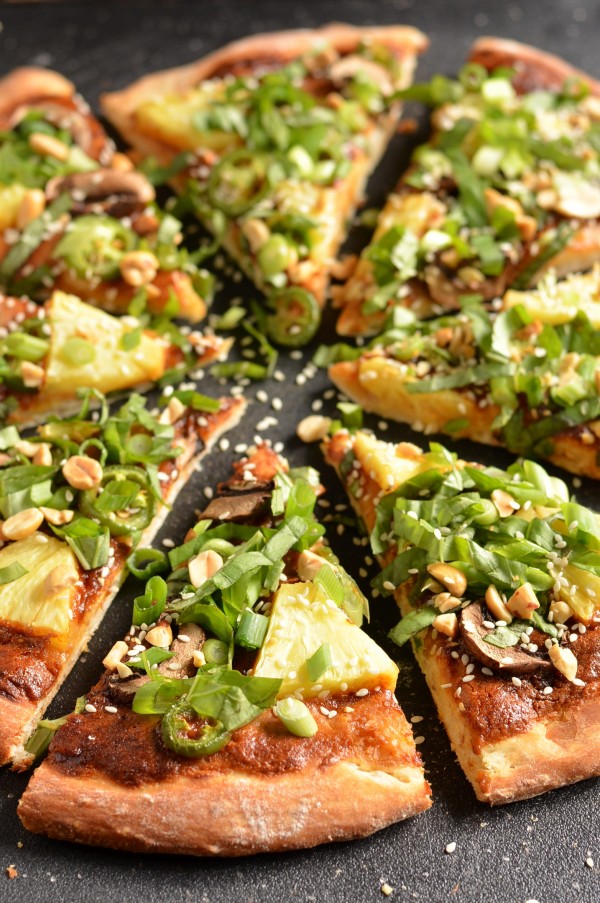 So pineapple is where it's at. AND I was extra motivated to make this pizza because of my love affair with the new peanut sauce I've been making lately –> this stuff.
Let it be known that I love peanut sauce. Like, I-might-have-eaten-half-of-this-batch-with-a-spoon type of love. No spoon in my vicinity is safe when it's around.
I decreased the amount of coconut milk in this version of the peanut sauce to make it more of a spreadable consistency. It's still super peanutty, sweet and gingery with just the right amount of spicy kick. I love all the Thai flavors going on on this pizza, plus the contrast between the hot pizza and the cool basil and green onions it's topped with. It's a winner!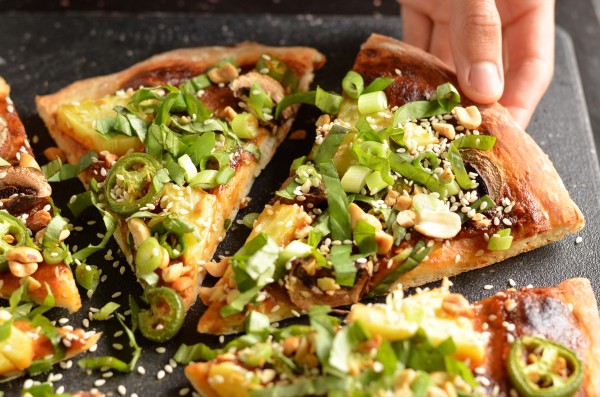 The pizza will look a little naked when you put it in the oven – lots of bare peanut sauce without any cheese to fill in the gaps between the pineapple, mushrooms and jalapenos. But never fear! That gets taken care of in no time once it comes out of the oven with toppings like basil, green onions, peanuts, and sesame seeds. It stays vegan, and it becomes mighty purdy, if I do say so myself.
Thai pizza for everyone!
Oh and that half marathon I ran this past weekend? I lived to tell the tale and even ran a new PR. I'll have more of a race recap for you in the next few days! For now, pizza. Enjoy!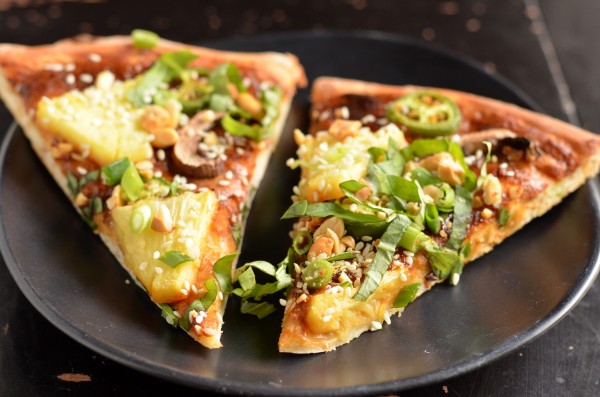 Thai Pineapple Pizza
Ingredients
1/4 cup coconut milk
1/4 cup creamy peanut butter
1/4 cup sweet soy sauce (also called kecap manis, found in Asian markets)
1 Tbsp red curry paste
1 Tbsp chopped fresh ginger
1 pizza crust
1/2 cup thinly sliced fresh pineapple
4-5 baby bella mushrooms, sliced
1 jalapeno, sliced
2 green onions, sliced
6-8 basil leaves (Thai basil or sweet basil both work), thinly sliced
3 Tbsp roasted peanuts, chopped
sprinkle of sesame seeds
Instructions
Preheat oven to 425.
Blend together the coconut milk, peanut butter, sweet soy sauce, curry paste, and ginger to make a sauce. If it seems too thick to spread, add another tablespoon or two of coconut milk.
Spread the pizza crust on a pizza stone or baking sheet. (If using a baking sheet, spread with cornmeal or olive oil to keep the crust from sticking.) Spread with peanut sauce. (You may have some peanut sauce leftover.) Top with pineapple, mushrooms, and jalapeno slices.
Bake at 425 for about 12 minutes, then increase heat to 500 and cook for an additional 2-3 minutes, keeping an eye on it to make sure the top doesn't burn. Remove from the oven and top with green onions, basil, peanuts, and sesame seeds. Slice and enjoy!