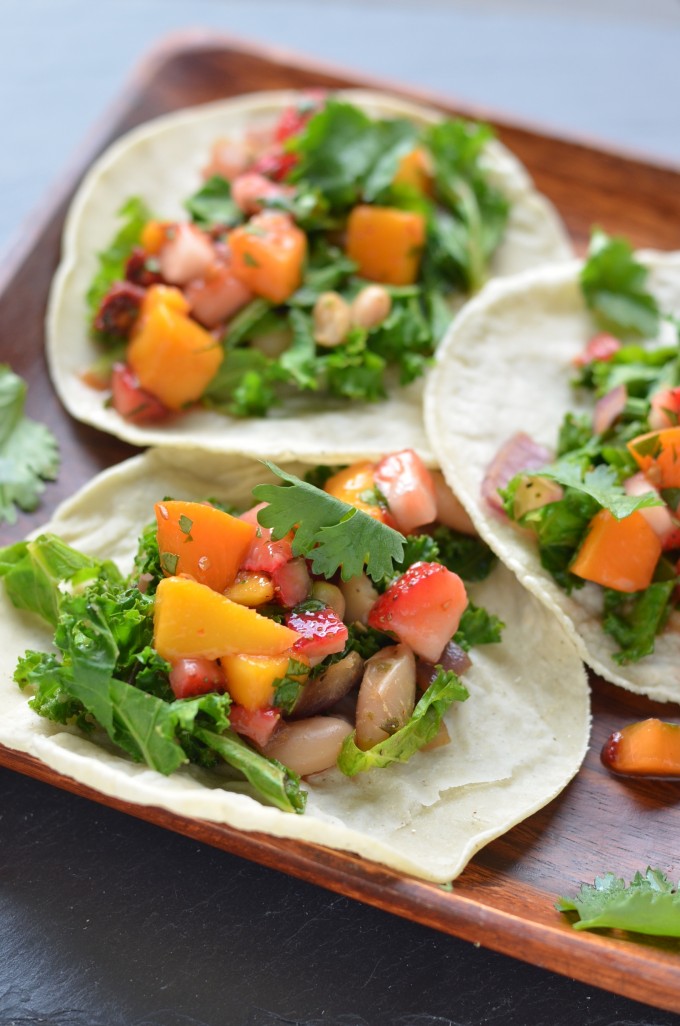 Let's talk about being busy.
Busy-ness: I never thought I was one of those people that liked it. You know, the kind of person that fills their calendar to the brim with commitments until they have no room to breathe. I mean, I guess that's everyone to a certain extent these days (and it's certainly a hot topic), but frankly, I'm just too lazy to be one of the extreme cases.  I like to have time to myself; I hate the feeling of a million demands on me and my time.
But lately, I've started to think that maybe I'm more like those overcommitters than I thought. I've noticed that being busy makes me feel important and that, actually, I have no happy medium between busy-ness and boredom. If I'm not crazy-stressed, I'm automatically bored. What! How can this be?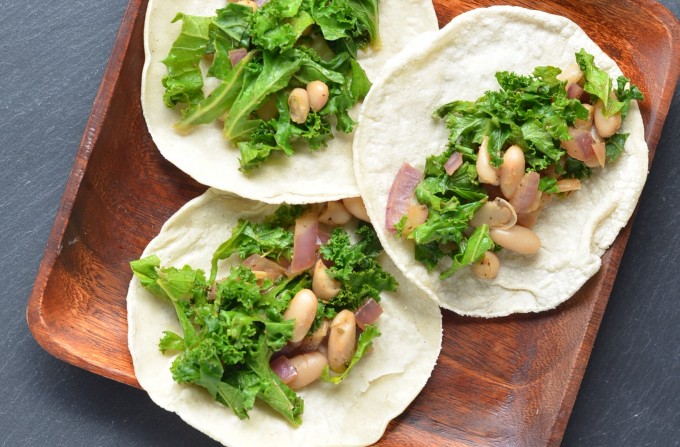 I'm mostly talking about my job here. At the beginning of a busy workday, I look at my calendar and I'm filled with dread. Whyyy do I have 6 hours of meetings? How am I going to survive, and what am I going to have to skip out on tonight so I can finish my work? But at the end of that day, sure I might feel stressed from the sheer volume of work to be done, and sure I might have to get takeout instead of cooking the meal I had planned, and sure I might dream about work that night (like every night. seriously.), but the work all gets done eventually. And I actually feel somewhat accomplished and valuable at the end of that day.
Take a slow day, on the other hand. Nothing on my calendar. This is awesome! I am going to get so caught up! False. I end up feeling useless, and I sure get a lot less done than when my calendar is full.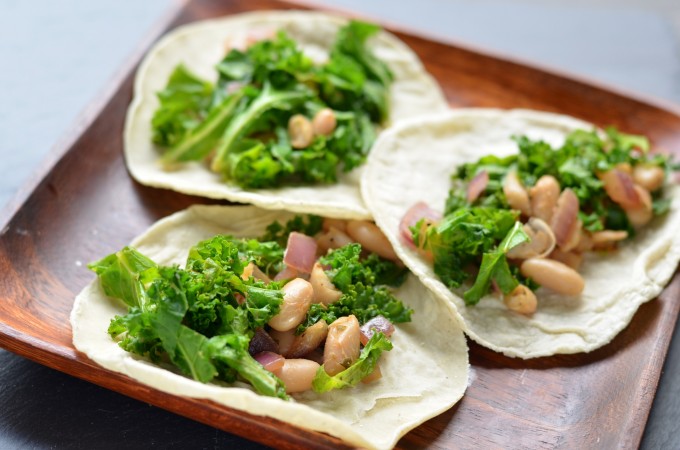 I'm not quite sure where I'm going with this – it's just been on my mind lately. The main conclusion for me might actually be to embrace busy-ness, and realizing that a crazy meeting schedule actually isn't the end of the world. All my life I've dreaded having too many demands on my time, and now I'm realizing, hey, maybe I actually enjoy that. Maybe I can look at a packed calendar at the beginning of the day and rejoice! Cause I'm going to feel soooo useful.
But enough of that. Here's a weeknight meal that I actually did get the chance to come home and cook – Kale and White Bean Tacos.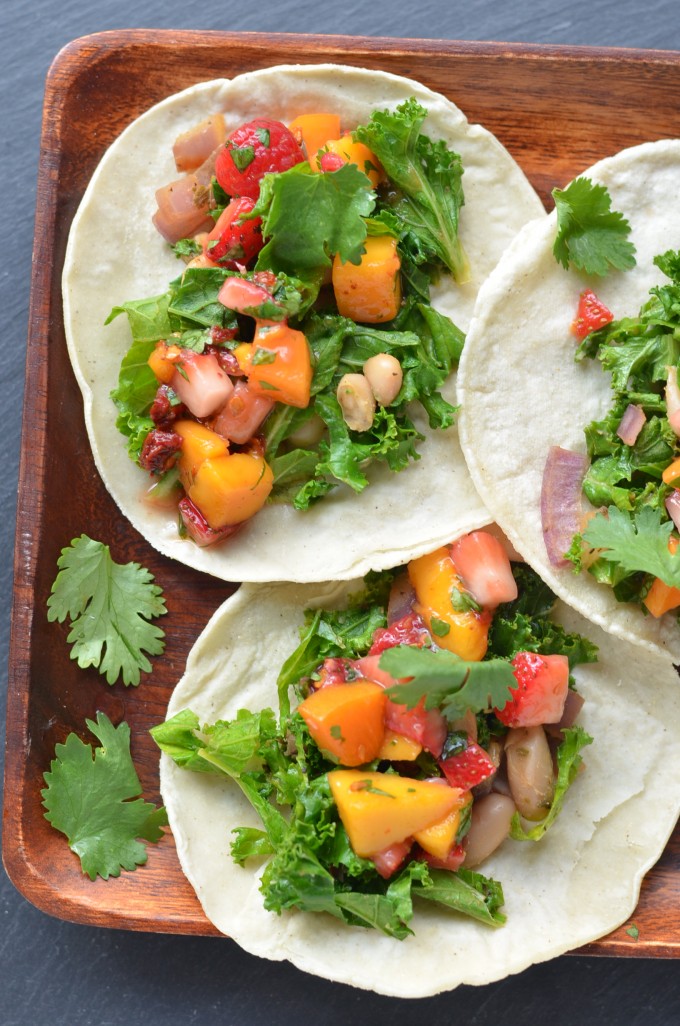 The best part of these tacos is oooobviously the chipotle fruit salsa that I piled on top. That stuff is worth its weight in gold, and it's the perfect condiment to dress up a very healthy taco. I mean, kale and beans? That is almost too much nutrition for one tortilla to handle! So lest healthy become boring or flavorless, we are loading on the fruit salsa. And that just hits the spot!
One recipe of the fruit salsa is more than you'll need here, but I say, hey, make the whole thing. If you have leftovers, you know what to do…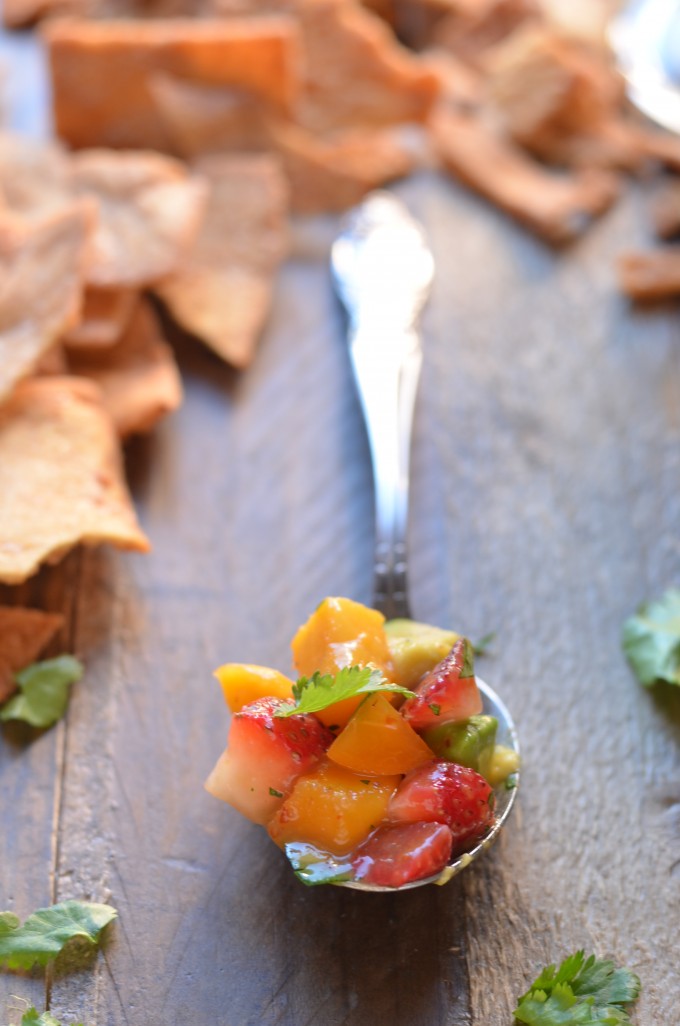 Can I also just mention that I also went a little crazy with the kale?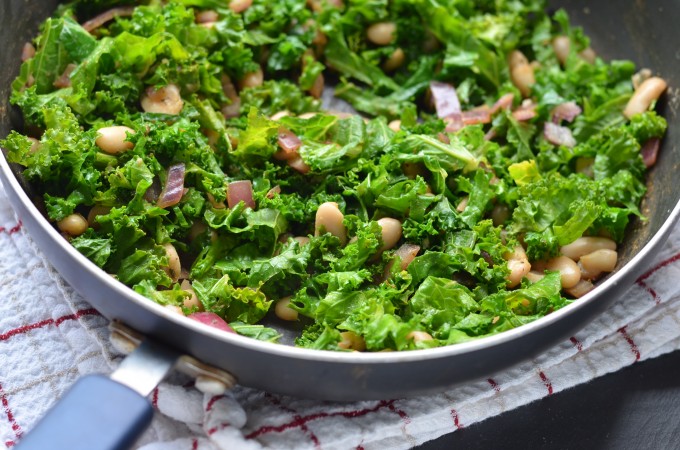 I <3 kale. So I used 6 leaves of it. If you want extremely green tacos like these, stick with 6 leaves. If not, you could cut it down to 3 or 4 and have a higher bean-to-kale ratio. I've made it that way too, and I think it's pretty delicious no matter what.
I hope you get the chance to take a few minutes out of your busy day and make these tacos! After all, cooking is great for stress relief… as long as someone else does the dishes.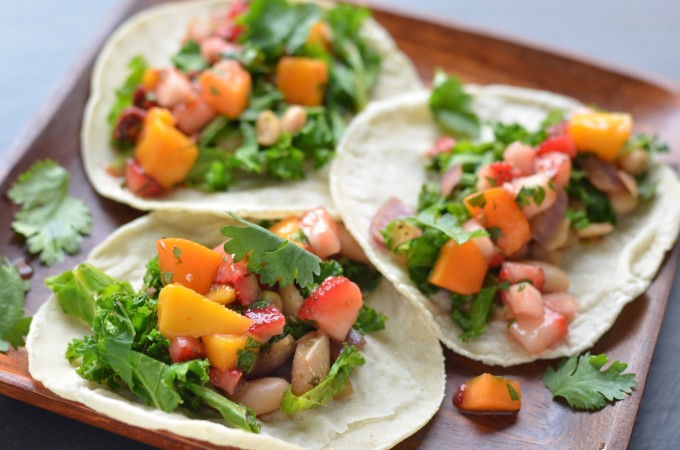 Kale & White Bean Tacos with Chipotle Fruit Salsa
Yields:
about 10 small tacos to feed 2-3
Ingredients
1 tsp olive oil
1/2 of a large red onion, diced
14-oz can cannellini beans, drained and rinsed
1/4 cup water
1/2 tsp cumin
1/2 tsp smoked paprika
1/2 tsp oregano
1/2 tsp kosher salt
1/2 tsp black pepper
4-6 leaves curly kale, rinsed and sliced into ribbons
corn tortillas, warmed
Instructions
Heat olive oil in a large non-stick pan over medium heat. Add the onion and saute until beginning to soften, about 5 minutes.
Add beans, water and spices. Stir together and cook just until beans are heated through.
Add kale. Toss with bean mixture until kale is bright green and beginning to wilt. Taste and adjust spices as necessary.
To serve, spoon kale and bean mixture onto warm tortillas. Top with chipotle fruit salsa. Enjoy!