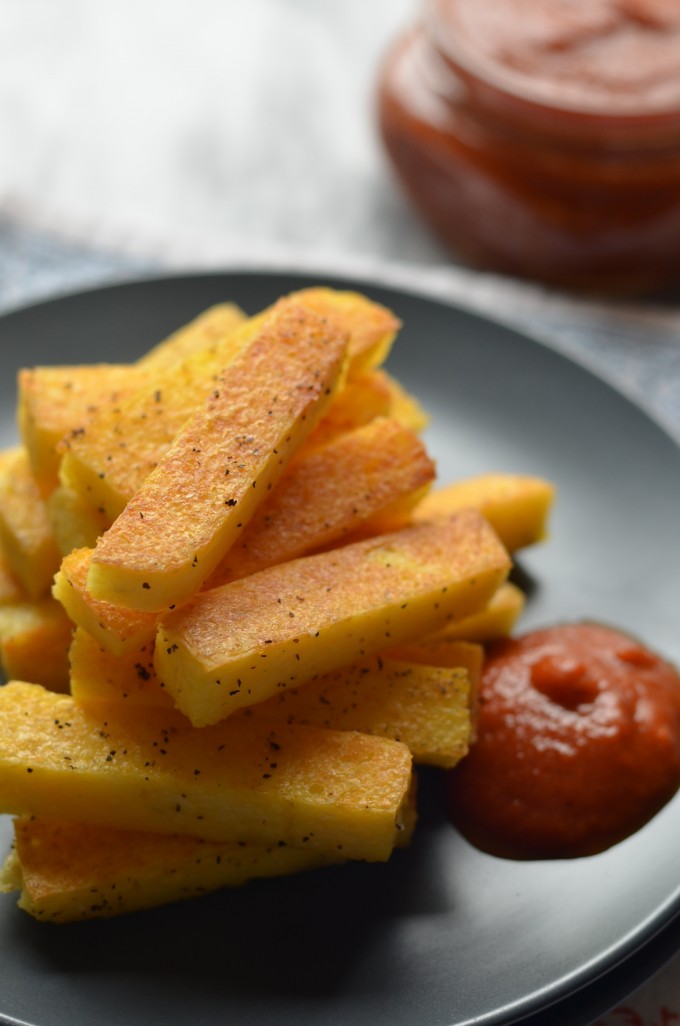 Today I'm in the mood for a history lesson. Ketchup – wanna know about it?
First of all, did you know ketchup originated in Asia? I wondered about this when I picked up a bottle of kecap manis for that peanut sauce I love so much. Kecap… is that like ketchup? Well yes, apparently. Ketchup originally referred to a Chinese fermented fish sauce, and was brought back to Europe by sailors in the 17th century. Once in Europe, ketchup wasn't necessarily fish sauce, but it didn't necessarily contain tomatoes, either. It was any spiced condiment and could be made out of mushrooms, oysters, walnuts, etc.
Tomato ketchup is thought to have been invented in the United States, where tomatoes grew but were deemed unsafe to eat raw. It first appeared in the early 19th century. Today we think of ketchup strictly in Heinz bottles, but in the 1800s, it was generally homemade or sold by farmers. It really took off after the Civil War, and it was then that Heinz got its start. Today Heinz has 82% market share in the US, and 97% of Americans have a bottle of ketchup in their kitchen! So all-American that I 100% assumed it had always been so.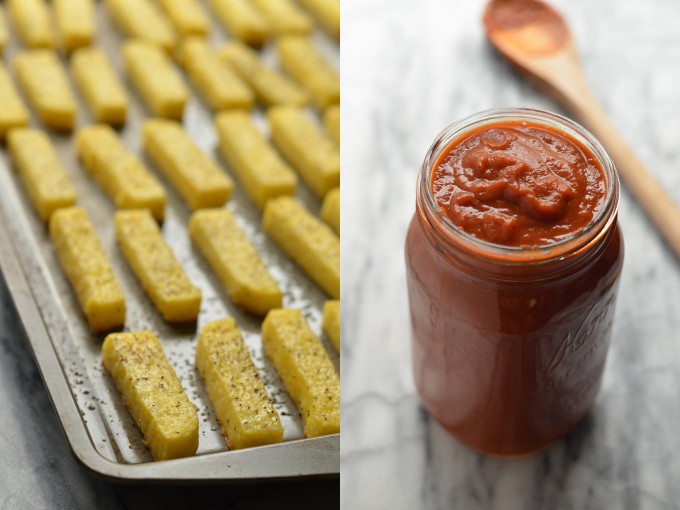 Well, I learned something new there. I hope you're as entertained by food history as I am!
We're not exactly going back to ketchup's roots with this recipe – there is definitely nothing fermented or fishy going on here. There aren't even any raw tomatoes, despite the fact that we're in the midst of tomato season. What can I say – I'm lazy, and I already had a can. I'm super curious to make ketchup entirely from scratch after reading up on it, though… maybe I'll throw some oysters in there too next time, whaddya say? Wait, no.
I've made ketchup before – that recipe was an homage to Currywurst, my favorite second favorite German street food. (Had to cross that out because my absolute favorite is definitely Doener!) This version has less spice going on, but it does have something special: the tamarind. So maybe we are going back to ketchup's Asian roots after all? Tamarind is a pulp – slightly sweet, slightly acidic – often used in Asian cooking. The flavor isn't overpowering – you would definitely not be able to put your finger on it – but it adds a certain something special.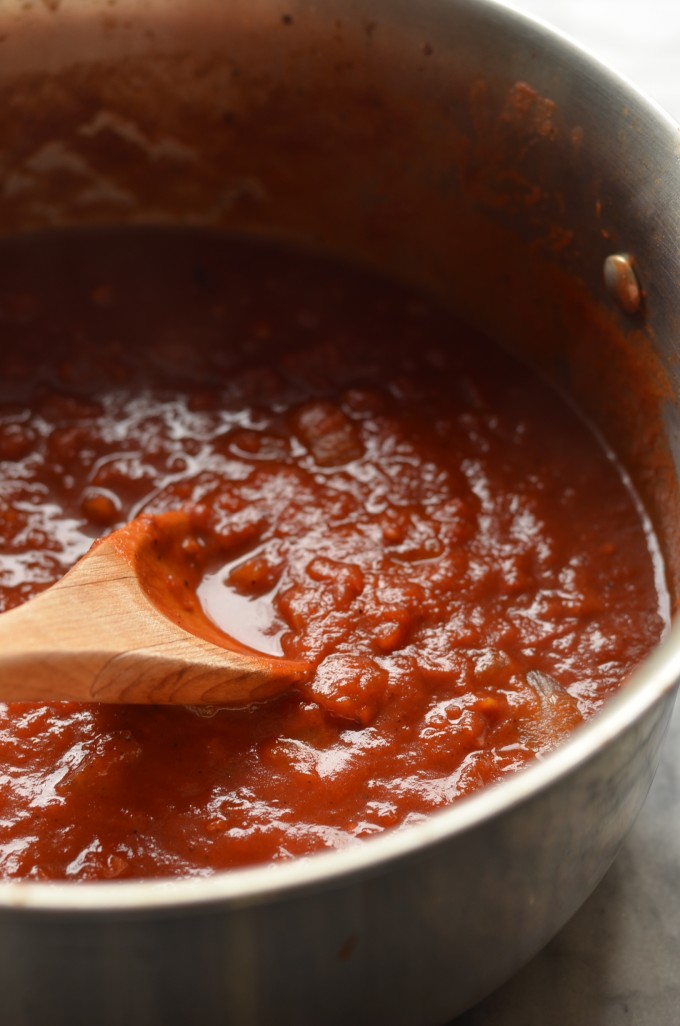 This is not your typical squeeze bottle of ketchup! Not by any means.  I waxed eloquent last time about going so crazy for the curry ketchup that I was spooning it out of the pot, and this batch was no different.  Homemade ketchup will turn you into a believer, and you'll suddenly understand why it got to be so omnipresent in American culture. Homemade ketchup rocks, guys!
It rocks so much that it deserves some special fries to be eaten with: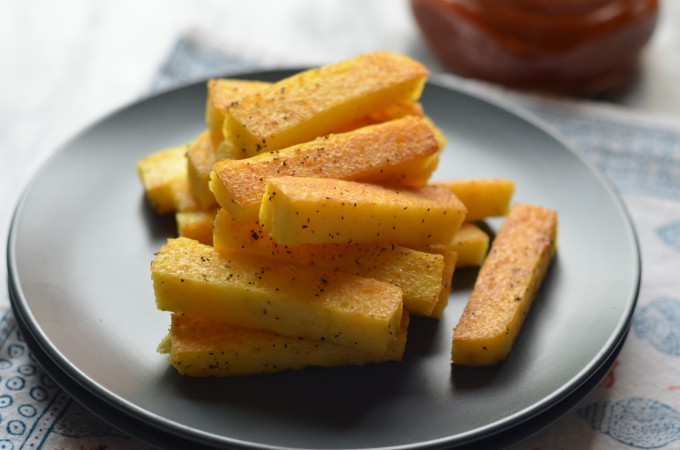 Polenta, naturally!
My recent love of polenta is well-documented on this site. I hope you've tried it and love it as much as I do… if not, start here! For this recipe, the polenta is made ahead of time, refrigerated, then cut into fries and baked to cheesy perfection.  I had this cheesy polenta fries + tamarind ketchup combo at a local restaurant and couldn't wait to recreate it. As always, it took me too long, but here it is. And I have to say it's one of my favorite recipes I've posted recently!
Like so many tomato sauces, this ketchup infinitely better on day two, once the flavors have had a day to sit and combine. I highly recommend making it a day ahead of time!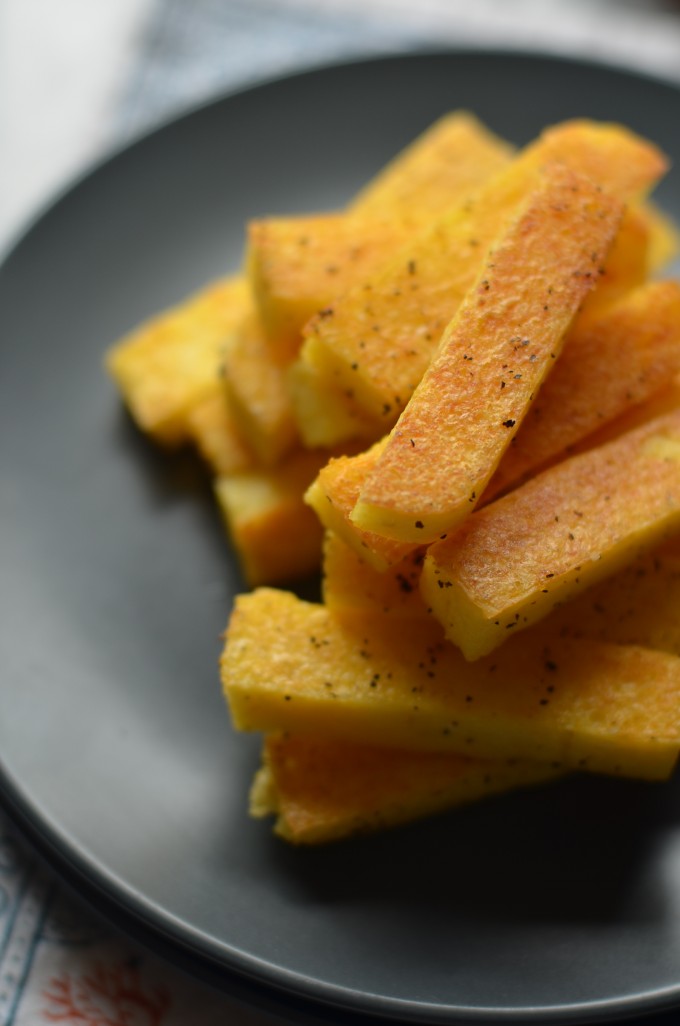 Aaaand you'll most certainly have some leftover. What else should you eat your homemade ketchup with? How about:
Julia's Sweet Potato Veggie Burgers
Angela's Lentil Walnut Apple Loaf
I don't do the canning thing, but I have to believe you could can a batch of this if you were so inclined. Has anyone canned ketchup? Or give small jars to friends – it's sure to be a hit at any barbecue!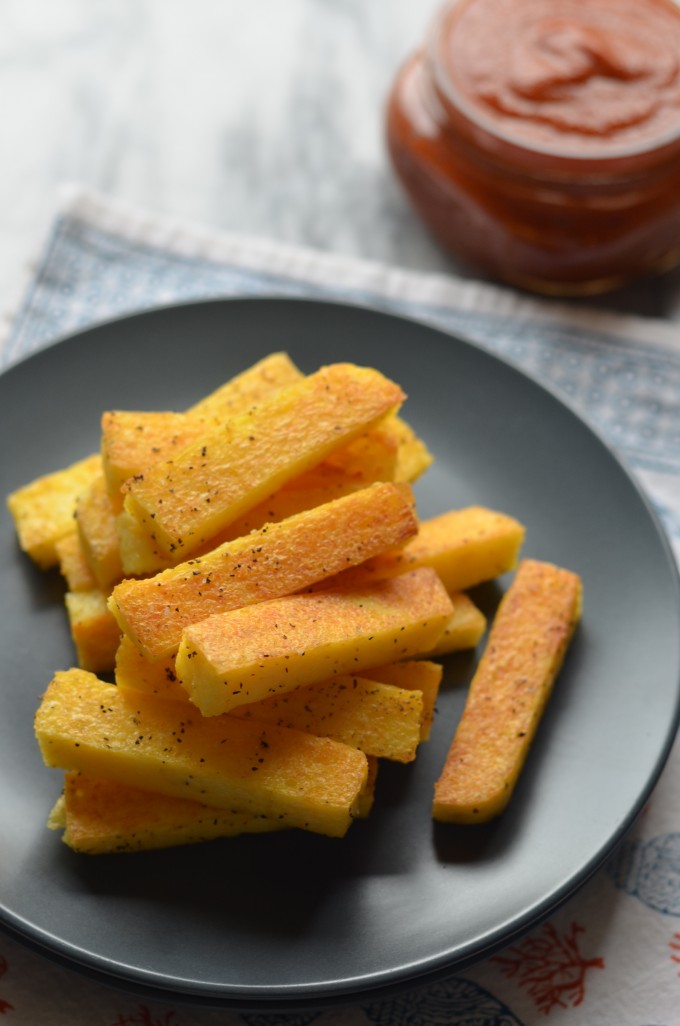 Cheesy Baked Polenta Fries with Tamarind Ketchup
Yields:
36 oz ketchup and 1 baking sheet of fries
Ingredients
For the tamarind ketchup:
1 Tbsp olive oil
1 yellow onion, chopped
1 clove garlic, minced
1 Tbsp tomato paste
1 tsp kosher salt
1/2 tsp ground black pepper
1/4 tsp cinnamon
1/4 tsp allspice
pinch ground cloves
28-oz can diced tomatoes (low/no sodium)
1/2 cup tamarind paste (found in Asian markets)
1/4 cup brown sugar
2 Tbsp apple cider vinegar
For the cheesy baked polenta fries:
4 cups water
1 tsp kosher salt
1 cup polenta meal
2 Tbsp unsalted butter
2 cups grated white cheddar cheese
olive oil
salt and pepper
Instructions
To make the ketchup:
I recommend making the ketchup at least a day before serving. Warm olive oil in a large pot or dutch oven over medium-low heat. Add onion and saute until softened and beginning to brown. Add garlic and saute another minute. Stir in tomato paste and spices and saute until fragrant, about 30 seconds. Add remaining ingredients and bring to a simmer. Reduce heat and simmer for 45 minutes.
Remove from heat and puree until smooth. (I love using my immersion blender for this!) Allow to cool before serving.
To make the polenta fries:
Make the polenta ahead of time. Bring water to a boil. Stir in salt and polenta. Reduce heat and stir for several minutes, until polenta no longer sinks to the bottom when you stop stirring. Cover and simmer for 40 minutes, stirring vigorously every 10 minutes and scraping the sides and bottom of the pot.
Remove polenta from heat and stir in butter and cheese. Pour into a glass baking dish (9x9 or smaller works great). Refrigerate for at least 4 hours or up to 2 days.
When you're ready to make the fries: Preheat oven to 450. Invert the block of polenta onto a cutting board. (It should slide out fairly easily.) Slice into fries.
Brush a baking sheet with olive oil. Spread fries on the baking sheet and brush tops with olive oil. Sprinkle with salt and pepper. Bake until golden brown, 20-30 minutes.
To serve:
Serve fries fresh out of the oven with a side of ketchup. Enjoy!
You will have leftover ketchup! It can be stored in the refrigerator for up to a month.