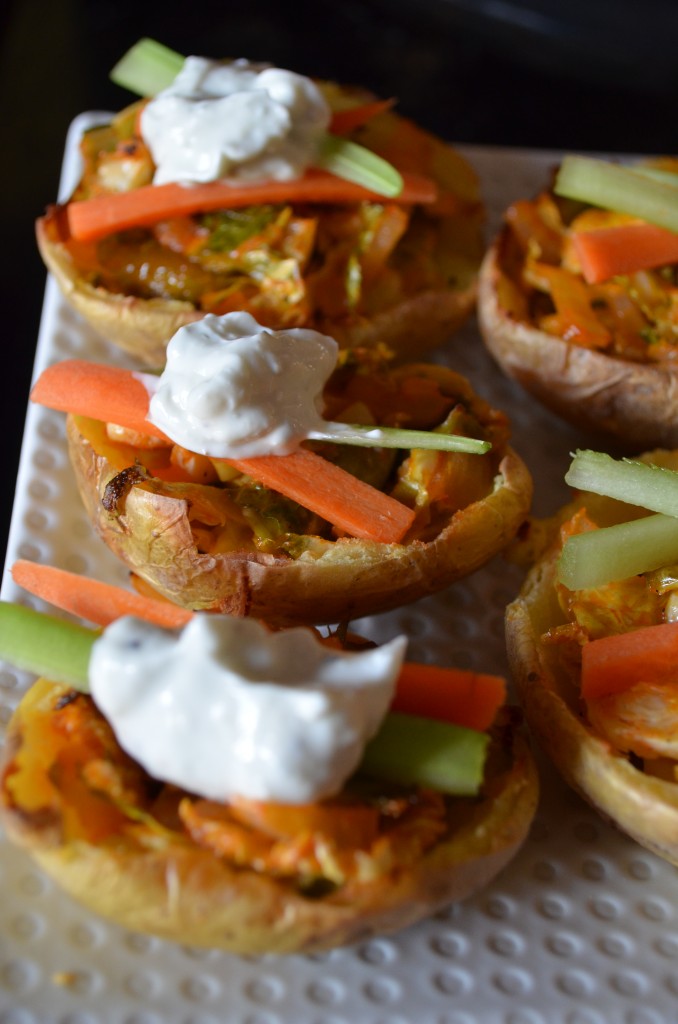 Good morning!
I'm sure some of you have the day off today because of Martin Luther King, Jr. Day. Lucky! For the rest of us, it's just another Monday at work.
Although I didn't have a long weekend, I did have a nice relaxing one. On Friday night, Nate and I went out for sushi and then watched Jiro Dreams of Sushi, which everyone at work has been talking about since it came out on Netflix. I'm glad we had some sushi to go with that movie! It would have been torturous otherwise.

Saturday we went to our first Sundance film of the year, a shorts program. We got tickets to a bunch of Sundance movies this year, all of them down here in Salt Lake City. As much as I'd like to go up to Park City, do some celebrity spotting, etc., when it comes down to it, I'm too lazy to drive up there! Or at least, sometimes I am, so I don't want to buy tickets there ahead of time. The shorts program we saw had some funny shorts and some really weird ones… welcome to Sundance. In any case, I'm excited for the rest of our movies later this week!
Then, of course, Sunday was all about football.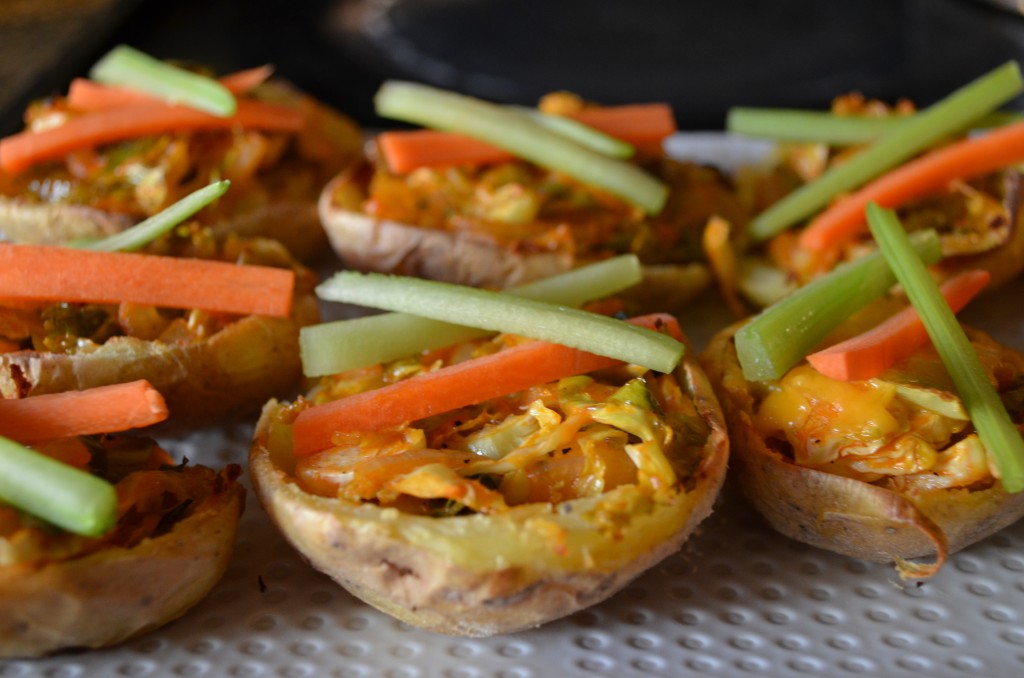 I did manage to ignore the first football game, but then watched the Patriots vs. Ravens with some friends at our place.
I don't have too much to say about that game. Partly because I'm from New England. And partly because I really only watched part of the 4th quarter… that's generally how I "watch" football.
I'll be honest… I was in the kitchen. Because no football game would be complete without some football munchies.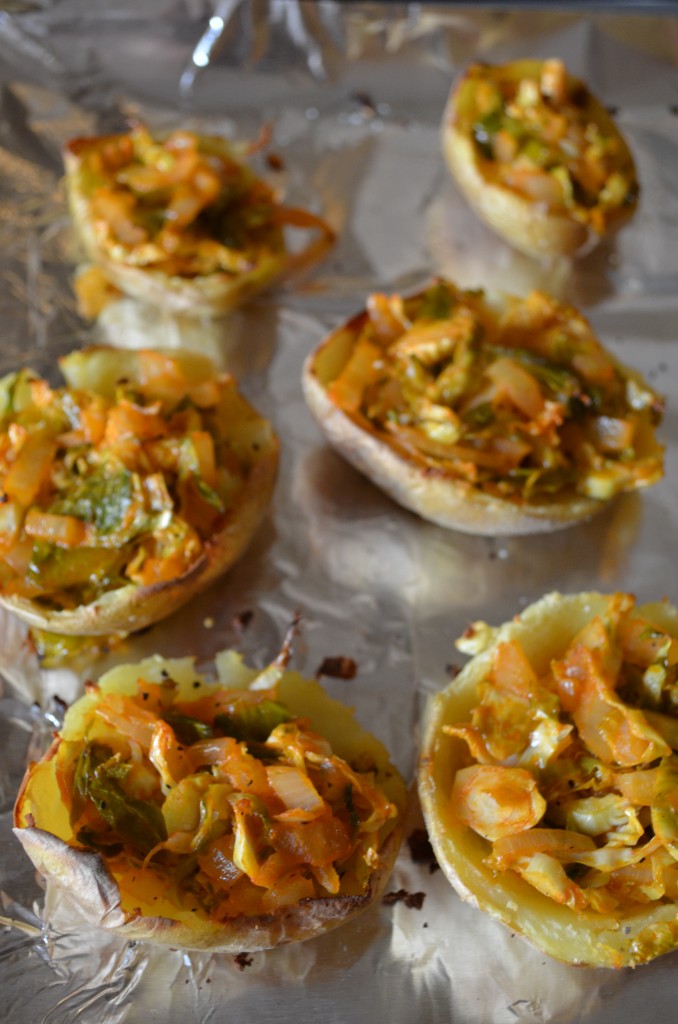 Which brings us to these potato skins. And begs the question: Have you started planning your Superbowl food yet?
If not, that's OK, you have plenty of time. But here is something to get the ball rolling.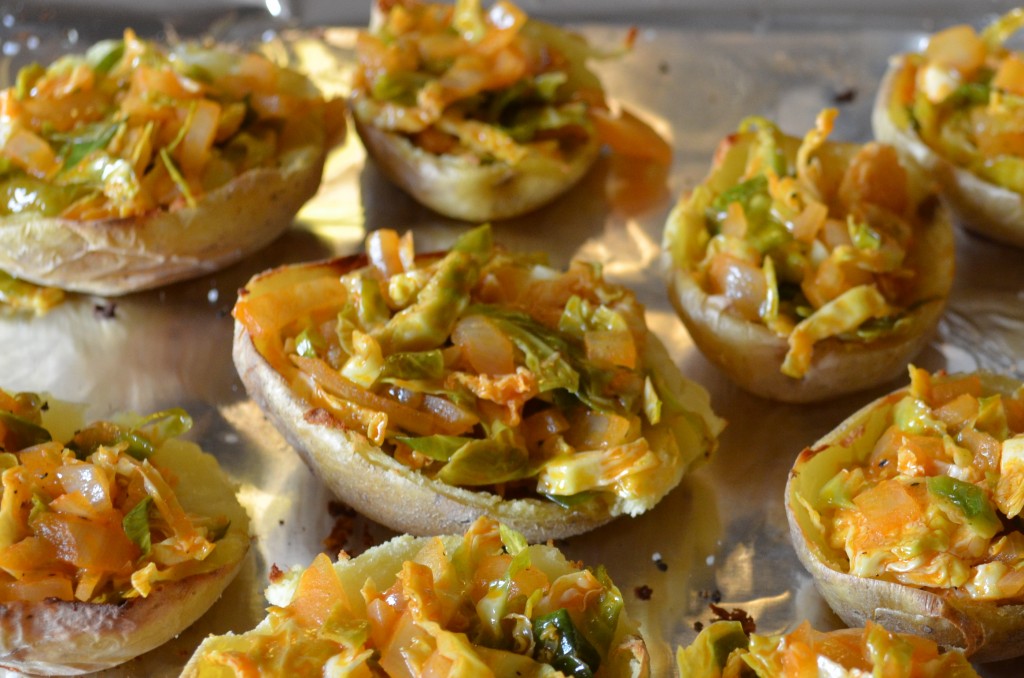 I wasn't lying last week when I said that potato skins are kind of my new thing. Potato skins stuffed with vegetables, that is, instead of of the traditional bacon and sour cream.
I'm going to go out on a limb and say that these particular potato skins are some of the best things ever. After I made this batch, Nate and I proceeded to devour the entire thing. Later in the week I made them again, same result. I've actually now made them 3 times before posting this recipe. What I'm saying is, you might just want to make 2 or 3 batches up front, especially if you are bringing them somewhere. You will NOT regret it.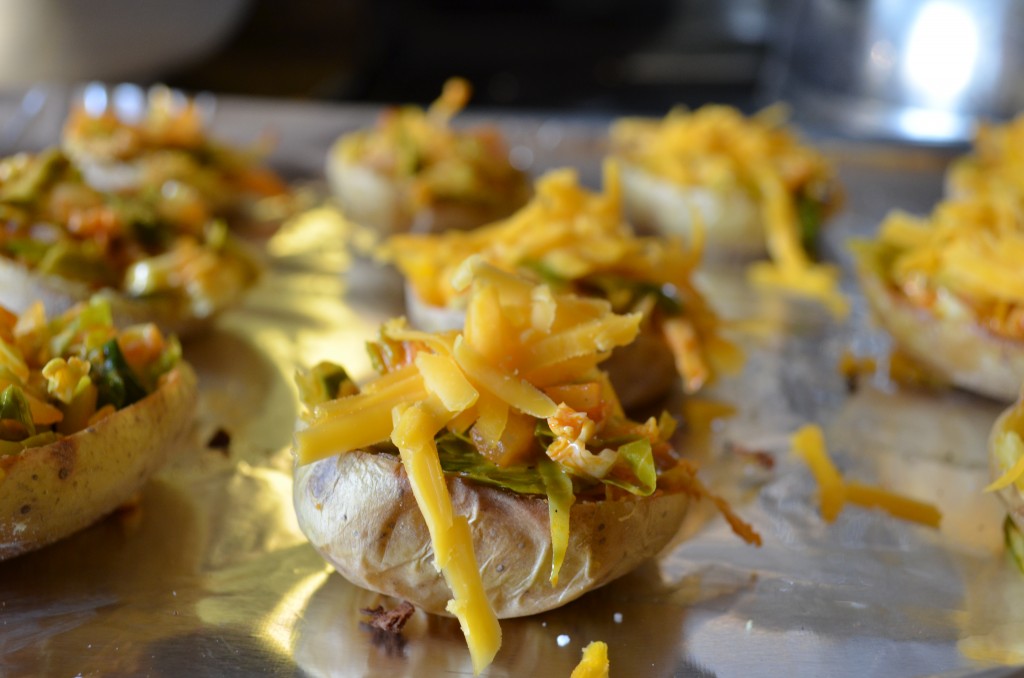 This is a healthy twist on a combination of two classic football foods: potato skins and buffalo chicken. Minus the chicken. I loaded the potato skins with a buffalo Brussels sprout mixture, then topped them with cheddar cheese, a light blue cheese dressing, and cute little celery and carrot sticks. Just to emphasize the whole buffalo flavor theme.
Do not be turned off by the idea of Brussels sprouts here. They are smothered in buffalo sauce and blue cheese dressing, encased in a crispy crunch potato skin, and topped with more melted cheese. The emphasis, taste-wise, is not on the Brussels sprouts… but you still get their healthiness. Bonus!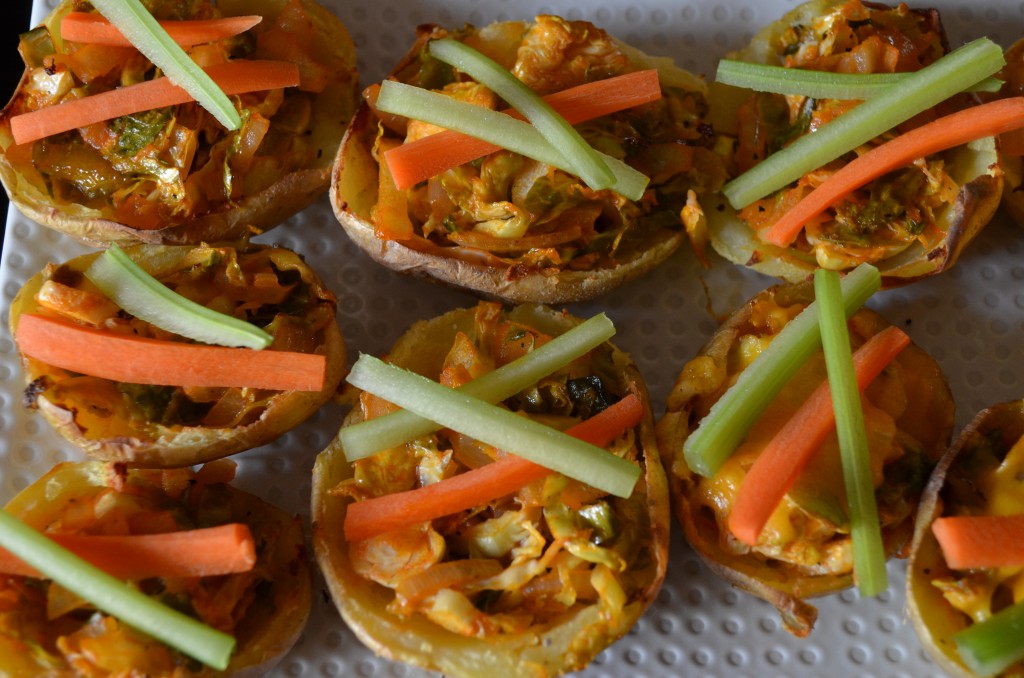 These are a huge crowd-pleaser, and I seriously can't emphasize enough how amazing they are. I know they take a bit of time to make, but a lot of that is just passive time, with the potatoes baking in the oven. They are SO worth it! Be sure to get the potato skins nice and crispy – we found that these skins were tons better when we let the skins get all golden and crispy-crunchy than if we took them out of the oven a few minutes too early.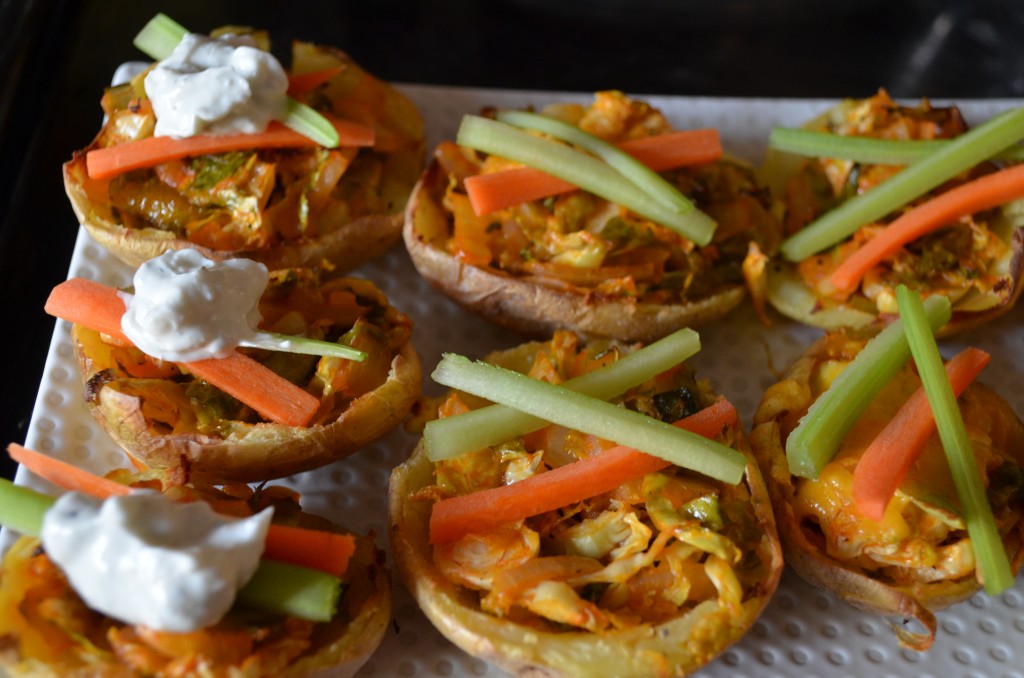 Buffalo Brussels Potato Skins with Lightened Up Blue Cheese Dressing
Makes 12 small potato skins
Dressing adapted from Skinny Taste
Ingredients:
For the skins:
6 small yukon gold potatoes (1 ½-2 lbs total)
olive oil
salt
pepper
For the buffalo Brussels:
2 Tbsp olive oil
1/2 yellow onion, diced
1/2 cup hot sauce such as Frank's red hot
3 cups thinly sliced Brussels sprouts (about 10-12)
For the lightened up blue cheese dressing:
½ cup crumbled or chopped blue cheese
6 oz. non-fat Greek yogurt
1 Tbsp mayonnaise
1 Tbsp freshly squeezed lemon juice (from about ¼ of a lemon)
1 Tbsp white vinegar
sprinkle of garlic powder
sprinkle of onion powder
sprinkle of ground black pepper
For garnish:
3/4 cup shredded cheddar cheese
1 carrot, very thinly sliced (optional)
1 stalk celery, very thinly sliced (optional)
Instructions:
First, bake the potatoes. Preheat oven to 375. Pierce each potato several times with a fork and place on a foil-lined baking sheet. (The foil will make clean-up from the next step easier!) Bake until the potatoes no longer feel hard when squeezed (with an oven mitt on!) – they should give slightly. This took 50-55 minutes for my small potatoes.
(If you like, you can bake the potatoes ahead of time and put them in the fridge, whole, before proceeding. I found that they were easier to scoop out this way. However, you will need to bake the skins a little longer once the insides are scooped out to crisp them up.)
While the potatoes bake, make the lightened-up blue cheese dressing. In a medium-sized bowl, mash together crumbled blue cheese and Greek yogurt with the back of a fork. (To be honest, I would do this in a food processor next time, but I hate cleaning that thing!) Once no large chunks of blue cheese remain, add remaining ingredients and stir until well combined. Keep covered in fridge until ready to use.
Remove potatoes from oven. On a cutting board, cut potatoes in half lengthwise. Scoop out the middles (you can save the extra potato for mashed potatoes, etc.), leaving a thin layer of potato on each skin. Return to lined baking sheet, brush with olive oil and sprinkle with salt and pepper.
Preheat oven to 450. Bake skins at 450 for 10-15 minutes, until golden brown and crisp (10 minutes if the potatoes were hot when you put them in, more like 15 minutes if they had just come out of the fridge).
While the skins are getting nice and crisp, make the buffalo Brussels sprouts. Heat olive oil over medium-high heat. Add diced onion and saute until starting to soften, about 2-3 minutes. Add hot sauce and Brussels sprouts and stir to coat. Saute until Brussels sprouts are tender, which happens quickly – about 2-3 more minutes. Remove from heat.
Remove golden potato skins from oven. Spoon several tablespoons of the Brussels sprout mixture into each one and top with a sprinkle of cheddar cheese. Return to oven for 5 more minutes, until cheese is melted.
Finally, remove from oven. Top each skin with small pieces of carrot and celery. Serve with blue cheese dressing alongside, or go ahead and place a dollop on each skin.
Enjoy!
Time:
80 minutes