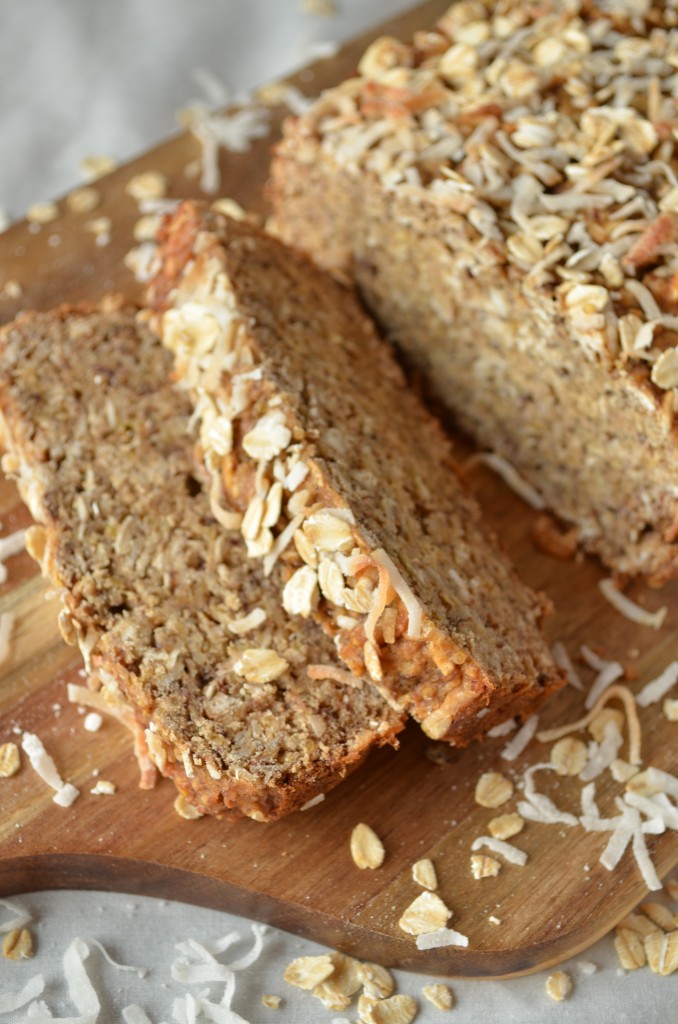 What's that you say? Quinoa in my banana bread?
I know, it sounds weird.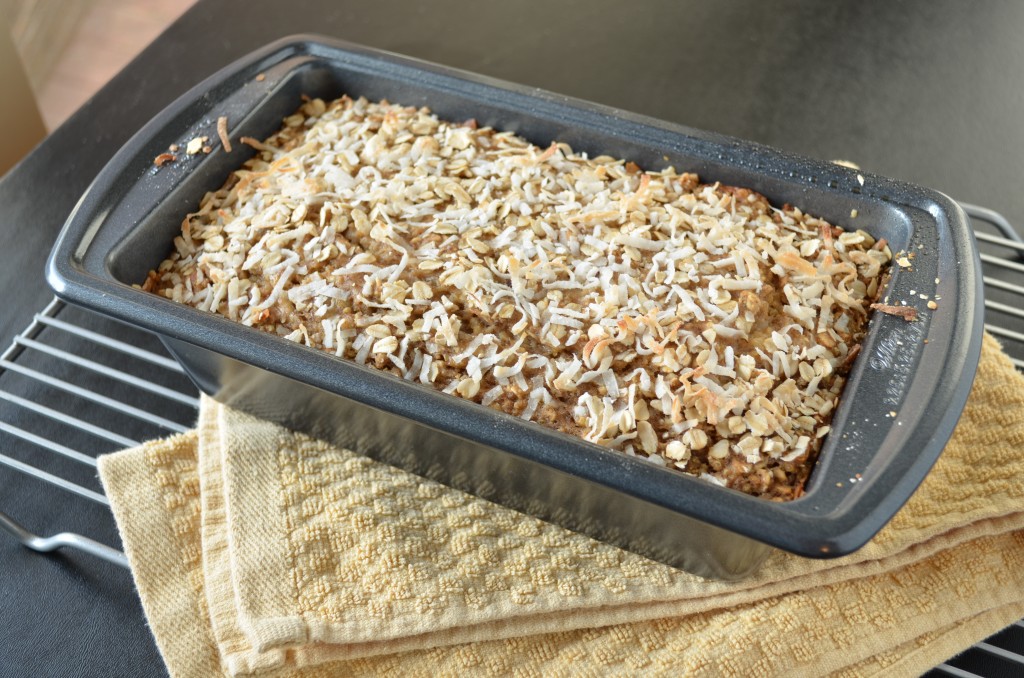 Actually, I had never heard of quinoa banana bread until a funny thing started happening recently. Remember those funny search terms I posted about earlier in the week? Well, this was one of those! I began noticing that people searching for 'vegan quinoa banana bread' were landing on my vegan but non-quinoa banana bread recipe. Whatttt.
Being a search engine marketer, I understand why this is happening. I have a vegan banana bread recipe, and my blog name contains 'quinoa,' so Google thinks my site might be relevant. But of course, I don't have what these people are looking for! And I decided that was wrong of me… even if I've never heard of quinoa banana bread. My blog does have quinoa in the title, after all, so I should probably incorporate it into a few more recipes :) Also, I was pretty curious to see how this might turn out! So I ran to the kitchen and whipped up this vegan coconut quinoa banana bread.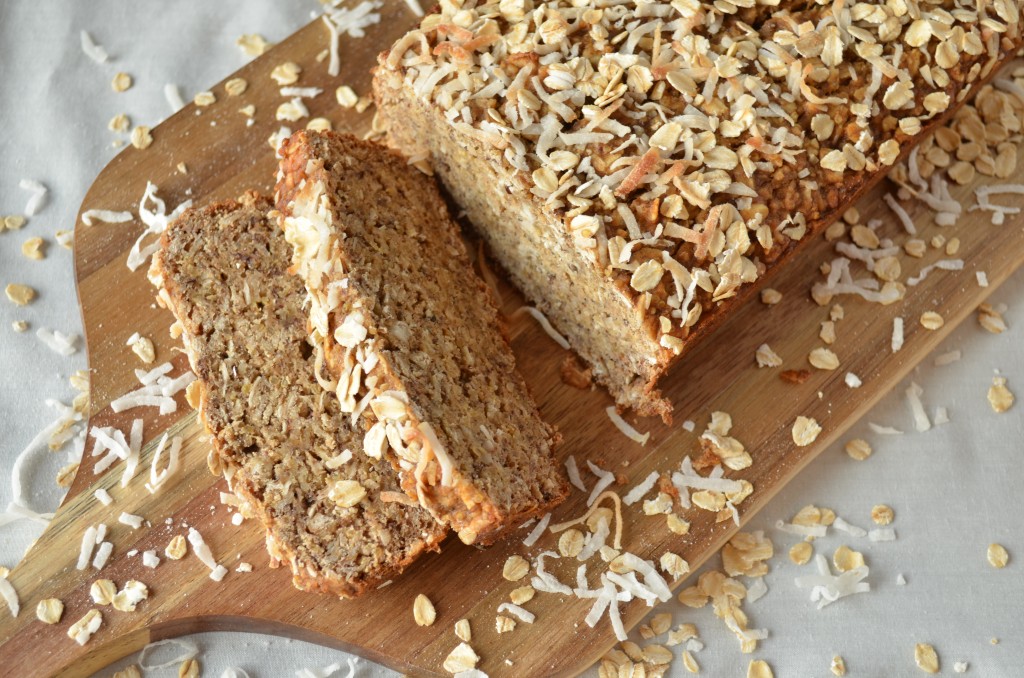 Last week, when I posted a beet cake, I told you right up front that you can taste the beets. That was my way of building credibility so that when I say you can't taste the quinoa in this banana bread, you'll believe me. Smart, right? But seriously! This banana bread has some great texture from the oats, shredded coconut, and quinoa, but it doesn't have any odd quinoa flavor, which I personally feel (despite my love of quinoa) would be unwelcome in my banana bread.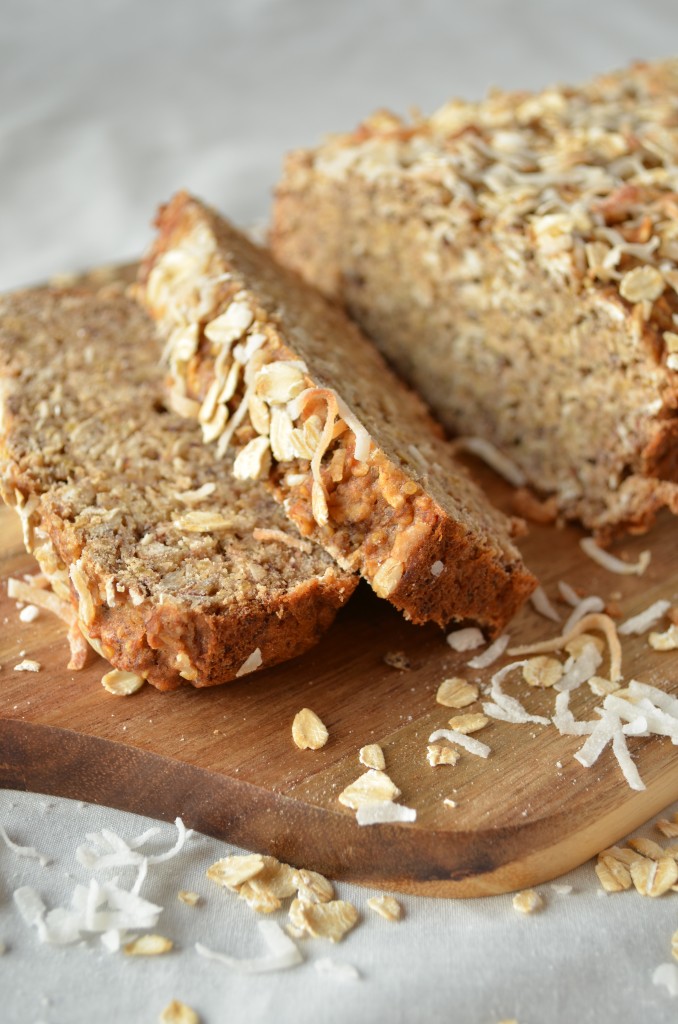 This is one dense and chewy banana bread, so be prepared. I love the nutty oats and shredded coconut in here, and the quinoa adds the chewy texture that I would usually add nuts and raisins to get. My favorite way to enjoy it is heated up and spread with coconut butter. Thank you, Google searchers of quinoa banana bread – you've turned me on to something great!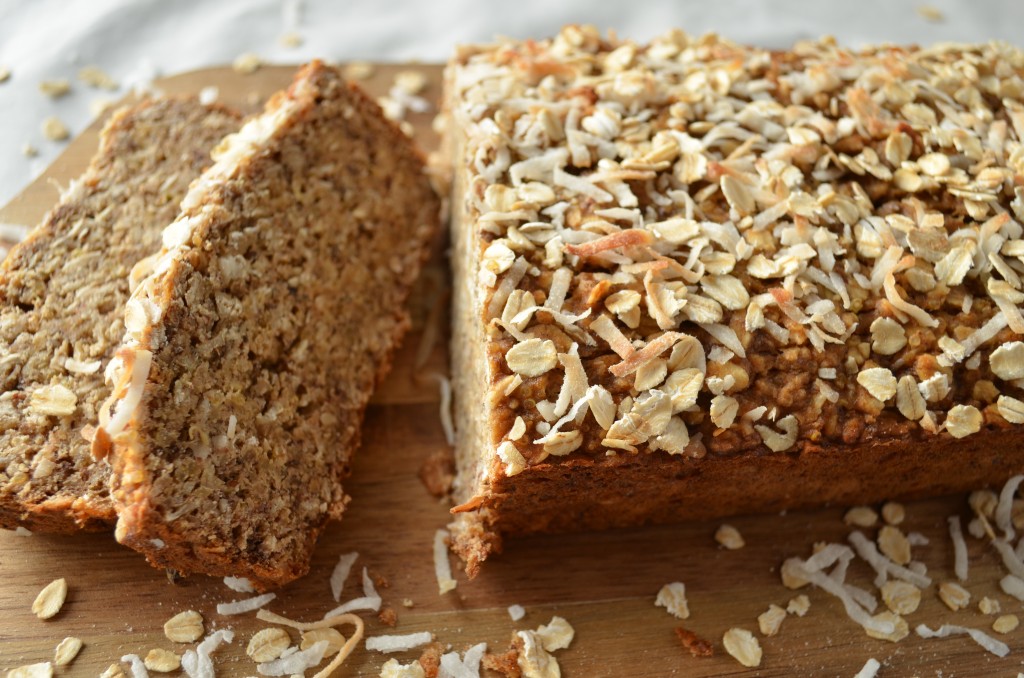 In my hunt for the perfect quinoa banana bread recipe, I did come across several that are made with quinoa flour or quinoa flakes. I haven't tried one of those, because I had quinoa on hand, and was too lazy to go to the store just to buy an obscure ingredient. The Kitchn just posted an ingredient spotlight on quinoa flakes, so I'm curious. Have you ever made anything (especially banana bread) with quinoa flour or flakes? Next time I'm at Whole Foods, I may have to pick some up and develop a different banana bread recipe using one of those!
For now, enjoy this banana bread with coconut and whole quinoa grains. And have a great weekend!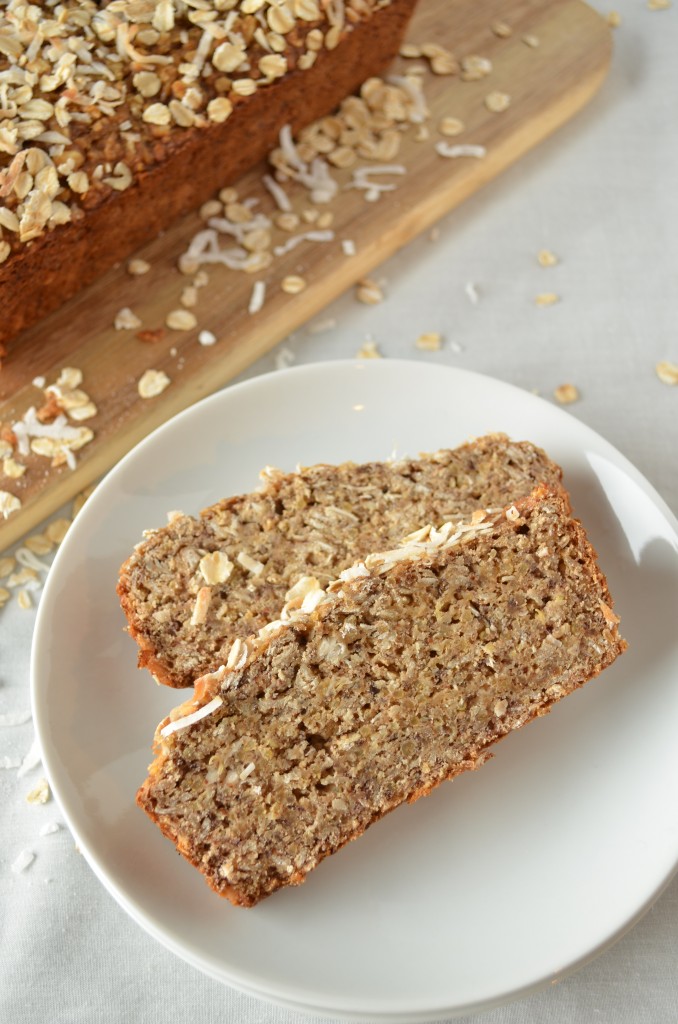 Coconut Quinoa Banana Bread (Vegan)
This dense banana bread is flecked with nutty oats and shredded coconut for texture. Cooked quinoa adds chewiness and whole grains. Enjoy it heated up and spread with coconut butter!
Yields:
1 loaf (about 12 slices)
Ingredients
1/2 cup uncooked quinoa (about 1 1/2 cups cooked)
3 very ripe bananas
1/4 cup coconut oil, melted
1/4 cup maple syrup
1 tsp vanilla extract
1 cup all-purpose flour
1 cup old-fashioned oats + another small handful for topping
1 tsp baking soda
1/4 tsp kosher salt
1/2 cup sweetened shredded coconut + another small handful for topping
2 Tbsp ground flaxseed
1/4 cup coconut milk
Instructions
Cook quinoa according to package directions. (I bring it to a boil with 3/4 cup of water, then simmer for 15 minutes and fluff with a fork, but I know some people prefer to use more water, probably depending on the stove.) Set aside.
Preheat oven to 350 and lightly grease a loaf pan.
In a large bowl, mash bananas with a fork. Stir in the coconut oil, maple syrup, and vanilla extract.
In a medium-sized bowl, combine the flour, oats, baking soda, salt, shredded coconut, flaxseed, and cooked quinoa. Dump into the large bowl of wet ingredients and mix until thoroughly combined. Stir in the coconut milk.
Pour batter into prepared pan. Bake until top of loaf is golden brown and sides are pulled away from the pan, 45-50 minutes.
Cool completely in the pan on a wire rack before serving. Keeps wrapped in tin foil in the fridge for several days.