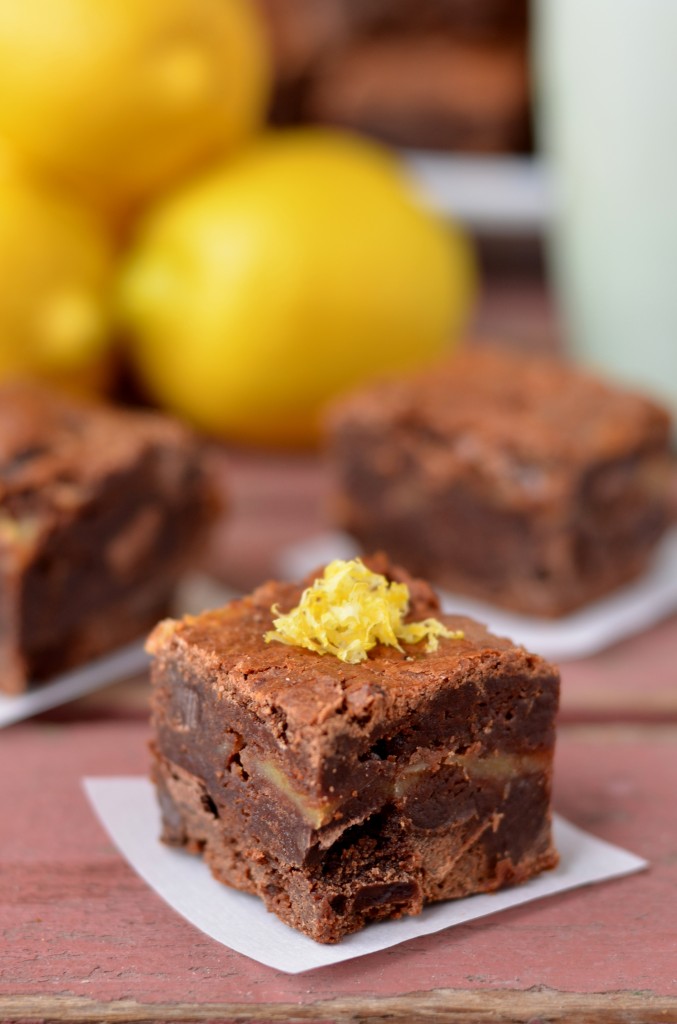 There's a saying: When life gives you lemons, make brownies.
I think it's something like that?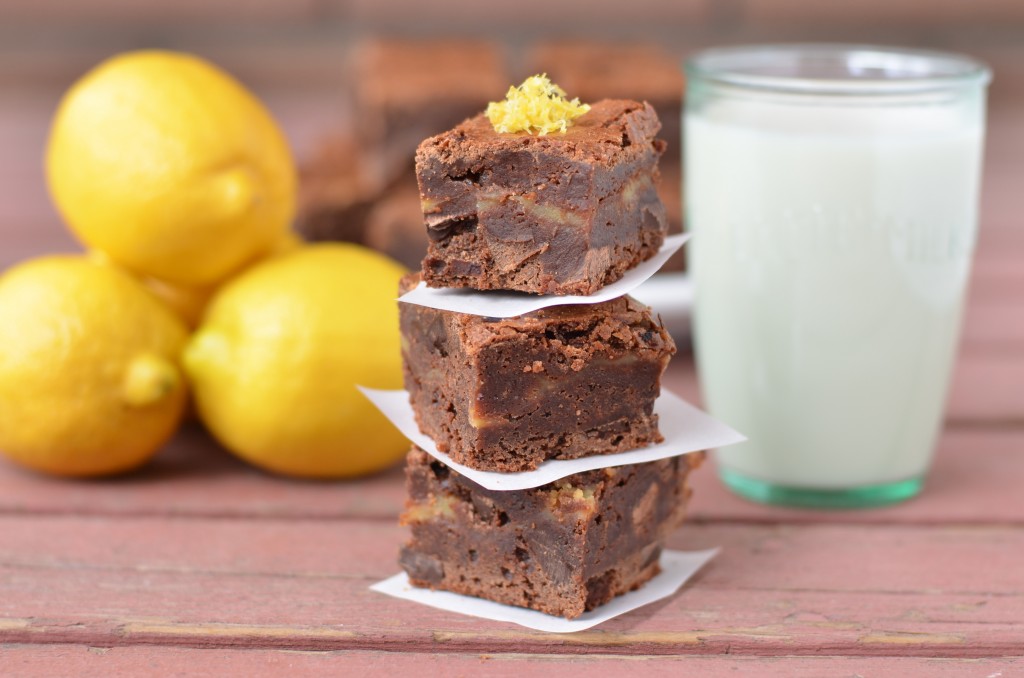 I hope I'm right, because it's a saying I live my life by.
When you find yourself home alone on your birthday: brownies.
When your friend's crazy ex-boyfriend is making her life miserable: brownies.
And when you've overdosed on coconut and still have half a batch of lemon curd left: brownies.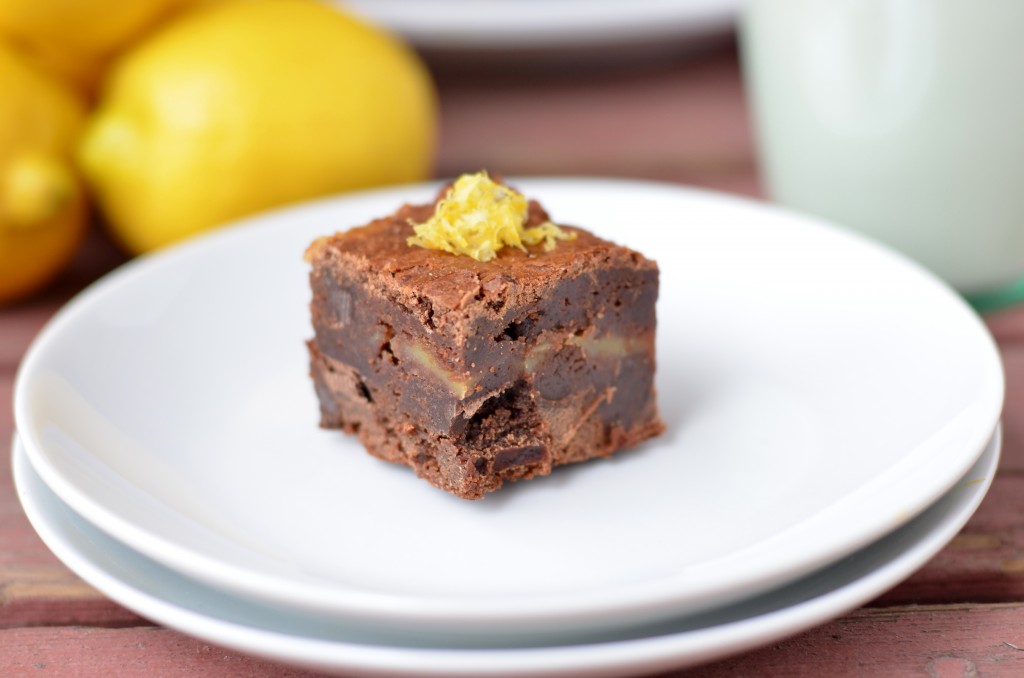 OK phew, I knew I was right about that saying.
I recently realized that in the 7-ish months I've been writing this blog, I have posted not a single brownie recipe. And that is just terrible, because if I had to name my favorite food, it would be brownies hands-down. Not even a little pause or question mark. I <3 brownies. And I quickly came to the conclusion that a passable vegan brownie is practically impossible, so that is definitely the reason for no brownie recipes during the first few months of the life of this blog. But since then… no excuses. I hope these can make it up to you.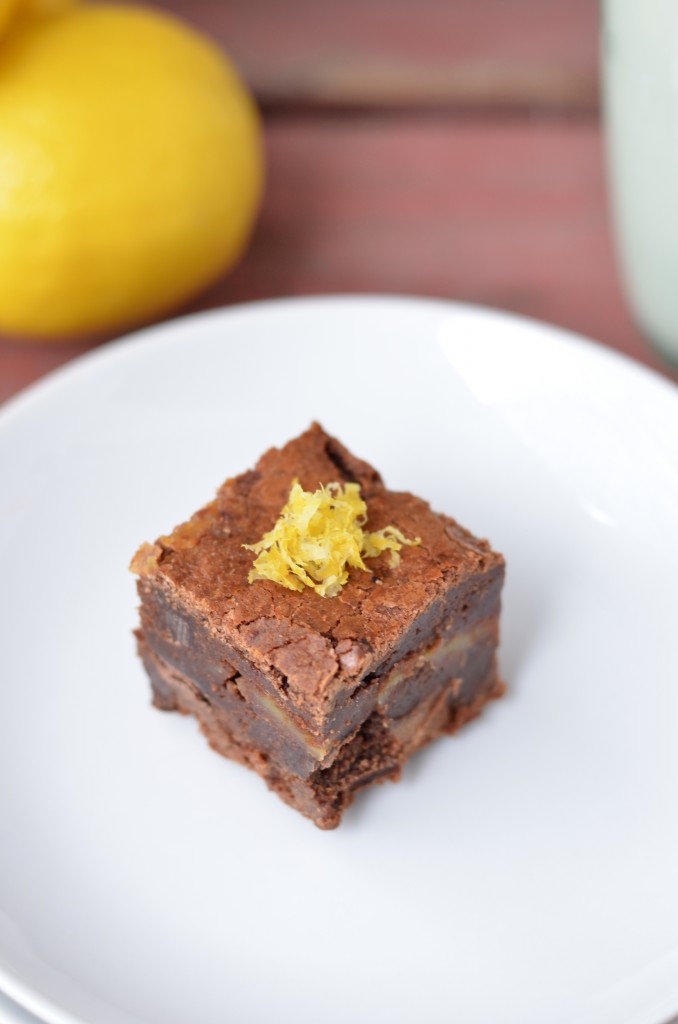 I love these brownies because, if you've made the lemon curd ahead of time, you can make them with only one bowl. Yes. Fewer dishes is always ideal. Especially when you accidentally break your faucet off on a Friday morning and have basically a spout on your sink until Tuesday, when the plumber finally gets around to fixing it. Real life. Do you know how many dozens of times in that 5-day period I got water alllll over the floor? Yeah… the fewer dishes, the better.
Also, these brownies are not only amazing because of their minimal dish usage, but also because of their fudginess. Yum. I always add extra chocolate to mine (preferably in chunk form!) to make them as gooey and chocolatey as possible.
And they are extra-special because they have some lemon curd baked in! It's just a thin layer, spread in between the fudgy goodness of the rest of the brownies. It definitely does not make them super lemony, but it adds a little something extra to the flavor and texture. If you do want them super lemony, you could double the lemon curd, maybe even making it into two lemon curd layers instead of one. That oughtta do it! Let me know if you try that version. Also, using regular lemons instead of meyer will give the lemon curd more of a kick.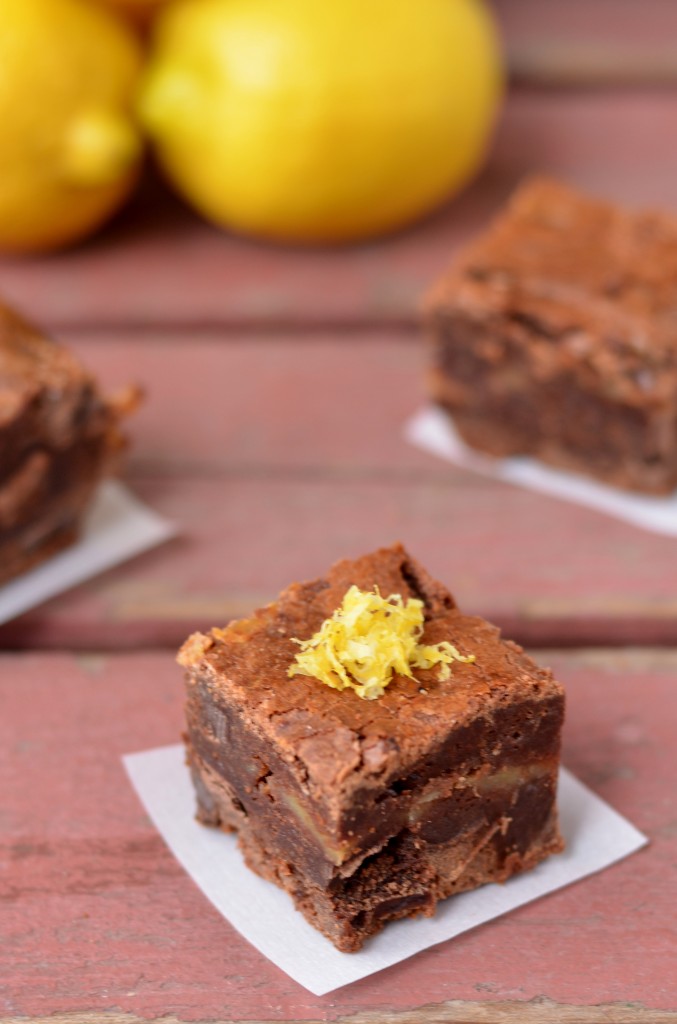 These seem like the perfect recipe to post while we're on the beach in Mexico, indulging in a few margaritas, no doubt. For the past few weeks I've posted a lot of salads, and mentioned quite a few times that it's because I want to look good in my bathing suit! Well, I guess I should be careful what I wish for, because earlier this week I got hit with a stomach bug. Yuuuuck. I guess it was perfect timing in terms of not interfering with my plans – I came down with it after the 5K and wedding and before our Mexico trip – but it was still not a fun way to spend 24 hours. Not being able to keep down your food for a day is pretty much the ultimate bikini diet… and not in a good way. Next time I will just keep my trap shut about bathing suit season… and eat an extra brownie. :)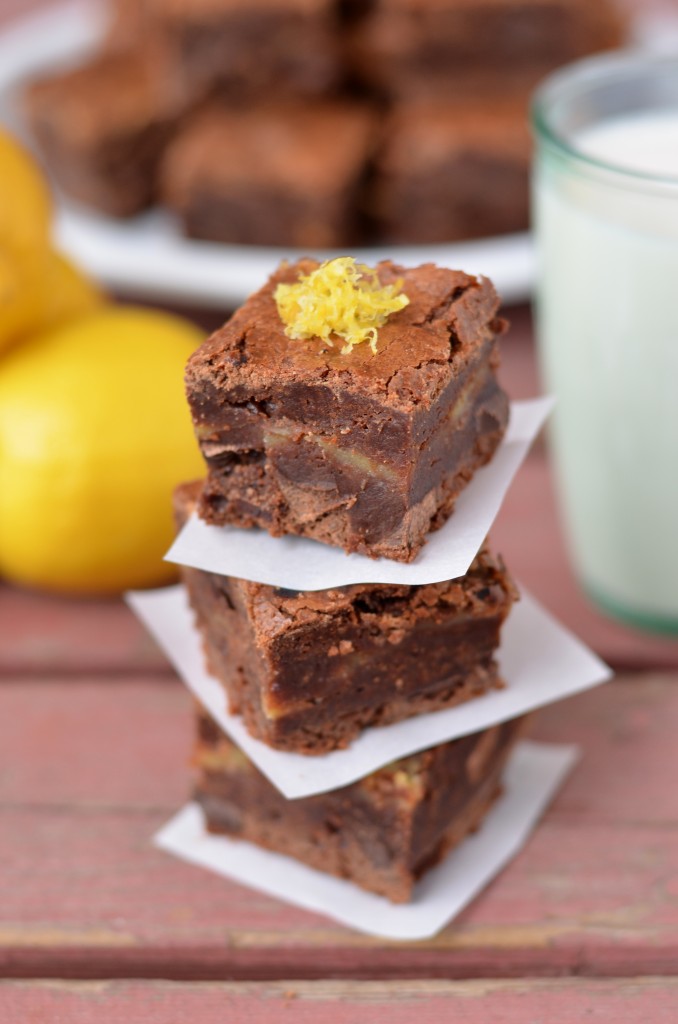 Have a great weekend! I hope you're enjoying some warm spring weather where you are… but not too warm that you can't turn on your oven to make these brownies.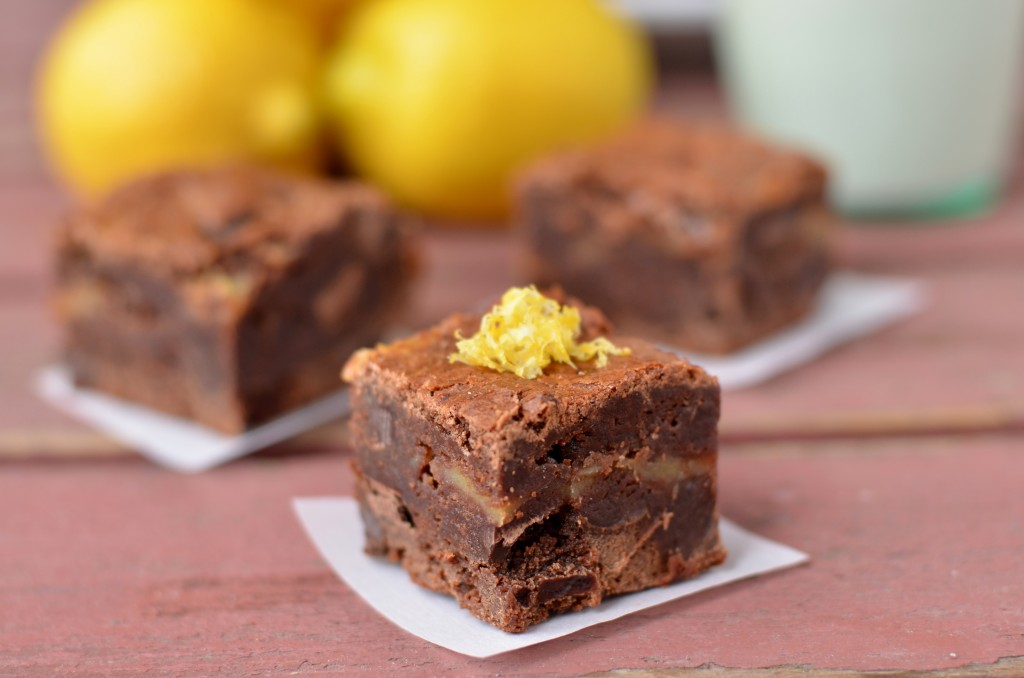 Fudgy Lemon Curd Brownies
Ingredients
4 oz. unsweetened baking chocolate
3/4 cup butter (1 1/2 sticks)
2 cups granulated sugar
3 large eggs
1 tsp vanilla extract
1 cup flour
1/2 tsp kosher salt
2 cups dark chocolate chips/chunks
1 cup lemon curd (storebought or homemade)
Instructions
Preheat oven to 350 degrees. Line a 9x9 baking pan with parchment paper (optional) and grease with cooking spray.
In a large microwave-safe mixing bowl, microwave the butter and baking chocolate in 30-second increments, stirring in between, until melted. Stir in the sugar. Beat in the eggs and vanilla. Stir in the flour and salt. Once thoroughly incorporated, stir in the chocolate chips.
Spread about 2/3 of the mixture into the baking pan. Spread the lemon curd on top. Scoop the remaining batter on top, spreading to cover the lemon curd completely.
Bake in the middle of the oven for 40-50 minutes, or until a toothpick inserted in the center comes out with fudgy crumbs. Cool completely before serving.