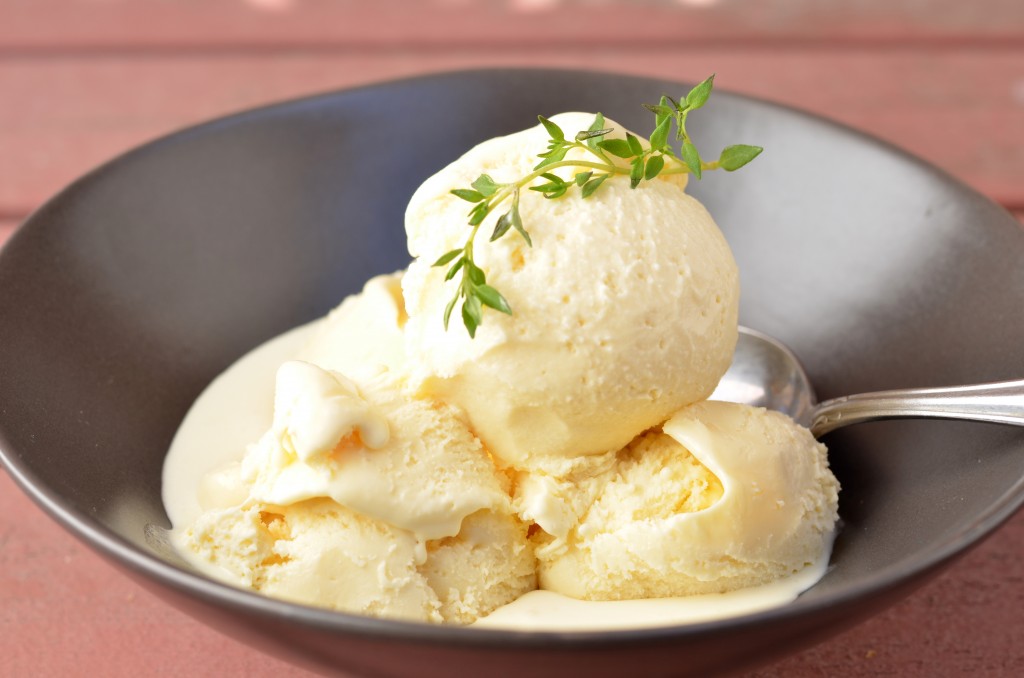 I am currently on an ice cream bender.
As I posted on Facebook last week, my friend Andy donated his ice cream maker to a worthy cause: me trying out this peanut butter chunk ice cream from Edible Perspective. (Thank you Andy!!!) Well, I haven't quite worked my way up to that fantastic recipe yet (it has 15 steps!); instead I thought I'd start with something simpler.
And then I fell in love with the simple ice cream recipes, and have made, oh, 4 batches in the past 4 days.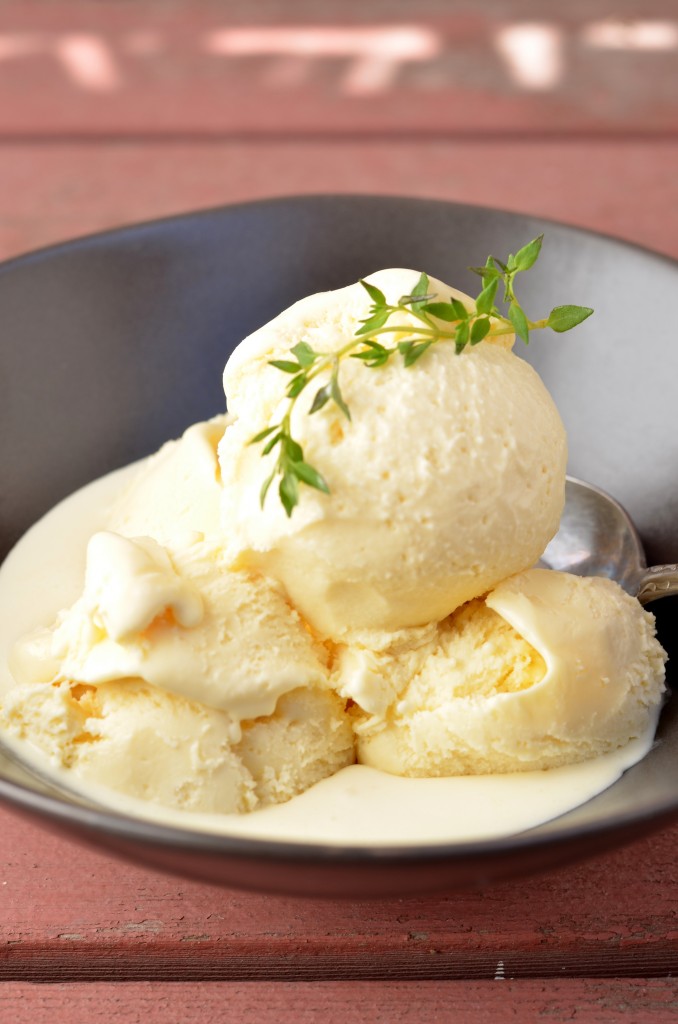 I actually waltzed into a 9:00 meeting without make-up earlier this week because I got caught up churning ice cream in the morning. I didn't realize until 8:31 that I had to be into work (20 minutes away) in 29 minutes. Oops. I hadn't gotten dressed, brushed my teeth, or put on make-up yet. Of those three things, obviously the make-up was the one that could wait until after the meeting. But don't worry… the ice cream got churned and lovingly stored in the freezer before I left. Priorities.
But like make-up, ice cream melts in the 90-degree heat. Whose brilliant idea was it to take these photos outside, anyway? Please excuse their meltiness… it was just unavoidable.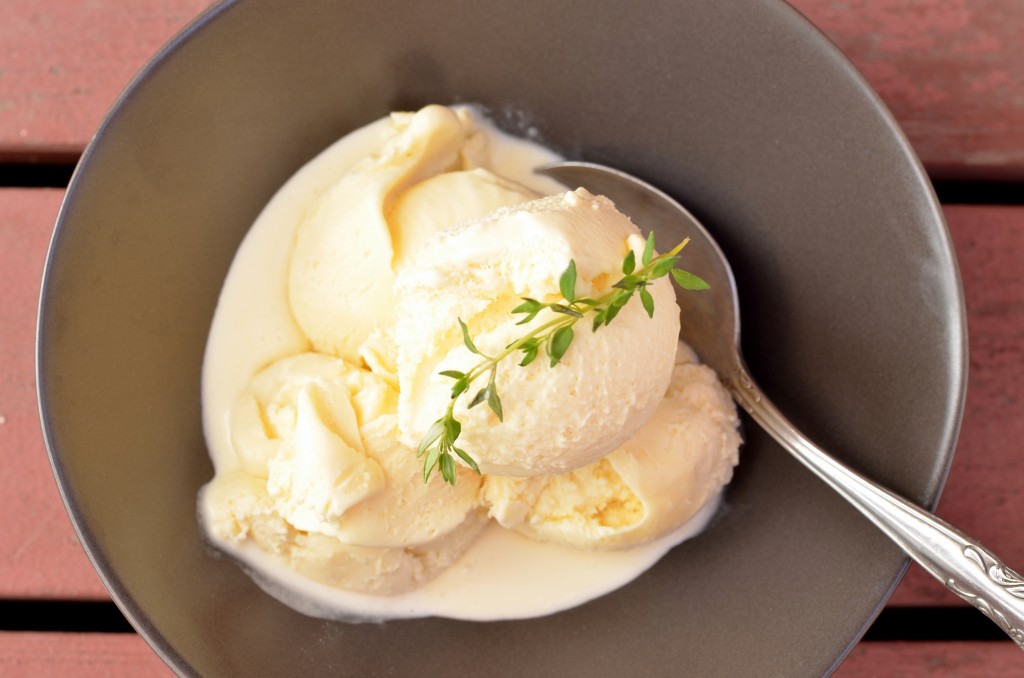 This is my favorite ice cream I've made so far, and a super simple one. I chose it because I had leftover thyme from Wednesday's portobello burgers, and this seemed like the perfect use. It is creamy, sweet, fragrant, and sooo rich. Eating it makes me feel like a little honeybee buzzing my way through a field of thyme. Weird? Yes. But try it and you'll see what I mean.
So how are you guys feeling about ice cream recipes? Just what you've been looking for on these hot June days? Or a bummer because you don't have an ice cream maker? I'd be happy to share more, but am also content to just slurp them all up myself if they're not accessible to enough people.
As a side note, check out David Lebovitz's tips on making ice cream. It's definitely possible if you don't have an ice cream maker – just a bit more work.
And finally, if thyme is not your thing but honey ice cream sounds delicious, check out A Cozy Kitchen's salty honey ice cream recipe. It is one of the batches I made this week, and it's divine!
Please don't stage an intervention just yet. This ice cream maker and I are in the honeymoon phase, and I'm not ready for it to be over.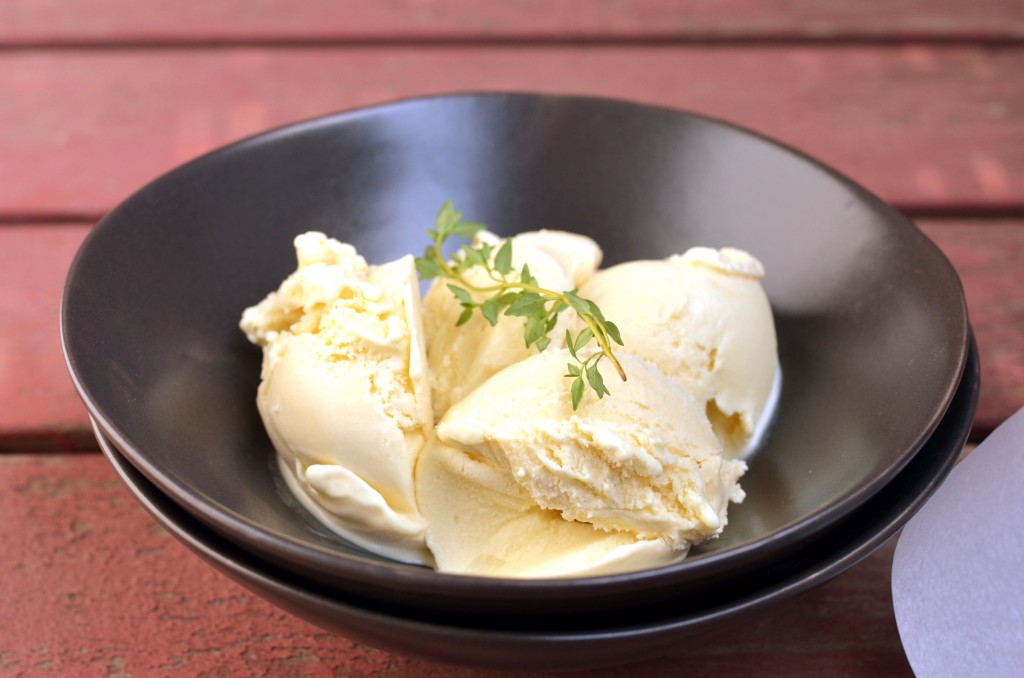 Honey Thyme Ice Cream
Ingredients
1 cup whole milk
2 cups heavy cream
6 large sprigs fresh thyme
4 egg yolks
3/4 cup honey
Instructions
In a small saucepan, combine milk, cream, and thyme. Bring to a simmer. Remove immediately from heat and let stand, covered, for 20 minutes. Strain out the thyme and return the steeped mixture to the saucepan.
Whisk the egg yolks together in a bowl. Slowly pour in about 1/4 cup of the cream mixture, whisking constantly. Whisk in the rest of the mixture and the honey.
Return to the saucepan and cook over low heat (I used medium-low on my electric stove), stirring constantly with a wooden spoon. Bring the mixture up to 175 degrees, at which point it will be thick enough to coat the back of the spoon. Draw your finger across the back of the spoon. If the line stays, the custard is done. Do not let it simmer.
Cool completely. If you like, you can create an ice bath by placing ice cubes and a bit of cold water in a large bowl, placing a slightly smaller bowl inside, and pouring the ice cream into the smaller bowl. Once cool, cover and refrigerate until cold, several hours.
Once chilled, churn in an ice cream maker according to the manufacturer's instructions.