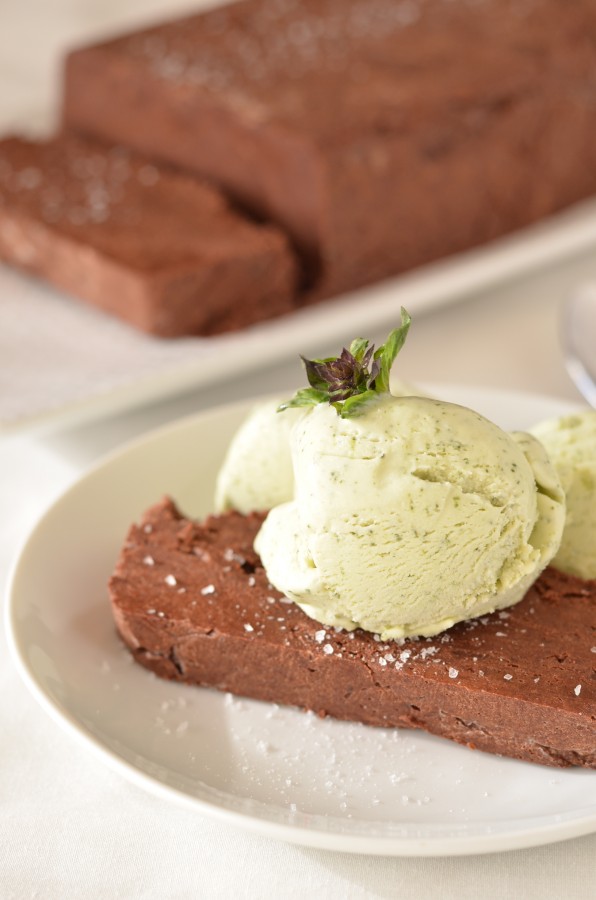 It's chocolate lovers only from here on out. This is some serious chocolate.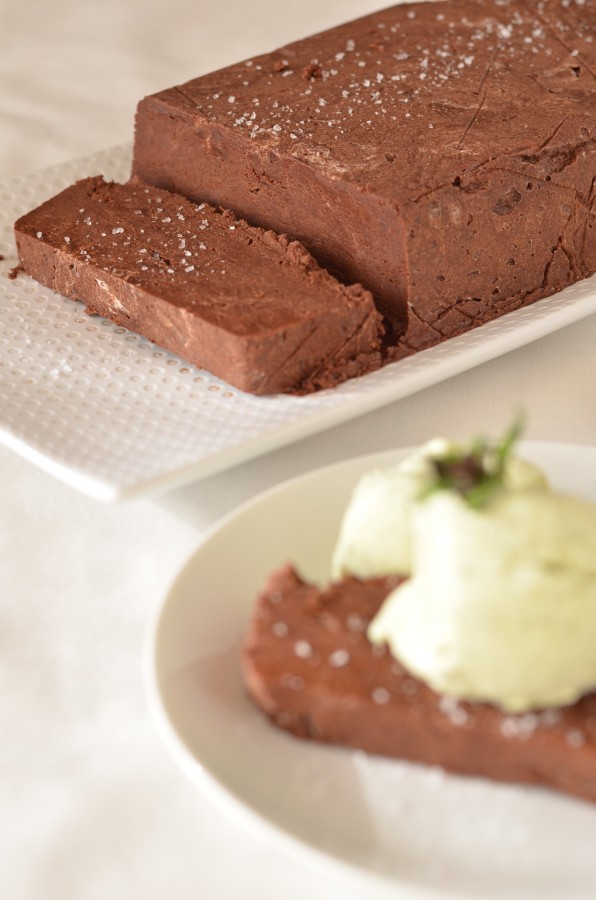 A few years ago, I had this dessert at the restaurant Ten Tables in Cambridge, MA. I was out to dinner with my mom after work, and naturally ordered the most chocolaty thing I could find on the dessert menu – chocolate terrine with sea salt and Thai basil ice cream. I thought Thai basil ice cream sounded weird and that I probably wouldn't eat that part; I was mostly interested in the chocolate. So misguided.
The first bite blew my mind. An ultra-chocolaty flourless chocolate cake topped with crunchy sea salt and fresh, creamy basil ice cream. The combination was SO unexpectedly delicious. I was in heaven.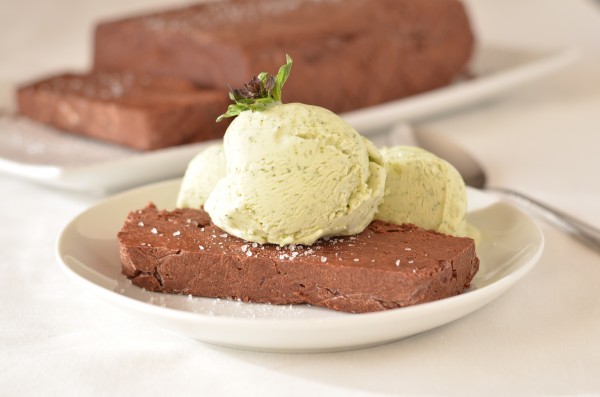 It was so memorable that I still think of it as the Best Dessert I've Ever Had. And when I came into possession of an ice cream maker, all I could think of was recreating it. (Not to give you high expectations or anything – jeez.)
The Thai basil ice cream took a few tries to get right, and this chocolate terrine still isn't as deep dark a chocolate as Ten Tables' – but the combination is as stellar as I remember. The chocolate is soooo rich, the freshness of the Thai basil is just the right contrast, and the sea salt is what makes it all perfect. Seriously, the sea salt is key here.

So… what is a chocolate terrine, anyway? "Terrine" refers to the type of pan in which this is made, but no need to get all fancy – it's just a loaf pan. So you could call this a chocolate loaf, really, but terrine sounds so much more elegant. This terrine is flourless (gluten-free!) and no-bake, making it perfect for summer. Ingredient-wise, it's somewhere between a chocolate mousse and a flourless chocolate torte. Taste- and texture-wise, it is like is eating a thick slice of chocolate ganache. And now I think you see why it needs the Thai basil ice cream. Otherwise you might just keel over from chocolate overload.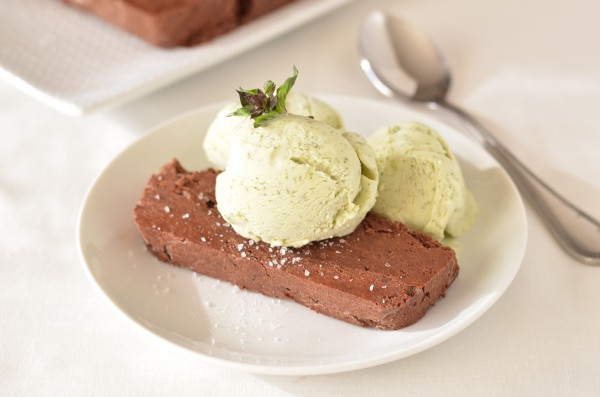 I love this Thai basil ice cream, and I definitely think it is meant to be served with chocolate. Just like mint ice cream begs for chocolate chips, you know? You will be hooked on the basil and chocolate combination after trying this, especially if you're a mint chocolate chip fan (hi Dad!).
One thing to know about this recipe, especially if you make both components: You are going to use all of your bowls. ALL of them. Seriously. Just get them all out on the counter. There is no getting around it. Embrace it. The terrine is a Thomas Keller recipe.
Oh, and all your eggs… those, too.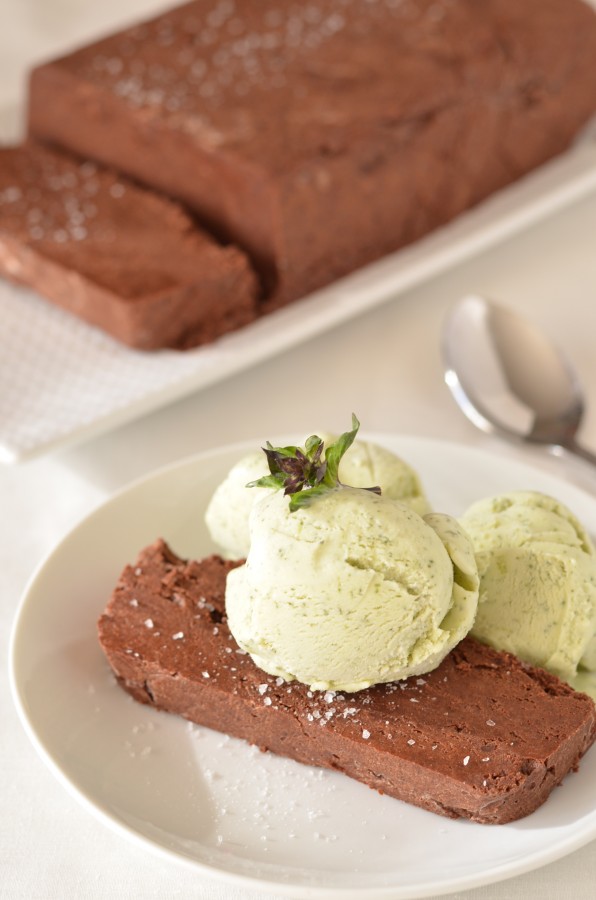 Despite that, both the ice cream and terrine are extremely simple to make. They just require a bit of patience as you wait for them to chill… in addition to many bowls and eggs.
Speaking of eggs, use the freshest eggs you can find for the terrine, because we are not cooking it. I used the eggs from my CSA box – yum!
This was a big hit with all my taste testers, a.k.a. friends and co-workers. If you have chocolate lovers coming to dinner, you must serve them this. It seems pretty darn fancy, but can be made ahead of time to serve for a dinner party. And if homemade terrine and ice cream seems like too much work, just go for the terrine and buy some great ice cream or sorbet. Just don't forget the sea salt!
Have a wonderful and chocolate-filled weekend, friends!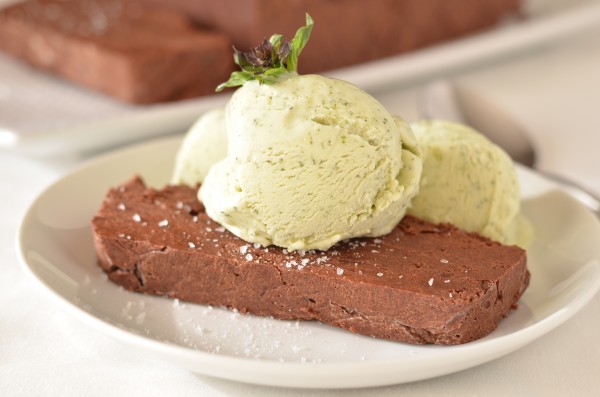 Chocolate Terrine with Sea Salt and Thai Basil Ice Cream
Yields:
10-12 servings of terrine
Ingredients
For the Thai basil ice cream:
1 cup whole milk
2 cups heavy cream, divided
1/4 cup sugar
pinch of salt
1/2 cup packed Thai basil leaves
6 egg yolks
1/2 cup honey
1/2 tsp vanilla extract
For the chocolate terrine:
12 oz 70% dark chocolate (I used 4 oz 100% cocoa and 8 oz 60% cocoa)
1 cup (2 sticks) unsalted butter
8 egg yolks
4 egg whites
1 cup powdered sugar
1/3 cup cocoa powder
1/2 cup heavy cream
2 tsp sugar
For serving:
Instructions
To make the Thai basil ice cream:
In a small pot, bring milk, 1 cup cream, sugar, salt, and Thai basil just to a simmer, stirring occasionally to dissolve the sugar. Remove from heat, cover, and let steep for 30 minutes.
Blend together the basil cream mixture either with an immersion blender or by pouring into a regular blender. (If using a regular blender, be sure to allow the steam to escape from the top while blending.)
Whisk together the egg yolks in a medium bowl. Slowly pour about 1/2 cup of the blended basil cream into the yolks, whisking constantly. Pour this back into the small pot with the rest of the basil cream. Heat on a burner set to medium-low, stirring constantly with a wooden spoon, until a candy thermometer measures it at 175 degrees. This is also the point when the liquid will be thickened enough to coat the back of a spoon and hold a line drawn across it with your finger.
Pour the remaining cup of cream, honey, and vanilla to the bowl you used for the egg yolks, and place a strainer on top. Strain the custard into the bowl. (This will remove any larger pieces of basil, as well as any eggy bits.) Stir to combine.
Make an ice bath by placing a few handfuls of ice cubes and a splash of cold water in a large bowl. Place the bowl with the ice cream inside of it and cool to room temperature. Once at room temperature, cover and refrigerate until thoroughly chilled. (Over night is perfect.) Churn in an ice cream maker according to the manufacturer's instructions. Last but not least, scrape into a container, cover, and freeze until hardened.
To make the chocolate terrine:
Spray a loaf pan with baking spray. Line it with plastic wrap. (The fewer wrinkles, the better.)
Microwave chocolate and butter in 30-second increments until melted, stirring in between. Stir thoroughly to combine, then pour into a large bowl and set aside to cool slightly.
Whisk egg yolks together in a small bowl. Temper them by whisking in a small amount of the chocolate mixture, then whisk the yolks into the chocolate mixture in the large bowl.
Sift together the powdered sugar and cocoa powder. Stir into chocolate mixture.
Beat cream with an electric mixer until soft peaks form. Cover and refrigerate until use.
Beat egg whites and 2 tsp sugar with an electric mixer until stiff peaks form. Very gently fold this into the chocolate mixture, then fold in the cream.
Spread into the loaf pan, getting it as flat as possible on top. Cover with plastic wrap and refrigerate overnight.
To serve:
Cut slices of chocolate terrine. Top with a sprinkle of sea salt and a scoop of Thai basil ice cream. Enjoy!
Notes
While the terrine makes 10-12 servings, the ice cream makes more like 4-6. If serving together, I suggest having a second ice cream on hand. If doubling this ice cream recipe and using a 2 quart ice cream machine, you will have to churn each batch separately.
Terrine adapted from Thomas Keller's
Bouchon Bakery
cookbook via
TasteFood
.