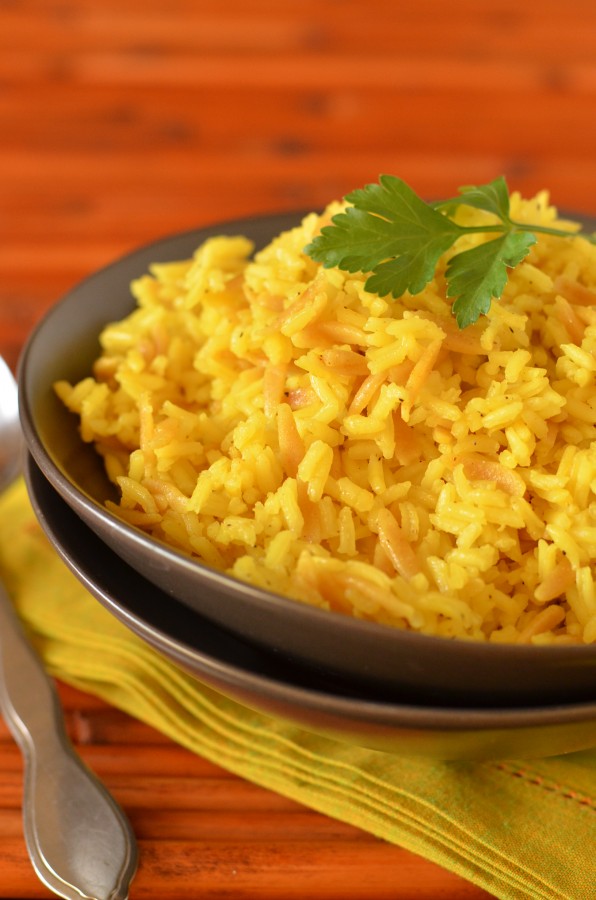 A pretty piece of salmon deserves a great side dish.
Growing up, we almost always ate Near East rice pilaf with our salmon. It was a staple that I never really appreciated until I went to college. I remember coming home for vacation during my freshman year and eating my mom's home cooking again (the best part of coming home, even better than showering with no flip flops on!). We were eating salmon, rice pilaf, and probably string beans, and all the sudden I loved rice pilaf. It was pure nostalgia! Funny how I still remember that moment.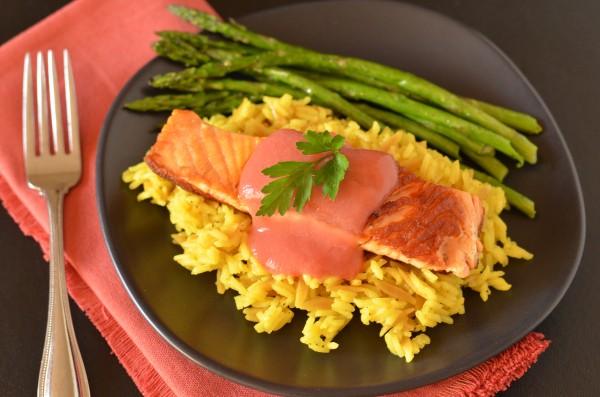 Recently I got a craving for Near East again and decided I'd try to recreate it on my own rather than stocking up on the boxes. (They're expensive!) Some rice, orzo (little rice-shaped pasta), and spices, and I was in business! My favorite part is the yellow color the turmeric lends the rice. I don't know what I thought turned it yellow before… magic, I guess!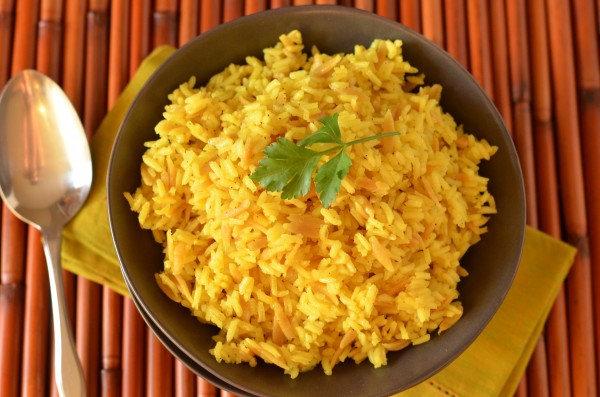 This homemade version took no more time to make than the boxed version. And the best part is that you're significantly cutting down on the sodium found in the Near East rice pilaf.
I'm not usually one to focus on getting too much or too little of a specific nutrient – I'd rather focus on the bigger picture. BUT many packaged foods are high in sodium, which is a signal that they're heavily processed. To me, a high sodium content usually means that this food would be healthier if I made it at home myself.
Here is the Near East package. 780 mg of sodium per serving!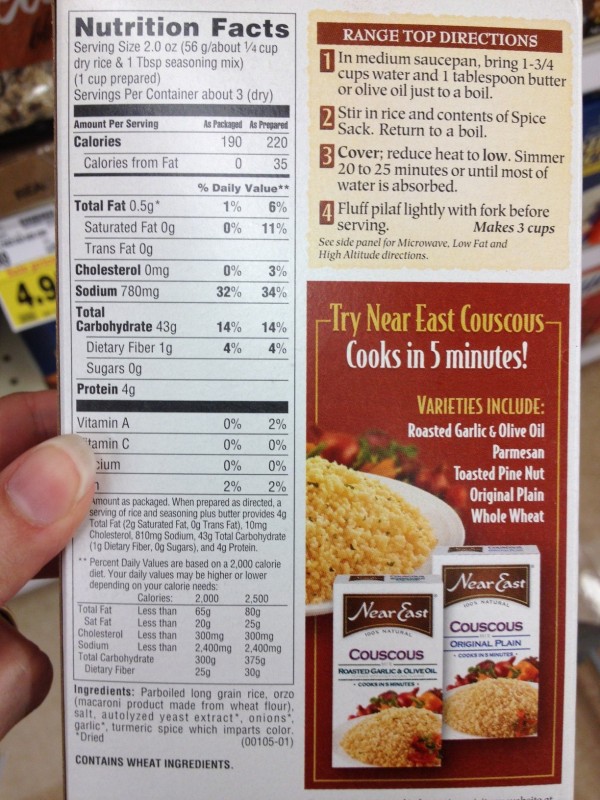 So how much sodium does the same rice pilaf have when you make it at home from scratch?
The answer: 620 mg… TOTAL in the entire recipe. With 5 servings!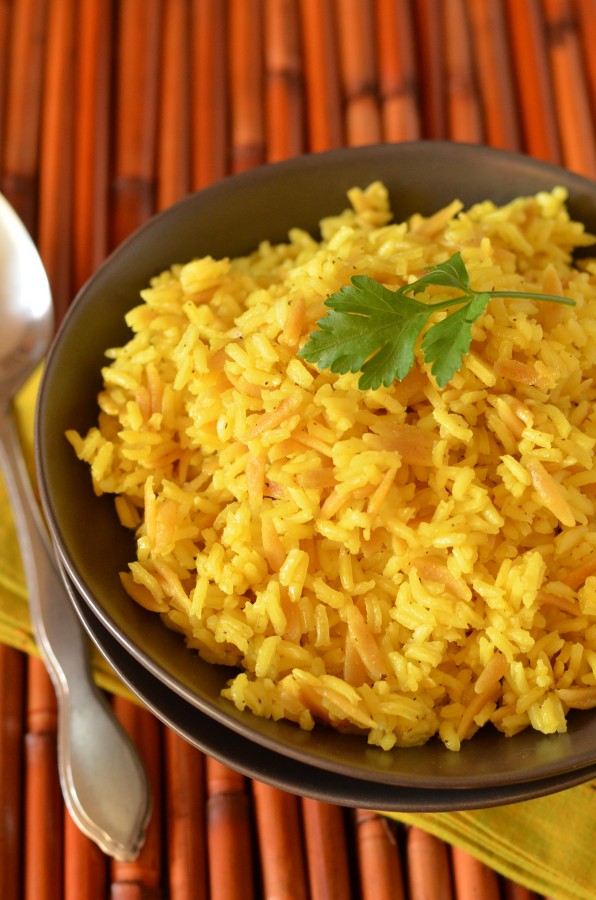 That's 124 mg of sodium per serving, less than 16% of the boxed version. The rice, orzo, and olive oil have no sodium – it all comes from the vegetable broth and salt. Even if you were to double the salt, you're still at less than 30% of the sodium of the boxed version. Where does all that sodium in the box come from? I'm not sure, but I can tell you this: it tastes just as good when you make it at home!
I love a good copycat recipe, and this rice pilaf is no exception. It's cheaper than the packaged version you're used to, has less sodium, and is easily scaled up to feed a crowd. What's not to love?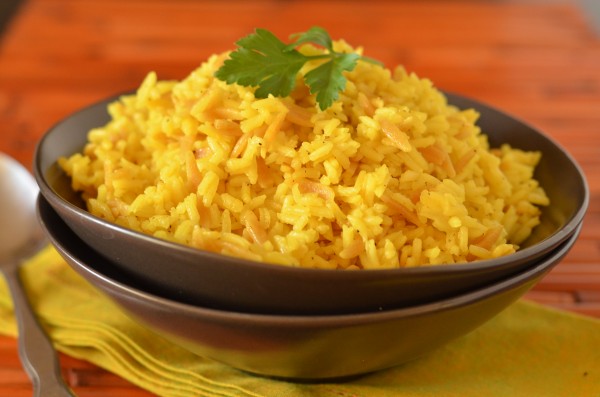 Copycat Near East Rice Pilaf
Ingredients
1 cup low-sodium vegetable broth
1 cup water
1 Tbsp butter or olive oil
1 cup long grain rice
1/3 cup orzo pasta (found at Whole Foods or specialty grocery stores)
1/8 tsp turmeric
1/8 tsp garlic powder
1/8 tsp black pepper
1/4 tsp kosher salt (increase to 1/2 tsp if you prefer your dishes saltier)
Instructions
Bring broth, water, and butter/olive oil to boil in a small pot.
Add rice, orzo and spices and return to a boil. Reduce heat and simmer until rice is tender and liquid is absorbed, about 18 minutes.
Fluff with a fork and serve.