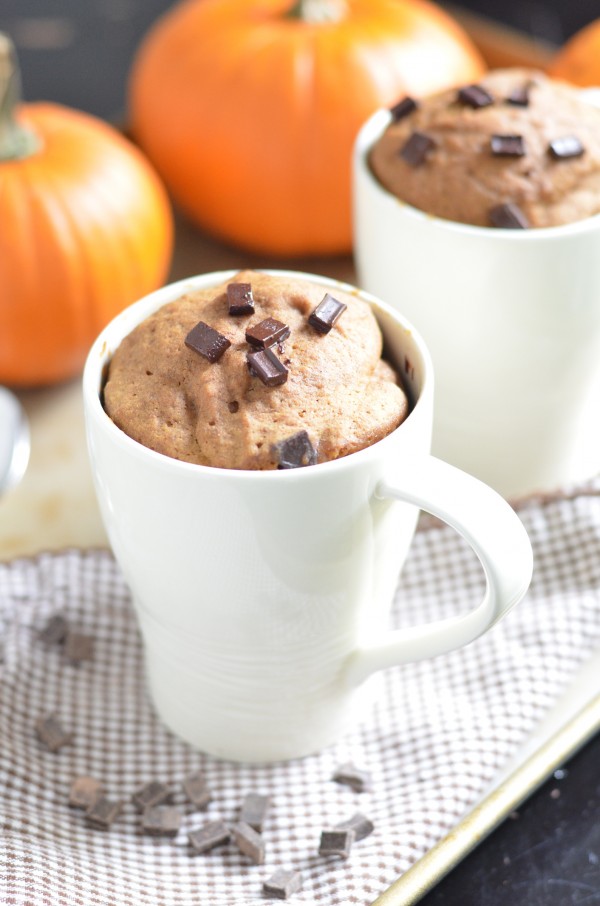 Fall weather is upon us, and that can only mean one thing: pumpkin!
Let's talk about pumpkin. Although I'm not the biggest pumpkin spice latte fan – too sweet! – I do enjoy almost anything else pumpkin-flavored. Pumpkin beer and pumpkin puree stirred into my oatmeal are two fall favorites. I'm not planning on bombarding you with pumpkin recipes this fall, but I do think that a quick and easy pumpkin dessert is in order. Enter this whole wheat pumpkin spice mug cake!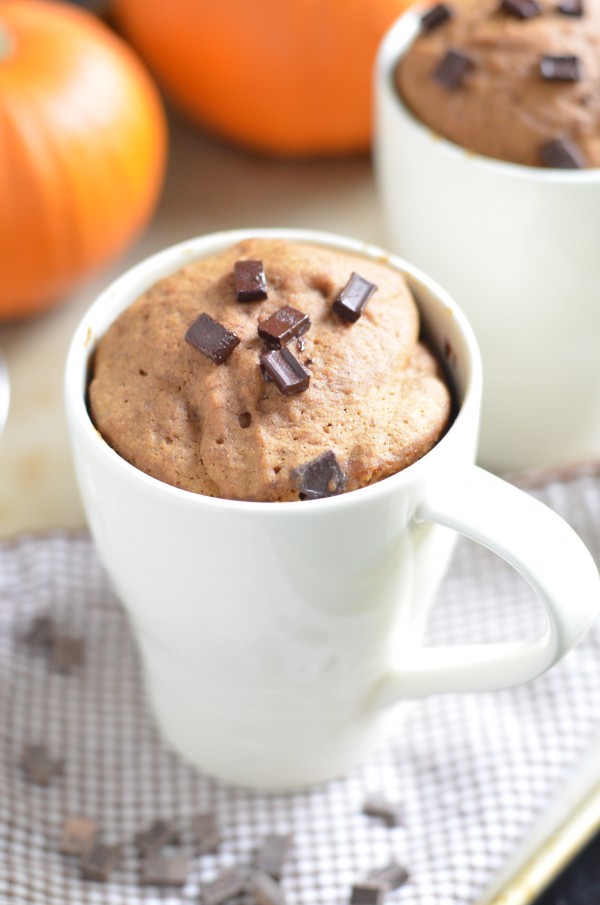 Confession: I was going to post this next week, but after typing up this post, I just couldn't wait. It's Friday, and even though it's not yet October, I feel like you need this mug cake right now.
Are you familiar with the mug cake? If so, you're rolling your eyes… of course I am. If not, let me introduce you. Mug cakes are no-fuss single-serving cakes, mixed in the mug and then microwaved right then and there. No ovens allowed.
Let's properly set expectations for mug cakes: They do not measure up to regular cakes. This is because the microwave doesn't get as hot as the oven, making it impossible to achieve the same cakey texture. They are softer and spongier than regular cakes – think more of a muffin or quick bread. And there is none of the beautiful golden-brown baking color that develops in an oven, again due to the lower microwave temp.
But – there is obviously a but! – mug cakes are incredibly quick and easy to make. They are perfect for satisfying a dessert craving in no time flat. Here is what happens: You stir all the ingredients together in a mug and microwave for 90-120 seconds. You pull it out of the microwave (don't burn your fingers!) and devour it all with a spoon, leaving none for anyone else. Seriously.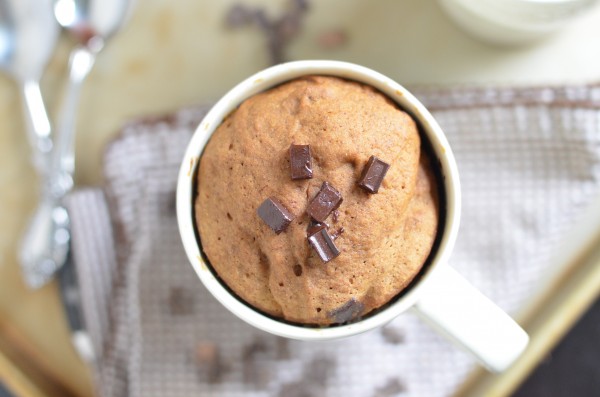 And although they're dangerously easy to make, the individual portion size of a mug cake ensures you won't have leftovers that tempt you for days. Unless of course you make multiple mug cakes at once in order to photograph them for your blog, but that's a different story.
Another benefit of the mug cake: you can devour it with a spoon while still steaming hot. OMG. None of that cool-completely-in-the-pan stuff. As I type this, I'm losing confidence in my own statement that mug cakes don't measure up to regular cakes. My tummy may or may not be full of one or more of these right now. SO GOOD.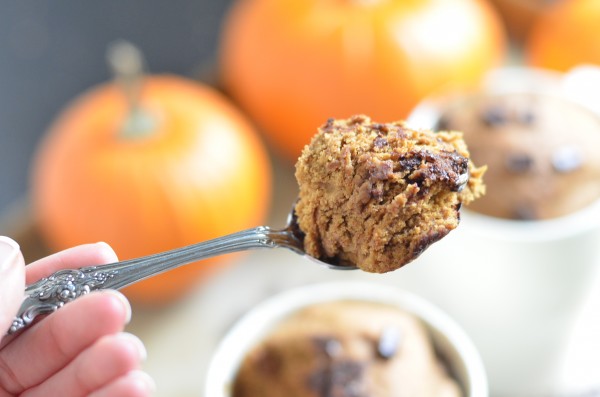 And as if that's not enough, they generate practically no dirty dishes. Just a mug, a spoon, and a few measuring spoons. I couldn't believe it when, after making several batches to develop this recipe, I surveyed my kitchen counter and found it completely clean. Amazing! Not a dirty mixing bowl, whisk, or wooden spoon in sight. Easy prep, easy clean-up: I think that officially makes these "zero-effort cakes." My kind of dessert.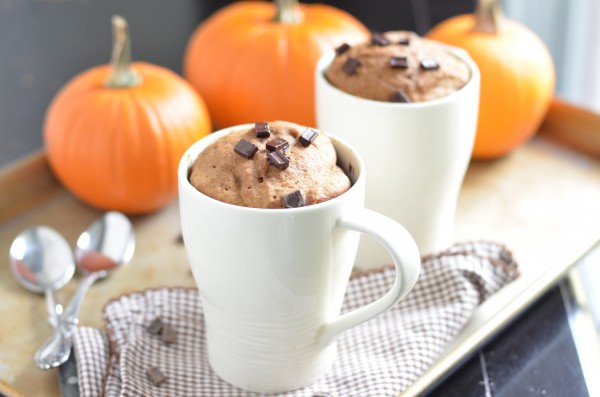 A few more things to note about these before I wrap up:
1) These pictures were taken with a double batch in each mug. A single cake will fill up a medium-sized mug about halfway.
2) If multiplying the recipe and serving to others, I might recommend mixing a bigger batch in a bowl and then spooning it into individual mugs for microwaving. These look a bit messier when stirred in the mug – perfect for satisfying your midnight sweet tooth; not so ideal for presenting to others.
Unrelated to mug cakes, Sunday is the last day to enter the California Almonds giveaway I'm hosting! If you'd like a delivery of free almonds and almond butter, you should leave a comment on the giveaway post to enter. So easy. Don't forget – do it now! I'm picking a winner on Monday.
And finally, if you're looking for more pumpkin recipes, check out my Vegan Pumpkin Muffins with Banana and Carrot or my Fudgy Chocolate Pumpkin Cake. Happy pumpkin season, all!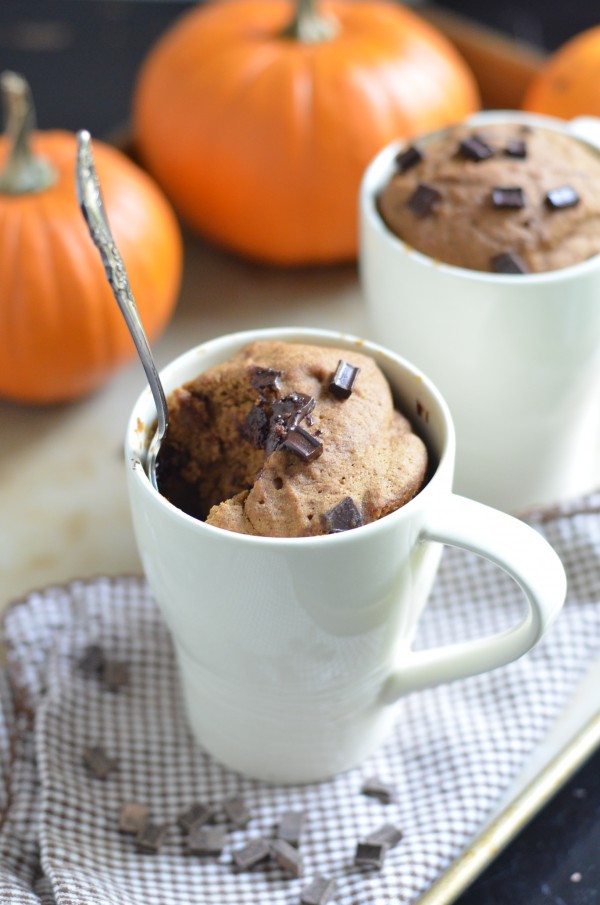 Whole Wheat Pumpkin Spice Mug Cake
Ingredients
1/2 Tbsp ground flax seed
1 Tbsp water
2 Tbsp canned pumpkin puree
2 Tbsp maple syrup
1 Tbsp plain unsweetened almond milk (or your milk of choice)
1/4 tsp vanilla extract
1/4 cup whole wheat flour
1/4 tsp baking powder
pinch of kosher salt
1 tsp espresso powder (optional but recommended for flavor)
1/4 tsp pumpkin pie spice (or 1/4 tsp cinnamon + pinch of nutmeg + pinch of ground ginger)
1 Tbsp mini chocolate chips (use dairy-free chips for vegan)
Instructions
In a mug, stir together ground flax and water. Let sit 2 minutes.
Add pumpkin, maple syrup, milk, and vanilla and stir to combine. Mix in flour, baking powder, salt, espresso powder, and pumpkin pie spice. Finally, stir in chocolate chips.
Microwave on high for 90 seconds. Center of cake should spring back when pressed down. If it's not quite there yet, microwave in 15-second increments until springy.
Devour!
Notes
This recipe can easily be scaled up to make multiple mug cakes. Either mix each cake individually in its own mug (they will look a bit messier this way but still taste delicious), or mix a double or triple batch in a bowl and spoon into individual mugs. Microwave separately.