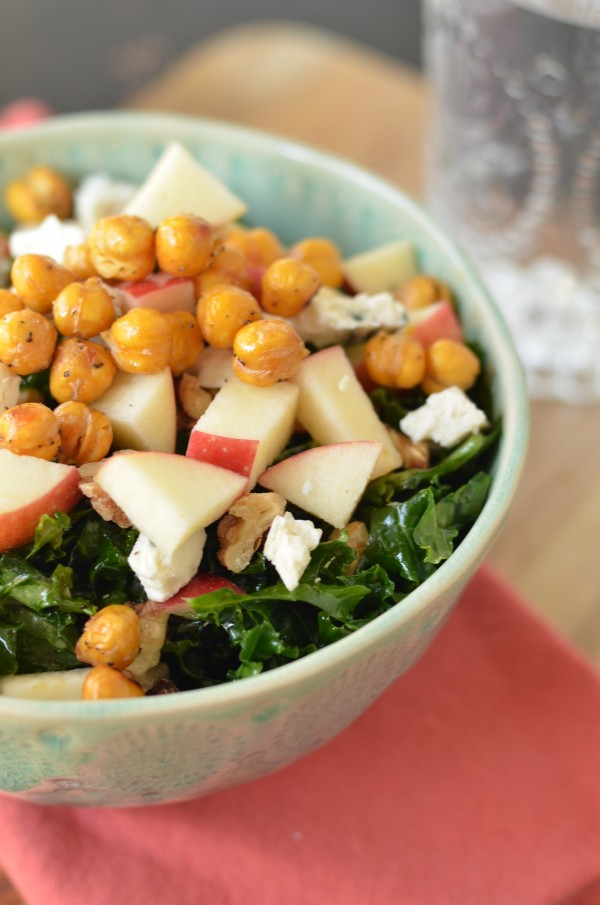 I haven't been doing a great job of eating my leafy greens lately. Well, actually, it's my dark leafy greens I haven't been eating. For some reason I've been on a lettuce kick… maybe using up the the leftover lettuce from all those burgers? Normally, I'd choose kale or spinach over regular ol' Romaine any day. It recently occurred to me that I couldn't remember the last time I'd bought kale. Obviously I had to remedy the situation immediately!
And I remedied it the best way I know how – by giving my kale a massage.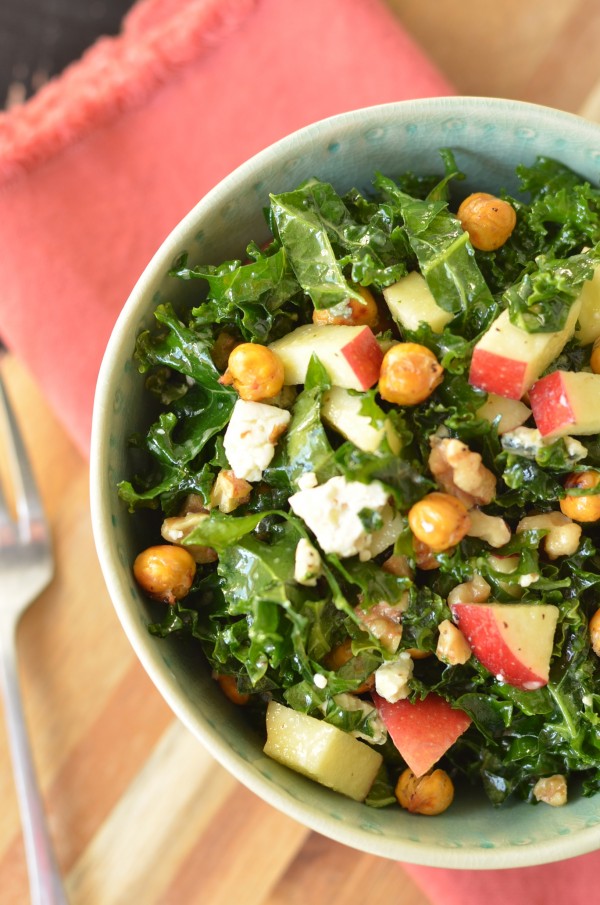 A while ago I confessed that I didn't really get the "massaged kale salad" thing. Aaaand I also confessed that I was immediately sold on the whole deal, because it really makes such a difference in texture. It softens the kale up and makes it way less jaw-achingly fibrous. If you typically skip kale salads, I beg you to give your kale a little massage! You just might turn over a new leaf… har har har.
We're improving the kale's texture even more by slicing it into thin ribbons. That way we can make this into a chopped salad, which is my favorite way to eat salad lately because of all the texture you can get in one bite. Start with some kale you can really sink your teeth into, and add crispy apples, crunchy walnuts, chewy roasted chickpeas, and creamy blue cheese to each bite. WHAT could be better, I ask you?! Ah yes… tossing the whole thing with a dreamy dressing of apple cider vinegar and miso.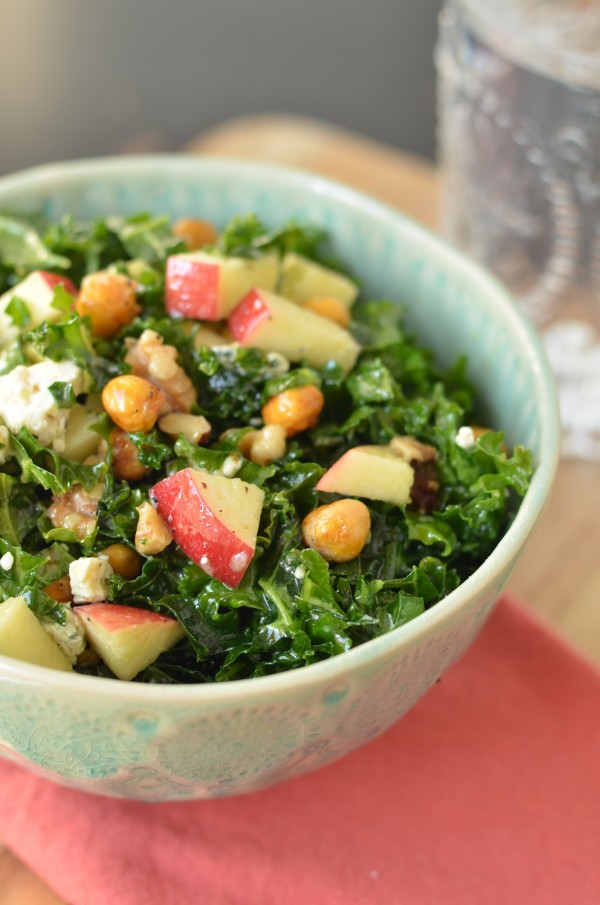 The miso might seem like an odd combination with, well, almost everything here, especially the blue cheese. But you'll have to trust me on it! I love me some stinky cheese, and it is great with this dressing. If just the thought of blue cheese makes you crinkle up your nose, though, may I suggest an avocado instead? You neeeed to get that creamy texture in there somehow.
Tart from the cider vinegar! Earthy from the miso! That's my taste buds singing just thinking about this dressing.
What's your favorite unlikely salad combo?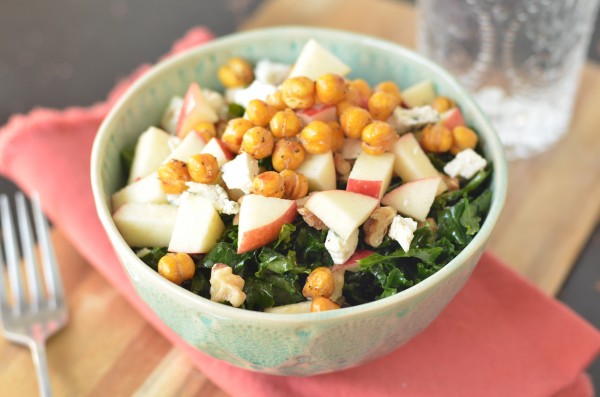 Kale Salad with Roasted Chickpeas and Apple-Miso Vinaigrette
Ingredients
For the salad:
15-oz can chickpeas, drained and rinsed
1 tsp olive oil
sprinkle of salt and pepper
1 head of curly kale, rinsed and sliced into ribbons
2 red apples, cored and chopped
1/2 cup walnuts, toasted and chopped
3/4 cup crumbled blue cheese (optional - sub with avocado for vegan)
For the dressing:
6 Tbsp olive oil
1/4 cup apple cider vinager
1/4 cup mellow white miso paste
2 tsp honey
2-4 Tbsp water
Instructions
First, roast the chickpeas. Preheat oven to 425. Spread chickpeas on a baking sheet and toss with olive oil, salt and pepper. Roast until golden brown, about 20 minutes. (Feel free to roast for less if you prefer them somewhat soft, or a little longer if you like them crunchy!)
While the chickpeas roast, prepare the dressing by whisking all ingredients together.
Place kale in a large bowl and pour about half of the dressing over it (maybe a little more than half). Use your hands to massage the dressing into the kale leaves. This softens it and improves the texture quite a bit. Let sit until chickpeas finish roasting.
Add roasted chickpeas, apples, walnuts, and blue cheese to the bowl with the kale. (If not using the blue cheese, I recommend an avocado in its place!) Toss and serve with remaining dressing on the side. Enjoy!