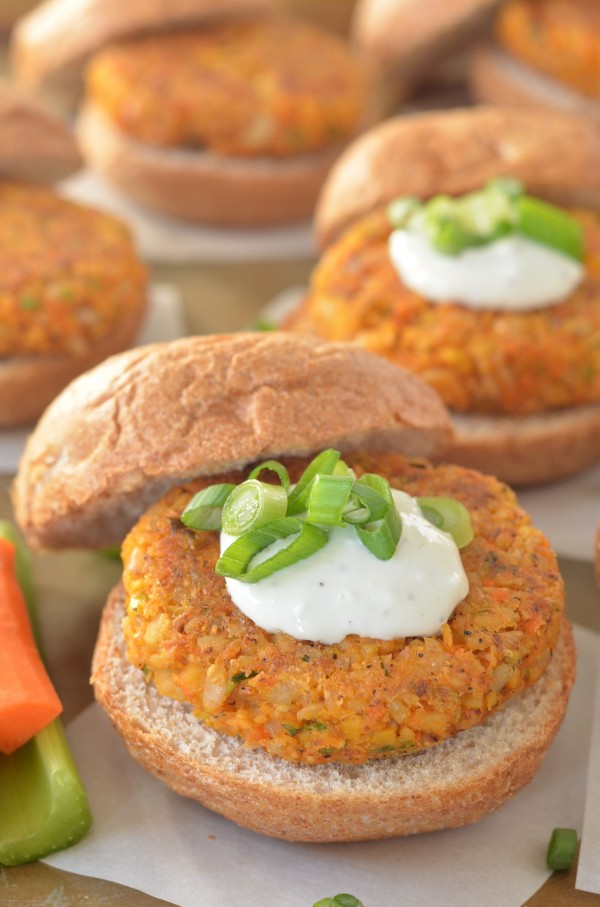 Who's ready for some vegan football food?!
Well, vegan + optional gratuitous amounts of cheese. The best of both worlds, in my opinion.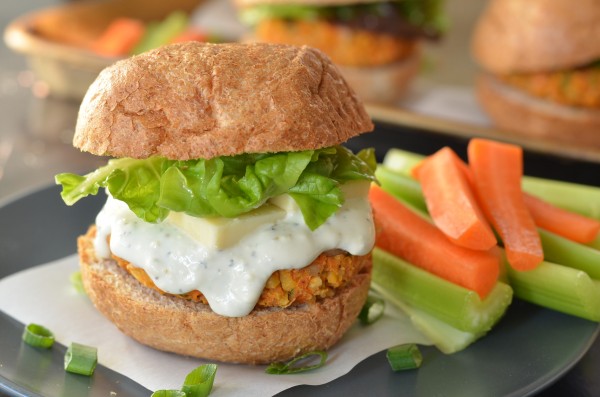 Last week I posted quinoa burgers, and this week, we're doing yet another veggie burger. It's so easy to get on a food kick and want to try out endless variations, and that's exactly what's happening here! This time I really wanted vegan burgers… mostly because I end up eating a bunch of the dough straight from the food processor (and I bet you do the same!), so might as well leave out the raw egg, right? Right. And luckily, it's not at all necessary here – these babies have no trouble holding together with just some flax egg magic.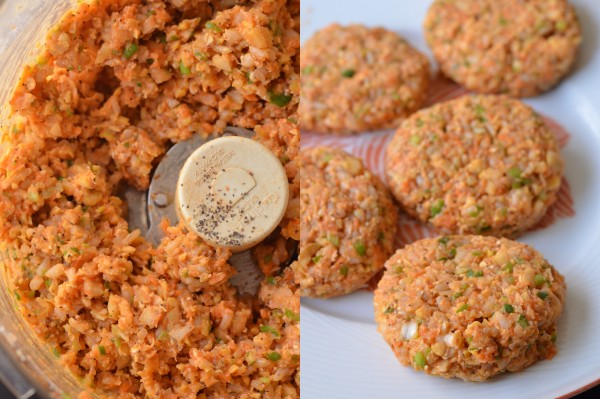 But like I mentioned, I topped those vegan burgers with some serious cheese. Blue cheese dressing, to be exact. It's the same lightened-up blue cheese dressing I used on last year's buffalo brussels potato skins. This stuff is just too good to be allowed! I couldn't get enough on this burger, clearly.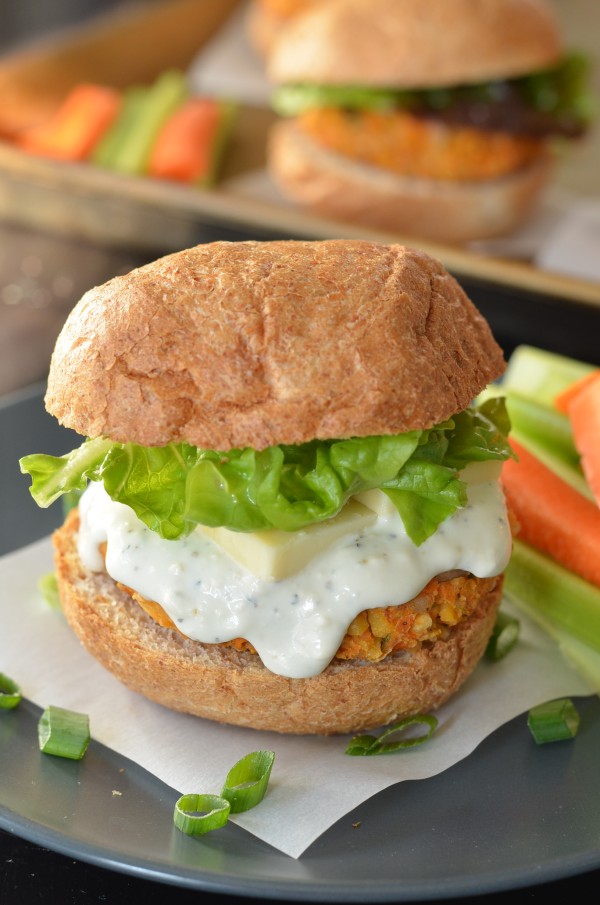 To me, there's nothing that says football food quite like that buffalo wing flavah. Minus the wing part, of course. I think I've had wings maybe twice in my life and, well, I'm not into the actual wings. Too messy, and too much work for too little actual food! Meat on the bone is just not my thing, I guess. I could never have been a cavewoman! Beans and veggies, on the other hand – now that I can get behind.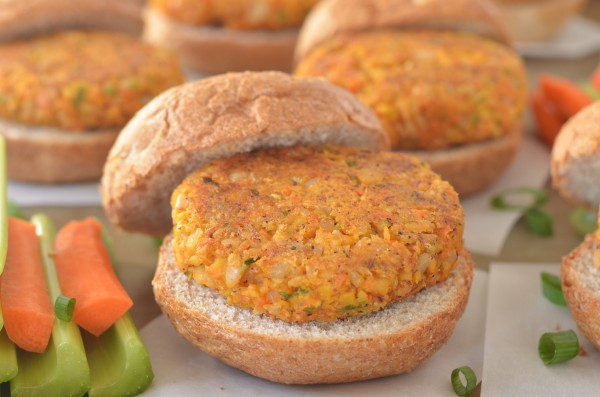 Look at that yummy crunchy exterior! Pan-frying is the way to go.
I've definitely made veggie burgers with dozens of ingredients before, some of which require sauteing beforehand. Frankly, those are a pain, so we're keeping things simpler here. And hot sauce makes that easy! It has so much flavor that not much else is really necessary, making these burgers super quick to throw together.
The recipe may look long, but that's mostly because we're making both the burgers + blue cheese dressing. The dressing can easily be done ahead of time, or skipped if you're short on time, vegan, or just plain hate blue cheese, ya know? That would be crazy, but it's OK, we're all a little crazy.
The only caveat is that you should cook the rice ahead of time. Have you ever used rice in your veggie burgers before? I highly recommend it – I love the texture! I did a tutorial a while ago on making perfect brown rice – check it out if you struggle with the stuff.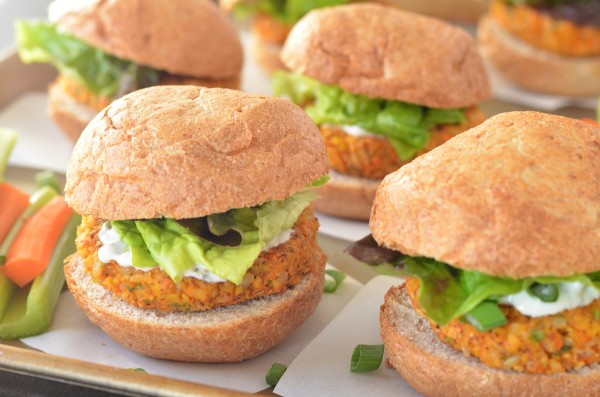 These cute little sliders would be perfect to serve on game day. Prep them ahead of time – you can even cook them in advance and then reheat in the oven before serving. They also make a great healthy meal if you'd like to make larger patties! And as much as I loved them on a bun smothered in dressing, I also enjoyed them crumbled over lettuce with veggies, blue cheese, and some more hot sauce. Mmmm, pretty delicious as salads go.
I'm thinking I'm going to have to make another batch of these for this weekend! I hope you do the same, of course. And if you're looking for more healthy football yummies, take a look at my healthy Super Bowl foods post. I thought I wasn't hungry until I just looked at that post – yum.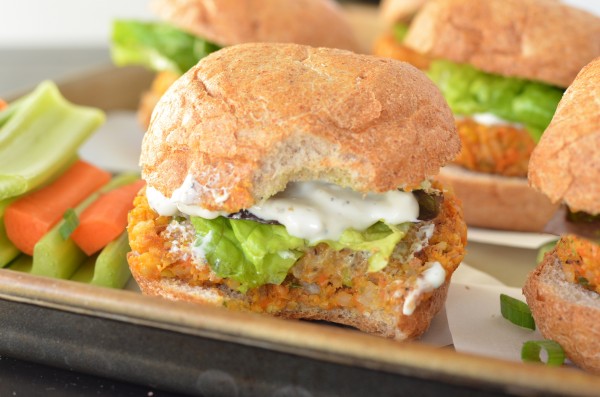 Buffalo Chickpea Sliders
Ingredients
For the burgers:
1 Tbsp ground flax seed + 2 Tbsp water
1/4 cup rolled oats
15-oz can cooked chickpeas (1 3/4 cups)
1 cup cooked brown rice
1 large carrot, grated
4 green onions, thinly sliced (both white and green parts)
1/3 cup Frank's RedHot original hot sauce (I don't recommend substituting other brands)
sprinkle of kosher salt and black pepper
olive oil for pan-frying
For the lightened-up blue cheese dressing:
½ cup crumbled or chopped blue cheese
6 oz. (3/4 cup) non-fat Greek yogurt
1 Tbsp mayonnaise
1 Tbsp freshly squeezed lemon juice (from about ¼ of a lemon)
1 Tbsp white vinegar
sprinkle of garlic powder
sprinkle of onion powder
sprinkle of ground black pepper
To serve:
slider buns
slices of cheddar cheese
lettuce
more sliced green onions
Instructions
Mix ground flax and water together in a small bowl. Set aside for at least 5 minutes while you prepare the rest of the recipe.
Add oats to a food processor or blender and process to a flower. Add chickpeas, rice, grated carrot, green onions, and hot sauce. Pour in flax mixture and add a sprinkle of salt and pepper. Pulse several times until mixture is roughly ground and holds together. (Be careful not to overprocess or your patties won't hold their shape! I should note that I have tried mashing the chickpeas by hand, but definitely recommend using a food processor or blender if you can. It is tough to get the mixture to stick together enough if mashing by hand.)
Shape into patties. For best results, cover and refrigerate for at least 30 minutes before continuing; the longer you refrigerate the patties, the less fragile they will be.
While the sliders are in the fridge, make the lightened-up blue cheese dressing. Blend all ingredients together (I used my mini food processor) until only small chunks of blue cheese remain. Taste and adjust; I added a bit more vinegar and black pepper.
When ready to cook, heat a non-stick skillet over medium-low heat. Add about 1 Tbsp olive oil. Once hot, gently place the chickpea patties in the skillet and cook until golden-brown on the bottom, 5-ish minutes. Carefully flip and brown on the other side.
Serve sliders on toasted buns with blue cheese dressing, slices of cheddar cheese, lettuce, and sliced green onions. Devour!
Cooked patties can be kept covered in the refrigerator for several days. Reheat in a 350-degree oven for 5-10 minutes.