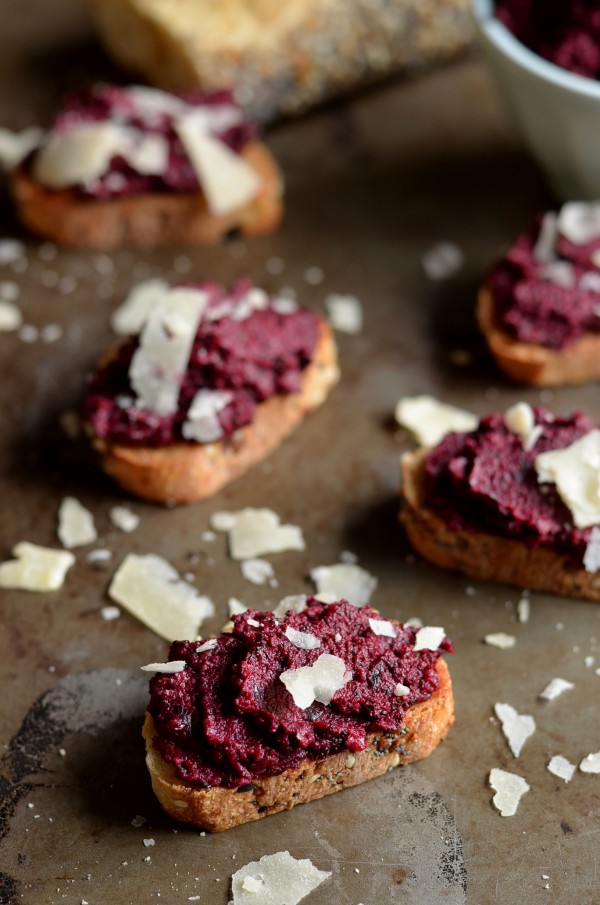 Return of the beets. I think we all saw it coming!
Truth be told, I had no intention of making beet pesto this weekend. Then again, I also had no intention of drinking half a bottle of wine on Friday night before my long run on Saturday morning. So you know, you can't always control where life takes you. Anyway, on Friday night I found myself at home after work with a big container of basil and a ton of leftover beet puree… and this happened.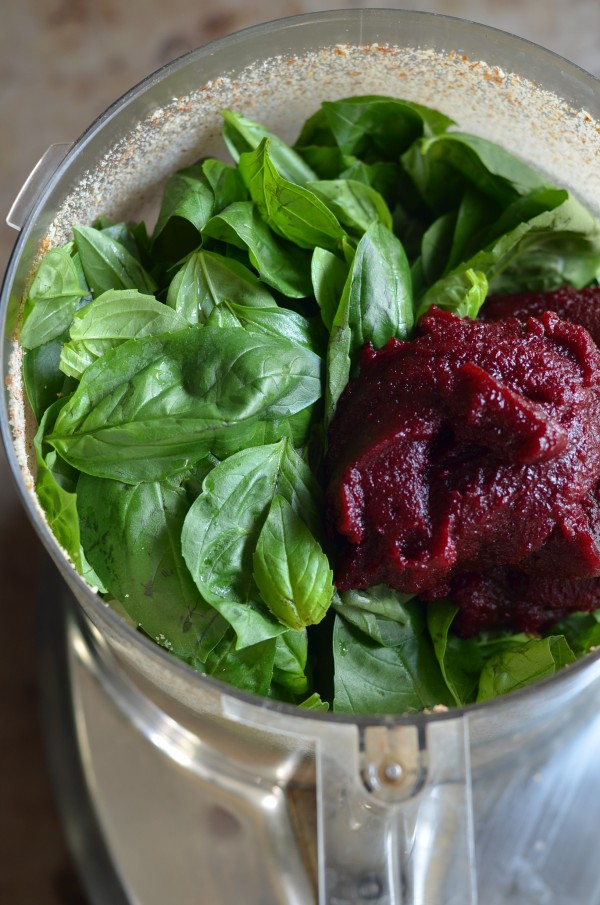 Then a lot of wine happened.
On Saturday, we had friends over for dinner. And I made more beet pesto.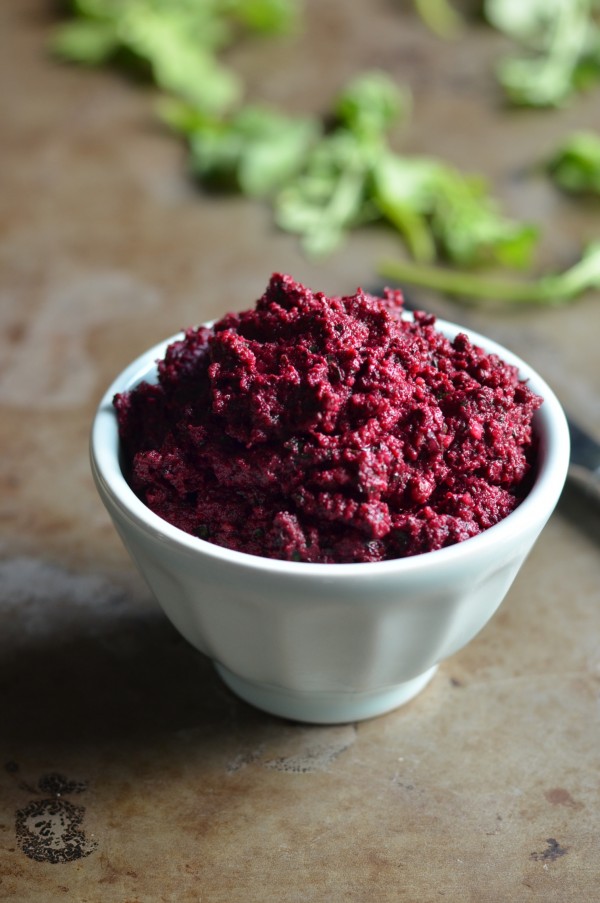 And we drank more wine.
And then finally, on Sunday, I faced facts that this beet pesto was going to have to go on the blog. So round number three happened.
But no wine. Please. no. more. wine.
It just so happens that beet pesto goes very well with red wine.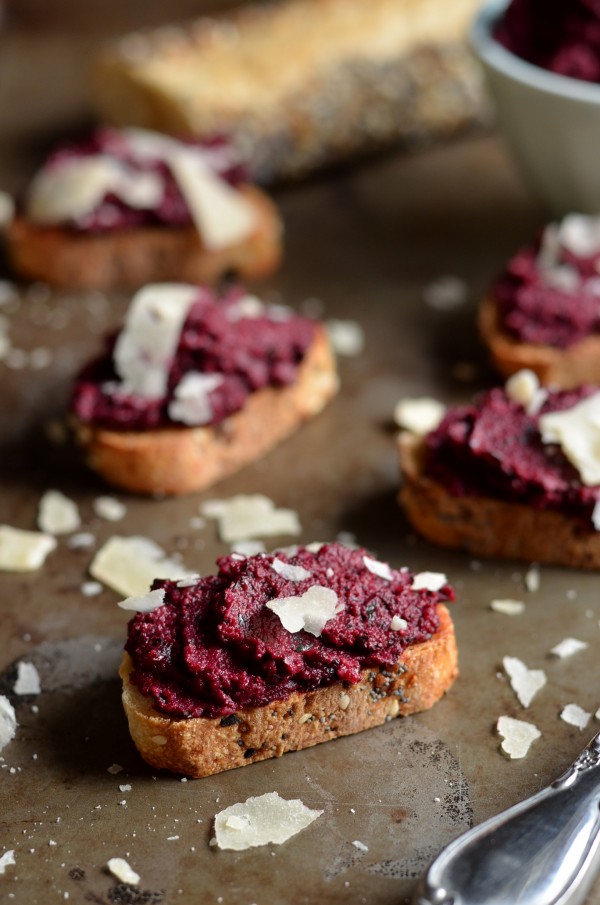 Three batches of this stuff in one weekend?! Yup. On Friday night we had beet pesto pizza topped with kale and parmesan. On Saturday night it was polenta with grilled asparagus and pesto. I liked it both ways, but really, I just kept wishing the veggies would go away so I could concentrate on the flavor of the pesto. That's not something I wish for frequently! So on Sunday – third time's the charm – we had this pesto in its simplest form: just spread on toast.
I've been informed that toast is the hot new thing. Can someone who lives in a real city please confirm or deny? Do you have toast bars near where you live? Now that I think about it, there is a hipster bakery near us that has a toast menu. Hmmm. Toast is great, but I think we're all capable of making it at home… case in point.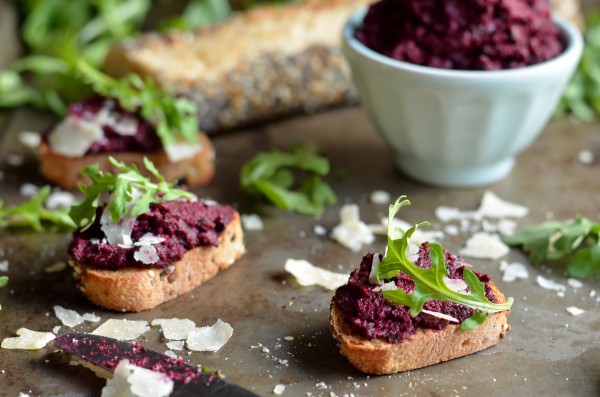 Totally capable of spreading things on toast myself, thank you very much. As long as you pour me some wine to go with it.
The fresh flavors of this beet pesto really shine when it's simply spread on toast and topped with a sprinkle of parmesan and a few leaves of arugula. Really, though, the parmesan and arugula are optional. Well, I guess everything is optional… but you know what I mean. If you want to keep it as simple as possible, that works. And the pesto is vegan if you skip the parm on top.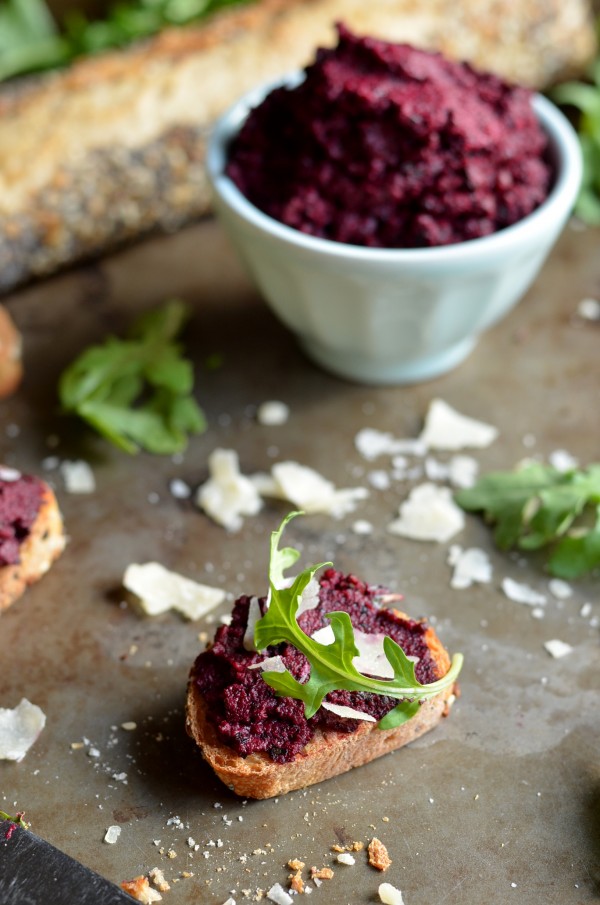 This pesto has just a handful of ingredients (cause it's pesto, ya know), and if you roast and puree your beets ahead of time, it can be blended up in a jiffy. Then, it can be spread on every piece of toast in sight, and then some.
And then promptly devoured.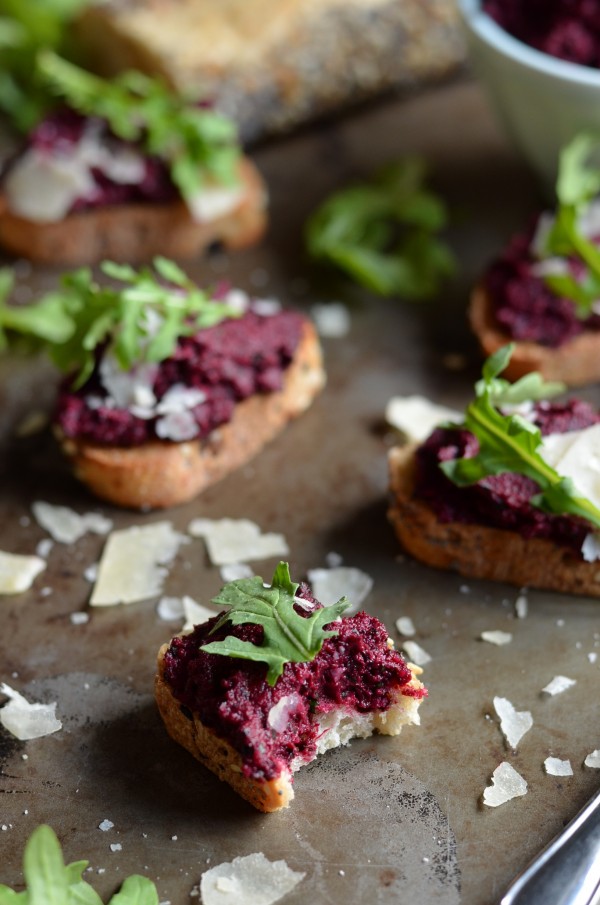 OK, fine… please pass the wine!

Beet Pesto Toasts
Ingredients
For the pesto:
2 cloves garlic
1 cup raw almonds
1 1/4 cups roasted pureed beets
6 oz fresh basil leaves
1/4 cup olive oil
salt and pepper to taste
For the toasts:
whole grain baguette or other bread of choice, sliced and toasted
shaved parmesan cheese
baby arugula
Instructions
In the bowl of a food processor, whiz the garlic cloves until minced.
Preheat oven to 350. (I like to use my toaster oven.) Spread almonds on a baking sheet and toast lightly. (Using pre-roasted almonds works, too.) Remove from oven and add straight to food processor with garlic. Process into crumbs.
Add the remaining pesto ingredients to the food processor and puree until your desired texture is reached. I like mine somewhat chunky. Taste and adjust salt and pepper to your liking. Don't be afraid to use a fair amount of salt!
Spread pesto on toast. Top with parmesan and arugula. Serve and enjoy!