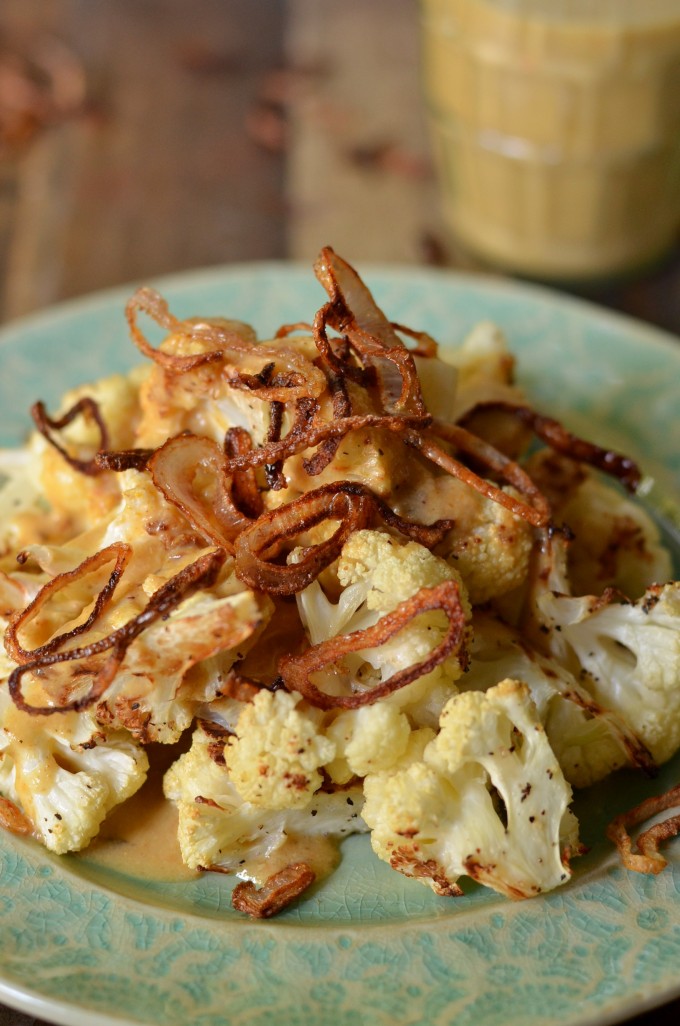 What's the saying – "brown food tastes better"? I'm definitely taking that to heart with today's recipe. Brown on brown on brown! It makes for some humble pictures, but some reeeeally tasty veggies.
This roasted cauliflower dish is another restaurant recreation, and – totally unintentionally – from the same restaurant as Tuesday's recipe. It's our favorite neighborhood place (Avenues Bistro on Third, if you're in Salt Lake!) and, um, I guess we've been eating there a lot lately? I've learned to always order the special if it's vegetarian. It's always to die for, even if the name doesn't sound too exciting. I mean, roasted cauliflower with yellow curry sauce – boring, right? Nope nope nope, wrong!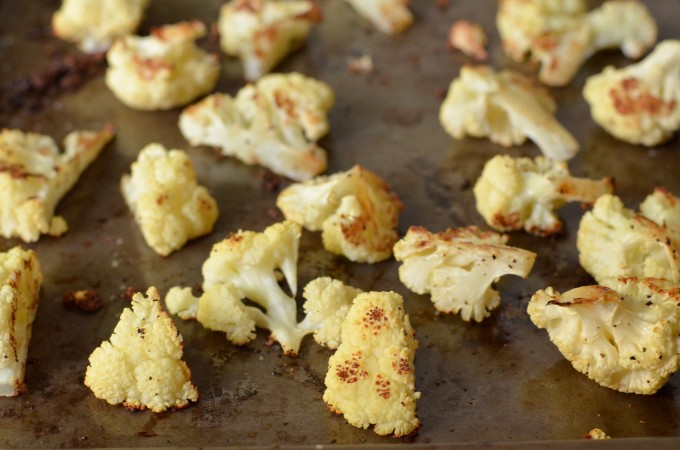 Cauliflower can be VERY exciting. So exciting that I've been seeing it as an appetizer on menus everywhere I go. Was this always the case? Sometimes I can't tell if something is a new trend, or I've only started noticing it since I've been blogging. We even had a roasted cauliflower app in Nashville, home of the fried catfish and mac and cheese, so you know everyone is hopping on the cauliflower bandwagon.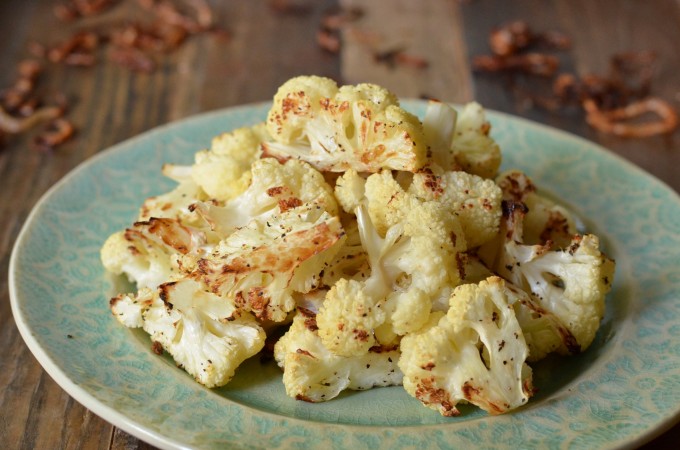 Now while I love plain roasted cauliflower, we can't just stop there. I think it needs a little…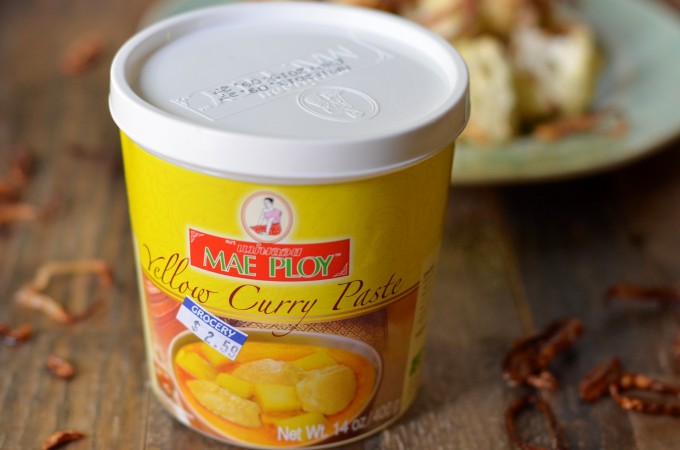 CURRY.
Return of the giant, cheap curry paste! Remember when I got the green kind? $2.59 for 14 ounces – that's 18.5 cents an ounce. I would say it's a steal of a deal if I ever had a prayer of using 14 ounces of curry paste. Which I don't. Rest assured I'm googling summer curry recipes as we speak, and you will be seeing this puppy again.
In the meantime, a couple measly tablespoons is all this recipe calls for. So if you're stuck with a normal sized jar of curry paste, never fear.
Next and final step: SHALLOTS.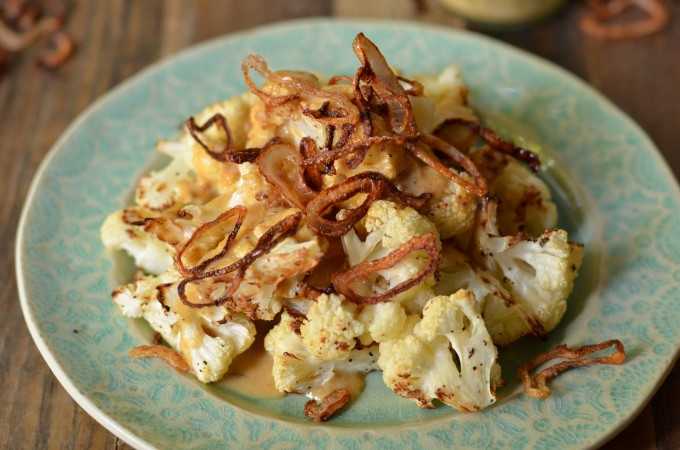 I won't lie, I'm terrified of frying things at home – both for health reasons and splattering-burning-hot-oil reasons. I overcame both of those fears to fry these little guys up, and I have no regrets. Make no mistake about it, the shallots MAKE this dish. They have that irresistible crunch and sweet onion-y flavor that complements the soft cauliflower and spicy curry so well. I'm starting to think that fried shallots are a very underutilized ingredient in my cooking.
I was so obsessed with these shallots that I may have eaten every single one of them, including those scattered in the background of these photos, just seconds after wrapping up this photo shoot. May have.
The end result of all of this is a crazy flavorful dish that will blow all your expectations out of the water. It makes a great side dish, or even appetizer if you want to get trendy!
Now back to my summer curry brainstorming. Suggestions??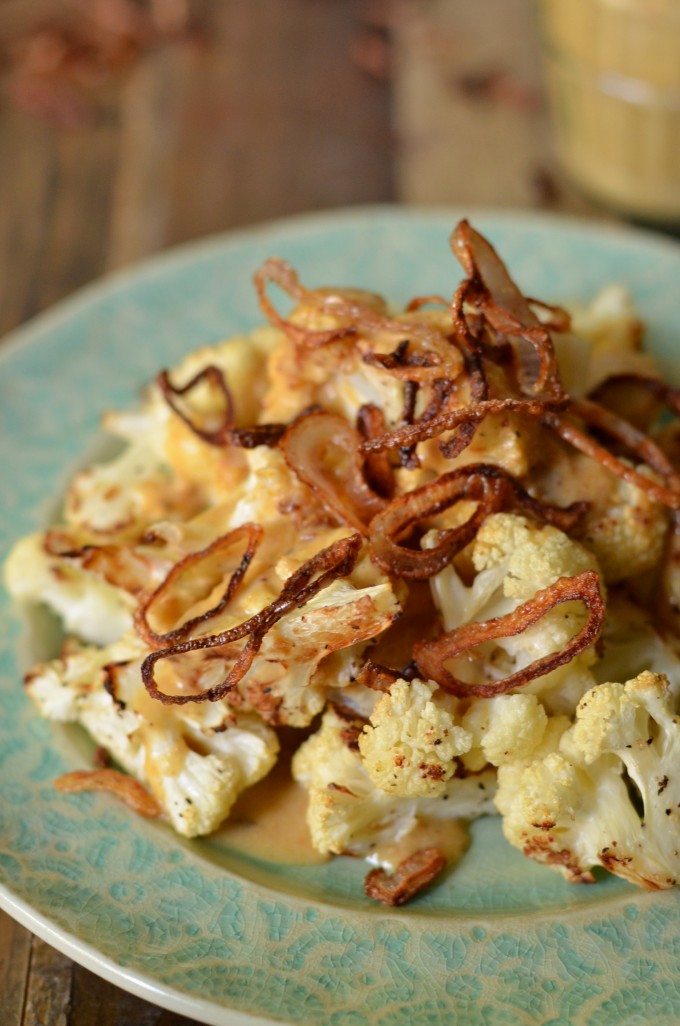 Roasted Cauliflower with Yellow Curry Sauce
Yields:
2-3 side servings
Ingredients
1 large head cauliflower
1/2 cup + 2 Tbsp safflower oil (or other high-heat frying oil)
1 shallot, thinly sliced, rings separated
1 cup coconut milk
2 Tbsp yellow curry paste
Instructions
Preheat oven to 425. Chop cauliflower into bite-sized pieces and place on a baking sheet. Toss with 2 Tbsp safflower oil. (Note: even if you usually roast your veggies with salt and pepper, I don't recommend adding the s+p here. Most curry pastes are very salty!) Roast until tender and beginning to brown, about 20 minutes, flipping once halfway through.
Meanwhile, heat the remaining 1/2 cup safflower oil in a small pan over medium heat. Once hot, add the sliced shallots and fry until golden brown, about 6-8 minutes. (You can do this in batches if your pan is small.) Remove shallots with a slotted spoon and place on paper towels to drain.
Last but not least, heat the coconut milk over medium heat. Once warm, mash in the curry paste. I like to simmer my curry sauce uncovered until the rest of the components are done to thicken it up a bit.
To serve, spoon the curry sauce over the roasted cauliflower and top with fried shallots. Enjoy!