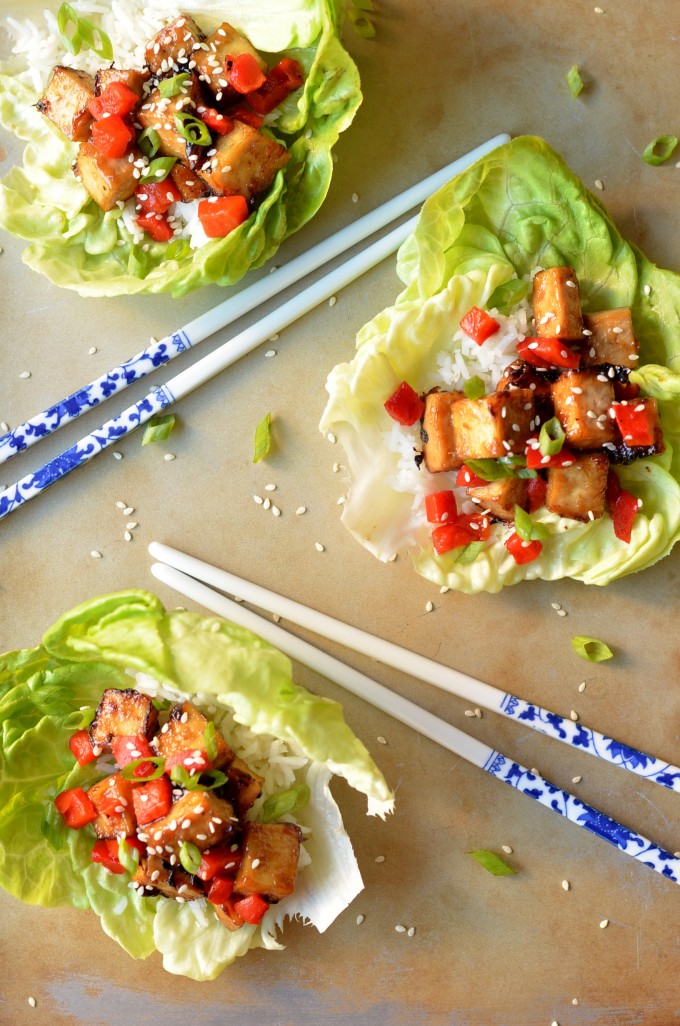 Well well well, what do we have here?
Lettuce filled with tofu, that's what. Can you get more vegan?
Well, maybe if I had also incorporated kale and quinoa. Then these could be eeeven more granola.
As it is, I feel like just the idea of tofu turns some people off. But no longer, because just LOOK at this tofu: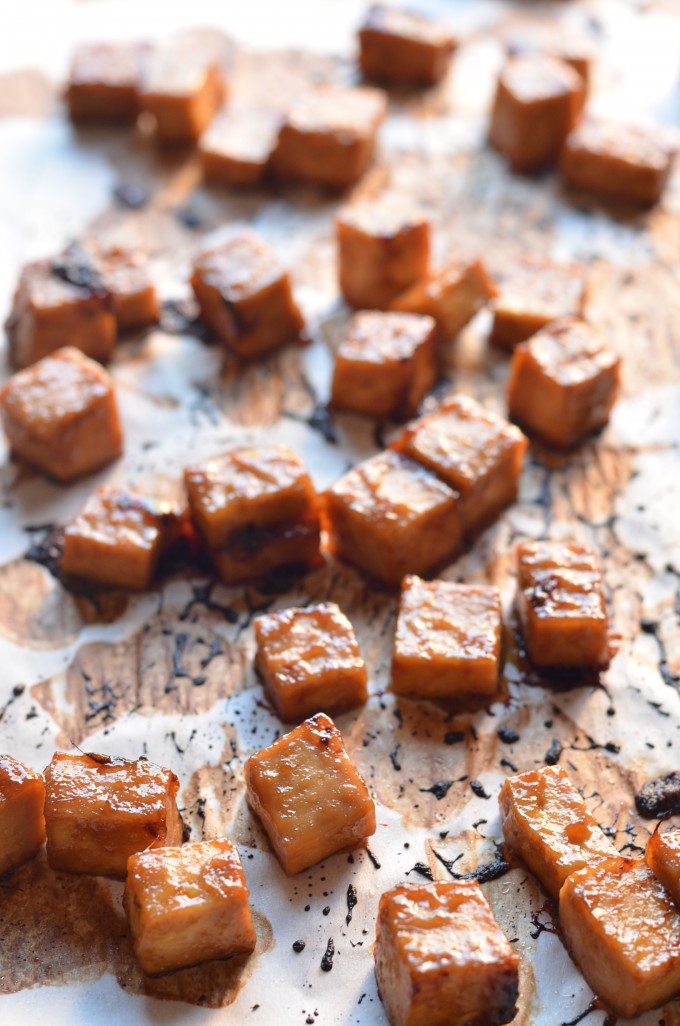 No matter your general feelings on tofu, come on. This stuff looks good.
This is definitely a tofu recipe for tofu haters.
I made another tofu teriyaki recipe somewhat recently, but this is one of those moments where I'm going to tell you not to make that one – make this one instead. That tofu was good, but glazing the tofu with teriyaki before baking? I'm now convinced that's the only way to do it.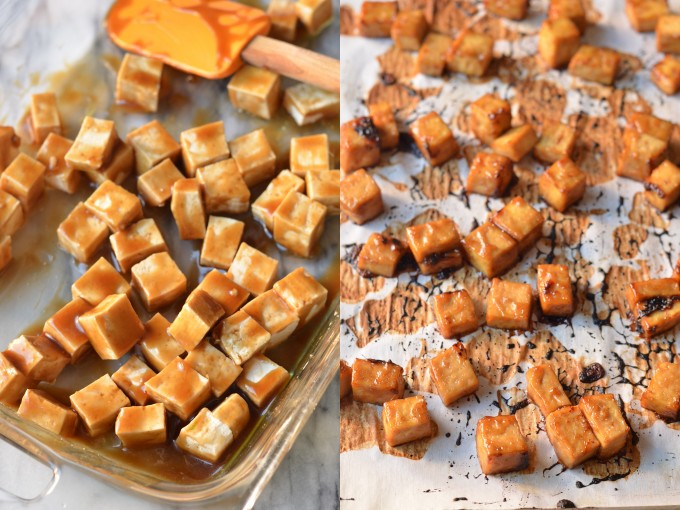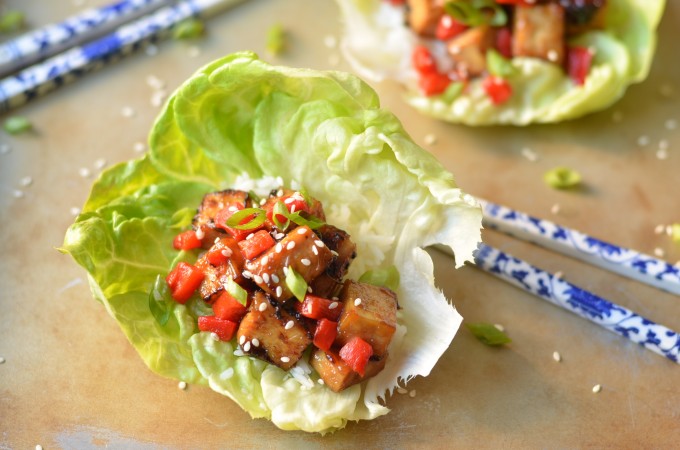 Good thing I like food so much. Everything I eat is my new favorite thing, and nothing can live up to it – until next week, when I'll have a new best tofu ever, I'm sure. At the moment, though, this teriyaki glazed tofu is the apple of my eye. It gets all crispy, caramelized and salty-sweet as it bakes to a golden perfection. Deeelicious.
I didn't have much teriyaki growing up, and continued to shun it until pretty recently as too Americanized. Let's be real: the only places I can recall eating teriyaki are 1) Kowloon and 2) the old Faneuil Hall Hong Kong before it burned down. If you are from Boston you know what I'm talking about – not your finest or most authentic Chinese food establishments. Like, kinda the opposite. I'm pretty sure the chicken teriyaki was served on a stick at both places.
But don't judge. Because now that I've brought teriyaki into my kitchen, it's a whole different ballgame! Nothing is served on a stick, and you don't even need to drink a Scorpion Bowl to enjoy it. Now that is a topic for another time.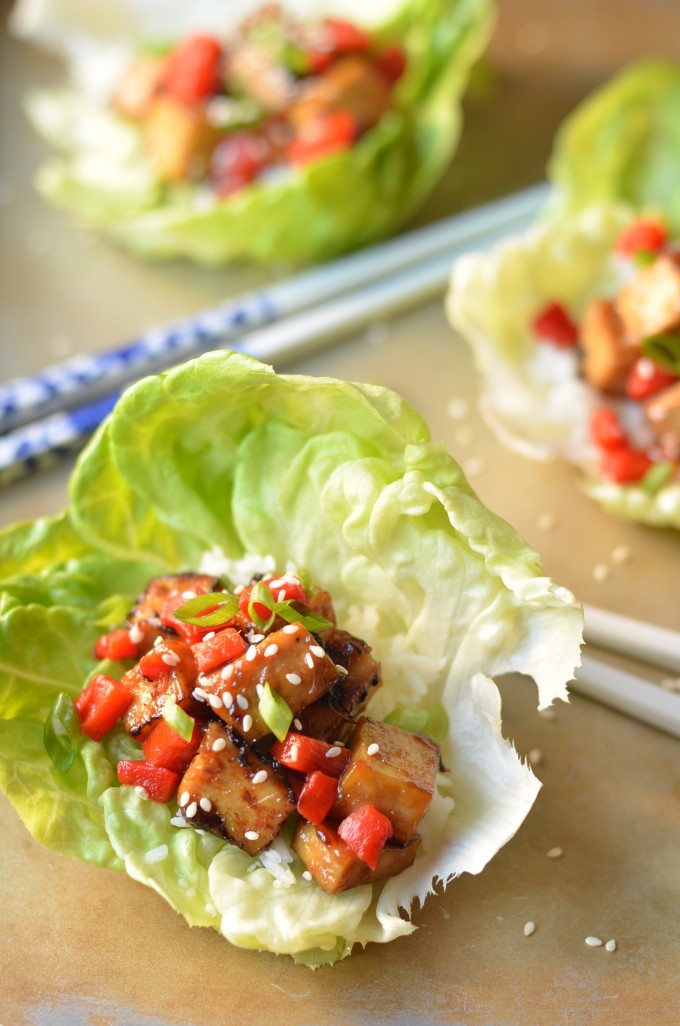 Yes, this recipe involves turning on your oven in the heart of summer. That's a regular occurrence in our apartment, where our attic bedroom is always 15 degrees warmer than the rest of the living area. Getting things down to a sleepable temperature means some pretty chilly air in the kitchen! All the better for whipping up meals like this year round. And eating this all wrapped in lettuce puts a light, summery touch on everything. I'm kinda into that lately… you may have noticed. Get on board!
OK, that's all from me for today. I'm a bit delirious from traveling this weekend (to Denver!) and indulging in a few Colorado beers. They just don't make 'em like that in Utah! It is now time to catch up on sleep, water, and veggies. Lettuce-wrapped tofu with an extra large side of water, please!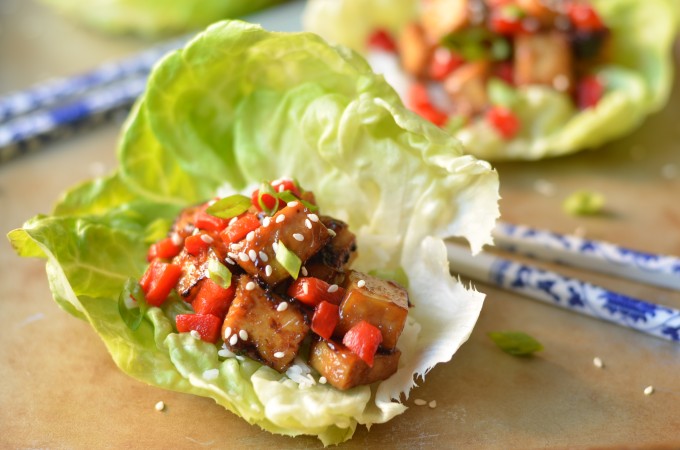 Teriyaki-Glazed Tofu Lettuce Cups
Yields:
5-6 lettuce cups to serve 2
Ingredients
14-oz block tofu, drained and pressed
3/4 cup teriyaki sauce (bottled or homemade - double the linked teriyaki sauce recipe if using)
1/2 cup uncooked white rice
5-6 lettuce leaves (Bibb or butter lettuce works well)
1/3 cup chopped roasted red peppers (jarred ones work well)
2 green onions, sliced
sesame seeds
Instructions
Preheat oven to 425. Cube the tofu and, in a bowl or baking dish, toss with 1/2 cup teriyaki sauce. Marinate for about 10 minutes.
Line a baking sheet with parchment paper. Spread marinated tofu in an even layer and drizzle with any teriyaki sauce that remains in the bowl. Bake for about 15 minutes. Remove from oven and drizzle with remaining 1/4 cup teriyaki sauce. Stir to coat and return to the oven for another 10 minutes, or until the teriyaki sauce begins to blacken.
In the meantime, bring rice to a simmer in a small pot with 3/4 cup water. Simmer until liquid is absorbed and rice is tender.
Once tofu is done, you are ready to serve! Place a scoop of rice in each lettuce leaf and top with cubes of tofu, chopped roasted red peppers, green onions, and sesame seeds. Enjoy!