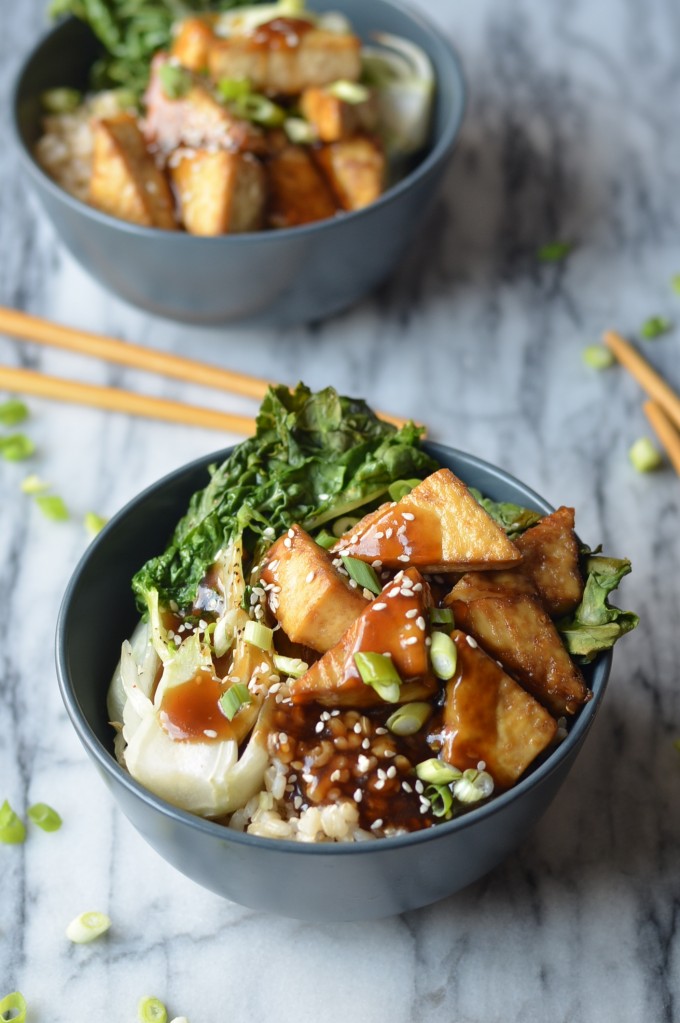 You may have noticed that I like to eat tofu with various sauces. Um, this one and this one, for example? But in truth, there is no better match for tofu, in my opinion, than teriyaki sauce.
Could anything really be better than peanut sauce?! Well, that is a pretty bold claim. I'm not sure I'm prepared to make it. I could drink peanut sauce with a straw any day of the week. And teriyaki sauce? Well, I didn't really think I was a fan until recently. But it turns out I am – and especially on tofu!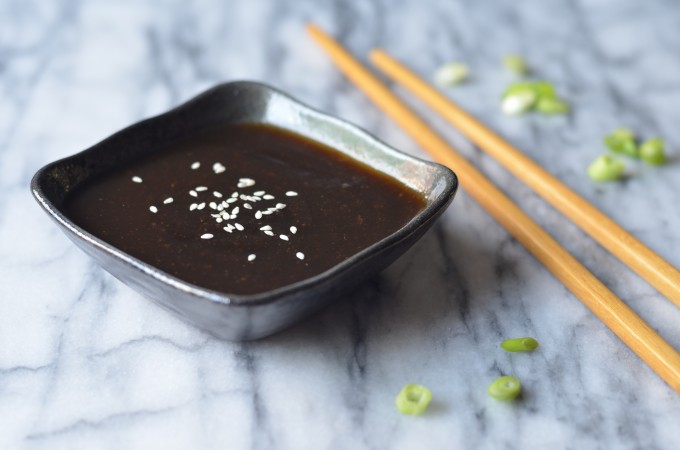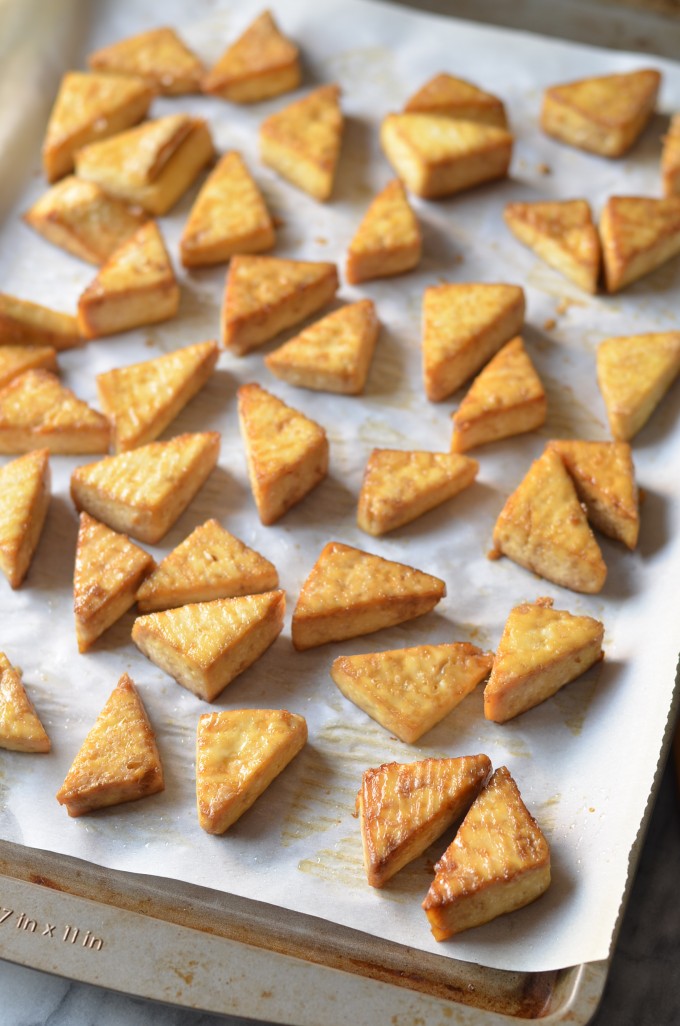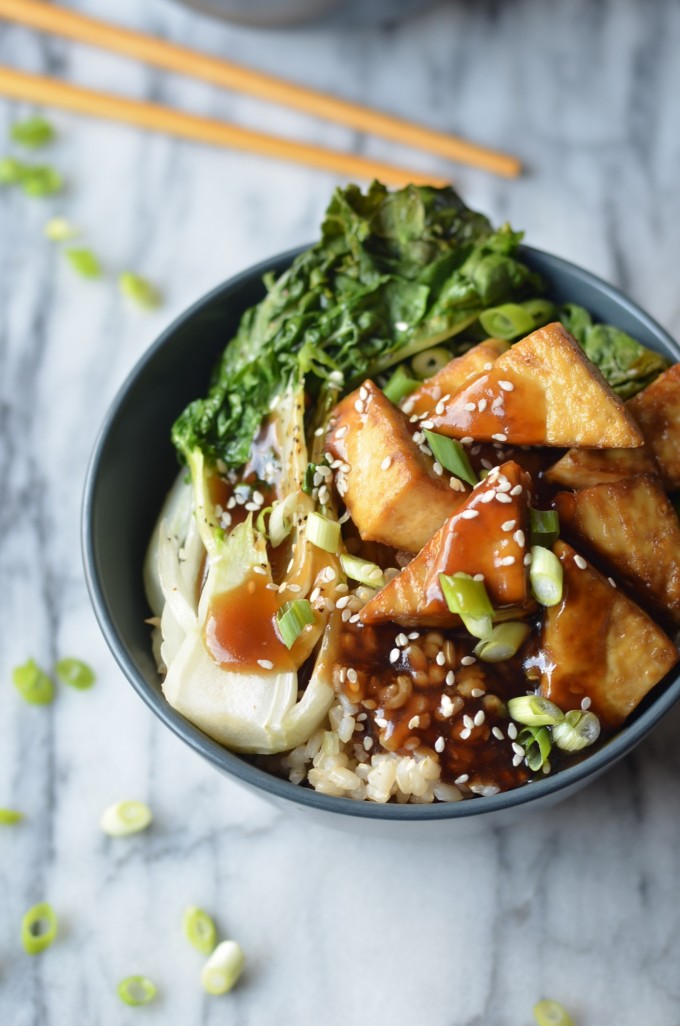 Like so many of the recipes on this blog, these tofu teriyaki bowls are based on one of my favorite Whole Foods finds. They have a brown rice tofu teriyaki bowl that I've picked up several times when I don't have leftovers to bring to work.
The meal is pretty straightforward – brown rice, baked tofu and roasted bok choy, topped with a teriyaki sauce – but the flavors are meant to be together! Something about the sweet and salty sauce, the neutral tofu, and the almost bitter bok choy. Once you try it, you won't be able to fathom subbing a different vegetable or protein. It is just SO meant to be! Throw some green onions on there and I'm in HEAVEN.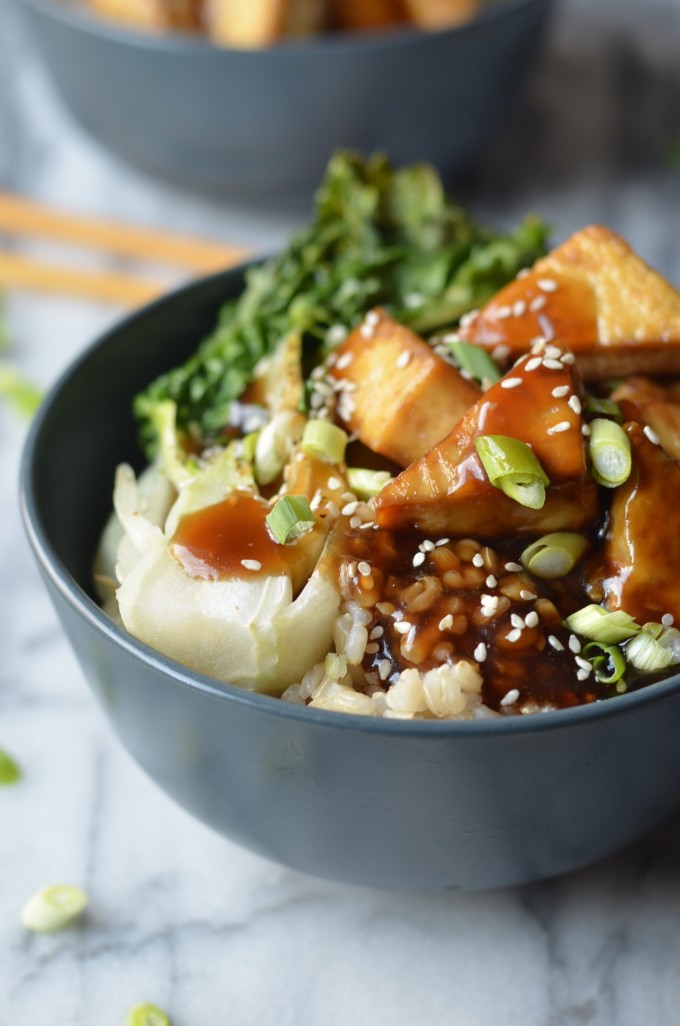 I think of this as comfort food to begin with, because I usually get it from Whole Foods when I'm tired after traveling (hence the no leftovers to bring for lunch). There's really no better pick-me-up in my freezing cold office than a piping hot lunch! And this week, I don't know about the rest of the country, but it is coooold in Utah. 47 and raining on my drive home from work today, when it was high 80s last week! Nothing like six inches of snow in the mountains to let you know it's SUMMER. It's not too bad, though, really – the valley will stay green a bit longer with the rain and extra snowfall, and it's a good excuse to turn the oven on for meals like this. And then curl up in sweatpants on the couch… not that I'm in that very position right now.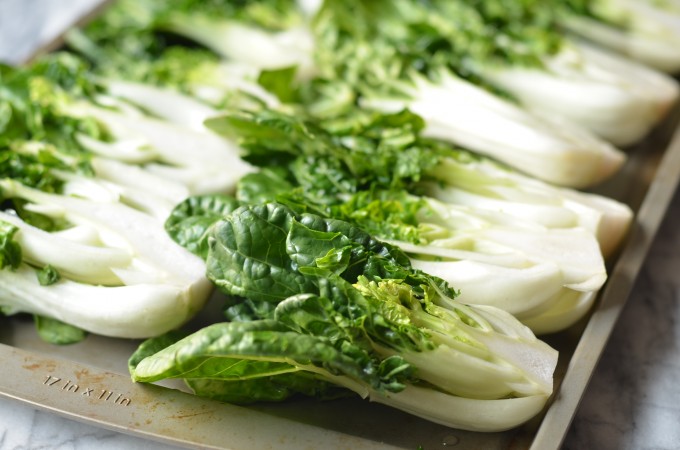 Wait, speaking of curling up in sweatpants and needing an office pick-me-up, here's what you need to do if you work in an office: watch this video from The Onion immediately. I think I've mentioned before that I'm that annoying girl with a standing desk at work? Needless to say, multiple people shared this link with me last week :)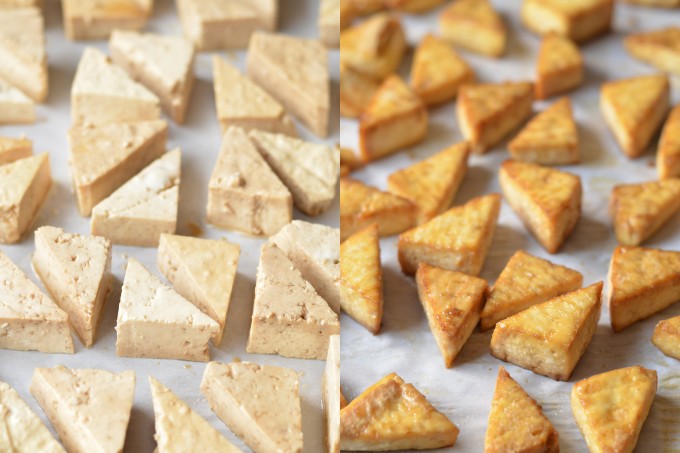 OK, back to the food. I've been searching for my ideal tofu preparation for bowls like this, and I think I've found it in Kate's method, which I used here. Previously I've pan-fried the tofu, which is great for getting it extra crispy, but terrible for having your house smell like a burning wok for the next 72 hours. I've also baked it without corn starch, which is healthy, but not as crispy. This way, where you bake the tofu after tossing it with cornstarch, soy sauce, and oil, is the best of both worlds. Let me know if you have a different favorite way to make your tofu! I'm all ears… but until then, I'm sticking to this method for the foreseeable future!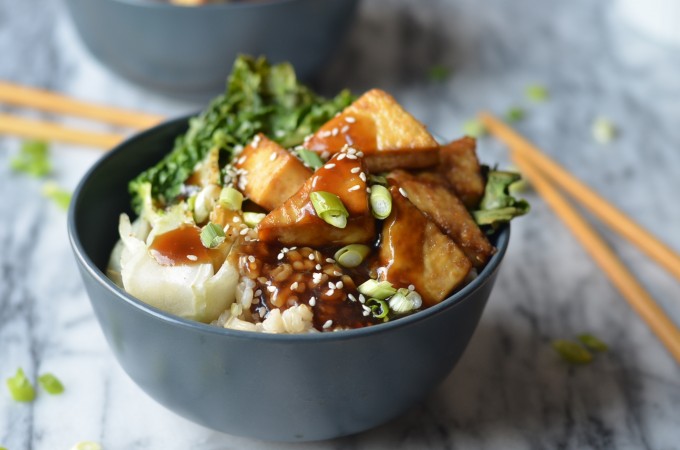 Crispy Baked Tofu Teriyaki Bowl
Ingredients
For the brown rice:
3/4 cup brown rice
3 to 4 cups water
For the crispy baked tofu:
1 block extra firm tofu
1/4 cup Bragg's liquid aminos or low-sodium soy sauce
1 Tbsp peanut oil or canola oil
1 Tbsp cornstarch
For the bok choy:
3 to 4 baby bok choy, rinsed
1 Tbsp peanut oil or canola oil
sprinkle of pepper
For the teriyaki sauce:
1/4 cup Bragg's liquid aminos or low-sodium soy sauce
2 Tbsp mirin
2 Tbsp raw turbinado sugar (or brown sugar)
1/2 Tbsp sesame oil
1/2 Tbsp chopped fresh ginger
1 clove garlic, chopped
1/2 Tbsp cornstarch mixed with 2 Tbsp water
To serve:
2-3 green onions, sliced
sesame seeds
Instructions
Make the rice. Rinse and drain rice. Add to a small pot, along with water, and bring to a boil. Simmer for 30 minutes. Drain, cover, and let sit for 20 more minutes. Fluff with a fork before serving.
Make the crispy baked tofu. Preheat oven to 425. Drain the water out of the package of tofu. Wrap the block of tofu in paper towels and squeeze out the excess moisture. Slice tofu into bite-sized triangles.
Place tofu in a bowl or large dish. Pour Bragg's and peanut oil over the tofu and sprinkle with cornstarch. Toss gently until tofu is coated with the mixture and no dry spots of cornstarch remain. Spread tofu on a baking sheet lined with parchment paper. Bake until deep brown and chewy, about 25-30 minutes, flipping halfway through.
Make the teriyaki sauce. While the tofu bakes, whisk or blend together the Bragg's, mirin, sugar, sesame oil, ginger, and garlic. Stir in the cornstarch/water mixture. Bring to a simmer in a small pan. Simmer, stirring occasionally, until mixture thickens, about 3-4 minutes. Remove from heat and pour into a small pitcher.
Make the bok choy. Slice the baby bok choy in half lengthwise. Spread halves on a baking sheet. Drizzle the leafy greens with peanut oil and toss them a bit to coat. Sprinkle with pepper. The bok choy will need to bake for just 6-8 minutes, so place them in the hot oven when the tofu has 6-8 minutes left to go.
To serve, scoop rice into bowls. (If you want to be really nice, you can chop up the roasted bok choy before serving.) Top rice with bok choy, tofu, teriyaki sauce, green onions, and sesame seeds. Enjoy!