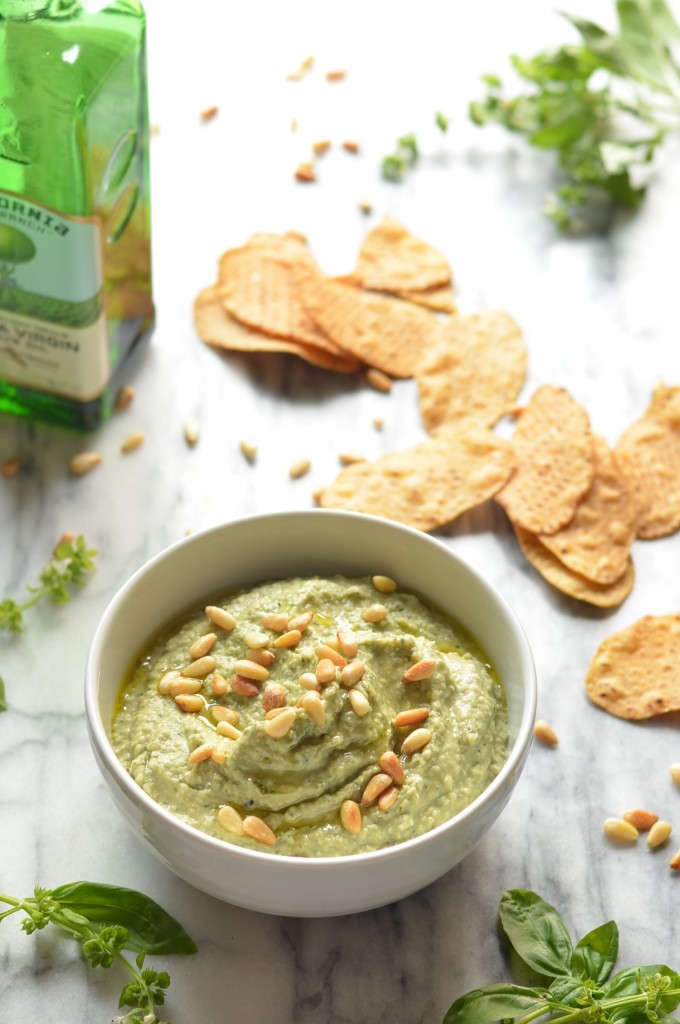 Is it weird to have a favorite color to photograph? Because mine is definitely green.
Cilantro on guacamole and scallions on tofu,
Asparagus with kale and avocado gazpacho,
Eggs that use herbs instead of mayonnaise, these are a few of my favorite things!
…to see through a lens.
Greens always look so fresh, the way nothing else can. I try to add at least a touch of green to every recipe I photograph (the savory ones at least!) to give that vibrant feeling to the dish. I guess that's not so hard – what's a vegetarian blog without greens?! – but it's crazy to me how much more appetizing I find my own photos when they have a sprinkle of herbs.
Orrrr when they've got green all over!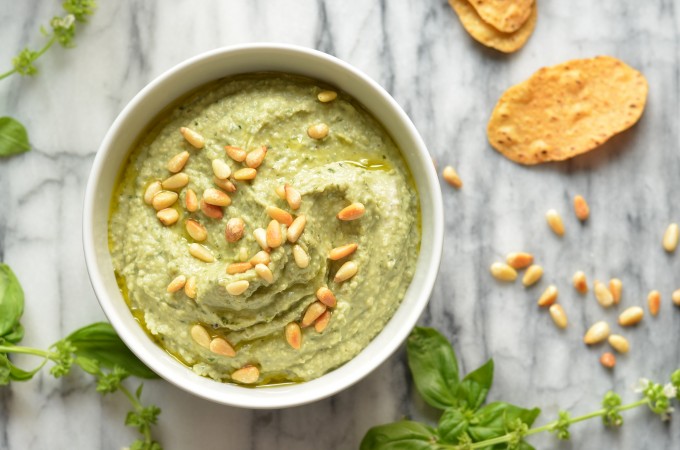 Now that I think about it, my love for green might have something to do with easing white balance pains. Whether a touch too yellow or a touch too blue, greens don't look too funky. Not like I struggle with white balance or anything… hah! #foodbloggerproblems
In other news, I'm deeming this the unofficial Week of Pesto on Coffee & Quinoa. Because when life gives you friends with a bountiful basil harvest, you basically have no other choice.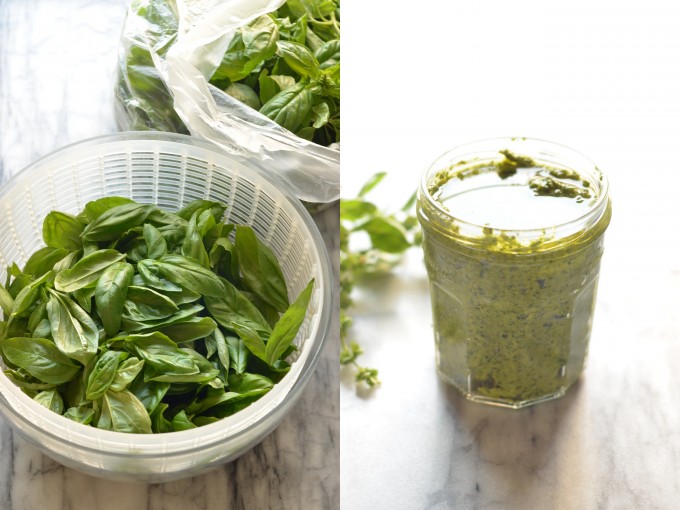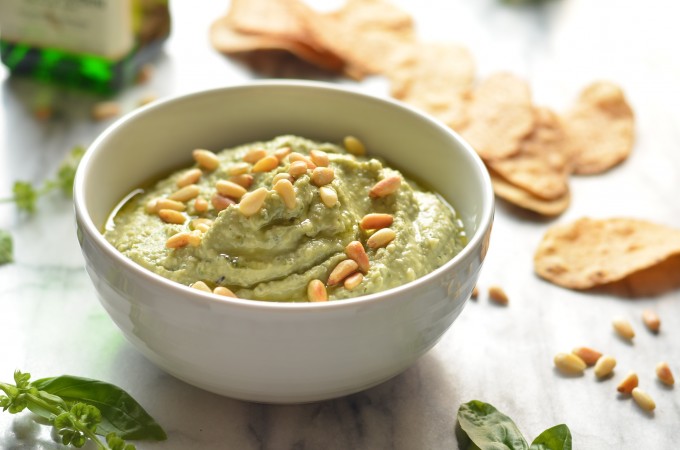 That's right, if you can believe such a thing, I didn't use leftovers from Monday's cilantro pesto to make this dip… no sir! I made several batches of basil pesto over the weekend, and some of it found its way into this bean dip.
Best decision everrr. Not only did I thoroughly enjoy taking some extra-green pictures, but it tasted pretty good, if I do say so myself. The more pesto in my life, the merrier.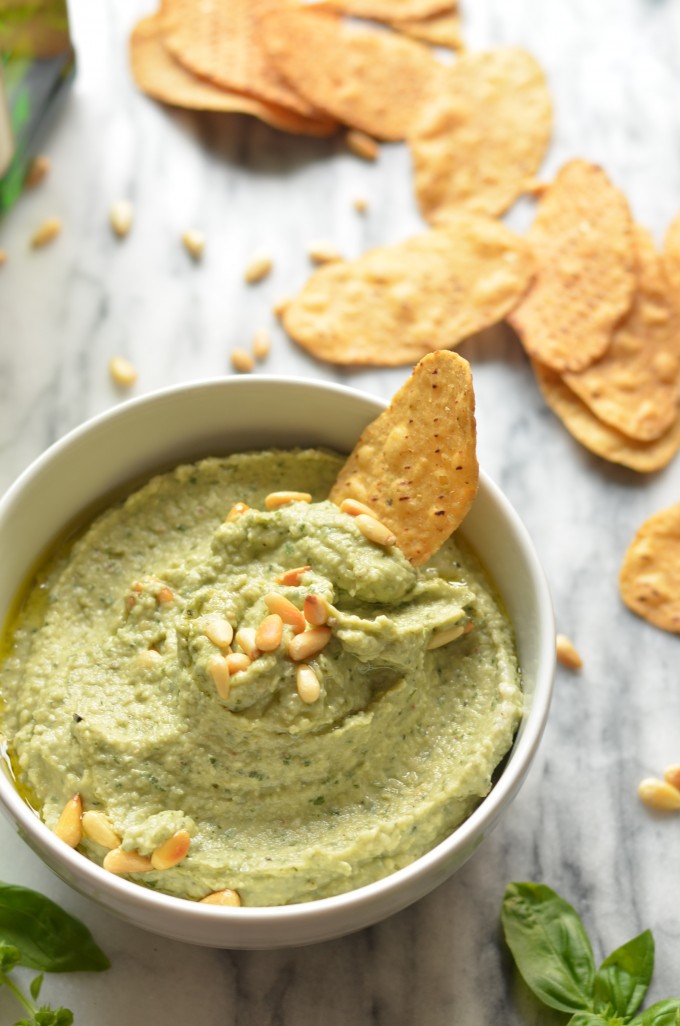 This dip is so simple it's almost embarrassing – a few cans of beans, a scoop of pesto, and some extra lemon and garlic thrown in for good measure. It's a light, fresh version of pesto in dip form, and I'd venture to say you could pair it with almost any chip, cracker or veggie you please. I've eaten it with these sweet potato chips (Food Should Taste Good brand), carrot sticks, and even with roasted broccoli.
Yep… unless you plan on breathing in close proximity to a stranger in the hours after eating it, it's pretty much perfect.
You know, the usual pesto dilemma.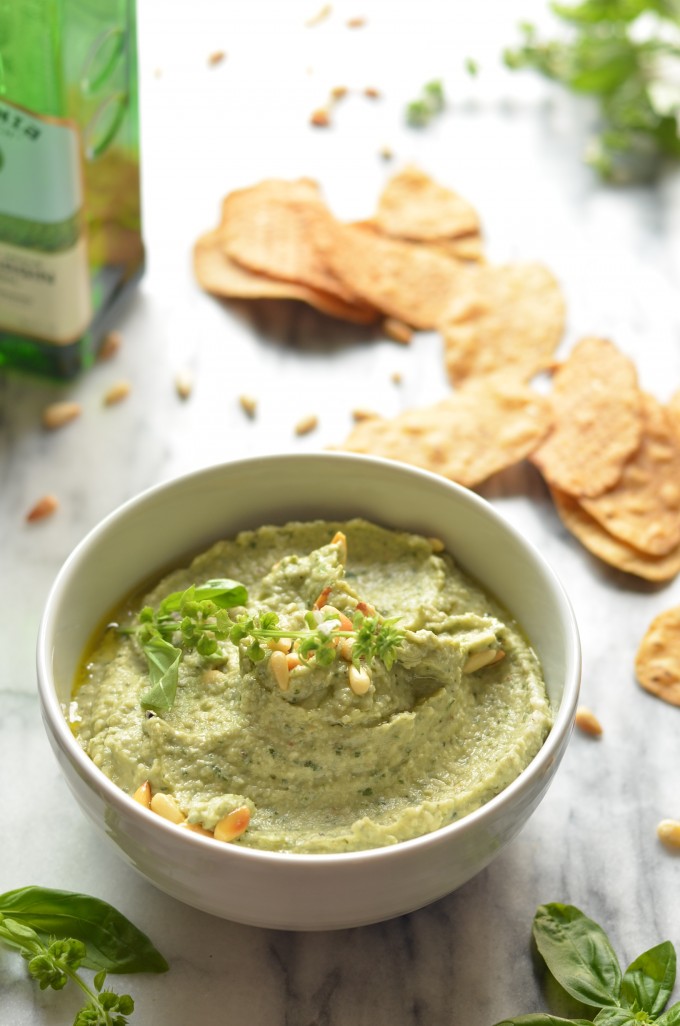 I also love that this dip is as infinitely adaptable as it is simple. Think it would be good with a sun dried tomato pesto? I bet you're right! Want to use up leftover cilantro pesto? Just use lime instead of lemon! It's all deadly. (Bonus points if you know which movie that's from.)
I've been eating this dip for dinner all week as I try to clean out the fridge before heading out of town on Friday. Because guess who has a bachelorette party this weekend?! I think it's safe to say I should load up on the greenery while I can.
Pesto for everyone!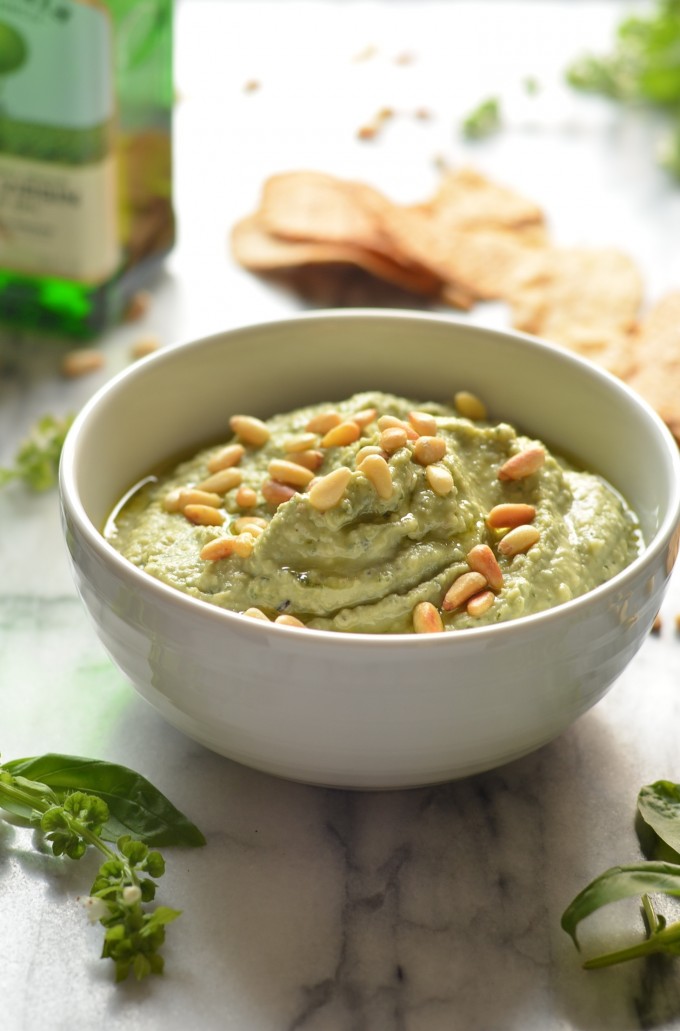 White Bean and Pesto Dip
Ingredients
2 cloves garlic
2 15-oz cans cannellini beans
juice of 1 lemon
up to 1/4 cup water
For serving:
olive oil
pine nuts
chips
Instructions
Process garlic cloves in a food processor until finely minced. Add the remaining ingredients and process until smooth, adding water as necessary.
Transfer to a serving dish. Drizzle with olive oil and garnish with pine nuts. Serve with chips or your favorite dippers. Enjoy!
This dip keeps well in the refrigerator up to 5 days.