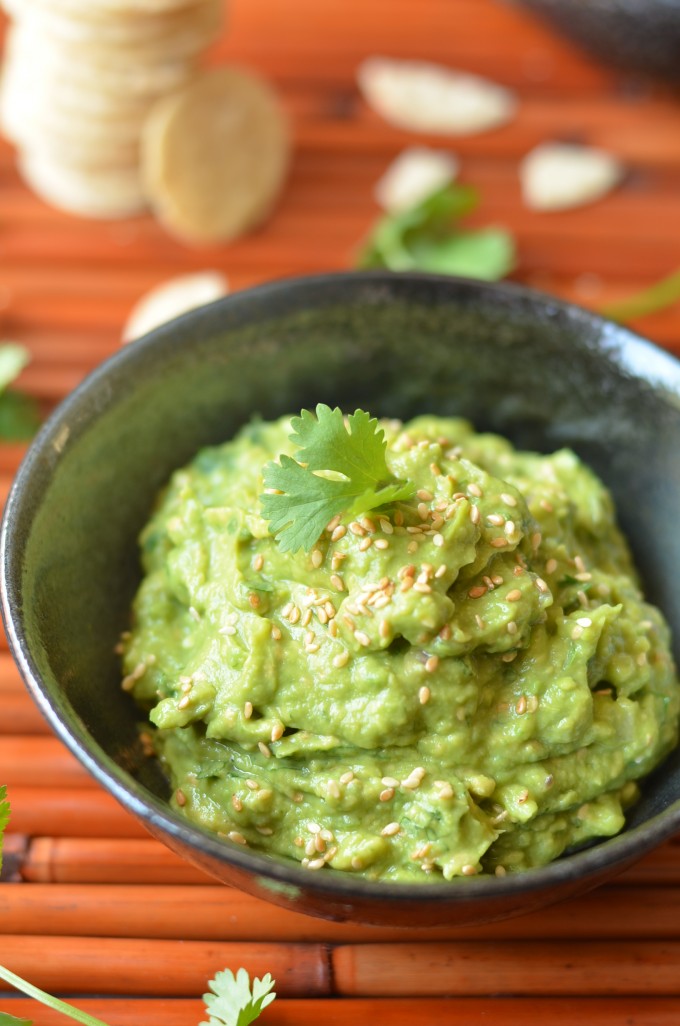 My brain is exploding with Asian flavors recently, in case you haven't noticed. Tofu and sesame and ginger, oh my!
Well, no tofu in this one. That was Monday. Today we mostly have a whole lotta avocados!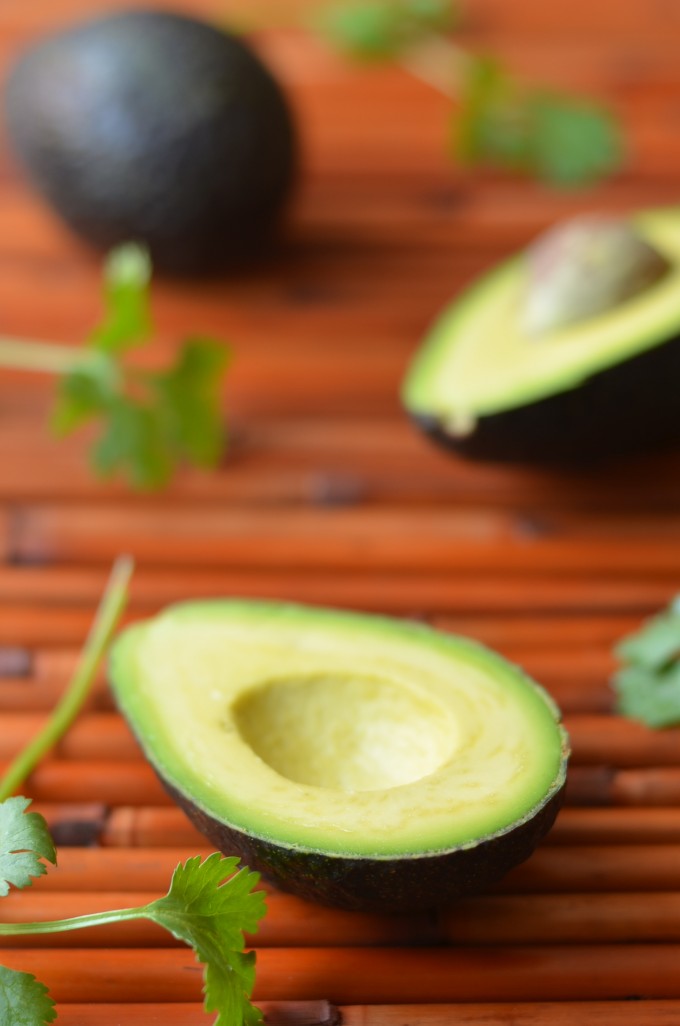 This recipe was actually inspired by the Asian slaw stuffed avocados I posted last week. Between taking pictures, I was pouring leftover liquid from the slaw over the bits of avocado I'd scooped out when it hit me – ASIAN GUACAMOLE. I googled it immediately and while I wasn't the first one to think of it, that's practically impossible anyway. I was just looking for validation that this idea that had come out of my brain wasn't going to be disgusting. Usually, if I google a recipe idea and get no results, it means 100,000 bloggers have tried it before me and decided it wasn't worth posting about.
That is definitely not the case here. And while I'm not the first one in the history of mankind to make an Asian guacamole recipe, I bet your friends will be pretty impressed with your creativity when you show up at a party with this.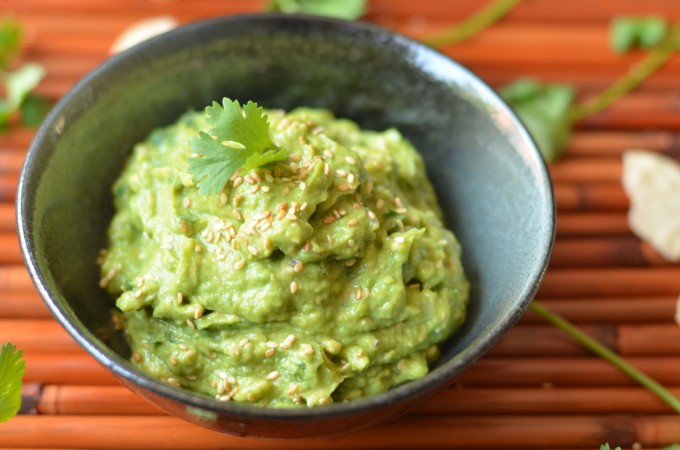 Many of the ingredients here are the same as a traditional guacamole – avocados, lime, onion, garlic, and cilantro – but they're given a little flair from Asian ingredients like rice vinegar, ginger, sesame oil, and more. The result is out of this WORLD. This is seriously some of the best guacamole I've ever had, and that's saying something. I mean, it's the fourth guacamole recipe on this site… I know my way around a bowl of guacamole.
Time out. I just had to go back to the fridge to eat more of this. SO GOOD. It's a slippery slope, I tell ya.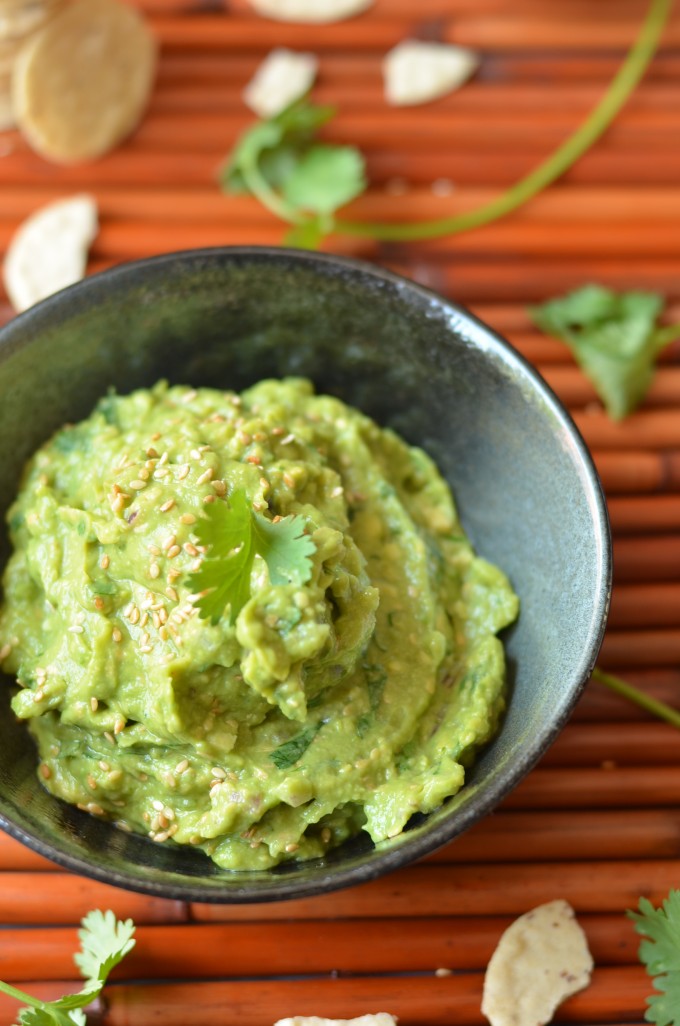 Here's some important guacamole advice that I feel compelled to dispense. Usually when you make guacamole, you taste as you go, and that's important for getting the flavors just right. But always make sure to taste with whatever you'll be serving the guac with, rather than tasting it plain. Guacamole is usually a party food, and (most) guests won't be scooping the guac straight into their mouths with a spoon. It's easy to make a dip that tastes great on its own, but ends up being completely overpowered by the saltiness of the chips. Usually you end up needing a bit more of everything – lime juice and salt, especially – to make it stand out. The same goes for salad dressing – taste test with a little piece of lettuce. Just a pro tip!
As a side note, taking pictures with chips or crackers is THE BEST.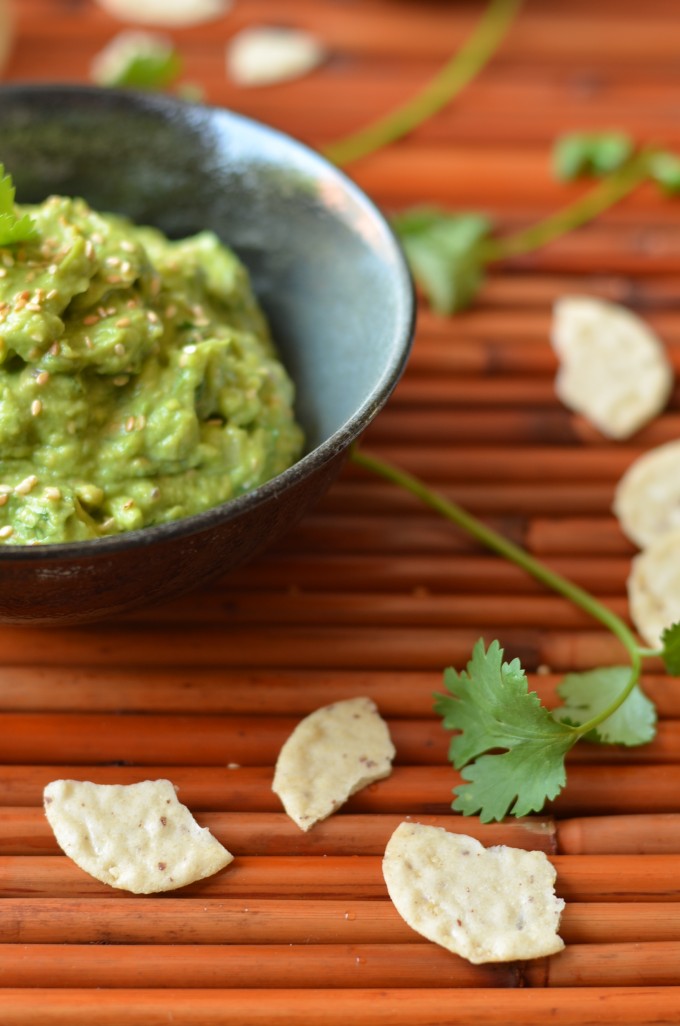 There are always a few broken ones that are basically free. Zero calories if it's anything less than a complete chip, am I right?
I love that logic.
These almond and rice crackers (they're the Blue Diamond Nut Thins brand) were the perfect thing to serve with this bowl of guac. I thought about doing carrots, but let's be honest, I don't love dipping vegetables in guacamole. It has to be some kind of chip or I'm just a liiiittle disappointed with every bite.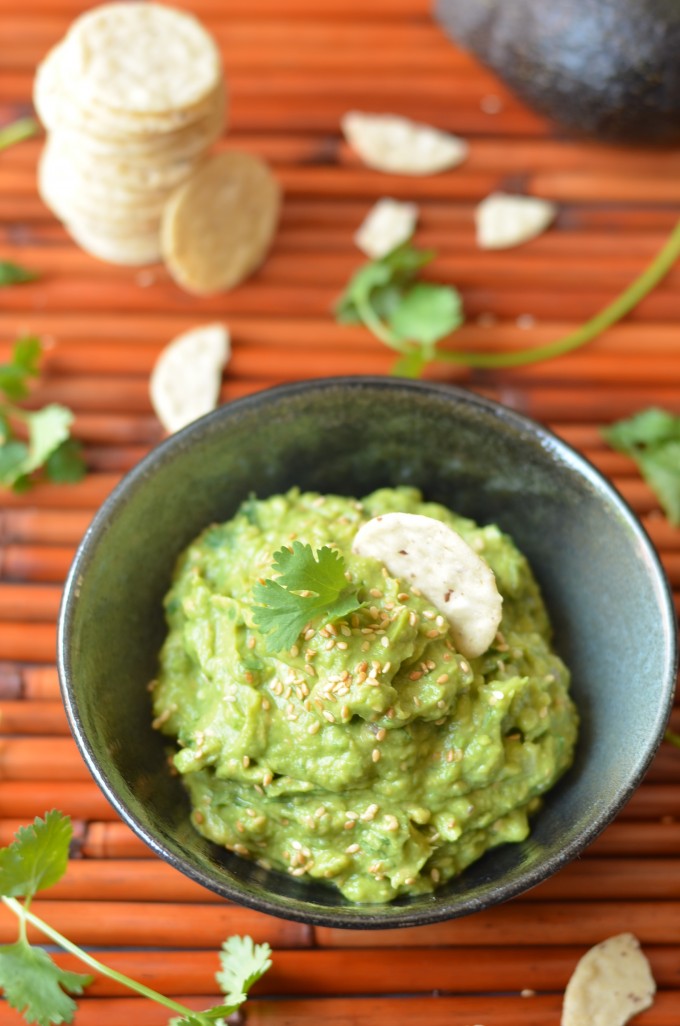 Luckily, between the bursts of sesame flavor and the salty rice crackers, this bowl of guacamole contained zero bites of disappointment. I'm embarrassed to say how quickly the whole thing was devoured. And poor Nate hardly got a bite! Shhh I shouldn't tell you that. Aren't I supposed to be putting my best foot forward on this site of mine? Oops. I did save him some… some.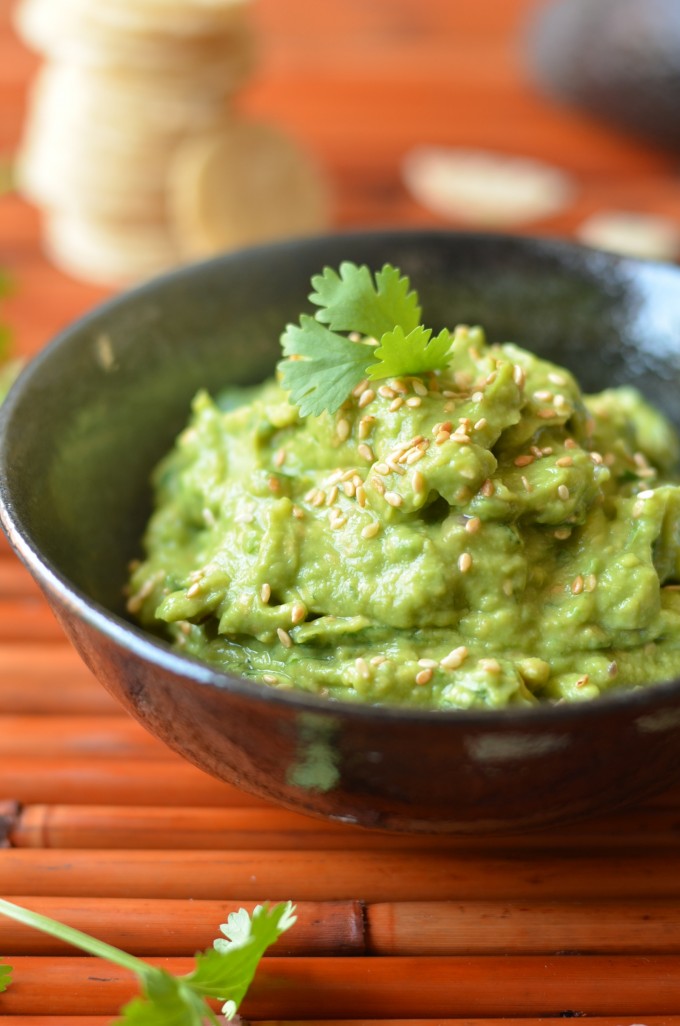 I've told you before that I struggle with desserts if I am having dinner guests and serving an Asian dish. The same is true of appetizers, to be honest. There are so many delicious Asian-inspired apps, but so many of them seem too fussy. Wrappers or frying? I am OUT. I usually end up going with some type of bean dip because it's easy – throw some soy sauce in there and it will match! Needless to say, I'm pretty thrilled to add to my Asian app repertoire, and with a super-easy recipe to boot.
So what's for dinner after you serve this guac? May I recommend:
Quinoa Sushi Bowl with Baked Tofu
Teriyaki-Glazed Tofu Lettuce Cups
Crispy Baked Tofu Teriyaki Bowl
Crispy Tofu Rice Bowls with the Best Thai Peanut Sauce
I know, I know, that is definitely mixing and matching flavors from a lot of different cultures. But they are all so good… I can't stop! Throw some sesame and ginger in anything and I'm happy. I'm crossing my fingers that you feel the same, because I've sure been sending a lot of it your way lately! Enjoy.
Last but not least, the winner of the Let Them Eat Kale! giveaway is Debbie! Debbie, your cookbook is on the way!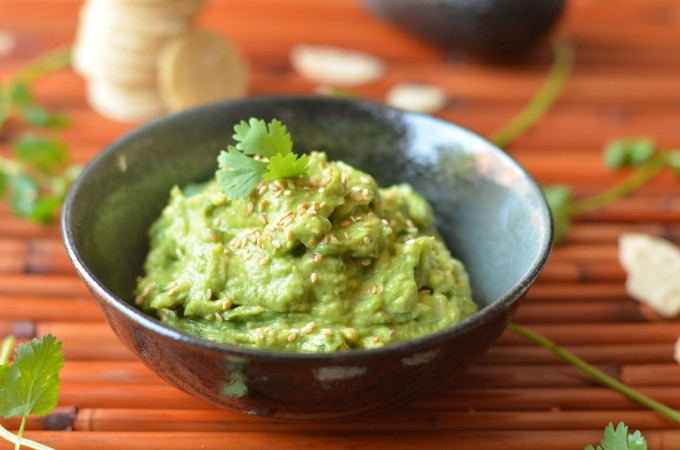 Asian-Inspired Sesame Guacamole
Ingredients
2 avocados
1/4 cup minced red onion
2 Tbsp minced cilantro
1 heaping Tbsp minced fresh ginger
1 clove garlic, minced
1 Tbsp toasted sesame seeds + additional for garnish
juice of 1 lime
1 Tbsp rice vinegar
1/2 Tbsp mirin
2 tsp sesame oil
kosher salt to taste
rice crackers to serve
Instructions
Mash avocados in a bow. Add remaining ingredients and stir to thoroughly combine. Add salt to taste. (Make sure to taste with a rice cracker or whatever you'll be serving it with, rather than plain.) Serve with rice crackers. Enjoy!
To store leftovers, press two layers plastic wrap into the top of the guacamole. Refrigerate for up to 2 days.