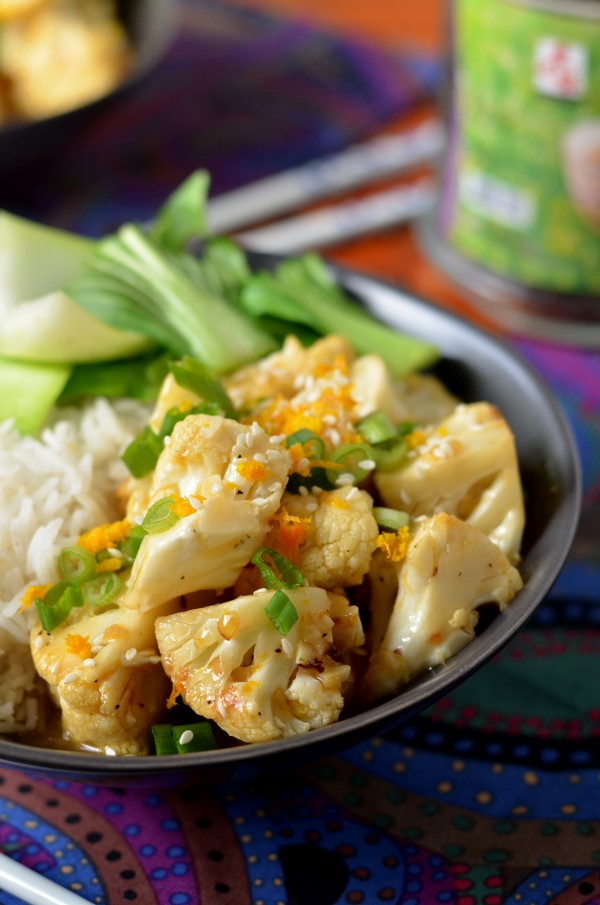 I usually reserve words like "insane," "unreal," and "magical" for creations like chocolate pecan butter, ice cream with bourbon in it, chocolate peanut butter cookies, etc. But today I'm about to use those words to describe a cauliflower dish… oh yes I am.
I recently made the discovery that cauliflower can be used in place of meat in all your old favorite Asian dishes. I tried it out first with the cauliflower coconut masala, and it was a magical. Also, though I came up with the idea independently, I totally wasn't the first person to do so. That's what happens when you have a unique idea in the year 2014… you Google it and realize that 2.1 million other people had the same idea, starting about 1000 years ago. Sigh.
Then I realized that, sure, cauliflower might be a typical component of Indian dishes, but it also works in practically everything else, too. Up until now I had considered tofu as the most logical vegetarian substitute. And I don't always love the texture of tofu, so I pushed most of the chicken- and beef-based Asian recipes I knew to the back of my mind.
But cauliflower opens everything back up again, and with a new and improved texture. Can I get an amen from my fellow veggie texture lovers?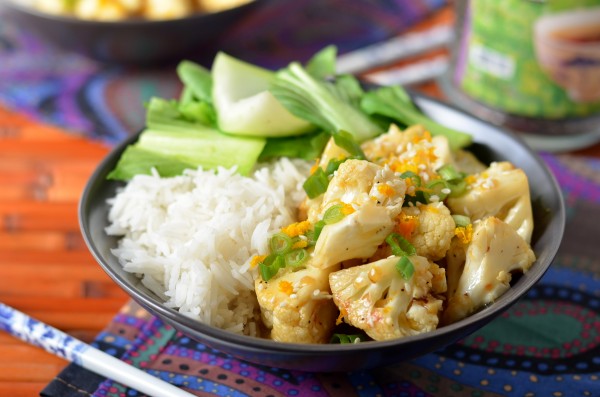 So here is the deal: We chop up a head of cauliflower, toss the florets with a splash of safflower oil and a sprinkle of black pepper, then roast them until they begin to get tender but still have some crunch to them – just twelve minutes. That is less time than you'd roast your cauliflower for most dishes, but don't go overboard! I made this one a few times, and on the first pass, the cauliflower seemed mega-overcooked. No limp, mushy cauli here please. A bit of crunch must stick around to make this meal satisfy.
While the cauliflower is roasting, we zest and juice and orange, mince up some garlic and ginger, and saute it all up with other good Asian ingredients like soy sauce, rice vinegar and chili garlic sauce. The result is a sweet and zingy sauce that feels decadent and refreshing all at once. It is just insane. I love citrus for that effect!
In a carnivorous world, we'd be throwing in some beef or chicken at this point, but instead we're doing the veggie thing.
Oh, and we're going to steam a pot of fluffy white rice while we're at it. And if you feel like eating your cruciferous vegetable with an extra side of the same, you can saute up some simple bok choy as well.
After the cauliflower gets a nice little roast, we add it to the simmering sauce, just to coat it. And voila! We have a sweet and sour saucy main dish, all centered around a vegetable. Unreal!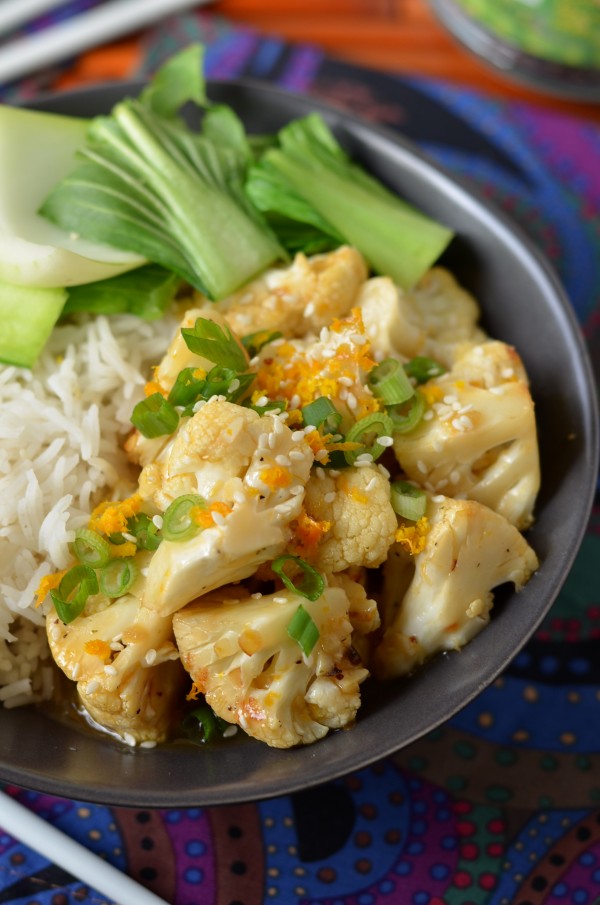 These pictures, while colorful, don't do justice to the delicious, drippy sauciness of this dish. It is heaven over rice, especially with a couple green onions and sesame seeds in the mix! Definitely the kind of meal where I help myself to another little scoop of rice topped with sauce after I've finished my first helping.
Now my head is spinning with cauliflower versions of all the Chinese dishes my mom cooked for us growing up. Though I obviously have no Asian heritage, my parents lived in San Francisco for quite a few years, and my mom can make a mean kung pao chicken. Kung pao cauli, anyone?!
Getting ahead of myself. For this week, let's enjoy a healthy weeknight meal of orange cauliflower!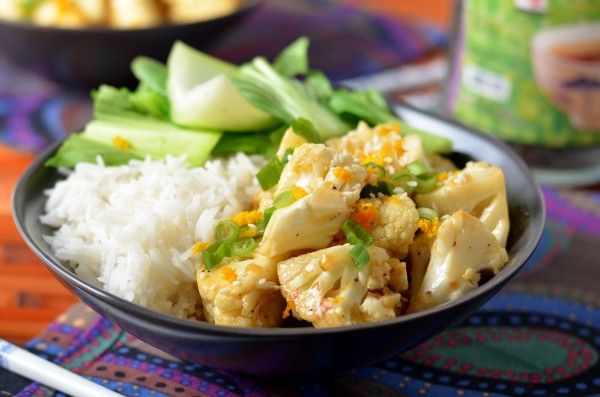 Asian Orange Cauliflower
Ingredients
For the cauliflower:
1 head cauliflower, chopped into florets
1 Tbsp safflower or canola oil
sprinkle of pepper
For the sauce:
1 Tbsp safflower or canola oil
1 Tbsp sesame oil
4 cloves garlic, minced
2 Tbsp peeled and minced ginger
1 cup vegetable broth
zest of 1 orange
juice of 1 orange (about 1/2 cup)
1/4 cup brown sugar
3 Tbsp soy sauce
3 Tbsp rice vinegar
2 Tbsp cornstarch
1 Tbsp chili garlic sauce
For serving:
cooked white or brown rice
bok choy, chopped and briefly sauteed with several tablespoons of water
green onions, thinly sliced
sesame seeds
Instructions
Preheat oven to 425. On a baking sheet, toss cauliflower with safflower oil and a sprinkle of black pepper. Spread in an even layer and roast for about 12 minutes, flipping once. You want the cauliflower to be tender but still somewhat crunchy.
While the cauliflower roasts, make the sauce. Heat the safflower oil and sesame oil in a non-stick skillet over medium heat. Once hot, add the garlic and ginger and cook until fragrant, about a minute. Whisk in the remaining sauce ingredients and bring to a simmer. Whisk continuously while the sauce simmers for about 2 minutes. It should thicken considerably.
Reduce heat and add the roasted cauliflower. Stir to coat.
Serve over rice with a side of sauteed bok choy. Sprinkle with sliced green onions and sesame seeds. Enjoy!