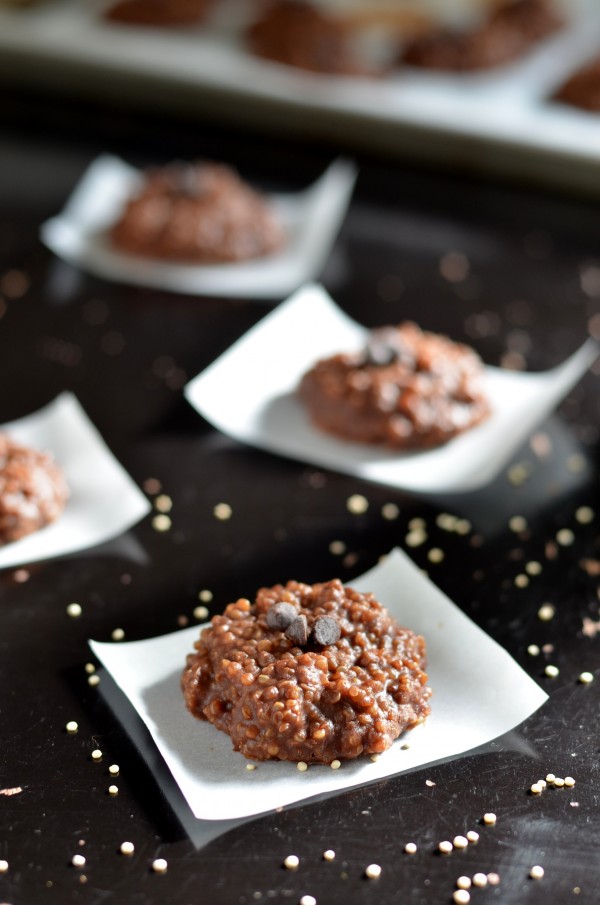 Well, we're back from Moab! And all four of us survived the half marathon. I'll have a race recap for you in the next few days, but for now, let's just say it went better than last year! And that at the moment, I'd rather talk about cookies.
I don't know about you all, but I absolutely love classic no-bake cookies. I ate them for the first time in our college dining hall, and I didn't stop for four years straight. Those things are so good; they were seriously my downfall. They had them for dessert maybe once a week or every two weeks, and I had to get several every time. I would enter the dining hall planning to eat no dessert that night, but as soon as I saw those no-bake cookies, my sugar-free intentions fell by the wayside. That was the problem with dining hall desserts. There were some I had no interest in, and some I loved. God forbid they put out two of my favorites on the same night… because I had to have one of each. Never mind the fact that you knew it would be there again in a few weeks. At that moment it always seemed like you would be missing your last chance on earth for a no-bake cookie if you didn't get one right that instant. That, my friends, is what we call the freshman 15.
My freshman 15 was made up almost exclusively of no-bake cookies, Twisted Smirnoffs, and discovering I loved cream in my coffee instead of milk. But let's stick to the no-bakes for now.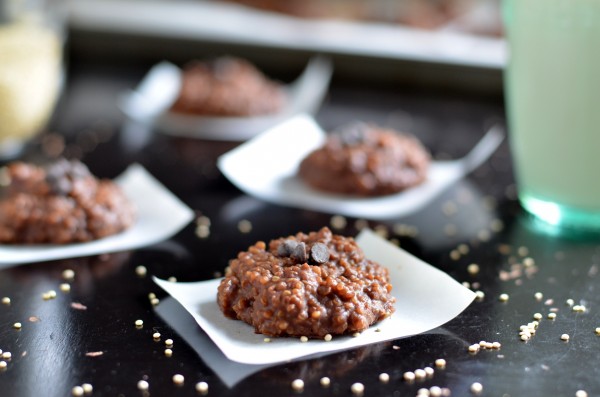 I really wanted to recreate those delicious, nostalgic no-bake cookies for you. But because my only no-bake cookie experience involved someone else not-baking them for me, I wasn't sure of the ingredients. Upon finding what seemed to be the standard recipe floating out there on the internet, I was kind of bummed: apparently no-bake does not mean no-butter or no-sugar. Duh. But somehow I hoped they would magically be healthy due to their lack of oven time? Not true. Now I understand that whole freshman 15 thing.
Anyway, in my search, I happened upon a great healthier no-bake recipe from Sally's Baking Addiction. Subbing coconut oil for butter and maple syrup for sugar is exactly what I had in mind to lighten these up. Sally just thought of it first – no surprise there! She is a baking goddess. I added my own twist on the recipe by using quinoa instead of oats. Yep, a quinoa cookie – we're doing it!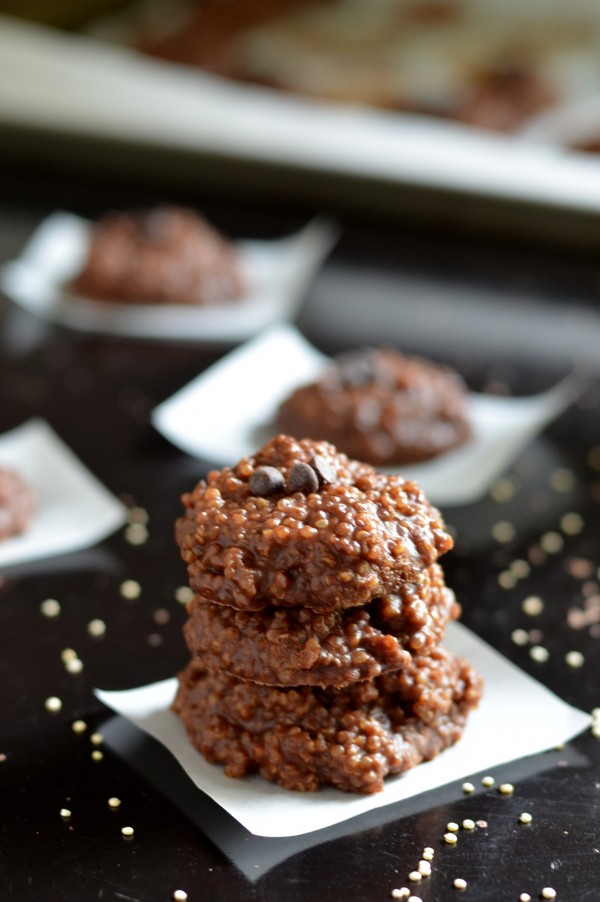 Does a quinoa cookie sound weird to you? Yep, I kind of agree. But I gave it a whirl anyway, and I would encourage you to do the same, because the texture is awesome! Insider tip: Eat a few spoonfuls of the hot cookie dough before dropping it onto a baking sheet. Melted chocolate gets me every time – no surprise – and for some reason the combination with the quinoa is WONDERFUL. Don't ask questions; just do it.
These are chocolaty, peanut buttery, chewy little balls of bliss, and definitely healthier than classic no-bakes. You would never know they're vegan, gluten-free, and have no refined sugar! You might have to eat a few extra just to be sure it's true.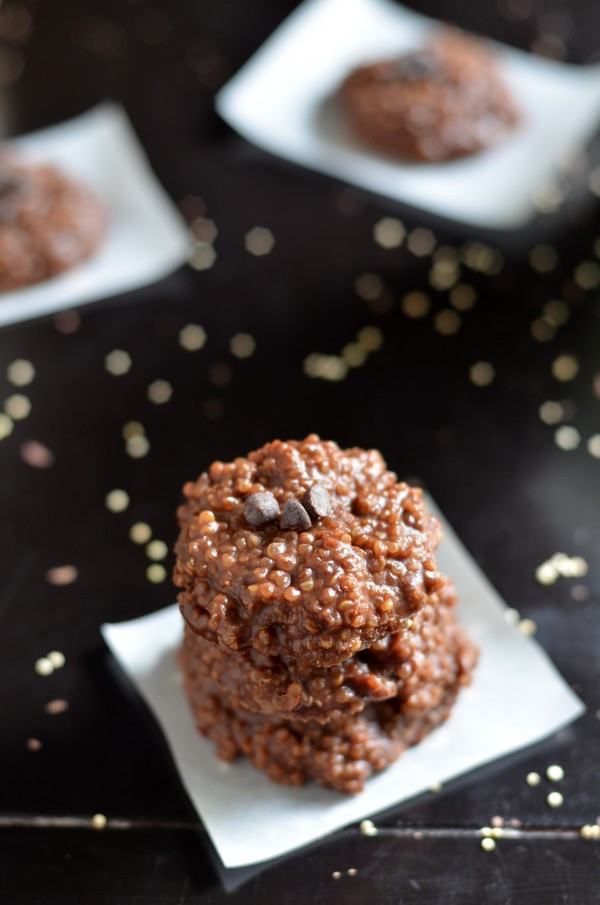 No-Bake Chocolate Peanut Butter Quinoa Cookies
A healthier version of the classic no-bake cookies, using quinoa instead of oats. Vegan, gluten-free, and no refined sugar.
Yields:
20-25 small cookies
Ingredients
1/4 cup coconut oil
1/2 cup maple syrup
1/4 cup unsweetened cocoa powder
1/2 cup creamy peanut butter
1/2 tsp vanilla extract
1/4 tsp kosher salt
3 cups cooked quinoa (from about 1 cup uncooked quinoa)
mini chocolate chips for decorating (optional)
Instructions
Line a baking sheet with parchment paper and clear a space in your fridge or freezer for it. Set aside.
Combine coconut oil, maple syrup, and cocoa powder in a small saucepan. Bring to a boil over medium heat, stirring to combine. Let boil for about one minute, then remove from heat. Stir in peanut butter, vanilla and salt. Mix in quinoa. Make sure to taste test!
Drop batter in small scoops onto the parchment paper. If desired, top with a few mini chocolate chips.
Place trays in fridge or freezer to set, which will take at least an hour. The cookies are ready once they are completely firm. For best results, store in the fridge.
Enjoy!