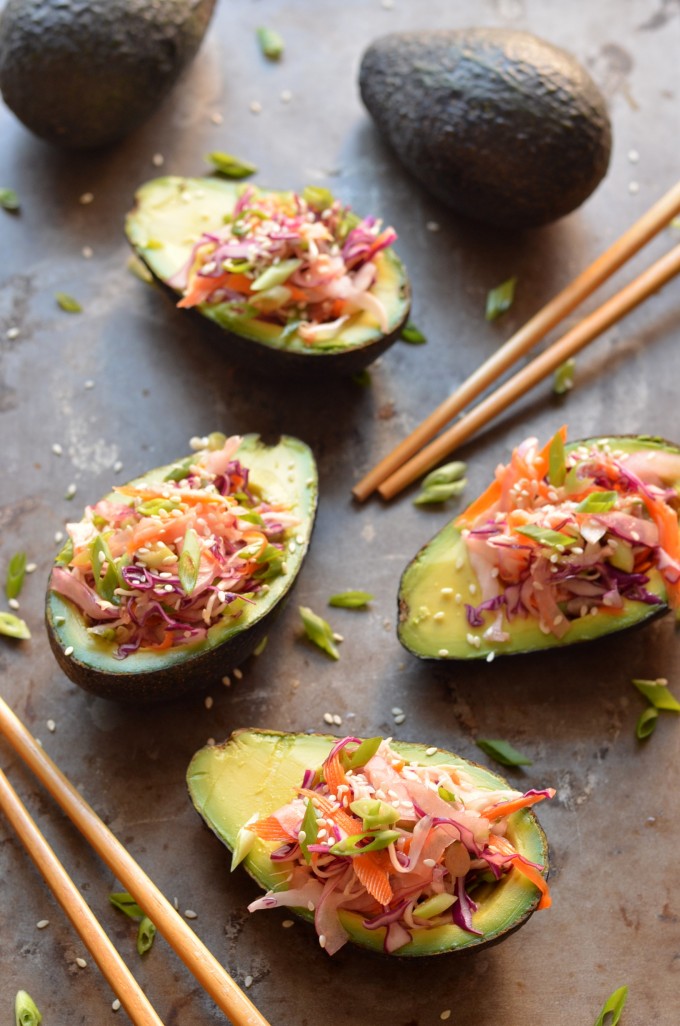 When it comes to clothes shopping, I have a cardinal rule: if it isn't going to be your new favorite thing, don't buy it. It means you don't really like it that much.
If it's just OK now in the store, how is it going to look with a few wrinkles when you've waited a bit too long to fold it? Are you really ever going to choose it over all your other clothes to wear on a given day? Maybe… but probably not.
If you're considering buying it in three colors, on the other hand, you probably have yourself a winner. Hold off on the other two colors until you make sure you like the first one, though.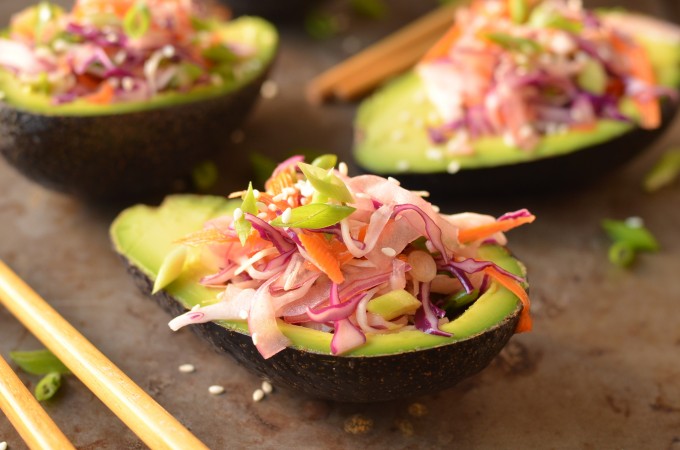 Blog recipes are a lot like that, too. If you're just so-so on a recipe you came up with, you might not want to recommend it to everyone you know (and even more people you don't) on the internet. You've got to be obsessed with it, or it's not worth posting about.
That's pretty idealistic, of course. Not every recipe I post is my new favorite thing, but I try to follow my own rule as much as I can. And I get pretty excited about my end-of-year fail posts, too, so I'm never afraid to relegate a recipe to the fail pile. As I scrape it into the trash, I dream up something sarcastic to say about it in December.
Luckily, this one is far from the fail pile. It's more in the which-other-two-colors-should-I-buy-it-in category. In fact, I liked this recipe so much that I made a spin-off that I'll post for you next week :)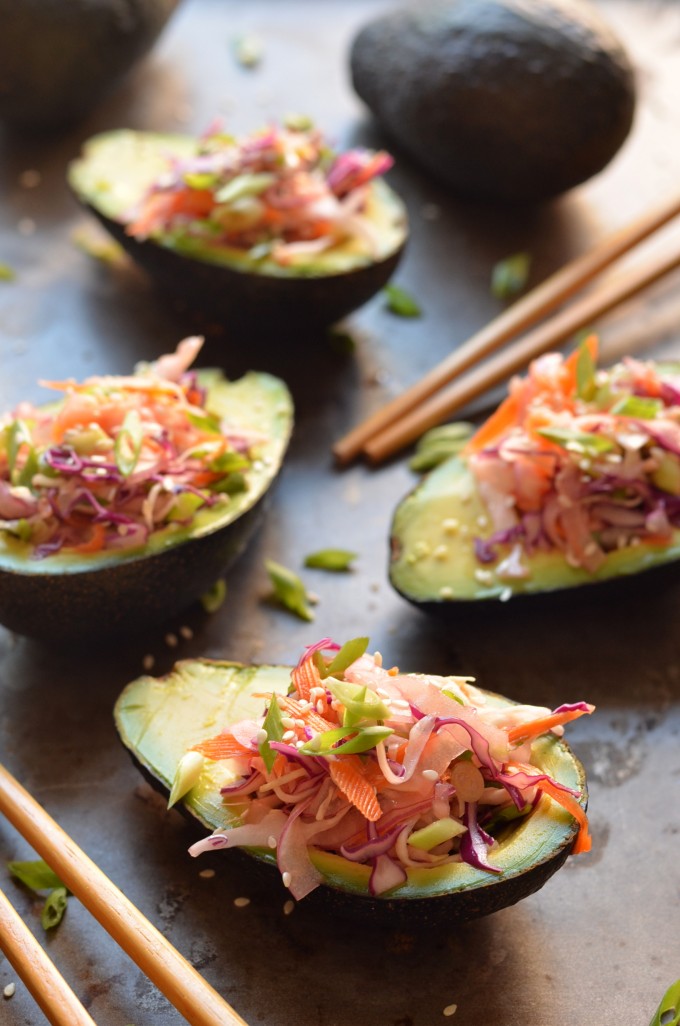 Come on, if these avocados were a summer dress, wouldn't you want to buy three of them?!
I know I would. These avocados look like a party, and I love a dress that looks like a party.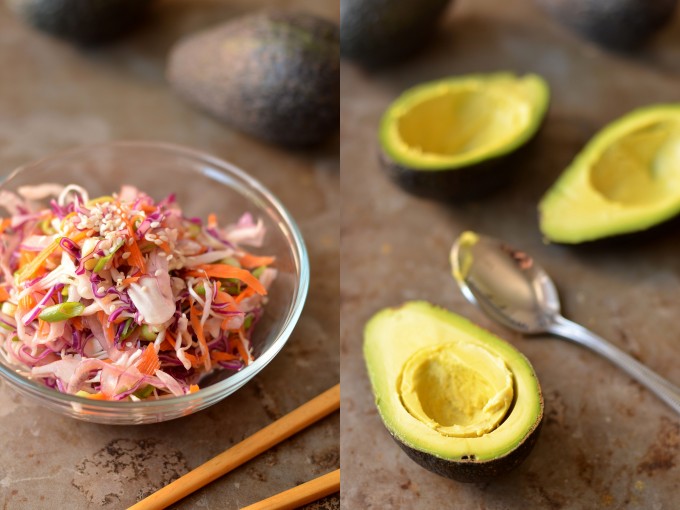 Anyway, I wasn't sure these avocados were going to make it to the blog when I started out. Experience has shown me that cabbage and avocado do not make a great combination of textures. But for some reason I couldn't get the idea out of my head, so I decided to give it a try anyway. I was glad to prove myself wrong! The sesame and ginger flavors of the slaw are AH-mazing with the avocado, and the texture is good, too. The secret is just to shave the cabbage very thinly with a mandolin.
Time to put that lazy little gadget to work!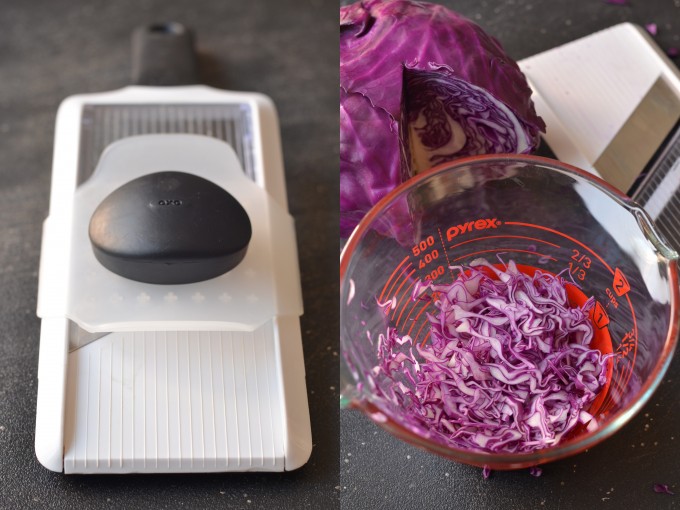 Between shredding the cabbage and onion with a mandolin and pitting the avocados, this recipe is fraught with opportunities to lose a finger. If I ever go down a digit, I'm convinced that a really snug avocado pit will be to blame. Or a butternut squash… gah, those things are the worst. If I worked in a restaurant, I'd end up in the ER every night.
For the record, I didn't have any near brushes with nine-finger-ness while making this recipe. I just always have to hold my breath while pitting avocados.
Anyway, these stuffed avocados make a perfect light lunch with toast or another side. I also got to thinking about serving them at a party, and decided that most guests wouldn't want to eat an entire half of an avocado. Enter: avocado slaw crackers!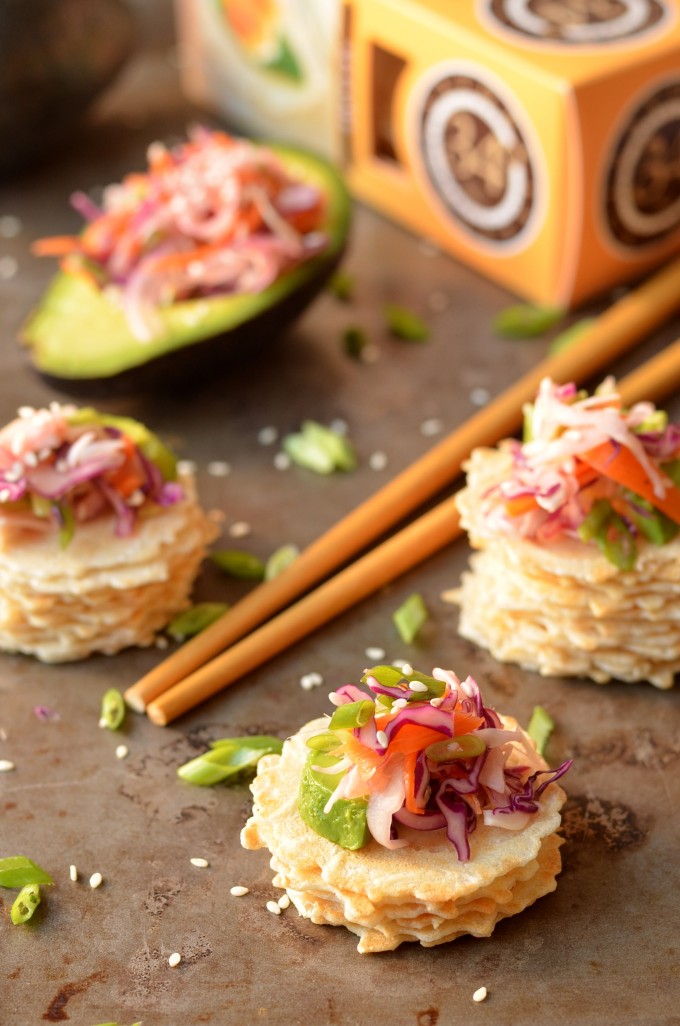 A thin slice of avocado and a little mound of slaw atop a sesame or rice cracker. They are so colorful and so tasty… perfect crunchy little bites! I think you'll impress your guests if you ever serve these.
I used 34 Degrees sesame crisps for these. I've mentioned 34 Degrees before because they are my favorite. They're so different from any other cracker, and people always love them. The folks at 34 Degrees were nice enough to send me a few boxes of crackers after I gushed about them in this post. Let's just say they've gone to good use!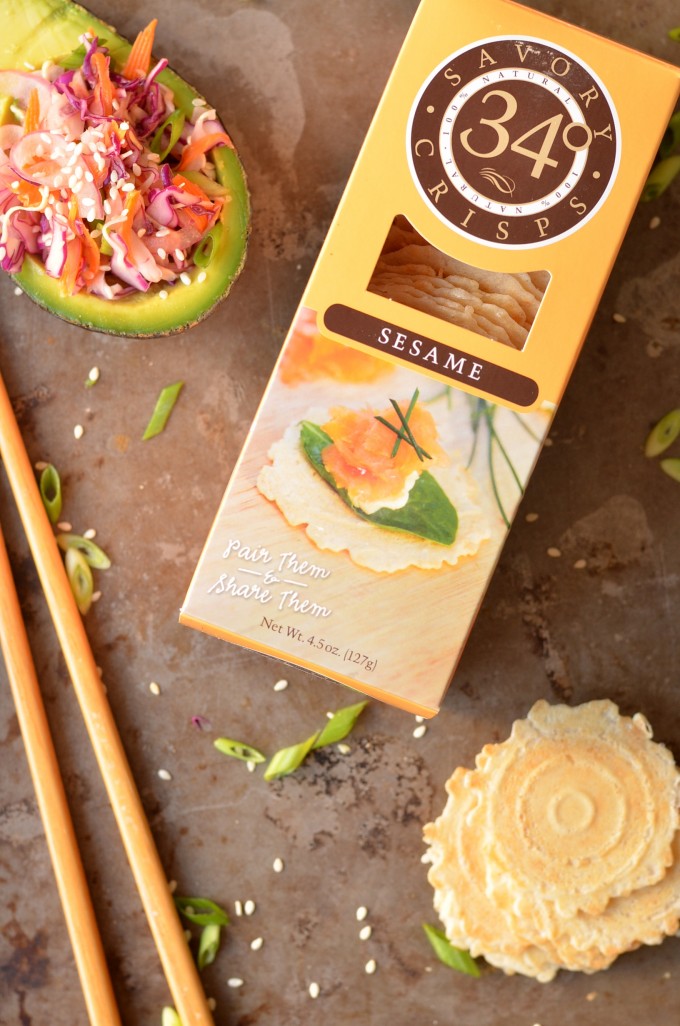 OK, one final side note: I'm running a half marathon tomorrow! A race on a Thursday?! Weird, I know. It's actually a Utah holiday (Pioneer Day) that many businesses are closed for. The city does fireworks and a parade, and holds a 10K, half marathon, and full marathon along the parade route. The street closures cut my neighborhood off from downtown and make it pretty hard to get to work, so this year I decided to not even try. Instead I'll be waking up at the crack of dawn in the middle of the night to bust my butt 13.1 miles down a canyon and through downtown Salt Lake. Yep, I picked another downhill race! I'm hoping for a fun long run and maybe even a new PR. Wish me luck?
Now go make these avocados! And remember my sage advice next time you're in the dressing room debating a new purchase. Hah! Kidding… kind of.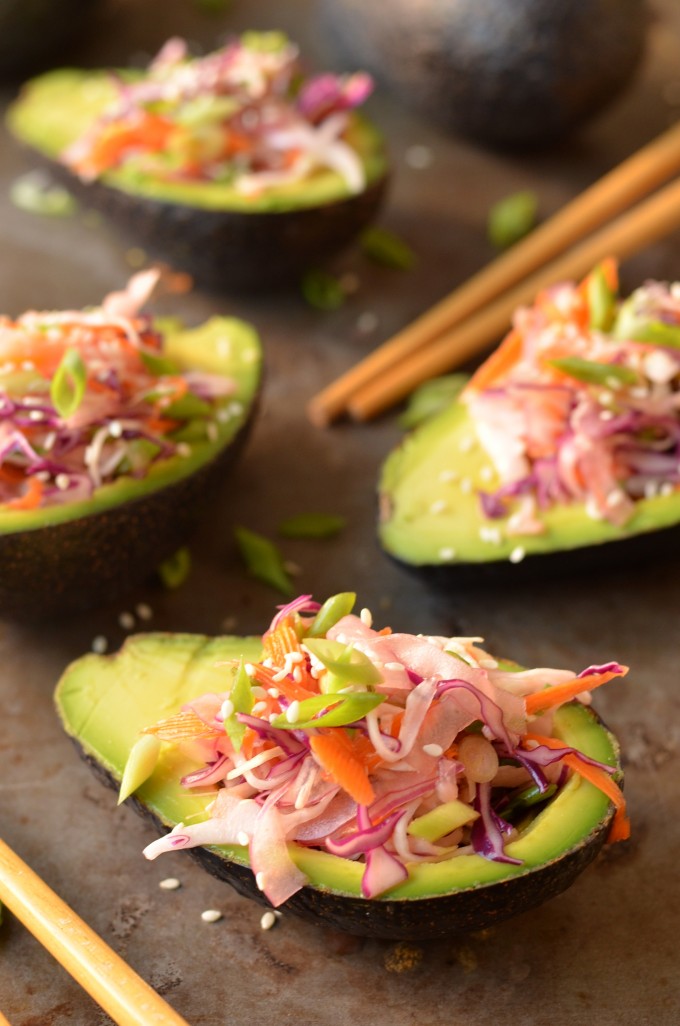 Stuffed Avocados with Crunchy Asian Cabbage Slaw
Ingredients
1 cup shredded red cabbage (I recommend using a mandolin)
1 cup shredded green cabbage
3/4 cup grated carrot (about 1 carrot)
1/2 cup shaved red onion
4 green onions, thinly sliced
1 Tbsp minced fresh ginger
juice of 1 lime
2 Tbsp mirin
1 Tbsp rice vinegar
1 Tbsp turbinado or brown sugar
2 tsp toasted sesame oil
2 avocados, halved and pitted
sesame seeds
Instructions
In a medium bowl, mix together both cabbages, the carrot, red onion, and green onion.
In a small bowl, whisk together the ginger, lime juice, mirin, rice vinegar, sugar, and sesame oil. Pour over the cabbage mixture and toss to combine.
Carefully scoop a hole in each avocado half. Fill with the slaw and top with sesame seeds. Enjoy!
Notes
For a smaller appetizer version, top a rice cracker or sesame cracker with a small slice of avocado and a spoonful of slaw. Garnish with sesame seeds.