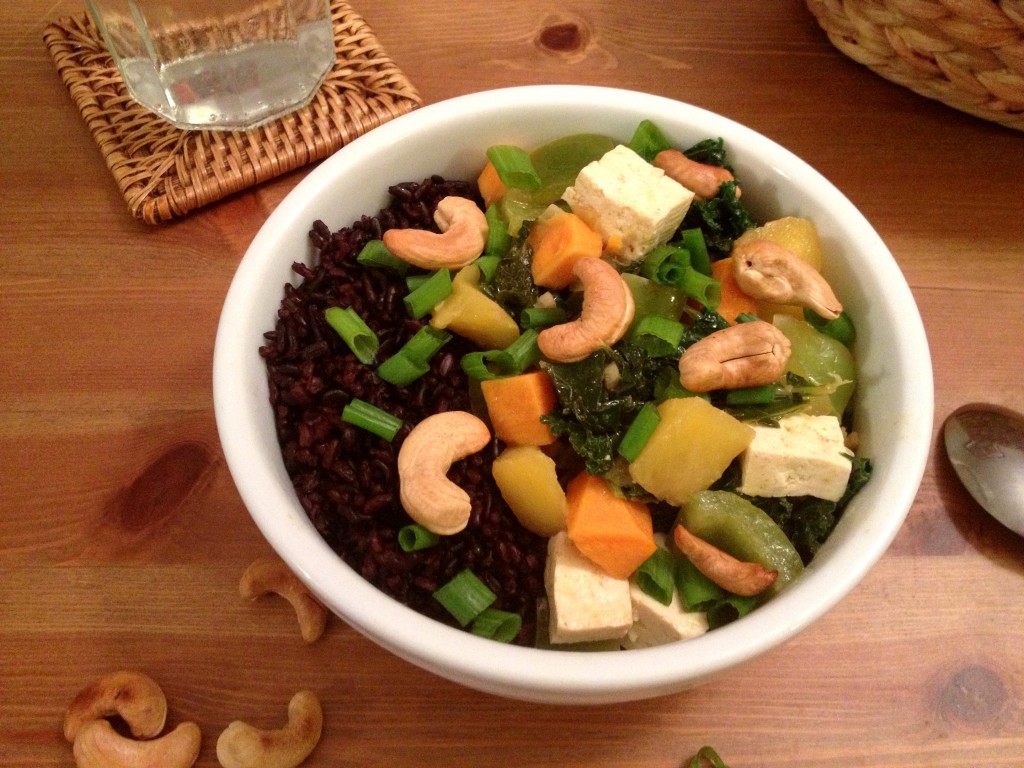 Hi! Happy day after Christmas! The day when the dust clears, and you are left to play with your new toys… and eat some vegetables.
Maybe you are still celebrating with your family, maybe you are back at work, or travelling, or cleaning up the chaos that is your house when everyone descends on it. I am meeting up with some college friends to catch up… crazy how you can go literally YEARS without seeing your oldest friends when you live across the country!
I am also playing with my new toy from Santa – a DSLR camera! The pictures are about to get much better around here, folks. Actually, they will probably get much worse first. Kind of like a construction project entering the demolition phase, sometimes things have to get worse before they can get better. I'm going to do a lot of playing around (enlisting my dad's help!) and then hopefully emerge with some tasty-looking photos. We'll see! Does anyone have any tips for food photography ebooks they've used? I am considering buying either the one from Pinch of Yum or Spicie Foodie. Thoughts?
In the meantime, this is a recipe I came up with last week back in Salt Lake. My mom had been telling me to try forbidden rice for at least a month, and I'd been intrigued by it in the bulk bins at Whole Foods for a while… but I've also been too busy baking cakes.
When I finally resurfaced from my post-veganistic butter binge, I made this curry because all the bright colors of the mangoes and fresh veggies looked so beautiful with the black rice. I had actually never made a green curry before! This one turned out great, though, and I will definitely be adding green curry to my arsenal of "disguised leftover vegetables" dishes.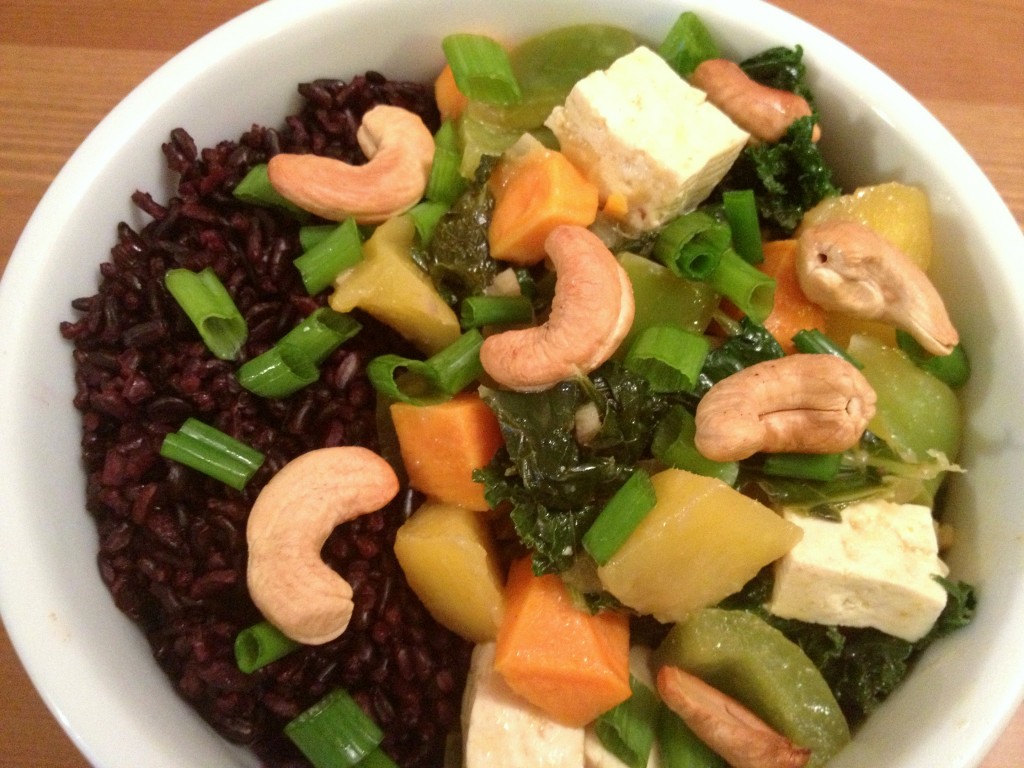 In that vein, some notes on the recipe: I usually don't really care for green bell peppers, but actually loved them in here. I suspect the sweetness of the red ones might be too much with the mangoes and sweet potato? The kale was really excellent with the curry flavor, so I wouldn't suggest skipping that. I used white-people-brand curry sauce a.k.a. Thai kitchen (because they sell it in my grocery store), so if you also have only inauthentic curry sauce lying around, rest assured that this is white people food and it will still taste good with white people curry sauce in it.
Finally, black a.k.a. forbidden rice: Have you tried it yet? You should. It is nuttier, richer, and just more flavorful than any other rice I've ever had. The texture (at least of the Whole Foods bulk bin stuff I bought) was very smooth. You could of course use white or brown rice here, but this is a great excuse to buy black rice if you never have before. In terms of cooking time, it seemed closer to white rice than brown rice to me. I started to cook it according to my brown rice instructions, but ended up not letting it steam as long because it was already very thoroughly cooked. I suspect you could cook it the same way you'd cook white rice. In conclusion… Google it. I haven't yet, and that is usually a mistake.
Enjoy! Eat this while you play with your new toys.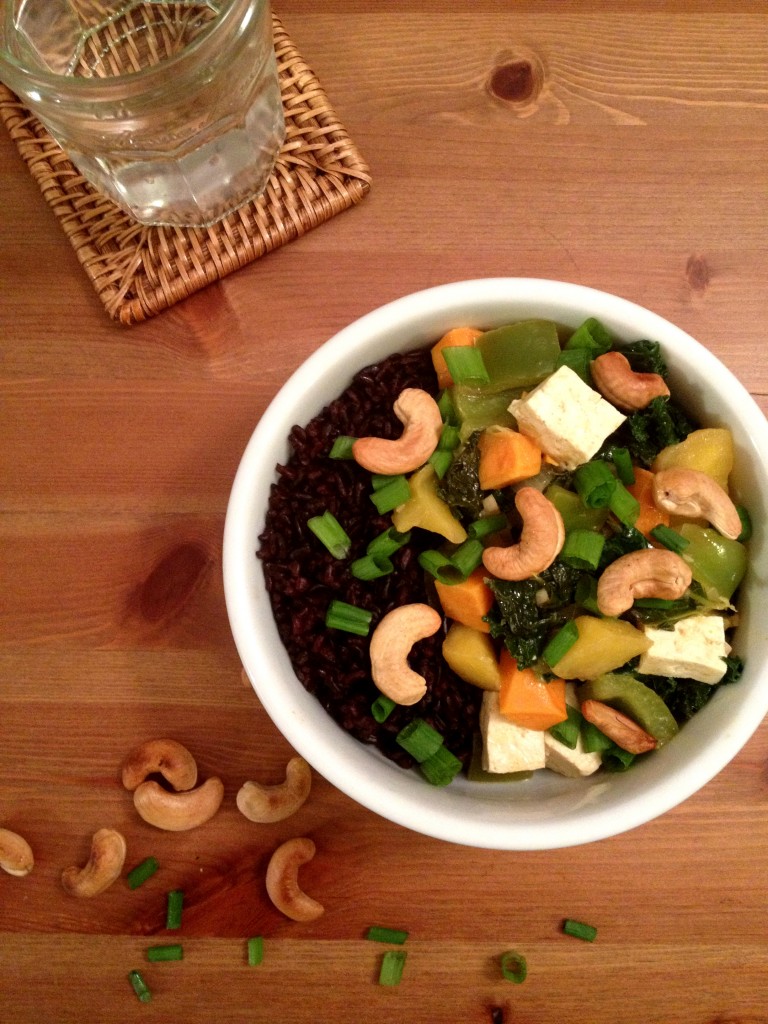 Mango Green Curry with Forbidden Rice
Serves 4-6
Ingredients:
1 ½ cups dry forbidden rice
3 Tbsp coconut oil
3 Tbsp green curry
2 cloves garlic, minced
1 yellow onion, chopped
1-inch piece ginger, peeled and minced
14-oz can light coconut milk
juice of 1 lime
½ Tbsp brown sugar
1 Tbsp low sodium tamari or soy sauce
2 Thai chili peppers, pierced (optional)
1 small to medium sweet potato, peeled and chopped into ½-inch pieces
2 mangoes, peeled and chopped
2 green bell peppers, chopped
8 oz tofu, cubed (optional)
1 bunch kale, rinsed, stems removed, and torn into bite-sized pieces
toasted cashews for topping
green onions for topping
Instructions:
Cook rice according to package instructions.
Melt coconut oil in a large pan or Dutch oven over medium heat. Once hot, add the green curry paste and mash into the oil with the back of your spoon or spatula. Add the garlic, onion, and ginger and stir to coat. Saute for a minute or two until very fragrant.
Whisk in the coconut milk and bring to a simmer. Stir in the lime juice, brown sugar, and soy sauce. Slurp some of the broth off the spoon. It's in the recipe – you have to do it! Now add the Thai chilies and sweet potato, cover, and simmer until chunks of sweet potato are tender, about 15 minutes.
Add the mangoes and bell peppers. Cover again and simmer for about 5 minutes. Peppers should be a bit softened but still retain some crunch.
Now toss in the tofu and kale. Cook until kale is just wilted and still bright green, 1-2 minutes. Remove from heat.
Serve with forbidden rice and sprinkle with green onions and cashews. Dig in!
Time:
40 minutes