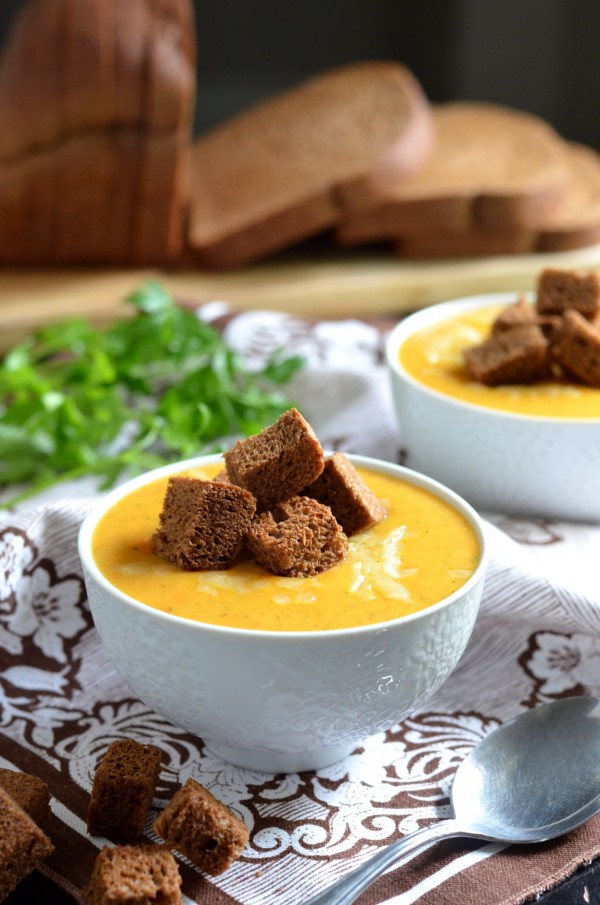 It's time for another Foulser family soup recipe!
Like Mexican zucchini soup, I grew up slurping potato-cheese soup. And crunching these croutons along with it. Allllways with croutons.
To me, this is the most amazing soup in the world. It may not seem all that exciting, but trust me, these flavors are meant to be together. Potatoes, onions, carrots? Dill? Cheddar? Um, yes. Just add the pumpernickel croutons with their crunch and caraway, and you have my all-time favorite belly-warming fall soup. I guess I shouldn't underestimate the sway that childhood memories hold over my taste buds, but I think you'll be sold on this soup the moment you try it, too.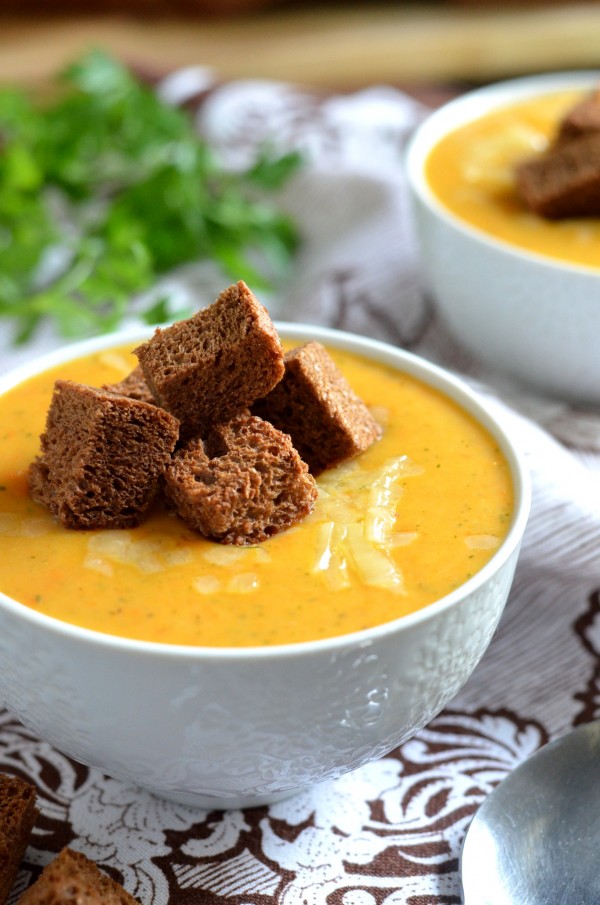 This soup was just what the doctor ordered on the day I made it – an overcast Sunday when every other recipe I was developing (ahem, quinoa cookies) seemed to require multiple trials. No such fussiness with this soup. It's hard to go wrong when simmering veggies and herbs together, then adding cheese. Too much cheese? Not enough dill? No matter. It is going to come out just plain amazing every time.
I love the short ingredient list in this recipe, as well as the fact that cream is absent from it. I don't know about you, but I often skip over recipes for creamy potato soups. I like my soups to be healthy, please! Mostly veggies, spices, and broth. Oh, and I guess some cheese doesn't hurt… Cheese in soups I can deal with (and you can use as much or as little as you like), but cream I cannot. Who's with me?
And I will mention that the soup's golden color comes from carrots… not cheese. Just in case you think I put that much cheese in. Or in case you're grossed out by orange cheese, which I didn't use here. White cheddar all the way!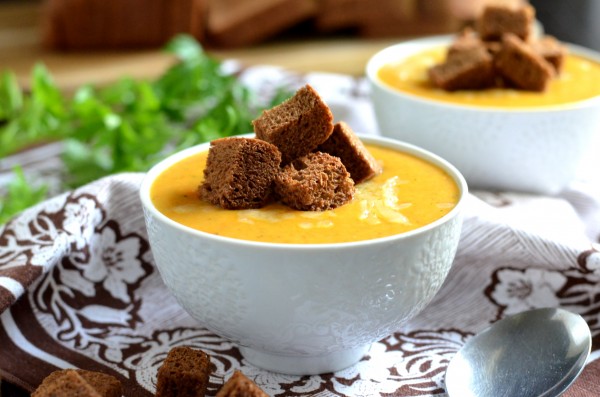 We are still trying to use up the potatoes from our last farm box, although we'll probably lose that battle soon and have to toss the remaining ones. But I knew this soup had to happen the moment I opened that last box and saw it was FULL of potatoes. If you are looking for a use for some spuds of your own, look no further. Any type will work here – I used small red ones for this particular batch, because that's what we'd gotten, but if I were buying them from the supermarket I'd probably use Yukon gold. Whatevs.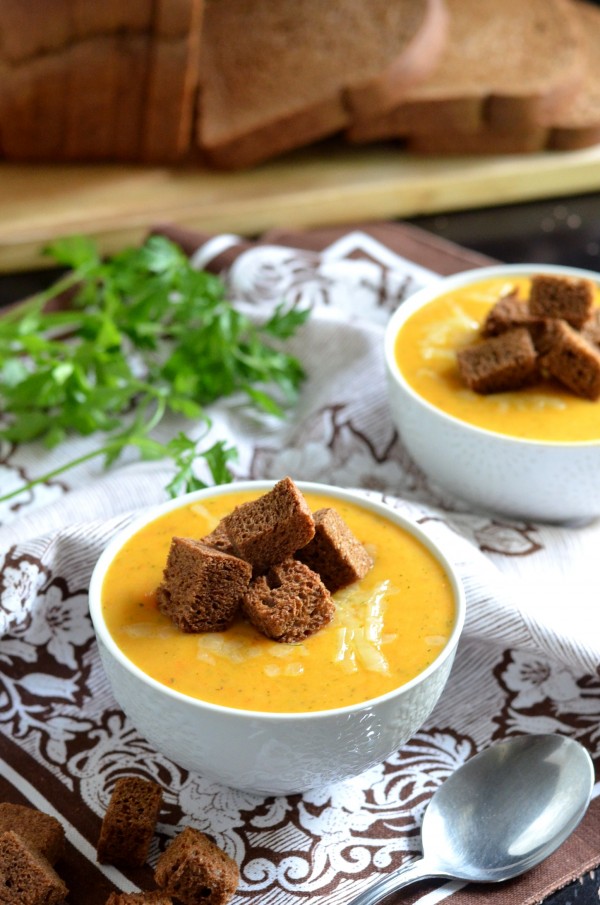 Making your own croutons might sound scary, but that couldn't be further from the truth. If my mother made these croutons on a weeknight with three kids running around, you can almost certainly manage it. (And trust me, that's the only reason I would even consider it.) Just buy a loaf of pumpernickel bread – if it's pre-sliced, even better – then cube up about half of it and toss it in the oven or toaster oven to toast for a few minutes. Voila – croutons!
This soup comes together quickly, is guaranteed to please, and perfect for chillier weather. Whaaaat are you waiting for?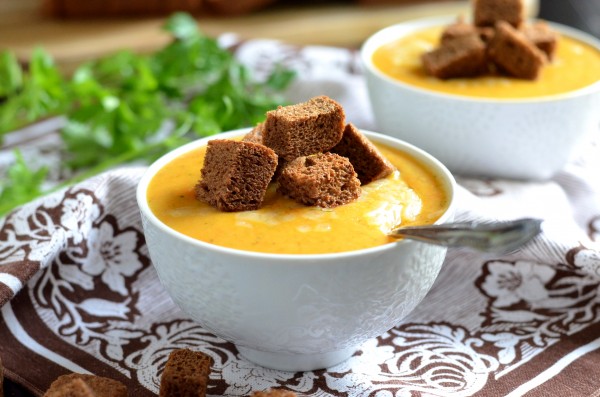 Potato-Cheese Soup with Pumpernickel Croutons
Ingredients
For the soup:
2 Tbsp unsalted butter
2 cups chopped yellow onion (about 1 large onion)
2 cups peeled and chopped carrots (about 2 large carrots)
6 sprigs parsley
4 cups vegetable stock
1 1/2 lbs potatoes, peeled and cubed (3-4 cups)
1 cup chopped fresh dill
kosher salt and ground black pepper to taste
2-3 cups grated cheddar cheese
For the croutons:
Instructions
Melt the butter in a soup pot over medium-low heat. Add the onions and carrots and cook, covered, until vegetables are tender and lightly colored, about 25 minutes.
Add the parsley, stock, and potatoes and bring to a boil. Reduce heat, cover, and simmer until potatoes are very tender, about 20 minutes (depending on the size of your potato cubes).
While soup simmers, make the croutons. Preheat oven (or toaster oven) to 400. Cube about half a loaf of pumpernickel bread and spread on a baking sheet. Toast until crunchy, about 5-6 minutes.
Remove soup from heat, add dill, and let stand covered for 5 minutes.
Puree soup with an immersion blender or by pouring in batches into a regular blender. Return soup to pot over low heat. Season with salt and pepper to taste. Stir in cheese. Once all the cheese is melted and soup is hot (not boiling), serve immediately. Enjoy!