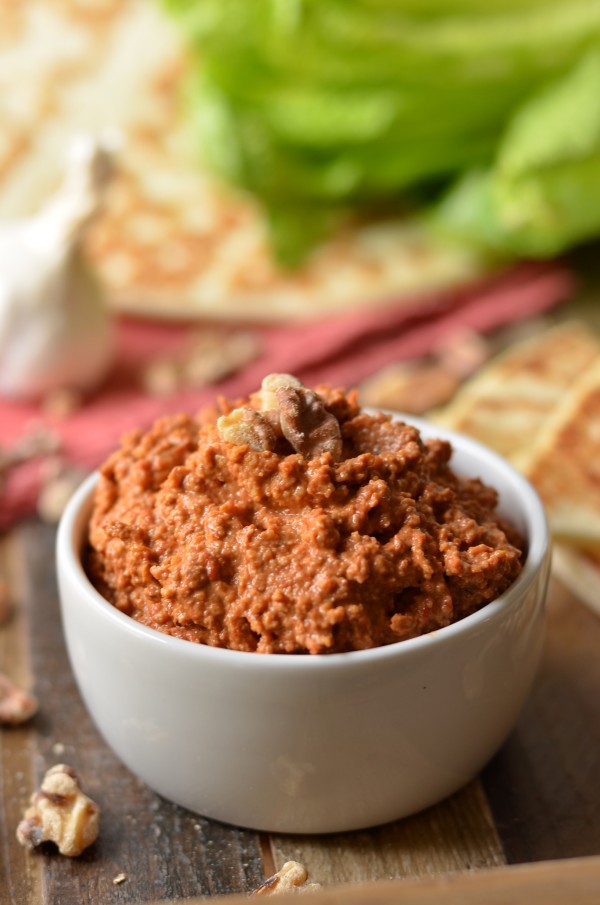 As I type this, I'm in the midst of the Sunday blahs.
I've eaten too much, our apartment is a mess, I haven't done any of the work I have to do before tomorrow (despite the fact that I dreamed about it both Friday and Saturday night), and I'm trying to get up the motivation to go to the gym before it closes at 7:00.
Why does the gym close at 7 pm on Sundays?!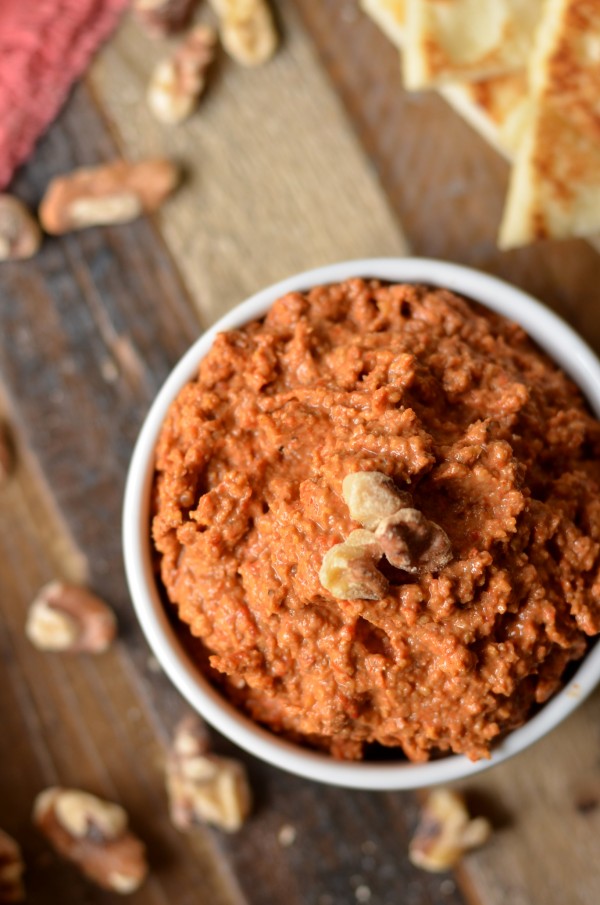 The more I think about it, the more I conclude I need a clone to stay at home and take care of all the things I want to avoid, like cleaning the sink and revising PowerPoint presentations. That way I can go about doing the important things, like baking cupcakes and getting to the gym on time, without that other stuff hanging over my head and causing unsettling dreams.
Any volunteers?
I guess if the worst things in my life are dirty sinks cleaning and PowerPoint, that's not so bad, after all.
Forgive my complaining. I've been too busy lately, and I can just tell it's going to be another crazy week. But isn't that always the case? Luckily, this weekend I made it a priority to cook some delicious food to share with you. So let's just hop to it, shall we?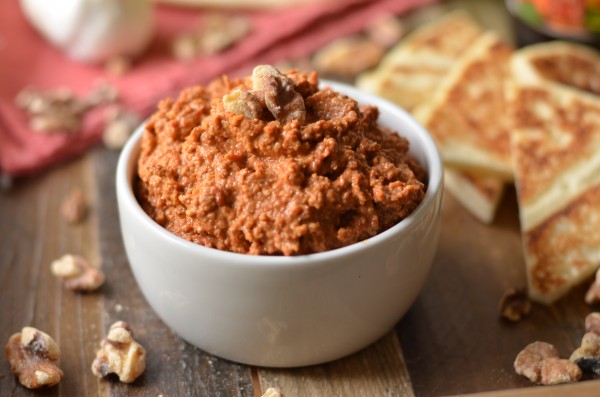 Today I want to introduce you to something called muhammara. Because you need to get to know this deliciousness.
Let's first get the pronunciation out in the open. I believe it's mu-HUMM-a-ra, although feel free to correct me if you know better. Foods like this make me feel like the 8-year-old version of myself who read big words before she'd ever heard them spoken. Let's just say I spent years pronouncing hors d'oeuvres "whores duh oovers" in my head before I ever heard the correct pronunciation. So I'm not about to correct anyone who pronounces an Arabic dish differently than I do.
Regardless which syllable you emphasize, muhammara is a Middle Eastern dip made mostly of roasted red peppers and walnuts. Middle Eastern cuisine is known for its amazing dips – think hummus and baba ghanoush – so it should come as no surprise that this is pretty much the tastiest spread ever to grace a pita.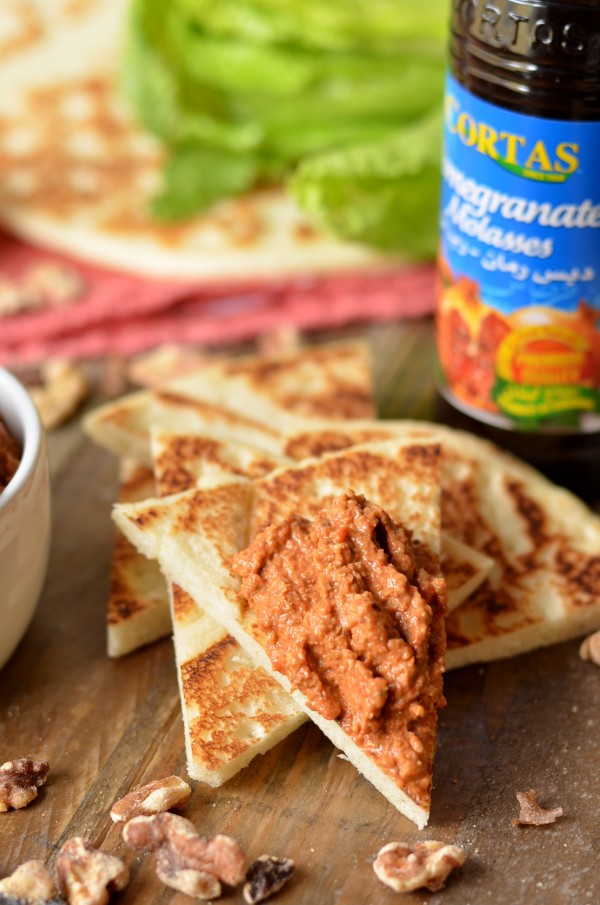 Do you ever notice how once you discover a new dish or ingredient, you realize you've been surrounded by it this whole time? I first tried muhammara at the Middle Eastern restaurant below my yoga studio, where it's served as an appetizer with lettuce leaves as dippers. Soon after that, I noticed it spread on the burgers at our favorite neighborhood restaurant, not to mention my Google searches turning up thousands of bloggers who've been making it for years. I hope the same happens to you! Muhammara is worth surrounding yourself with.
The secret ingredient in muhammara is pomegranate molasses, which you can find at Middle Eastern markets. It gives this spread a delicious sweet, tangy flavor and adds a deeper red hue to the roasted peppers. I was actually too lazy to go to the Middle Eastern market here for it, but was lucky enough to find it at Whole Foods next to the regular molasses. If pomegranate molasses isn't available to you, you can buy pomegranate juice and reduce it down to a syrup to use here. Easy enough!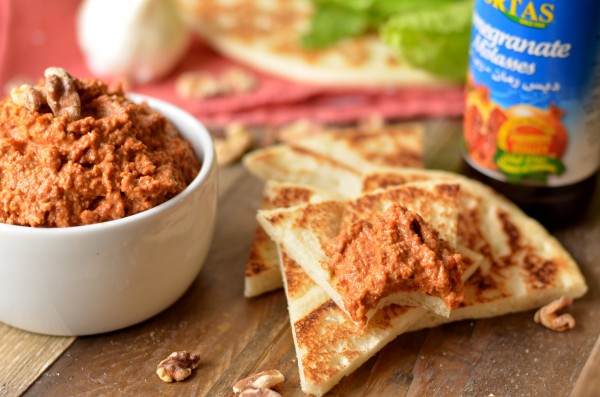 This dip is completely vegan, and is easy to whip up in a food processor or blender. You can let it run longer for a smoother dip, or leave it a bit chunky like I did. Traditional recipes call for more olive oil (I used just 2 Tbsp), but I found that the flavor didn't suffer from reducing the amount of oil. It's still plenty rich thanks to the walnuts and pomegranate molasses! Mmmmm.
I think muhammara is pretty heavenly spread on a pita or used as a dip for fresh veggies. Serving with romaine hearts, like the restaurant where I first discovered it, is also a nice lighter option! You can basically use it wherever you'd use hummus. But I especially have to recommend it on a sandwich with roasted veggies or spread on the bun of a quinoa burger. I have a few more uses for it up my sleeve, too – stay tuned later in the week!
All right, muhammara schmammara. I've got to make it to the gym before it closes!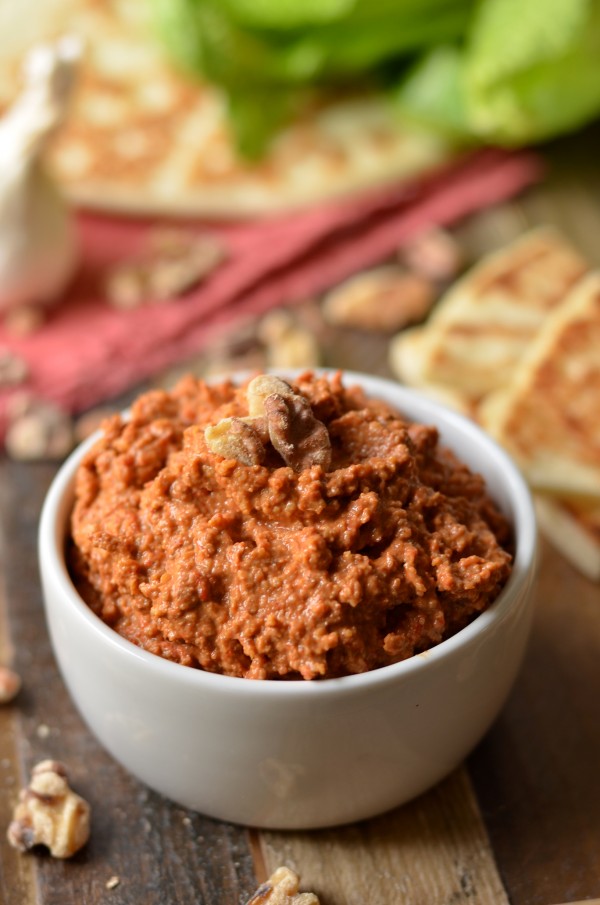 Muhammara (Syrian Red Pepper and Walnut Dip)
Ingredients
2 red bell peppers
1 cup walnuts, toasted
1 clove garlic, roughly chopped
juice of 1/2 lemon
1/4 cup panko bread crumbs (or substitute other bread crumbs)
1 Tbsp pomegranate molasses*
1 tsp smoked paprika
1/2 tsp red pepper flakes
sprinkle of cumin
2 Tbsp olive oil
Instructions
Place a rack at the top of your oven and preheat your broiler. Cut peppers in half and remove stems and seeds. Line a baking sheet with tin foil and place peppers on it, skin side up.
Broil peppers until skins are charred. This will vary greatly based on your broiler. (Mine takes about 15 minutes.) Remove from oven and, using a pair of tongs, place the peppers in a large ziploc bag. Seal and set aside until peppers are cool enough to handle, 10-15 minutes.
Once peppers are slightly cooled, peel off and discard the charred black skins. It's OK if some bits of skin still cling to the pepper.
Add roasted peeled pepper halves to the bowl of a food processor along with all ingredients except for olive oil. Blend to combine, streaming in the olive oil. You can blend for less time to leave the dip a bit chunky, or puree for longer until completely smooth.
Scrape into a serving bowl. Serve with pita or lettuce leaves or use as a spread on sandwiches, etc. Enjoy!
Notes
*You can find pomegranate molasses in Middle Eastern markets. In the grocery store, try the international aisle or next to the regular molasses.