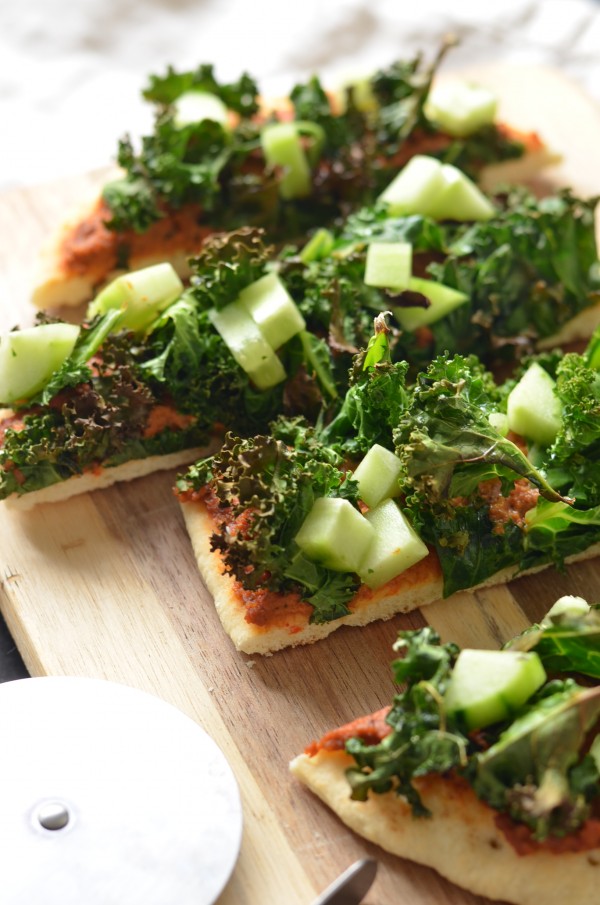 So I have kind of been holding onto this recipe for a while. Well, "recipe" is maybe a bit of a stretch – this is really just another of my favorite ways to serve that delicious muhammara. But you see, I didn't want to overwhelm you with muhammara recipes, so I paced myself. Kinda.
In case you missed it a few weeks ago, muhammara is a Syrian red pepper and walnut dip. It's super flavorful and guaranteed to jazz up anything you use it in. This flatbread is a prime example!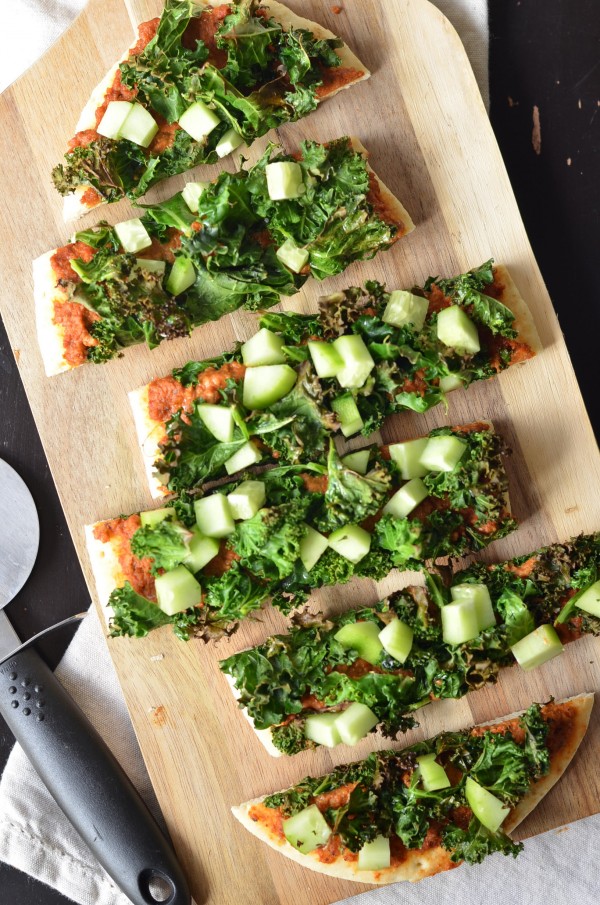 This recipe may be on the simple side, but it's sure to get the thumbs up from all you serve it to. We're  basically just spreading muhammara on top of a pita bread, then piling it high with lightly oiled and salted kale. As the flatbread warms in the oven, the kale bakes into delightfully crispy kale chips. Then we top the whole thing with some fresh chopped cucumbers for a bit more crunch. Easy peasy!
Kale chips are always one of my favorite things, and this is basically like kale chips on pizza. That is never a bad idea.
You could add any other toppings that strike your fancy, but it's definitely not necessary. The muhammara packs quite the flavor punch! I thought about including some goat cheese, but decided against it, probably out of laziness. I think it would be a good fit here, though, if you are feeling pulled in the cheesy direction.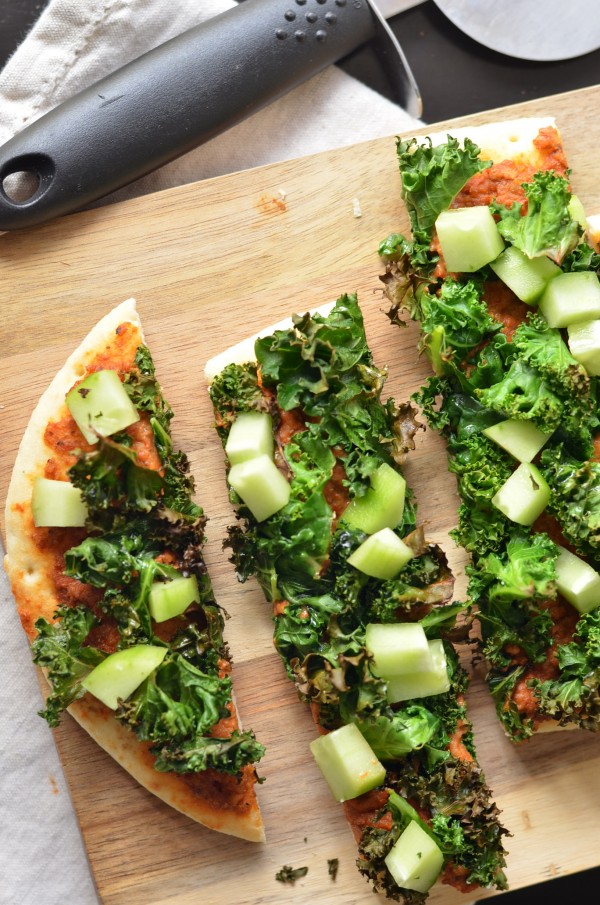 I would serve this flatbread as an easy appetizer, but it could also be a great light dinner with something on the side. I thought it was pretty cute sliced into strips like this, which also made it seem more "flatbread" than pizza. But hey, you can call it a pizza if you want – I'm no pizza purist. Just as long as you get this deliciousness onto your dinner table!
Do you guys have any fun weekend plans? I am a boring old lady who plans to run 10 miles and have friends over for dinner. Oh, and cook a lot of beets! You guys had some great suggestions on what I should do with the leftover beet puree I have in the fridge, and I plan to hop on at least one of those this weekend. It's an exciting life, I tell ya.
Hope you have a great weekend!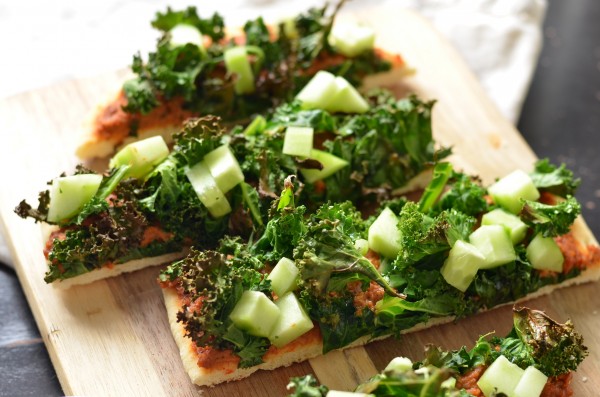 Muhammara Pita Flatbread
Ingredients
1 pita bread
1/3 cup prepared muhammara
4-5 cups kale, torn into small pieces
1 tsp olive oil
kosher salt
1/4 cucumber, peeled and diced
Instructions
Preheat oven to 425. Place the pita on a baking sheet and spread with muhammara.
In a bowl, toss the kale with olive oil and a sprinkle of salt. Arrange on top of the pita. (It's OK if it looks like a lot of kale!)
Bake for about 8 minutes, or until kale leaves are beginning to brown.
Remove from oven and top with diced cucumber. Slice, serve and enjoy!