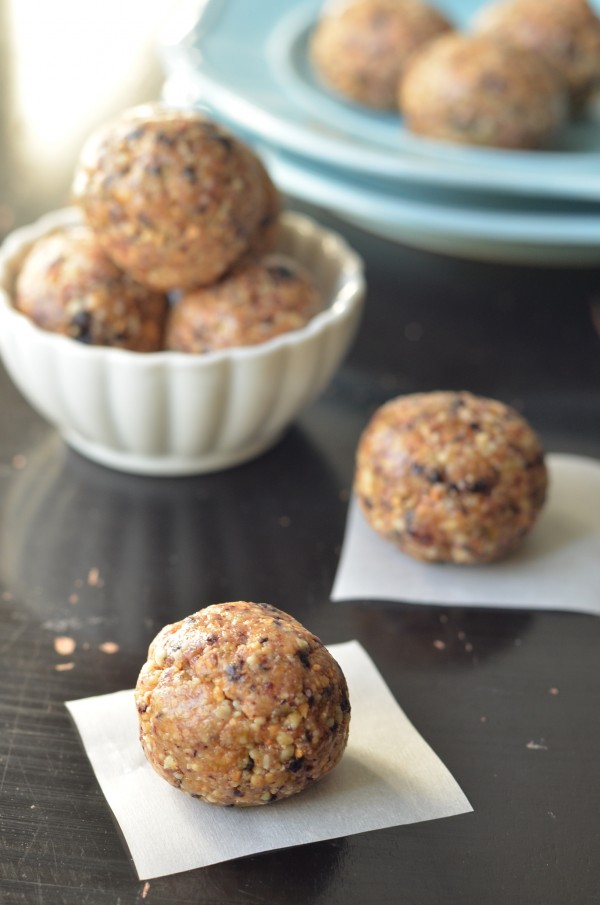 Can we talk about recipe fails for a minute?
A few weeks ago I posted my latest recipe fail on Facebook – I was trying to recreate the blueberry vanilla cashew Kind bars that I love (and that you can no longer get at Starbucks – wahhhh!). Unfortunately, I was far from successful.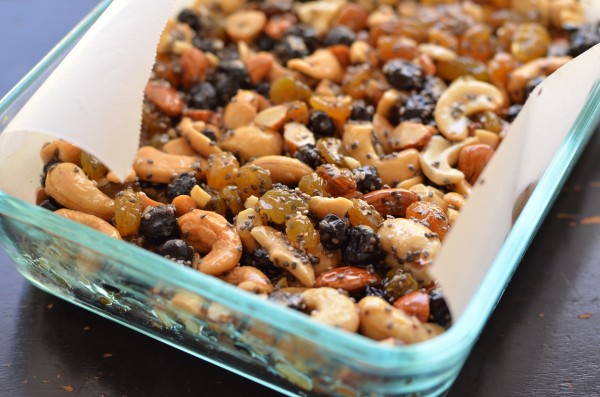 They looked pretty and tasted delicious, but they just wouldn't firm up. And when I tried to cut them… well, they didn't look so pretty anymore.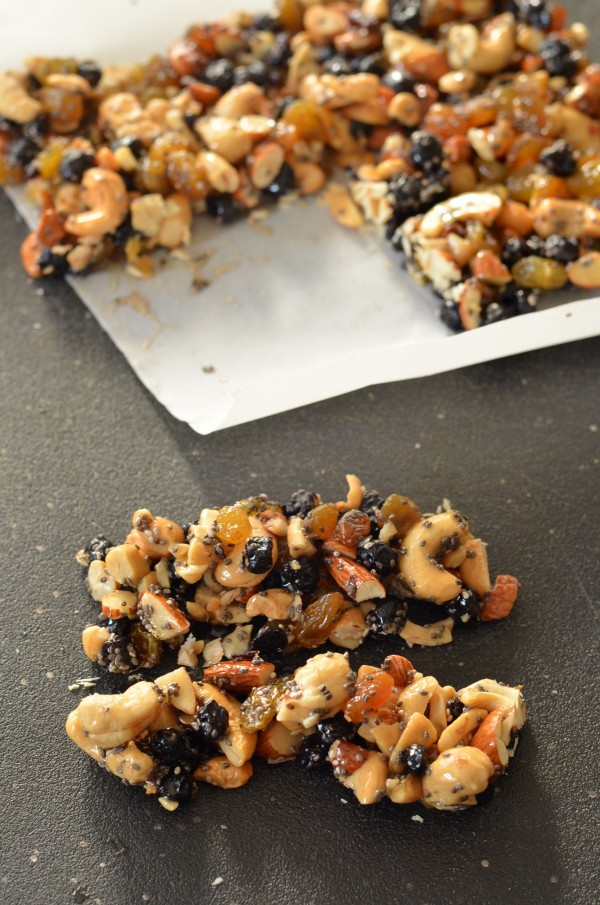 I had to take a picture because it was so hilarious.
They didn't stick together at all, and were basically like eating globs of raisins and nuts covered in honey. Not terrible, but not exactly something I could recommend to you all.
But listen, I love those Kind bars, and I am seriously bummed that Starbucks doesn't sell them anymore! (At least the Starbucks I've been to…) So despite failed attempt #1, I decided to bring my food processor to the rescue. And that's why today we have, not bars, but balls.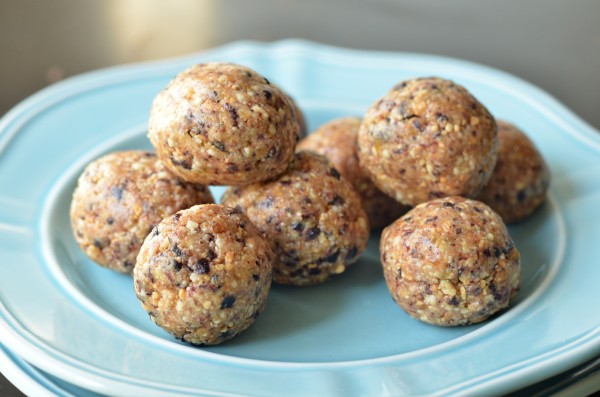 I found that the secret to making these work and keeping all their flavor was just to grind them up more than the first version, where the almonds and cashews were only roughly chopped and the blueberries and raisins were completely whole. Looking at the pictures, it's hard to imagine that they contain the same ingredients, right? (Except for the chia seeds… I nixed those after the first trial.) The ball version might not be as attractive looking as the (pre-cut) bars. Let's face it, it's pretty hard to make a sphere of chopped-up nuts and raisins look sexy. But I hope you'll take my word for the fact that everything they lack in aesthetics, they make up for in the taste department.
They're like the Hufflepuff of snacks.
Please excuse me for that.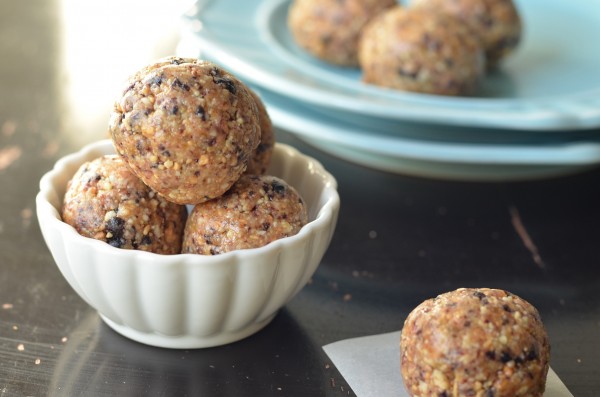 These humble little bites are a powerhouse of nutty, fruity flavor. We've got cashews and almonds as a savory base. We've got blueberries and raisins for sweetness and some intense blueberry flavor. (Have you ever had dried blueberries? They taste more like jam than berries!) And then finally some salt, honey and vanilla for more deliciousness and added complexity. It's a short ingredient list, and there's nothing funky on it. But all those layers of flavor sure do blend well together.
Speaking of ingredients, let's talk substitutions. Maybe you don't like dried blueberries? Maybe you don't like the price of dried blueberries – yowza. I won't even tell you what I paid for mine. Either way, if you want to substitute them, I'd recommend something like dried apricots or cherries. (But maybe chop the apricots with a knife first to give your food processor a break.) Probably not cranberries, because I tried those, and… meh. I didn't get the chance to try apricots or cherries – let's face it, these things disappeared far too quickly and I didn't want another batch to go the same way – but I can imagine they'd be a great combo with the honey and vanilla.
Oh, and the honey. You can substitute maple syrup for a vegan version. I haven't tried agave – it may work, too, but I'm always hesitant because it's not as sticky.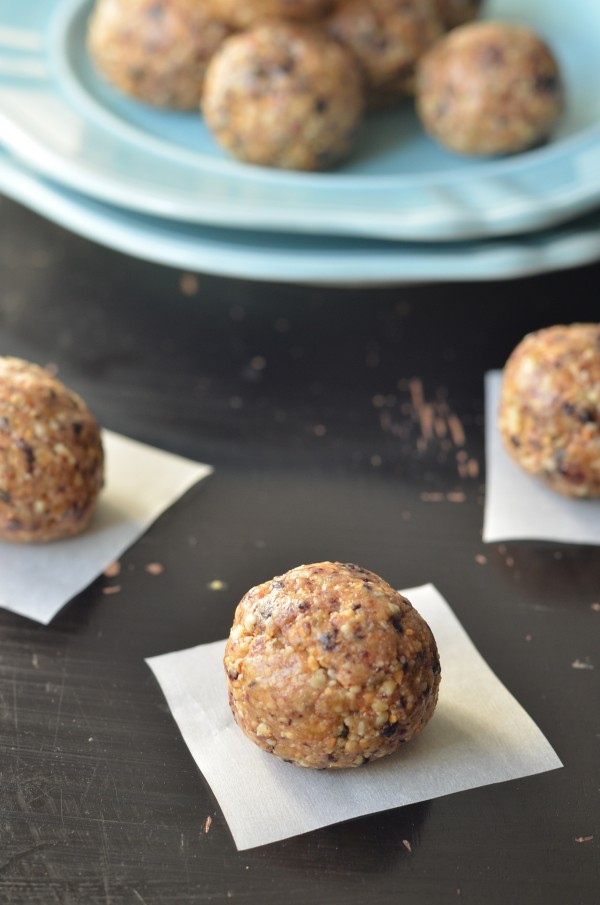 I called these energy balls a snack, and that's my preferred time to eat them. AKA in between any and every meal! Plus an extra one, please. But they would also make a great, clean dessert. No processed sugars! But also no chocolate, which is kiiiind of a deal-breaker in my book. You may feel differently :)
If you're more patient than me, you could also totally shape these into bars instead of balls. Just press into a small baking dish covered in parchment paper, like you see in the failed version above. You'll want to press them down really firmly with the bottom of a glass (or something similar), then let them set up in the fridge before cutting.
As we know, my preferred method of eating anything that comes out of a food processor is with a spoon. So I sure wasn't about to press, wait, and cut before I ate. No way no how.
Turned that recipe fail frown upside down! Now what to take on next…?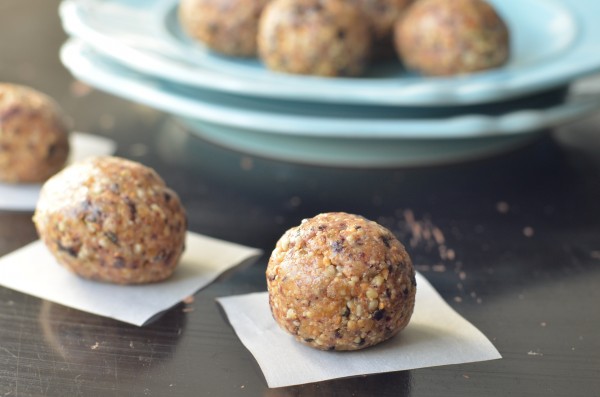 Blueberry Vanilla Cashew Energy Bites
Ingredients
1 cup whole raw cashews
1 cup whole raw almonds
1/2 cup dried blueberries
1/2 cup golden raisins
1/4 tsp kosher salt
2 Tbsp honey*
1/2 tsp vanilla extract
Instructions
First, roast cashews and almonds. Preheat oven to 350 and spread cashews and almonds on separate baking sheets. Roast until golden brown, about 6 minutes for the almonds and 10-12 minutes for the cashews. Time will vary greatly depending on your oven, so check and stir frequently! (Or, using pre-roasted nuts totally works. Just make sure they are not salted!)
Remove from oven and add to the bowl of your food processor. Process until nuts are a coarse meal. Add in blueberries, golden raisins and salt, and continue processing until fruit is finely chopped. The mixture should stick together somewhat if you pinch it between your fingers.
Drizzle in honey and vanilla extract and pulse several times to incorporate. The mixture should now stick together easily. If it doesn't, pulse in another tablespoon of honey. Roll into balls and place on a plate in the refrigerator to firm up.
Store covered in the refrigerator. Enjoy!
Notes
Inspired by
Kind
.
*Substitute maple syrup for a vegan version.